Watch out for a fake offer that's spreading on Facebook! The scam is pretending to be from Longhorn Steakhouse and is offering a free meal for two if you share and comment on a certain post. But it's not real — it's a trick by scammers using a fake Facebook page that looks like the real restaurant's page. Many people have already fallen for it, thinking they were getting a great deal. But instead of a free dinner, they got caught up in a sneaky scam. Don't let this happen to you! Want to know how to spot scams like this and what to do if you see one? Read the article to learn more, and stay safe online.
QUICK LINKS
How the Longhorn Steakhouse Facebook Scam works
The Longhorn Steakhouse Facebook Scam operates by taking advantage of users' trust and their desire for a good deal. It all starts with a fake Facebook page that impersonates the real Longhorn Steakhouse. The counterfeit page posts a fraudulent message, claiming to be from the CEO of Longhorn Steakhouse, Todd Burrowes. In the message, there's an irresistible offer for a free meal for two, but there's a catch — you must share and comment on the post before a given date.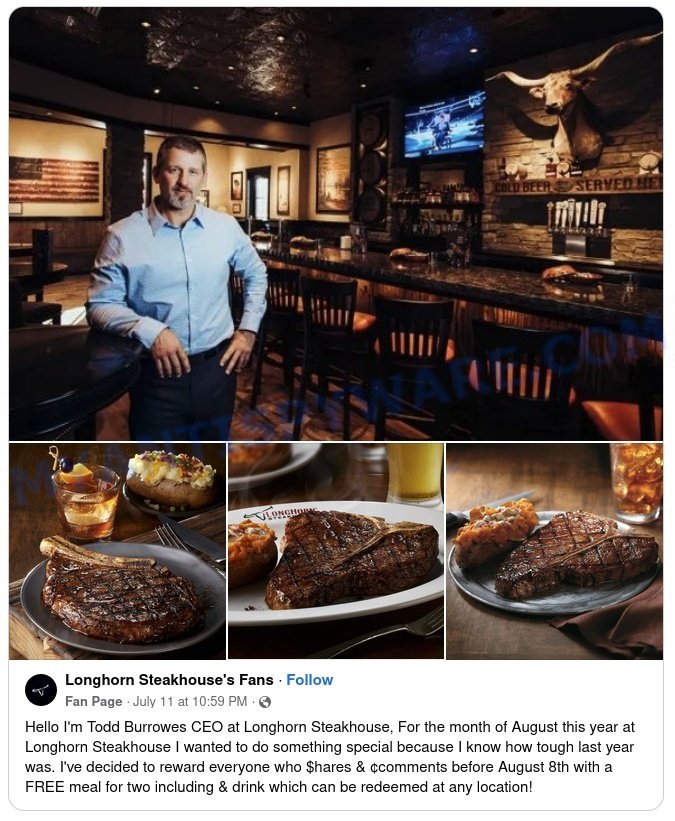 People who stumble upon this post and believe it to be genuine might follow the instructions, hoping to receive the promised free meal. By sharing and commenting, they inadvertently help spread the scam to their own network of friends, who might also fall for the scam, further propagating it across social media.
Take a close look at this fake post that's circulating on Facebook, posing as a special offer from Longhorn Steakhouse:
Everyone Gets A Steak Dinner For 2 For Nothing 3
Longhorn Steakhouse's Fans
Hello I'm Todd Burrowes CEO at Longhorn Steakhouse, For the month of August this year at Longhorn Steakhouse I wanted to do something special because I know how tough last year was. I've decided to reward everyone who $hares & ¢comments before August 8th ​​with a FREE meal for two including & drink which can be redeemed at any location!
The scammers behind the fake page might have various motives. They may be gathering personal information from those who comment, exposing them to further scams or even phishing attacks. In some cases, users might be directed to a fraudulent website where they're asked to provide more personal details or even financial information under the guise of claiming the free meal.
By the time users realize that there is no free dinner coming their way, it might be too late. The personal information they've shared could already be in the hands of cybercriminals. All the while, the scammers might continue to rebrand the page and start the cycle again with a new fake offer, as the history of name changes suggests. Thus, the scam can continue to ensnare unwary social media users, serving a steady diet of deception and risk.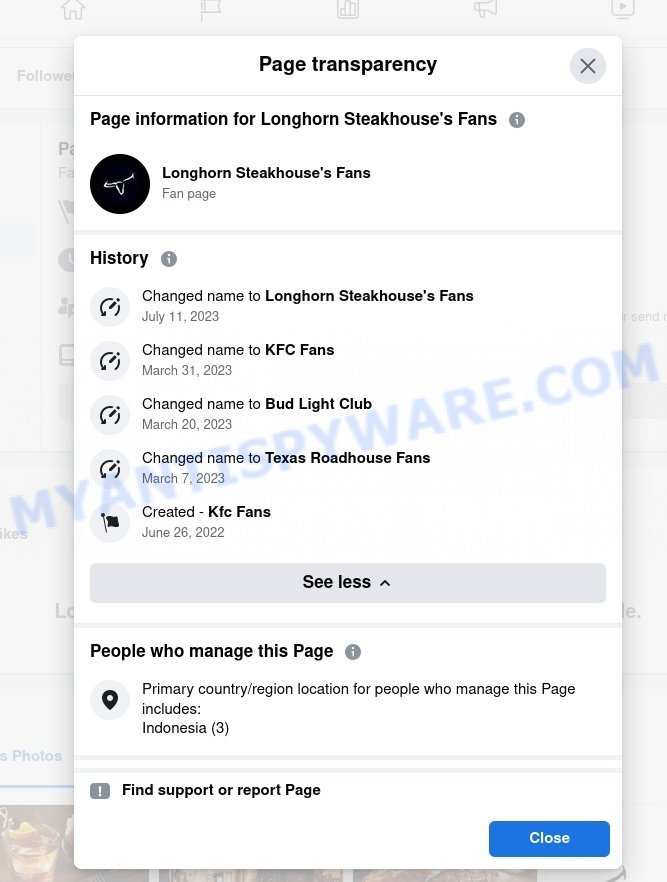 Beware of Similar Scams
In addition to the Longhorn Steakhouse Facebook scam, there exists a myriad of similar fraudulent schemes lurking on the internet. These scams exploit the popularity of renowned personalities or well-known brands to entice unsuspecting individuals into divulging personal information or falling victim to financial fraud. Below, we present a compilation of notable examples that serve as cautionary tales, shedding light on the tactics employed by cybercriminals to deceive and exploit. As you explore these real-life instances, remain vigilant and equip yourself with the knowledge necessary to safeguard against such treacherous endeavors.
Here are some examples to look out for: $0.99 Pit Boss Grill Scam, Mr Beast Giveaway Scam, and SHEIN Gift Card Instagram Scam.
And below, you will find a collection of screenshots exposing the deceptive nature of these scams.
What to do if you become a victim of the Longhorn Steakhouse Facebook Scam
If you've fallen victim to the Longhorn Steakhouse Facebook Scam, it's essential to take immediate action to protect yourself. Here's what you should do:
Remove Any Related Posts and Comments. If you've shared or commented on the scam post, delete those interactions to prevent the scam from spreading further among your friends and followers.
Change Your Passwords. If you clicked on any links related to the scam, consider changing your Facebook password and any other passwords for accounts that may have the same or similar credentials.
Report the Scam to Facebook. Use Facebook's reporting tools to flag the fraudulent page or post. This helps the platform take appropriate action against the scammer.
Monitor Your Accounts for Suspicious Activity. If you provided personal information or financial details as part of the scam, keep an eye on your bank and credit card statements for any unauthorized transactions.
Consider Identity Protection Services. If you're concerned that your personal information may have been compromised, you may want to look into identity protection services to monitor for potential identity theft.
Educate Yourself and Others. Familiarize yourself with common signs of scams and how to recognize them. Share this information with friends and family to help protect them as well.
Contact Local Authorities if Necessary. If you've suffered financial loss or other serious consequences, you may wish to report the incident to your local law enforcement agency.
Remember, acting swiftly can minimize potential damage and help prevent others from falling into the same trap. Scams like this prey on trust and goodwill, but by taking these actions, you can safeguard your online presence and contribute to a safer online community.
How to report the Longhorn Steakhouse Scam on Facebook?
Reporting the Longhorn Steakhouse Scam on Facebook is a crucial step in stopping the spread of this fraudulent activity.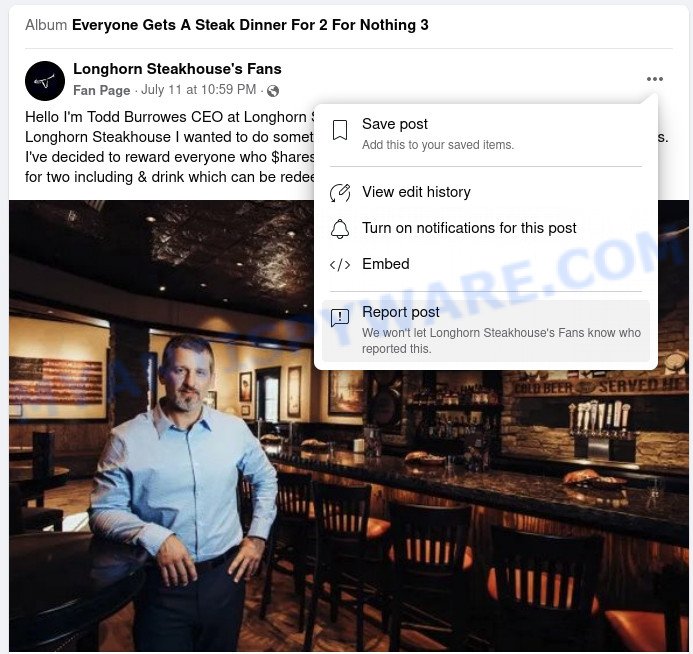 By alerting Facebook to the scam, you help the platform take appropriate action against the offending page and protect other users. Here's how to do it:
Go to the fraudulent Longhorn Steakhouse post or page that you want to report.
On the post, you'll find three dots (usually located at the top right corner). Click on them to reveal a dropdown menu.
From the dropdown menu, choose "Find support or report post" or a similar option. You'll be guided through a series of prompts to specify what's wrong with the post or page.
You'll be asked to categorize the problem (e.g., it's a false information, scam, or fake account). Select the options that best describe the scam. Be as specific as possible to ensure that Facebook can take the appropriate action.
Once you've completed the prompts, submit your report. Facebook will review the information and take action if it finds that the post or page violates its community standards.
If you want to avoid further interaction with the fraudulent page, you can also choose to block it from your account settings.
Sometimes, Facebook may notify you about the outcome of your report, depending on the situation and the settings on your account.
Your report contributes to the broader community's awareness and defense against fraudulent activities. If many people report the same scam, it increases the likelihood of prompt action by Facebook, helping to shut down the fake page or post more quickly.
Threat Summary
| | |
| --- | --- |
| Name | Longhorn Steakhouse Facebook Scam |
| Type | Social Media Scam |
| Fake Claims | Free meal for two at Longhorn Steakhouse for sharing and commenting on a specific post |
| Disguise | Fake Facebook page impersonating Longhorn Steakhouse, posing as CEO Todd Burrowes |
| Scammers' Websites | None specified in the scam itself, but potential redirection to phishing sites could be part of the scheme |
| Damage | Potential theft of personal information, exposure to further scams or phishing attempts |
| Distribution | Facebook, spread through sharing and commenting on the fraudulent post |
| Indicators of the Scam | Use of special characters in the post, history of page name changes, lack of verification badge on the page, etc. |
| Prevention Tips | Verify promotions with the official Longhorn Steakhouse site www.longhornsteakhouse.com, be skeptical of too-good-to-be-true offers, report suspicious posts |
| Reporting Info | Report to Facebook through the post's three-dot menu, select "Find support or report post," and follow the prompts. |
Tips for Spotting Deceptive Facebook Ads & Posts
Scammers are constantly devising new tactics to prey on unsuspecting individuals online. One such scam that has recently emerged is the Pit Boss Grill Facebook scam, where scammers use deceptive ads to entice users with unbelievably low prices on grills. To avoid falling victim to these fraudulent schemes, it is essential to be able to spot the warning signs.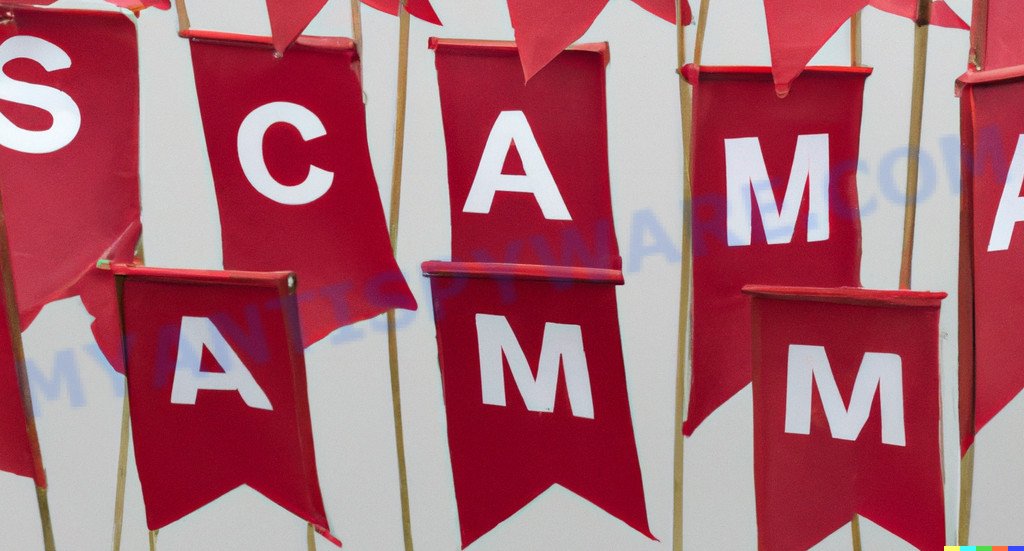 Here are some tips to help you identify and protect yourself from scams like the Pit Boss Grill Facebook scam.:
If an offer seems too good to be true, such as heavily discounted prices on high-value items like the Pit Boss Grill, it's a major red flag. Exercise caution and question the legitimacy of such offers.
Be wary of unsolicited ads that pop up on social media platforms or other websites. Scammers often use targeted advertising to reach a large audience with enticing offers.
Scammers may employ a verification process to make the scam appear more legitimate. If you're asked to verify your identity or complete additional steps before making a purchase, scrutinize the request and consider it a potential warning sign.
Pay attention to the quality and design of the websites associated with the offer. Scammers often create fake websites with low-quality graphics, spelling errors, or suspicious URLs. Be cautious if the website does not seem professionally designed or lacks proper security measures (e.g., HTTPS).
Scammers may only accept specific payment methods, such as credit card details or wire transfers, and avoid reputable payment platforms. Be cautious when asked to provide sensitive financial information.
Legitimate businesses provide clear contact information and customer support channels. If a website or offer lacks these essential details, it raises concerns about their credibility.
If something feels off or too good to be true, trust your gut instincts. If the offer doesn't align with your expectations or seems suspicious, it's better to err on the side of caution and avoid engaging with it.
Conclusion
The Longhorn Steakhouse Facebook Scam is a clear example of how cybercriminals can manipulate social media to deceive well-intentioned users. Leveraging the allure of a free meal and exploiting the trust in a well-known brand, this scam underlines the need for constant vigilance and awareness in our online interactions. While the scam's offer may be enticing, the potential damage it can cause through personal information theft or exposure to further malicious activities is far more significant.
By recognizing scams like this and following proper reporting procedures, individuals can contribute to a safer online community. Moreover, educating oneself and others about online safety can transform a potential threat into an opportunity for learning and growth. In a digital age filled with both opportunities and risks, a cautious and informed approach is the key to enjoying the benefits of online connectivity without falling prey to the hidden pitfalls.