Greates.online is portraying itself as an official Nike clearance store, offering enticing deals on popular Nike products. These "unbeatable" offers might have caught your eye, but be warned – it's a deceptive scheme. Read the full article to find out why you should steer clear of this website.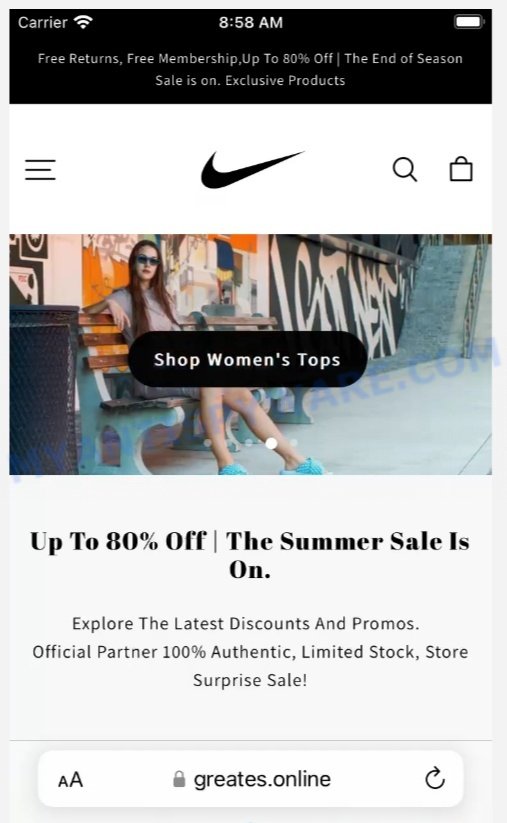 Quick links
Is Greates.online a Scam?
If you are wondering whether Greates.online is a scam, the evidence points clearly in that direction. The site exhibits several common signs of fraudulent practices:
Recently created domain (Registered on 2023-06-25)
Unbelievable deals and incredibly low prices (All Nike products under $39)
Enticing slogans ("80% OFF", "Factory Store", "Nike Factory ONLY $29")
Lack of legitimate contact information (Contacted only through an email address linked with other scam shops)
No real information about the company behind (Company name "HINOVATION LIMITED" and address connected to scams)
No social media presence or valid links to social media platforms
Generic template design and possibly stolen content from other sites
How the Greates.online Scam works
Greates.online is preying on consumers by presenting itself as a Nike clearance store with ridiculously low prices. Through Facebook ads, the site promotes a grand opening with offers of up to 80% off. However, these prices are unrealistic and merely a bait to lure unsuspecting buyers.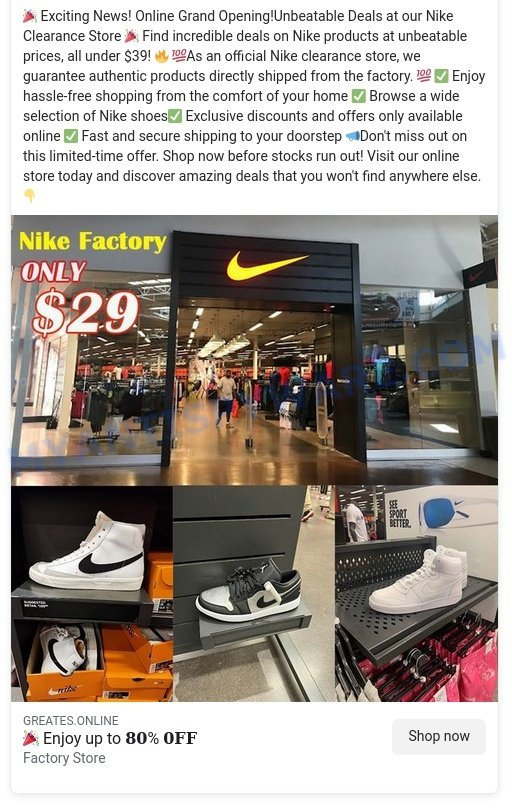 Once the purchase is made, customers often face issues like receiving counterfeit products or nothing at all. The provided company address is not a return address, adding further suspicion.
What to do if you become a victim of Greates.online
If you have fallen victim to this scam, take immediate action to minimize the damage and potentially recover your funds.
Contact your bank or credit card company to report the fraudulent transaction
File a complaint with online consumer protection agencies
Change your passwords if you shared any personal information
Spread awareness by sharing your experience on online forums
Other Scam Online Shops to Avoid
As part of our ongoing effort to protect our readers from potential scams, we have compiled a list of other suspicious online shops that you should be aware of. These shops share similar characteristics and tactics to Greates.online, and they use deceptive practices to lure in unsuspecting buyers. It's crucial to remain vigilant when shopping online and to be aware of the warning signs of a potential scam.
Here are a few examples of the scam online shops: KingCrabStore.com King Crab Store Scam, Tv-homeshopping.shop Bed Bath & Beyond Store Scam, Heerful.com $37.95 Hoka Running Shoes Scam.
| | |
| --- | --- |
| Name | Greates.online |
| Type | Fake Nike Clearance Store |
| Damage | Financial loss, potential identity theft |
| Distribution | Facebook ads |
| Tactics | False advertising, unrealistically low prices |
| Prices | All under $39 |
| Contacts | customerservice369@outlook.com, HINOVATION LIMITED |
| Prevention Tips | Verify the website, avoid too-good-to-be-true deals |
| Reporting Info | Contact local authorities, report online |
Conclusion
Greates.online is a deceitful online store masquerading as an official Nike clearance store. The unrealistic prices, misleading advertisements, and connections to other scam shops all point to a carefully orchestrated fraud. Avoid this site and always verify the authenticity of online stores before making a purchase.
FAQ About the Greates.online Scam
What makes Greates.online a scam? The site offers unbelievably low prices on Nike products and uses a recently registered domain, hiding its contacts through WHOIS. These signs, combined with a connection to other scam shops, confirm it as a scam.
How can I protect myself from scams like Greates.online? Always verify the authenticity of an online store, check for reviews, and be wary of too-good-to-be-true deals. Utilizing reputable online protection tools can also enhance your security.
What should I do if I have already made a purchase on Greates.online? Contact your bank or credit card company immediately to report the fraudulent transaction. It's also wise to change your passwords and file a complaint with consumer protection agencies.