Optimismes.online is presenting itself as a genuine Adidas Factory Store, offering unbelievably low prices on popular sneakers. These enticing offers may have caught your eye, but beware, it's a trap! Read the full article to understand why this online shop is a scam and how to protect yourself from falling victim to it.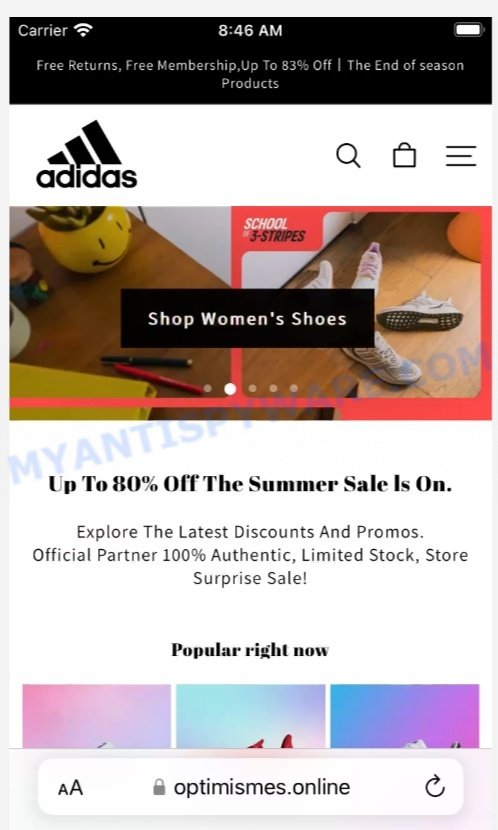 Quick links
Is Optimismes.online a Scam?
Optimismes.online is a scam that disguises itself as an Adidas Factory Store. The signs of this fraudulent activity include:
Recently created domain, registered on 2023-07-10
Unbelievable deals and incredibly low prices (80% discounts on Adidas sneakers)
Enticing slogans like "Limited Quantity – Free Shipping"
Time counter on the product page
Contact information (Bin Estrella GmbH) linked with other scam shops
No real info about the company behind except a generic address
No social media presence or authentic links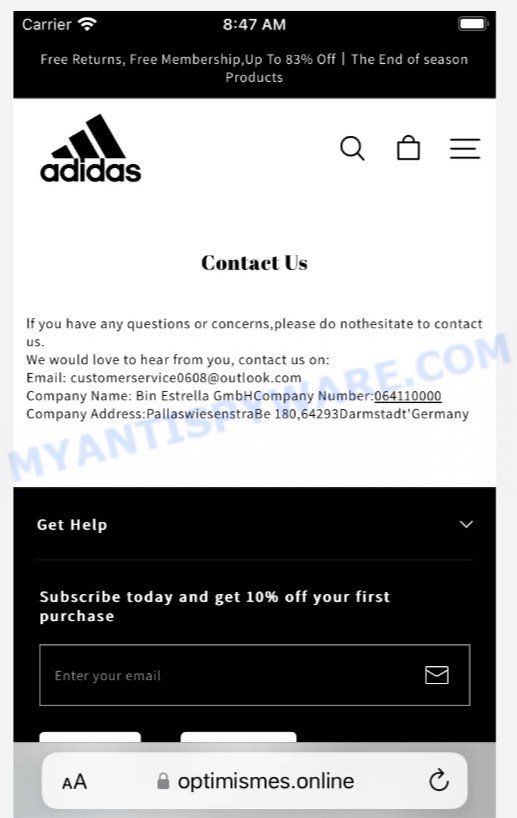 How the Optimismes.online Scam works
Optimismes.online is cunningly designed to appear as an official Adidas Factory Store. It starts with eye-catching Facebook ads offering 2023 Adidas Latest Offers with prices under $40 and boasting up to 80% discounts. These promotions play on the excitement of limited-time offers, urging customers to buy quickly.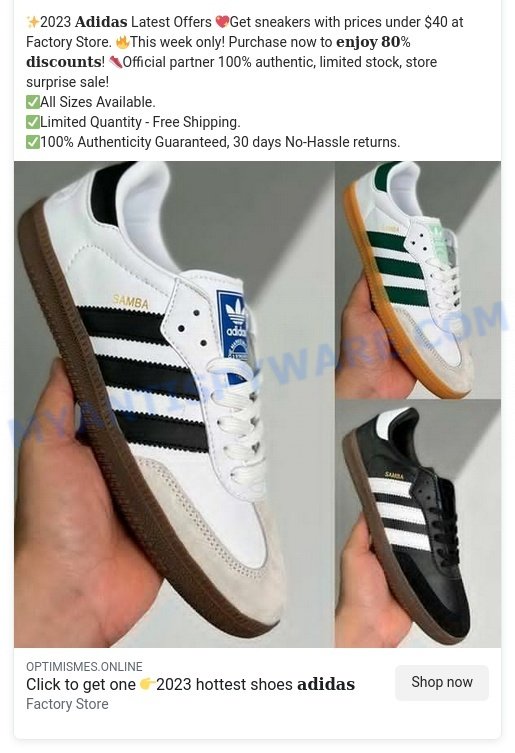 Once lured into the site, unsuspecting customers may place orders and either receive counterfeit products or nothing at all. The contact details are connected with other known scams, and there is no actual company transparency. It ends with customers losing money and trust in online shopping platforms.
What to do if you become a victim of Optimismes.online
If you fall victim to the Optimismes.online scam, don't panic. There are actions you can take:
Contact your bank or payment provider to dispute the transaction
Report the scam to the relevant consumer protection agency
Leave a review on consumer forums to warn others
Consider legal advice if necessary
Other Scam Online Shops to Avoid
As part of our ongoing effort to protect our readers from potential scams, we have compiled a list of other suspicious online shops that share similar characteristics and tactics to Optimismes.online. Below we will highlight some of the other suspicious online shops that you should avoid.
Here are a few examples of the scam online shops: KingCrabStore.com King Crab Store Scam, Axerxm.com Bed Bath & Beyond Store Scam, Babyjoynewyork.com Buy Buy BABY Store Scam.
Summary table for Optimismes.online
| | |
| --- | --- |
| Name | Optimismes.online |
| Type | Online Retail Scam |
| Damage | Financial loss, Identity theft risk |
| Distribution | Facebook ads |
| Tactics | False discounts, Misleading Brand Association |
| Prices | Under $40 for Adidas sneakers |
| Contacts | customerservice0608@outlook.com, Bin Estrella GmbH, Pallaswiesenstraße 180, 64293 Darmstadt Germany |
| Prevention Tips | Verify the website, Research customer reviews |
| Reporting Info | Local consumer protection agency |
Conclusion
Optimismes.online is a treacherous scam posing as an official Adidas Factory Store. It lures victims with irresistible discounts but delivers disappointment, financial loss, and potential identity theft risks. Always research and verify online shops before making a purchase to safeguard your personal and financial information.
FAQ About the Optimismes.online Scam
What should I do if I already ordered from Optimismes.online?
Contact your bank or payment provider immediately to dispute the transaction, report the scam, and seek further assistance.
How can I tell if an online shop is a scam or legitimate?
Look for real contact information, customer reviews, transparent company details, and always be skeptical of unrealistic discounts and offers.
Can I trust Facebook ads promoting online shops?
Not all Facebook ads are deceptive. However, always verify the authenticity of the website and do some research before making any purchases.