Pablic.shop is the latest scam shop to have caught our attention, posing as a closing down sale for Bed Bath & Beyond. It might seem like a great opportunity to grab a good deal, but beware! Read our full review to learn why you should steer clear of this scam.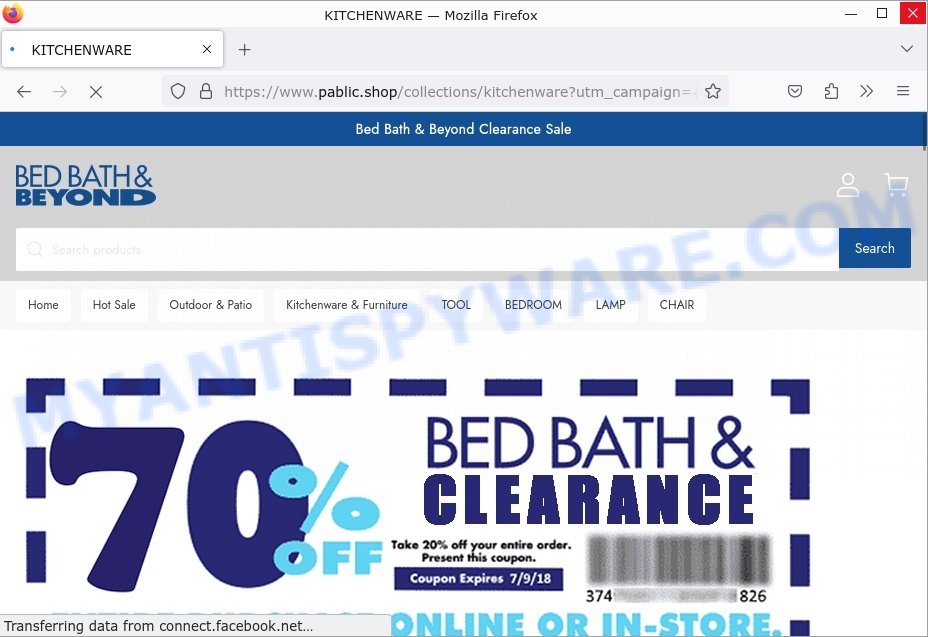 Quick links
Is Pablic.shop a Scam?
Despite the seemingly legitimate guise, Pablic.shop is nothing more than a scam. Here are some red flags that should make you suspicious:
The domain was created recently, on May 15, 2023.
The unbelievable deals and incredibly low prices. For instance, the scam store advertises up to 90% off on all items.
The use of enticing slogans like "Clearance Sale", "Fast Delivery", "30 Day Money Back Guarantee" and "Free Shipping Over $55".
There is no social media presence or links to any social media platforms.
Contact information is limited to an email address: support@pablic.shop. The company information provided is linked to other scam shops.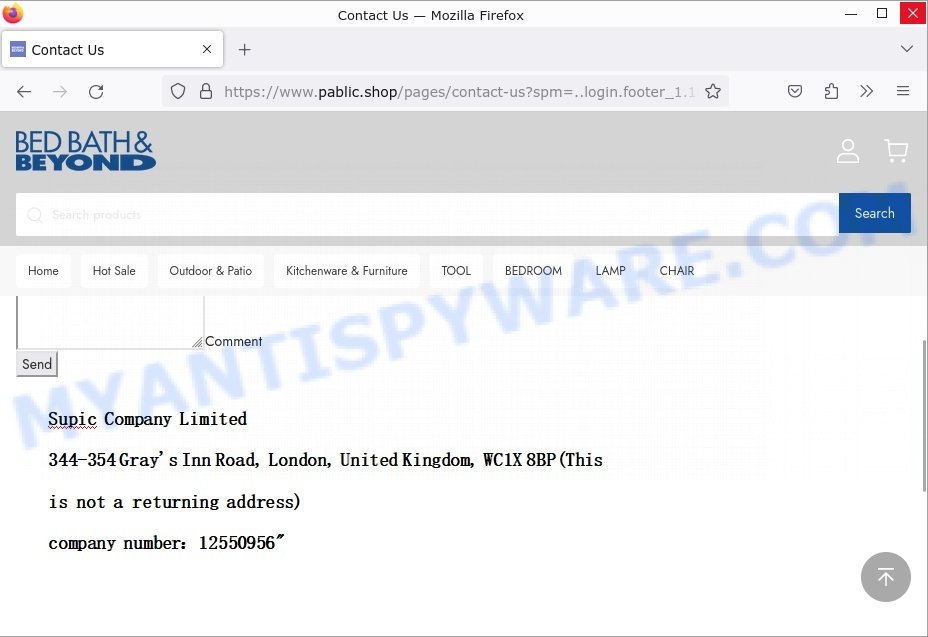 How the Pablic.shop Scam works
Pablic.shop is designed to look like a legitimate online store having a closing sale for Bed Bath & Beyond, offering items at incredibly discounted prices. They use Facebook ads to lure in unsuspecting customers with promises of massive discounts.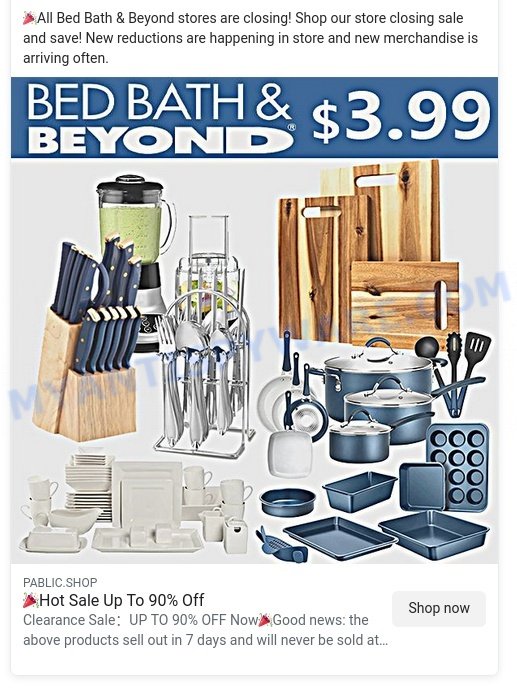 Once a purchase is made, either the item never arrives, or a cheap knockoff is delivered instead. Their only method of contact is via an email address, and customer complaints are often ignored. This all leads to a significant loss of money for the victim, with no recourse for getting their money back.
What to do if you become a victim of Pablic.shop
If you find yourself a victim of the Pablic.shop scam, here are some steps you can take:
Contact your bank or credit card company and report the fraudulent transaction.
Change your online banking and shopping passwords.
File a complaint with your local law enforcement agency.
Report the scam to your country's consumer protection agency.
Other Scam Online Shops to Avoid
In our ongoing effort to protect our readers from potential scams, we have compiled a list of other suspicious online shops that you should be aware of. These shops share similar characteristics and tactics with Pablic.shop, using deceptive practices to trick unsuspecting buyers. It's essential to remain cautious when shopping online and be aware of potential scam signs.
Here are a few examples of the scam online shops: Axerxm.com Bed Bath & Beyond Store Scam, KingCrabStore.com King Crab Store Scam, and Outletshoks.com HOKA Summer Clearance Scam.
Summary table for Pablic.shop
| | |
| --- | --- |
| Name | Pablic.shop |
| Type | Online Scam Shop |
| Damage | Financial Loss, Risk of Identity Theft |
| Distribution | Facebook Ads |
| Tactics | Poses as a legitimate store closing sale, offers high discounts |
| Prices | Up to 90% off on all items |
| Contacts | support@pablic.shop; Company Name: Supic Company Limited; Company Address: 344-354 Gray's Inn Road, London, United Kingdom, WC1X 8BP; Company Number: 12550956 |
| Prevention Tips | Do not trust too-good-to-be-true deals, research the seller before making a purchase |
| Reporting Info | Contact your bank, local law enforcement, and consumer protection agency |
Conclusion
Pablic.shop is a malicious online scam shop. It poses as a legitimate Bed Bath & Beyond closing down sale and exploits users' trust to steal their money. We urge our readers to remain vigilant and avoid falling for such scams.
FAQ About the Pablic.shop Scam
Why is Pablic.shop considered a scam?
Pablic.shop is considered a scam because it falsely represents itself as a legitimate Bed Bath & Beyond store that is closing down. It entices customers with heavily discounted prices, only to either deliver nothing or provide low-quality knockoffs.
How did Pablic.shop get my information?
Most likely, your information was not specifically targeted. Scam shops like Pablic.shop use broad advertising methods, such as Facebook ads, to reach as many potential victims as possible.
How can I protect myself from online scams like Pablic.shop?
The best way to protect yourself from online scams is to be vigilant and skeptical of too-good-to-be-true deals. Always research the seller before making a purchase, and use secure payment methods that offer buyer protection.