Niretoes.com is an online shop claiming to sell hunting crossbows at alarmingly low prices. This seemingly irresistible offer has been propagated through Facebook ads and has unfortunately drawn in numerous unsuspecting victims. However, we urge you to read this full article to discover the truth behind this deceitful e-store.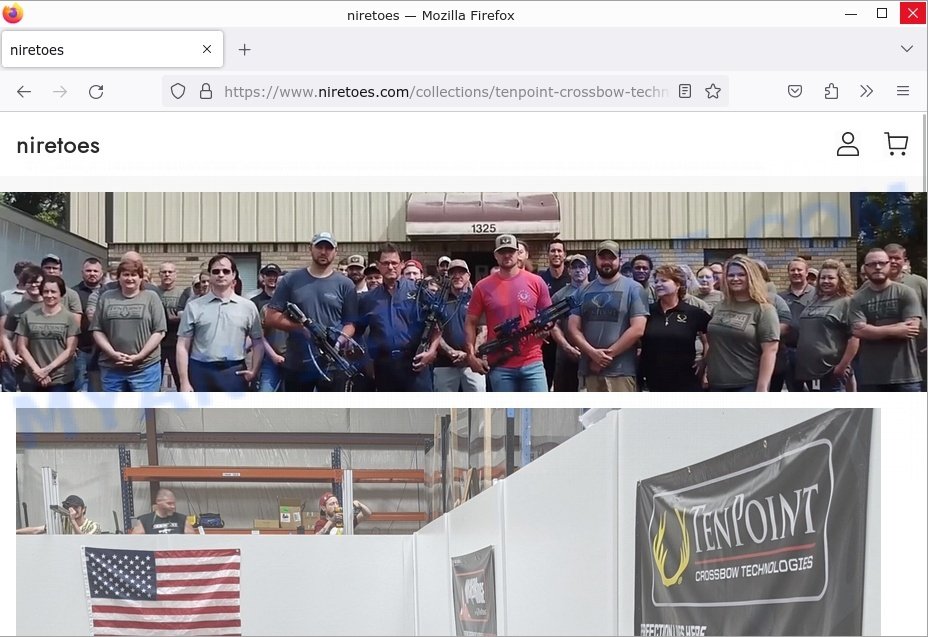 Quick links
Is Niretoes.com a Scam?
Upon careful analysis, Niretoes.com exhibits several unmistakable signs of a scam. These include:
A recently created domain, specifically on July 24, 2023.
The contact information is restricted to an email address: support@niretoes.com. The company behind this email address, NOVVA LIMITED, is also associated with other known scam shops.
Unbelievable deals and incredibly low prices, like the hunting crossbow advertised for just $32.90.
The use of enticing slogans in the content such as "Bankruptcy Sale", and "we promise to replace damaged products".
Hidden Whois contacts, which indicates a lack of transparency.
How the Niretoes.com Scam works
Niretoes.com primarily exploits the power of social media to reach its victims. By running Facebook ads that promise high-quality hunting crossbows at the unbelievably low price of $32.90, the scammers are able to attract attention. Furthermore, the use of authoritative language like "the fastest crossbow on the market" and promises like "we will replace damaged products" further convince unsuspecting buyers.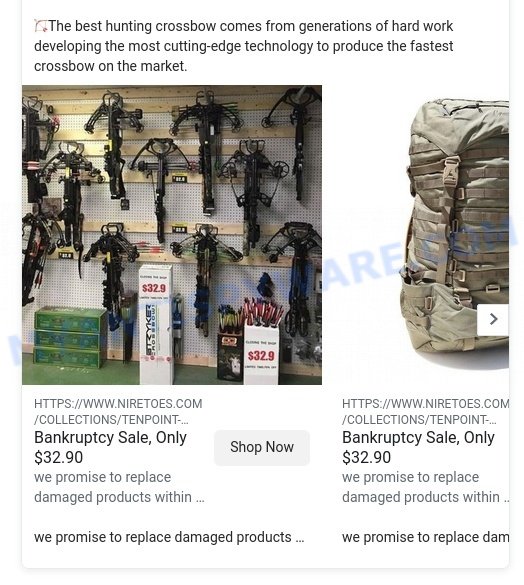 However, once a purchase is made, victims are left with either poor-quality products or nothing at all. The recently created domain, along with the concealed Whois data, only makes it harder for victims to seek redress.
What to do if you become a victim of Niretoes.com
If you've been deceived by Niretoes.com, don't feel hopeless. There are several steps you can take:
Contact your bank or payment provider to dispute the charges.
Report the scam to your local law enforcement agency.
Share your experience online to warn others about this scam.
Other Scam Online Shops to Avoid
Scams like Niretoes.com are rampant in today's digital age. Here are a few examples of the scam online shops: Factorydirect-us.com Bed Bath & Beyond Store Scam, Acstoreus.com DICK'S SPORTING GOODS Store Scam, and Axerxm.com Bed Bath & Beyond Store Scam.
Summary table for Niretoes.com
| | |
| --- | --- |
| Name | Niretoes.com |
| Type | Online Scam Shop |
| Damage | Financial loss, potential risk of identity theft |
| Distribution | Facebook ads |
| Tactics | False advertising, incredibly low prices |
| Prices | $32.90 for a hunting crossbow |
| Contacts | Email: support@niretoes.com |
| Prevention Tips | Be wary of too-good-to-be-true deals, check domain creation date, verify contact details |
| Reporting Info | Local law enforcement agency, bank or payment provider |
Conclusion
Niretoes.com is a scam online shop that lures its victims with seemingly attractive deals on hunting crossbows. While its promises may sound appealing, it's important to stay vigilant and not fall for such scams.
FAQ About the Niretoes.com Scam
What products does Niretoes.com offer?
Niretoes.com claims to offer hunting crossbows at discounted prices. However, these are part of their scam tactics to attract potential victims.
Is it safe to shop from Niretoes.com?
No, Niretoes.com has been identified as a scam shop. We advise against purchasing from this website to avoid potential financial losses and possible identity theft.
How can I protect myself from such scams?
Stay vigilant and always verify the legitimacy of online shops. Check for red flags such as newly created domains, too-good-to-be-true deals, and lack of transparent contact information. Always use secure payment methods and avoid sharing personal or financial details unless necessary.