Hsapin.com is pretending to be the official clearance store for New Balance products, offering shoes and apparel at unbelievably low prices. With offers too good to be true and suspicious contact information, this scam store targets unsuspecting online shoppers. If you've come across this site or its ads, we urge you to read this full article to understand the risks involved.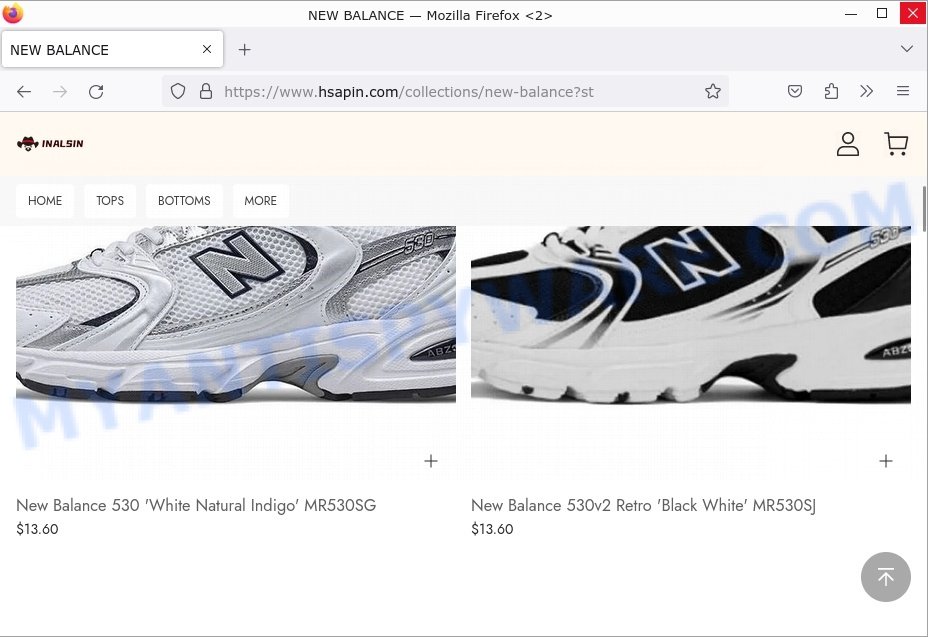 Quick links
Is Hsapin.com a Scam?
Hsapin.com shows clear signs of being a fraudulent online store. Here are some common indicators:
Recently created domain: The domain was created on 2023-06-12, which is a recent date.
Unbelievable deals and incredibly low prices: All New Balance products are priced under $40, some starting as low as $8, with up to 90% off. This is too good to be true.
Enticing slogans: The ads use phrases like "Clearance Sale", "Huge Discounts", "Limited Time Sale" to attract buyers.
Lack of contact information: Besides a questionable email address, there is little real info about the company Kentesh Ltd.
Associated with other scam shops: The email and company details are linked with other scam stores.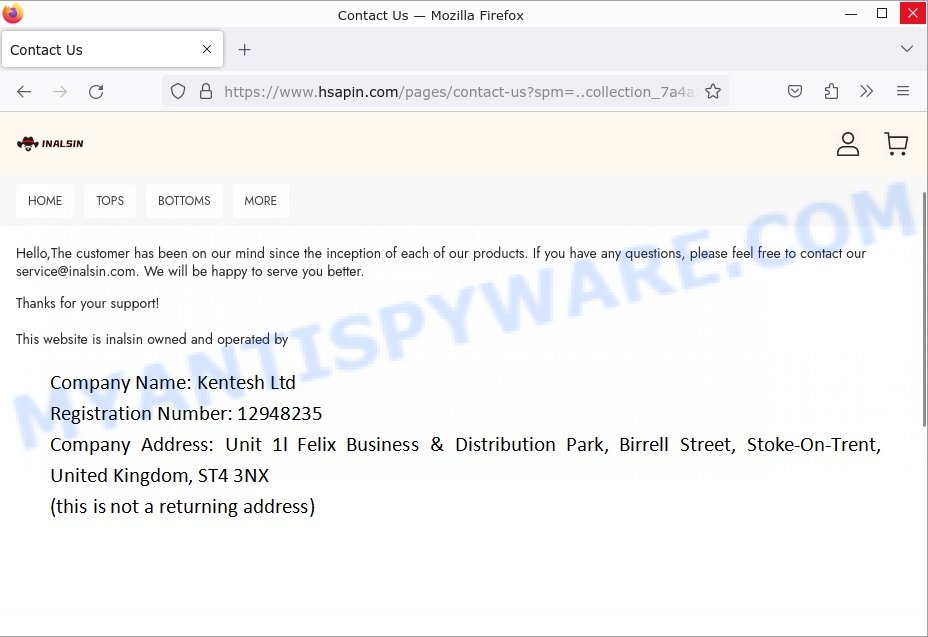 How the Hsapin.com Scam works
Hsapin.com is designed to impersonate an official New Balance clearance store. It starts with alluring Facebook ads promoting exclusive deals on New Balance products, with prices starting at $8.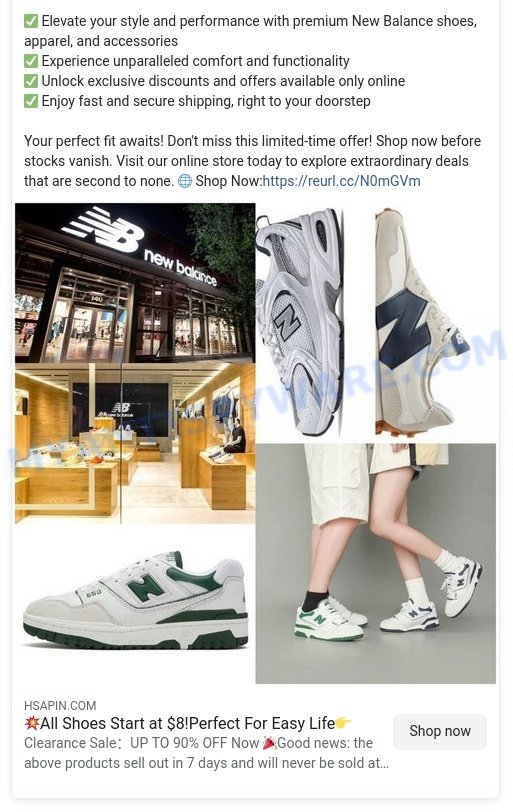 These ads direct customers to the online store where they are tempted with clearance sales and limited-time offers.Customers who fall for this scam end up purchasing counterfeit products or receiving nothing at all. The provided contact details, including a suspicious email address and a non-returning address, further verify that this is a fraudulent scheme.
What to do if you become a victim of Hsapin.com
If you've been duped by Hsapin.com, don't lose hope. Here's a list of steps you can take:
Contact your bank or credit card provider and inform them of the fraudulent charge.
Report the scam to your local authorities.
File a complaint with online consumer protection agencies.
Share your experience on social media to warn others.
Other Scam Online Shops to Avoid
As part of our ongoing effort to protect our readers from potential scams, we have compiled a list of other suspicious online shops that you should be aware of. These shops share similar characteristics and tactics to Hsapin.com, and they use deceptive practices to lure in unsuspecting buyers. It's crucial to remain vigilant when shopping online and to be aware of the warning signs of a potential scam.
Here are a few examples of the scam online shops: Ahodenare.com Bookstore Scam, Acstoreus.com DICK'S SPORTING GOODS Store Scam, Axerxm.com Bed Bath & Beyond Store Scam.
Summary table for Hsapin.com
| | |
| --- | --- |
| Name | Hsapin.com |
| Type | Fake New Balance Clearance Store |
| Damage | Potential financial loss, Identity Theft |
| Distribution | Facebook ads |
| Tactics | Deceptive advertising, false discounts |
| Prices | All products under $40, starting at $8 |
| Contacts | Email: service@inalsin.com, Company: Kentesh Ltd, Address: Unit 11 Felix Business & Distribution Park, Birrell Street, Stoke-On-Trent, United Kingdom, ST4 3NX |
| Prevention Tips | Verify authenticity, Avoid unbelievable deals, Check reviews |
| Reporting Info | Contact local authorities, Report to consumer protection agencies |
Conclusion
Hsapin.com is a deceitful online store that targets New Balance enthusiasts with too-good-to-be-true deals and promises. By using persuasive ads and offering counterfeit products at heavily discounted prices, it lures victims into a scam that can lead to financial loss and frustration.
FAQ About the Hsapin.com Scam
What should I do if I have already ordered from Hsapin.com?
Take immediate action by contacting your bank or credit card provider, informing them of the fraudulent charge, and following the steps listed in the 'What to do if you become a victim of Hsapin.com' section.
How can I verify if an online store like Hsapin.com is legitimate?
You can verify an online store's legitimacy by checking customer reviews, verifying contact details, and avoiding offers that seem too good to be true.
Why are scams like Hsapin.com so common?
Scams like Hsapin.com are common because they exploit people's desire for bargains and exclusive deals. They use persuasive tactics and offer irresistible discounts to trap unsuspecting buyers.