Quentes.online is making waves on social media with its too-good-to-be-true deals on Nike products. If you've come across this store and its enticing promotions, stay awhile. We'll break down the legitimacy of this online shop and give you the information you need to make an informed decision.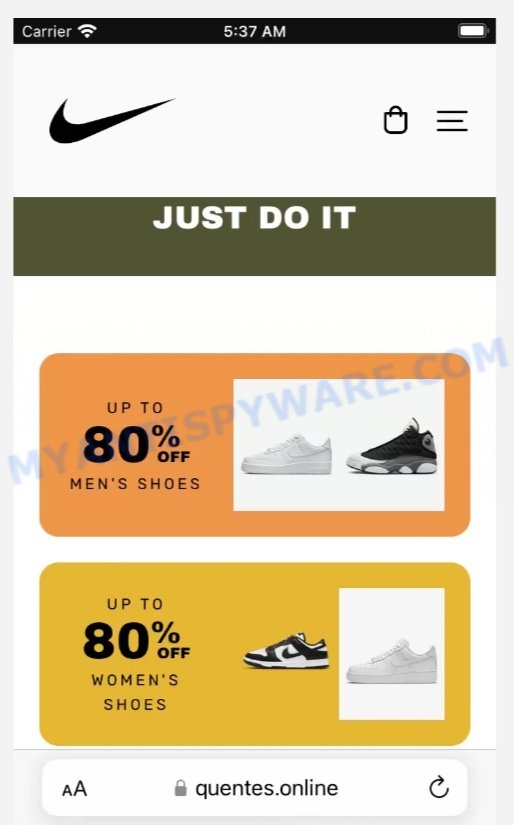 Quick links
Is Quentes.online a Scam?
Before trusting any online shop, it's essential to look for signs of legitimacy. Here are some common red flags and how they apply to Quentes.online:
Recently created domain: Quentes.online was created on 2023-05-08, which makes it a very recent addition to the web.
Unbelievable deals and incredibly low prices: All Nike products are priced under $40, a massive red flag.
Content, images, descs taken from other sites: This is a common tactic among scam shops.
Enticing slogans: "Clearance Sale", "Free return", "Huge Discounts", "Limited Time Sale" are all present on their ads.
Lack of contact information: They only offer an email address – service@gardenes.com.
No real info about the company behind: The site is associated with FADEL BEATTY LIMITED, which is linked to other scam shops.
No social media presence or links: The site heavily relies on Facebook ads but lacks any authentic social media presence.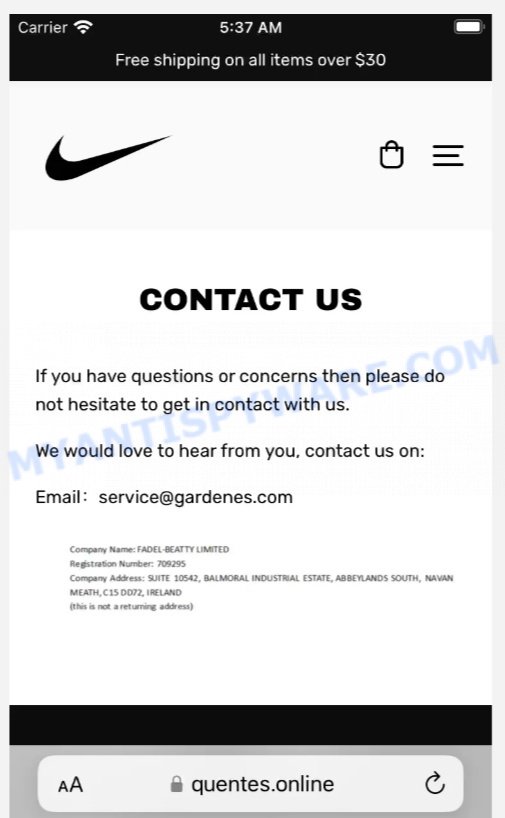 How the Quentes.online Scam Works
Quentes.online utilizes flashy Facebook advertisements, with phrases like "Online Grand Opening!" and "Unbeatable Deals at our Nike Outlet Store". These ads promise high-quality Nike products for prices under $40. As an 'official' Nike clearance store, they guarantee products shipped directly from the factory.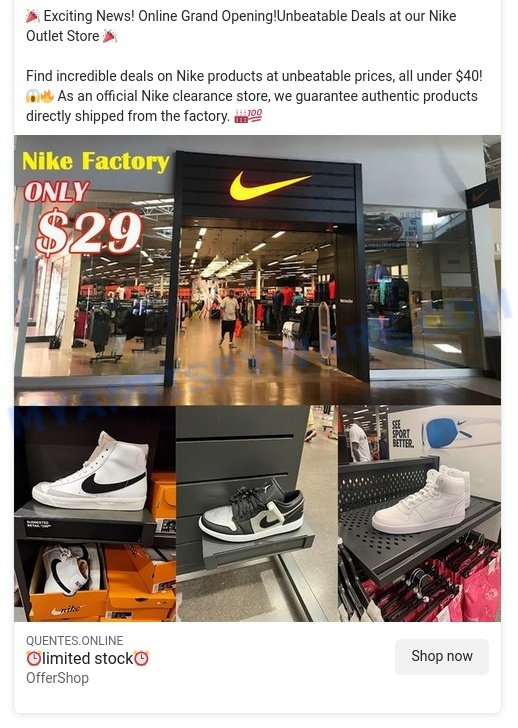 However, this seems to be a bait-and-switch tactic, luring in unsuspecting buyers with rock-bottom prices, only for them to potentially receive counterfeit goods or nothing at all.
What to do if you become a victim of Quentes.online
If you've been duped by this website, don't despair. Follow these steps:
Contact your bank or credit card company immediately to dispute the transaction.
Report the scam to local authorities and online platforms where the scam was promoted.
Change your online passwords, especially if you used the same password on Quentes.online as other online accounts.
Other Scam Online Shops to Avoid
In our quest to safeguard consumers, we've unearthed other dubious online shops that you should steer clear of. These stores mirror Quentes.online in their deceptive strategies to ensnare unsuspecting buyers. It's always prudent to be discerning when shopping online.
Here are a few examples of scam online shops: Ahodenare.com Bookstore Scam, Bedbathbeyondclose.com BED BATH & BEYOND Store Scam, Factorydirect-us.com Bed Bath & Beyond Store Scam.
Summary table for Quentes.online
| | |
| --- | --- |
| Name | Quentes.online |
| Type | Online Retail Scam |
| Damage | Potential loss of money and personal data |
| Distribution | Primarily through Facebook ads |
| Tactics | Unrealistically low prices, copied content, fake clearance sales |
| Prices | All products under $40 |
| Contacts | Email: service@gardenes.com; Company: FADEL BEATTY LIMITED |
| Prevention Tips | Check website's credibility, avoid too-good-to-be-true deals, research company background |
| Reporting Info | Local authorities, online scam forums, bank/credit card company |
Conclusion
Quentes.online is a recent addition to the vast landscape of online stores, but its tactics and operations raise several red flags. While the temptation of securing branded products at throwaway prices is alluring, it's essential to approach such deals with caution.
FAQ About the Quentes.online Scam
How can I determine if an online store is a scam?
One way is by checking the age of the domain. If it's very recent, it's a potential red flag. Also, too-good-to-be-true prices, lack of contact details, and associations with known scam companies can be indicators.
Why are scams like Quentes.online so common?
Scams capitalize on consumers' desires to find great deals. With the growth of online shopping, it's easier for scam sites to set up quickly and lure unsuspecting buyers.
Can I get my money back if I've been scammed?
It's possible if you act swiftly. Reach out to your bank or credit card company to dispute the transaction.