Lonees.online claims to be an official Nike clearance store with unbelievable deals. If their promotions caught your eye, you might want to read our full analysis before making any purchases.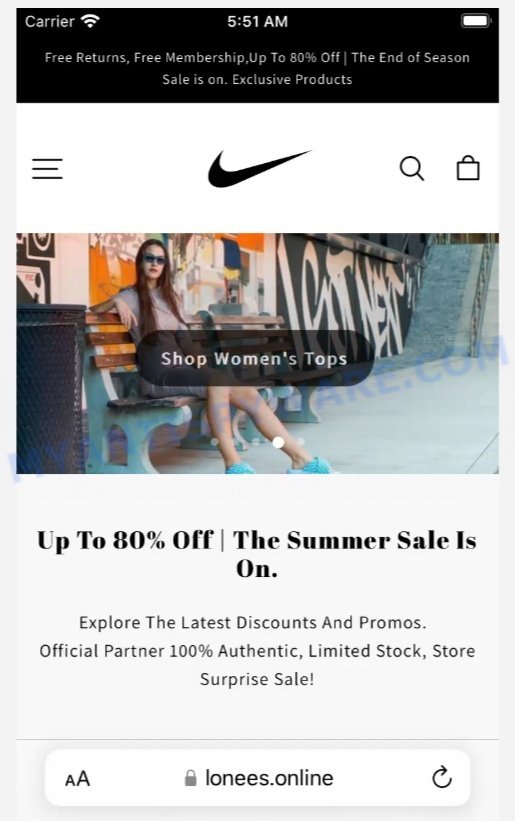 Quick links
Is Lonees.online a Scam?
Based on our research, several red flags indicate that Lonees.online is not a legitimate store. Here are some concerning signs:
Recently created domain which raises suspicions about its credibility.
Complete lack of transparent contact information. Communication is usually limited to email addresses which is a common trait of scam stores.
The store does not provide authentic information about the company behind it, further adding to its suspicious nature.
Too good to be true deals. Products, especially brand names like Nike, being sold at incredibly low prices is a major scam indicator.
The store's design seems to be a common template, which is frequently used by scam sites.
Enticing slogans such as "Clearance Sale", "Limited Time Special" which are typically used to lure customers into purchasing quickly without thorough verification.
Hidden WHOIS contacts, meaning the owner of the website is trying to hide their identity.
No active presence or links to any social media platforms, which is odd for a legitimate business, especially one claiming to be a major brand outlet.
How the Lonees.online Scam works
Lonees.online purports to be an "official Nike clearance store", leveraging the trust and recognition of the Nike brand to draw in customers. Advertisements are prominently featured on platforms like Facebook, showcasing irresistible deals on Nike products for less than $40.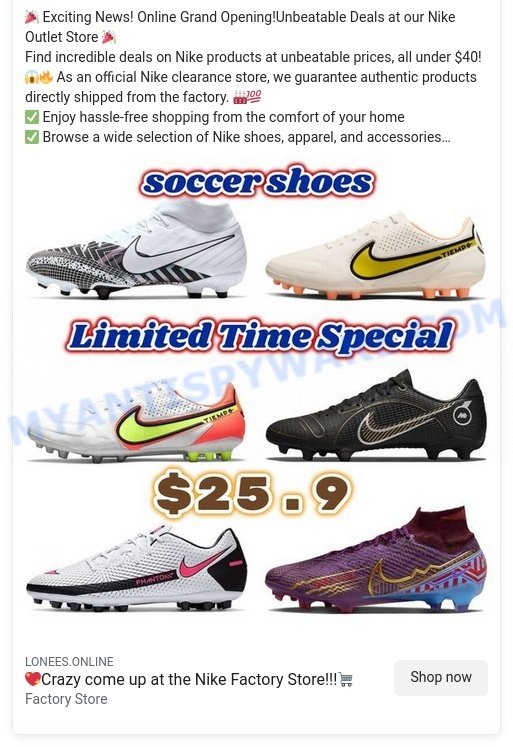 Once a customer is enticed by such a lucrative offer, they are led to believe that they are purchasing genuine Nike products directly from the factory. However, in reality, victims might receive counterfeit items, or in some cases, nothing at all. The promise of authenticity and unbeatable prices is just a bait to trap unsuspecting online shoppers.
What to do if you become a victim of Lonees.online
If you've unfortunately fallen for this scam, don't lose hope. There are steps you can take:
Contact your bank immediately to dispute the transaction.
Change passwords for any accounts where you've used similar login details.
Report the scam website to local authorities and online platforms where the ads were seen.
Consider using identity protection services to monitor potential misuse of your personal information.
Spread the word and inform others about your experience to prevent them from falling into the same trap.
Other Scam Online Shops to Avoid
Staying aware of potential threats online is crucial. Here are a few other scam shops that employ tactics similar to Lonees.online:
Ahodenare.com Bookstore Scam, Acstoreus.com DICK'S SPORTING GOODS Store Scam, Naswino.com Bed Bath & Beyon Store Scam.
Summary table for Lonees.online
| | |
| --- | --- |
| Name | Lonees.online |
| Type | Online Retail Scam |
| Damage | Potential loss of money and personal data |
| Distribution | Facebook Ads |
| Tactics | Using recognized brands, unbelievable prices |
| Prices | Products under $40 |
| Contacts | Hidden |
| Prevention Tips | Research before purchasing, be wary of too-good-to-be-true deals |
| Reporting Info | Contact local authorities and online platforms |
Conclusion
Lonees.online is a deceptive website that masquerades as a legitimate Nike outlet, preying on unsuspecting consumers. Always exercise caution and do your due diligence before making online purchases.
FAQ About the Lonees.online Scam
Why are the prices so low on Lonees.online?
This is a common tactic used by scam sites to lure in customers. The incredibly low prices are too good to be true and often indicate that the site isn't genuine.
How can I verify if a website is legitimate or not?
Research the website, check for customer reviews, verify contact details, and ensure they have secure payment methods. If a site is newly created and offers unbelievable deals, it's best to approach with caution.
I saw the ad on Facebook, doesn't that make it legitimate?
Scammers often use reputable platforms like Facebook to advertise. Just because an ad appears on a well-known platform doesn't guarantee the legitimacy of the product or site.