Pstmasfloes.online is making waves on social media platforms, especially Facebook, with its enticing deals on Nike products. It claims to offer unbeatable discounts on authentic Nike items, but is it too good to be true? Read on to discover the unsettling truth behind Pstmasfloes.online.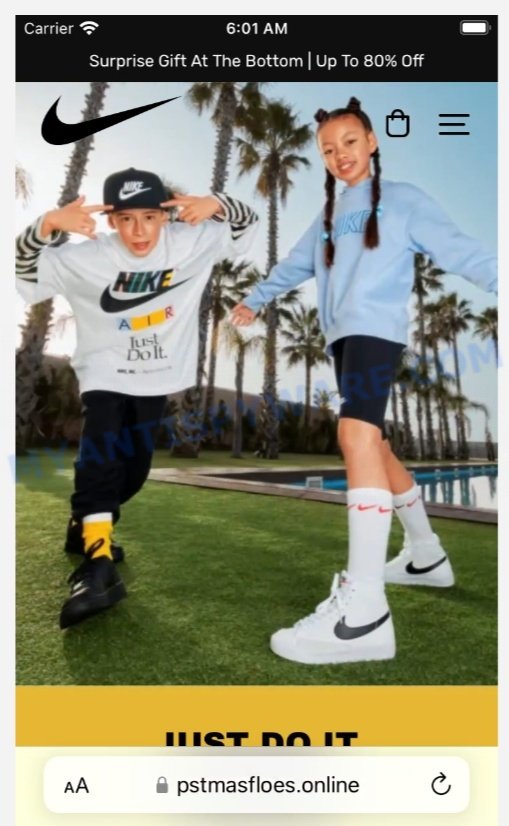 Quick links
Is Pstmasfloes.online a Scam?
There are numerous red flags that suggest Pstmasfloes.online is not a genuine online retailer. Here are the warning signs:
Recently created domain.
Lack of transparent contact information. The website primarily offers email communication, and the contacts are hidden in Whois.
No tangible information about the company behind the website.
Prices that are too good to be true – authentic Nike products under $40.
Using template designs with content, images, and descriptions possibly lifted from legitimate sites.
Enticing slogans like "All Shoes Start at $29!" and "Online Grand Opening!"
No presence on major social media platforms or links redirecting to them.
How the Pstmasfloes.online Scam works
Pstmasfloes.online is a wolf in sheep's clothing. It projects itself as an official Nike clearance store, leveraging Facebook ads to entice unsuspecting consumers. The ads highlight unbelievable deals, such as Nike shoes starting at just $29. Shoppers are lured into purchasing "authentic" Nike products, thinking they're grabbing a once-in-a-lifetime deal.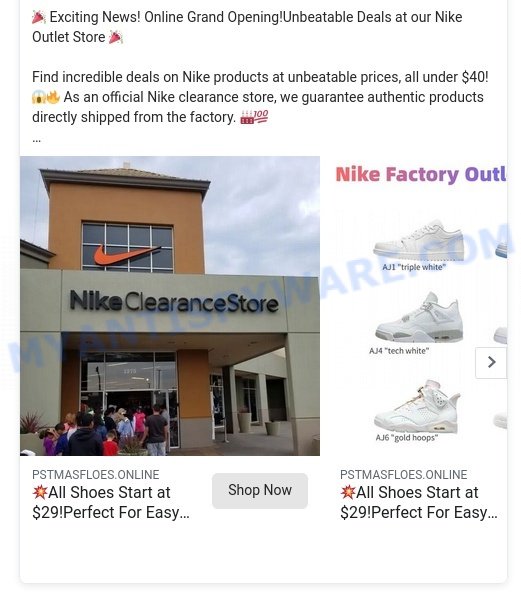 However, the reality could be quite different – receiving counterfeit items, if they receive anything at all. Additionally, given the hidden contact information and the lack of company details, customers find themselves at a dead-end when they try to return items or ask for refunds.
What to do if you become a victim of Pstmasfloes.online
If you have fallen prey to the deceptive practices of Pstmasfloes.online, here are some steps you can take:
Contact your bank or credit card company and dispute the charges.
Change your online banking and shopping passwords.
Report the scam to local authorities and online scam alert platforms.
Avoid sharing the website link and warn friends and family about the scam.
Other Scam Online Shops to Avoid
In our bid to safeguard our readers from potential scams, we've gathered a list of dubious online shops that bear similarities with Pstmasfloes.online. They use the same manipulative techniques to deceive customers. Always be cautious while shopping online and recognize the warning signs of scams.
Here are a few examples of the scam online shops: KingCrabStore.com King Crab Store Scam, Ahodenare.com Bookstore Scam, Axerxm.com Bed Bath & Beyond Store Scam.
Summary table for Pstmasfloes.online
| | |
| --- | --- |
| Name | Pstmasfloes.online |
| Type | Online Retail Scam |
| Damage | Potential monetary loss, compromised personal information |
| Distribution | Primarily through Facebook ads |
| Tactics | Deceptive pricing, counterfeit products |
| Prices | As low as $29 for "authentic" Nike shoes |
| Contacts | Email linked to other scam shops, no direct company details |
| Prevention Tips | Verify website authenticity, check reviews, avoid too-good-to-be-true deals |
| Reporting Info | Local cybercrime units, bank or credit card company |
Conclusion
Pstmasfloes.online is a deceptive scam site posing as an official Nike clearance store. Buyers should be cautious and avoid falling for its too-good-to-be-true deals.
FAQ About the Pstmasfloes.online Scam
Is it safe to share my payment details with Pstmasfloes.online?
No, given the red flags associated with the website, it's highly advisable to avoid sharing any payment or personal details.
How can I verify if an online store is genuine?
Always check for customer reviews, verify contact information, and avoid sites with prices that seem unrealistically low.
What are some immediate steps to take if I suspect I've been scammed?
Contact your bank, change passwords, and report the incident to relevant authorities.