Handyrt.shop is a scam online shop that has been promoting its products mainly through Facebook advertisements. If you've come across a tempting offer on this website and are considering making a purchase, we highly recommend reading our in-depth analysis first.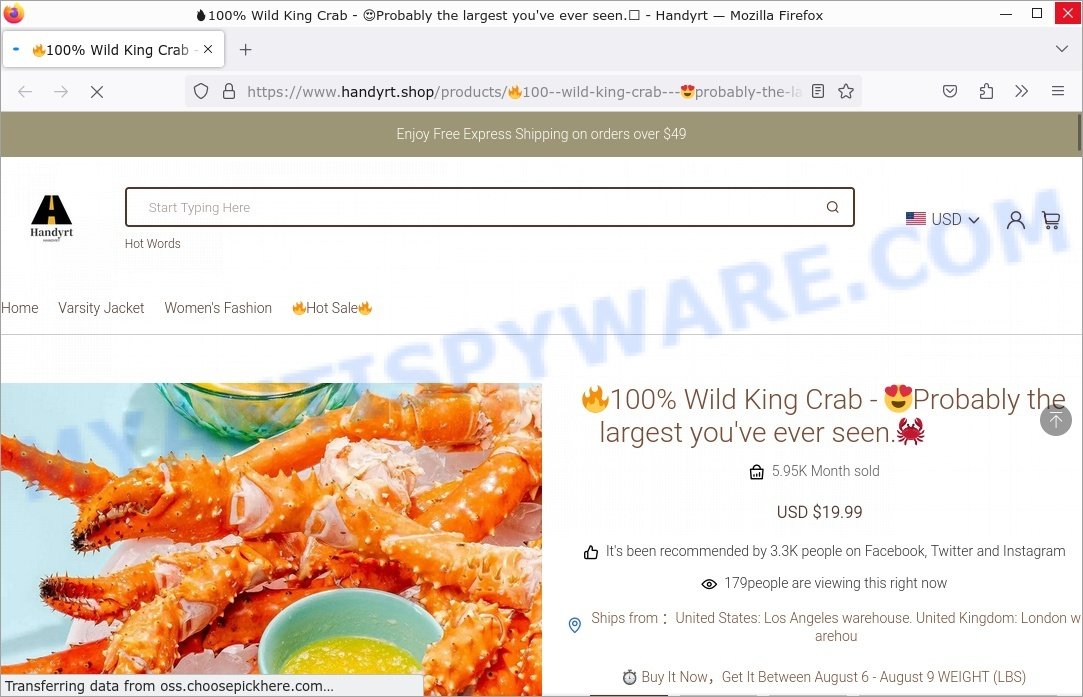 Quick links
Is Handyrt.shop a Scam?
After our thorough analysis, here are the alarming signs we found which indicate Handyrt.shop is likely a scam:
Recently created domain.
Lack of authentic contact information – contacts are hidden in Whois.
No verifiable information about the company behind the website.
Too good to be true deals such as the "Colossal Alaskan King Crab Legs Big Sale Today".
Generic template design common among scam websites.
Enticing slogans and time-sensitive offers used to lure buyers.
Lack of social media presence despite claims of being recommended by thousands on Facebook, Twitter, and Instagram.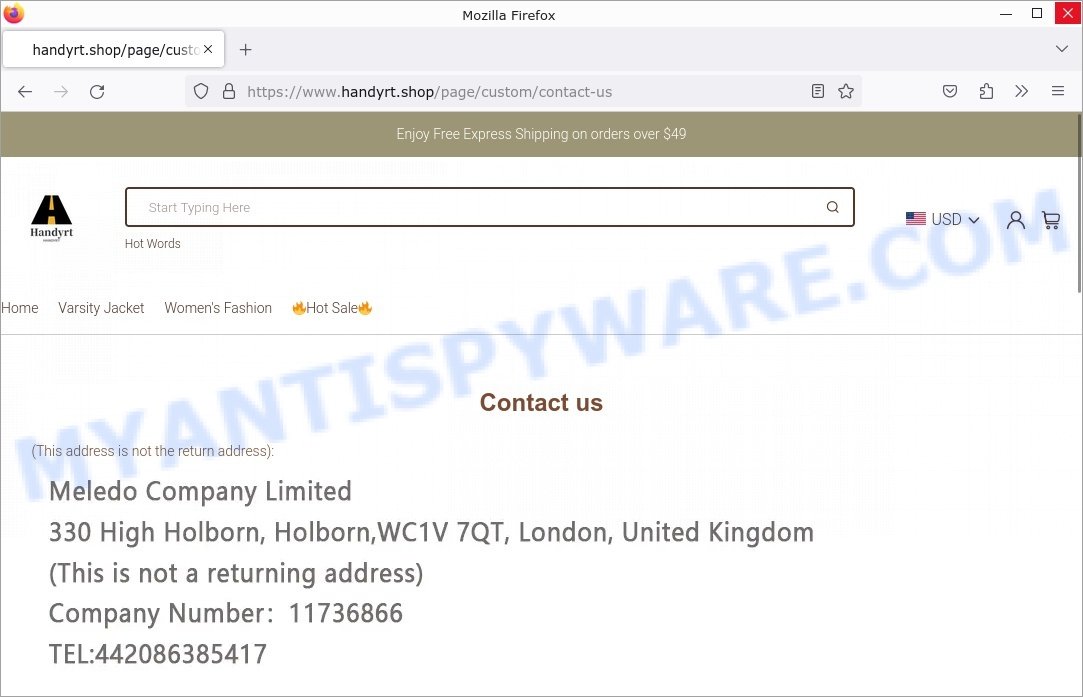 How the Handyrt.shop Scam works
Handyrt.shop is heavily promoted through Facebook ads, offering tempting deals on King Crab Legs. The advertisement boasts additional perks like extra salted butter and seafood seasoning.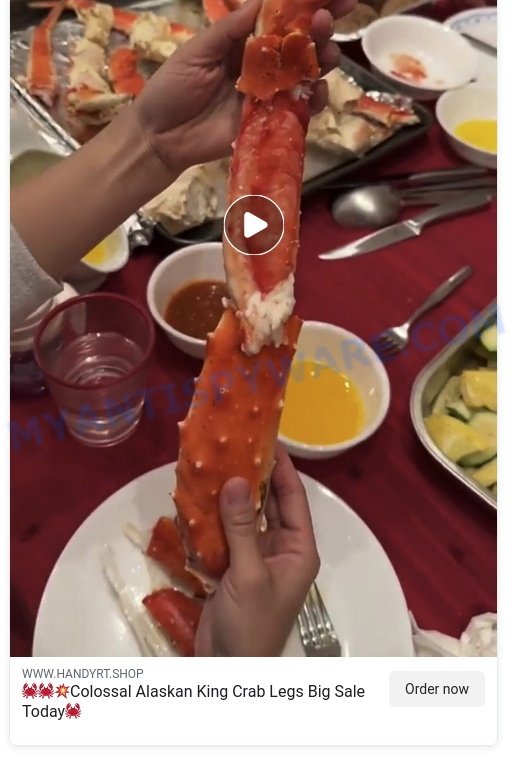 Once you visit the site, you're presented with a product that claims to be heavily recommended by thousands, with a large number of monthly sales and many current viewers. This tactic is designed to create a sense of urgency. The offered price is shockingly low, making it almost irresistible. Yet, after a purchase, customers either receive counterfeit products, lower-quality items, or nothing at all.
What to do if you become a victim of Handyrt.shop
If you've unfortunately fallen for this scam:
Contact your bank or credit card company immediately to report the fraudulent transaction.
Change your online passwords, especially if you used the same one on Handyrt.shop.
Keep an eye on your bank statements for any unauthorized charges.
Report the website to local authorities and online scam alert platforms.
Other Scam Online Shops to Avoid
In our ongoing mission to protect our readers from scams, we've listed other deceptive online shops that share characteristics with Handyrt.shop. Staying vigilant when shopping online and recognizing warning signs can safeguard your personal and financial information.
Here are a few examples of the scam online shops: Ahodenare.com Bookstore Scam, Heerful.com $37.95 Hoka Running Shoes Scam, and Outletshoks.com HOKA Summer Clearance Scam.
Summary table for Handyrt.shop
| | |
| --- | --- |
| Name | Handyrt.shop |
| Type | Online Retail Scam |
| Damage | Potential Financial Loss |
| Distribution | Facebook ads, Direct website visits |
| Tactics | Enticing deals, Urgency creation |
| Prices | USD $19.99 for King Crab Legs |
| Contacts | Hidden in Whois |
| Prevention Tips | Research before buying, Avoid too-good-to-be-true deals |
| Reporting Info | Contact local authorities and online scam alert platforms |
Conclusion
Handyrt.shop is a deceptive online platform enticing potential customers with too-good-to-be-true deals. Given the signs and tactics employed by the website, it's best to avoid making any purchases and always conduct thorough research before buying from unfamiliar online stores.
FAQ About the Handyrt.shop Scam
Are there any genuine reviews from customers who purchased from Handyrt.shop?
Though the site claims to have thousands of recommendations, our research did not find any genuine customer reviews backing their claims.
Why are such scam shops not immediately taken down?
Scammers often use tactics to stay under the radar, such as frequently changing domain names or using various hosting providers.
Is there any way to get my money back if scammed?
Contacting your bank or credit card company can potentially help you in initiating a chargeback, but it's not always guaranteed.