Quentes.online has made its presence felt on social media platforms, especially Facebook, boasting incredible deals on Nike products. If you've recently come across their enticing ads or are contemplating a purchase from them, we urge you to read this comprehensive review to avoid potential pitfalls.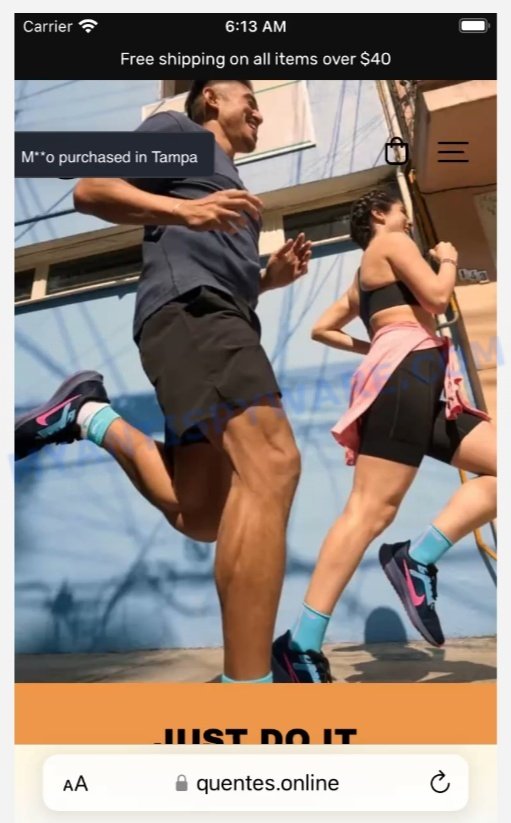 Quick links
Is Quentes.online a Scam?
From our research, several alarming indicators suggest that Quentes.online is, in fact, a scam. Here are the red flags:
Recently created domain – The site is new, which is common among scam platforms trying to avoid detection.
Lack of legitimate contact information – The only provided contact method is an email address: customerservice@profitablees.online.
No real info about the company behind other than a company name (FADEL BEATTY LIMITED) that is associated with other scam stores.
Unbelievably low prices for branded products, which they claim are under $40.
Template design, which is a hallmark of many scam stores that pop up and disappear rapidly.
Enticing slogans like "Limited time offer only for the first 1000 orders."
Hidden WHOIS details, typically a tactic to avoid easy tracking and accountability.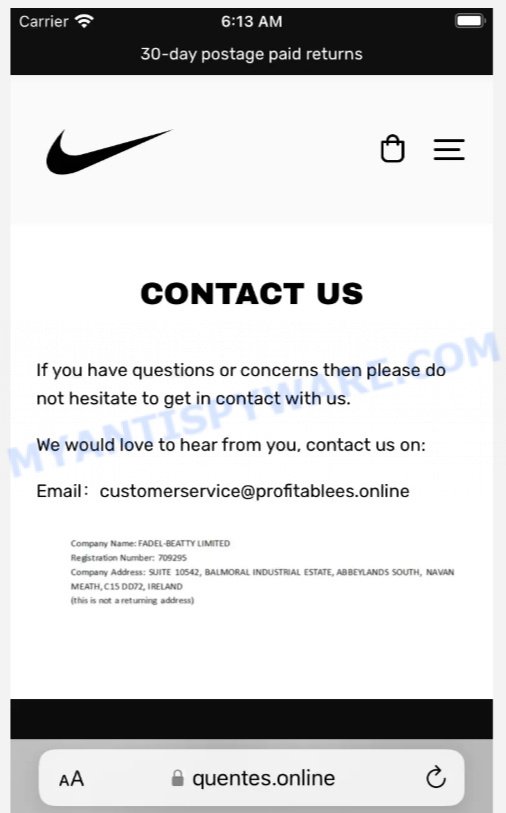 How the Quentes.online Scam works
Quentes.online appears to target unsuspecting buyers by leveraging the trustworthiness of a renowned brand, Nike. They use flashy advertisements on Facebook, promising authentic Nike products at unbeatable prices, all under $40. To lure customers, they even claim to be an official Nike clearance store.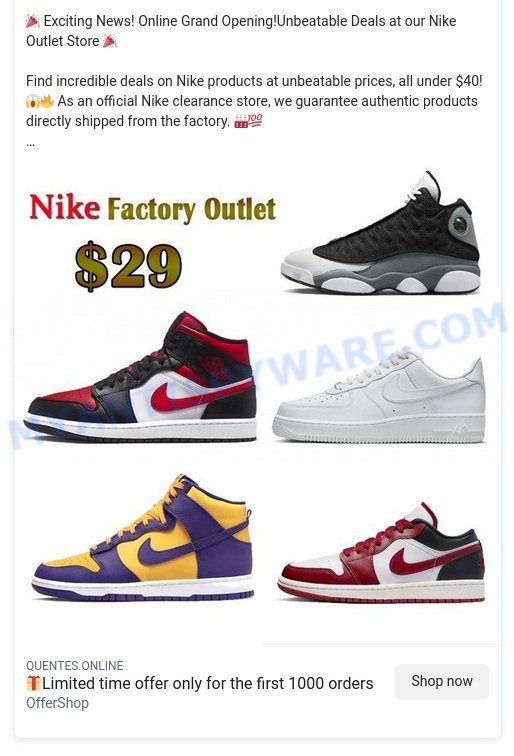 Once a user gets tempted by these irresistible deals and makes a purchase, they either receive counterfeit products or, in many cases, nothing at all. By the time customers realize they've been scammed, the store might vanish, only to reappear under a new name or domain.
What to do if you become a victim of Quentes.online
If you've unfortunately been duped by Quentes.online, take the following steps immediately:
Contact your bank or credit card company to report the fraudulent transaction and seek a chargeback.
Change passwords for any accounts where you use similar login credentials as the ones you used on the scam website.
Monitor your bank statements for any unauthorized charges or suspicious activity.
Report the website to online consumer protection agencies.
Other Scam Online Shops to Avoid
In our commitment to safeguard our readers from dubious online shops, it's pivotal to be alert and recognize the red flags. Just like Quentes.online, numerous other websites use similar deceitful tactics. Here are a few examples of the scam online shops: Ahodenare.com Bookstore Scam, Factorydirect-us.com Bed Bath & Beyond Store Scam, and Babyjoynewyork.com Buy Buy BABY Store Scam.
Summary table for Quentes.online
Name
Quentes.online
Type
Online Retail Scam
Damage
Potential loss of money, receipt of counterfeit products
Distribution
Primarily through Facebook ads
Tactics
Use of a renowned brand name (Nike) to lure buyers
Prices
All products under $40
Contacts
Email: customerservice@profitablees.online
Company: FADEL BEATTY LIMITED
Prevention Tips
Always research online stores before making purchases, especially new or unknown ones. Avoid deals that seem too good to be true.
Reporting Info
Contact local authorities and online consumer protection agencies
Conclusion
Quentes.online is a deceptive online platform camouflaging itself under the brand name of Nike to exploit unsuspecting buyers. Always practice caution and do thorough research before making online purchases.
FAQ About the Quentes.online Scam
Are there any authentic reviews for Quentes.online?
While specific reviews might vary, our research and the evidence gathered suggest that Quentes.online is a scam and not a legitimate Nike outlet.
How can I ensure I'm purchasing from a legitimate online store?
Always ensure that the website has verified contact information, check for online reviews, and if deals seem too good to be true, they probably are.
Why do scammers use renowned brands like Nike?
Scammers leverage the trust and reputation of well-known brands to easily lure in and deceive unsuspecting customers.