Ofif.shop has recently garnered attention with its tantalizing deals on iPads. If you've come across their promotions or are considering making a purchase, we strongly advise you to read this article first to get the full picture of this online store.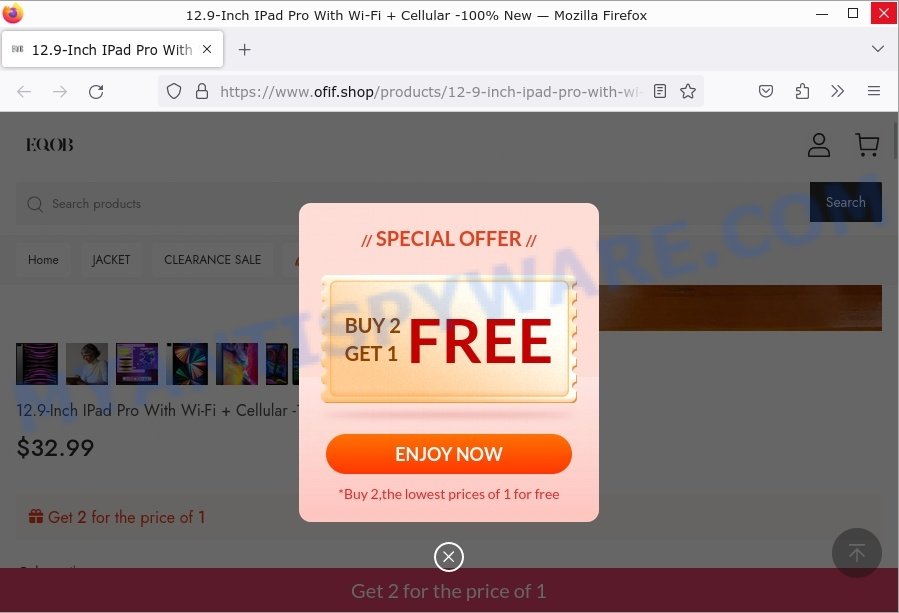 Quick links
Is Ofif.shop a Scam?
There are several red flags associated with Ofif.shop that point towards it being a scam:
Recently Created Domain: The domain for Ofif.shop was recently established, a common trait of fly-by-night scam websites.
Lack of Genuine Contact Information: The only provided email address is cs@eqob.shop, which doesn't match the domain of the store.
Hidden Whois Contacts: Legitimate businesses usually don't have a reason to hide their domain registration details.
Too Good to Be True Deals: Their Facebook ad promises unbelievably low prices on iPads which raises suspicion.
Content and Slogans: The advertisement uses enticing phrases such as "Lowest price", "free shipping", and "Shipping within 24H + 14 Days Exchange & Return" to lure customers.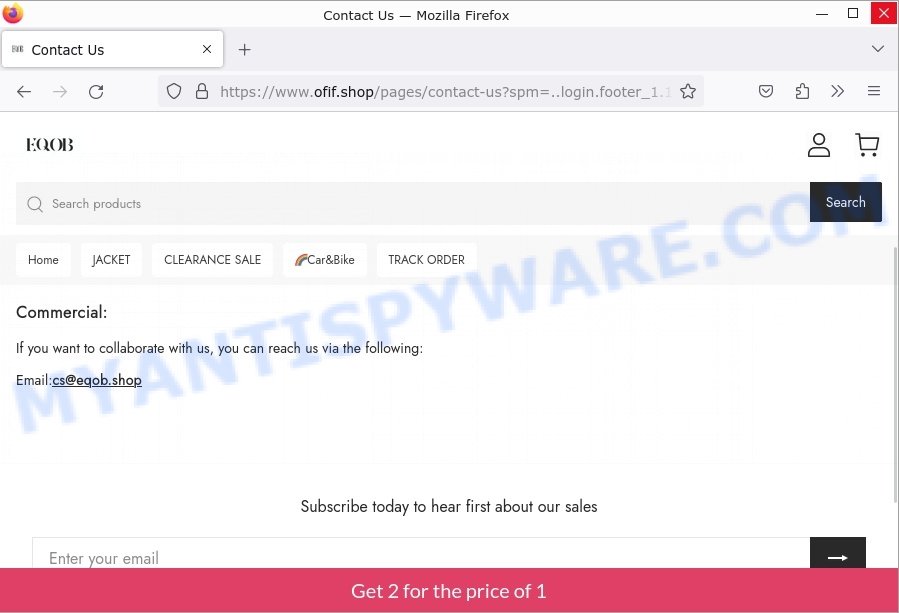 How the Ofif.shop Scam works
Ofif.shop is making waves through its Facebook ads, enticing potential customers with claims of selling almost brand new iPads at staggeringly low prices. The website lures you with promises of a "one year warranty" and speedy shipping times.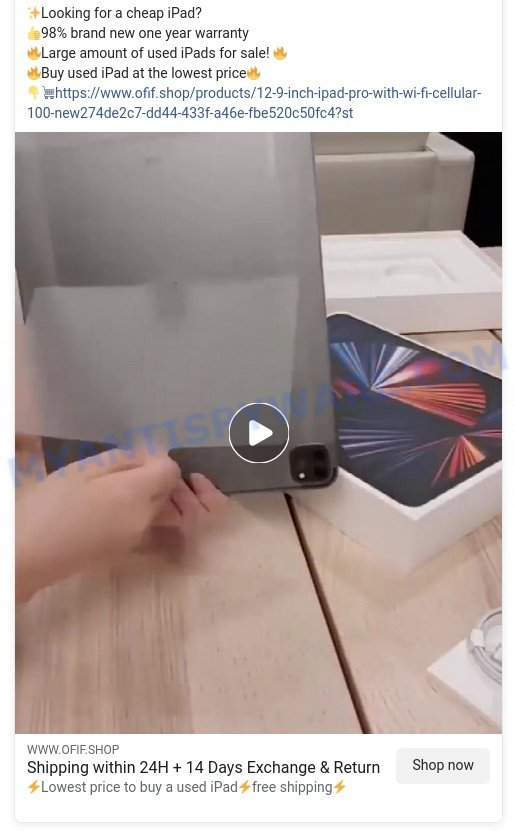 But once a purchase is made, customers often face issues with either receiving counterfeit products, no products at all, or find it nearly impossible to avail the mentioned "14 Days Exchange & Return" policy. With the Whois contacts hidden and a mismatched contact email, there's little recourse for the victims to claim a refund or get genuine assistance.
What to do if you become a victim of Ofif.shop
If you've unfortunately fallen prey to this scam, here's what you can do:
Contact your bank or credit card company immediately to report the fraudulent transaction.
Change passwords for any online accounts linked to the payment method you used.
Monitor your bank statements closely for any unauthorized transactions.
Report the scam website to local authorities and online platforms where the ads are being displayed.
Other Scam Online Shops to Avoid
To protect our readers from potential scams, we've compiled a list of other deceptive online shops you should steer clear of. Like Ofif.shop, these sites use similar tactics to con unsuspecting buyers. Ensure you remain wary of online shopping traps and always check for legitimacy before making a purchase.
Here are a few examples of the scam online shops: Ahodenare.com Bookstore Scam, Axerxm.com Bed Bath & Beyond Store Scam, Oputcre.shop QVC Store Scam.
| | |
| --- | --- |
| Name | Ofif.shop |
| Type | Online Store Scam |
| Damage | Financial loss, potential personal information theft |
| Distribution | Facebook ads |
| Tactics | Enticing deals on iPads |
| Prices | Unbelievably low, 12.9-Inch IPad Pro With Wi-Fi + Cellular -100% New for $32.99 |
| Contacts | Email: cs@eqob.shop |
| Prevention Tips | Always verify online shops before purchasing, avoid too good to be true deals |
| Reporting Info | Contact local authorities, report on scam watchdog websites |
Conclusion
Ofif.shop is a deceptive online store, attempting to lure unsuspecting victims with incredibly low-priced iPad deals. Always exercise caution and perform due diligence before making any online purchases.
FAQ About the Ofif.shop Scam
Why are the prices on Ofif.shop so low?
This is a common tactic among scam sites to entice victims into making a purchase, only to never deliver the product or send counterfeit items.
How can I verify the authenticity of an online store?
Always look for customer reviews, verify contact details, and check the domain's age. If possible, use tools like Whois to gather more information about the website.
Is it safe to click on Facebook ads?
Not always. While many ads on Facebook are from genuine businesses, scammers also use the platform to promote their fake sites. Always be wary and check the legitimacy of the store before purchasing.