Clearance-sales.com is rapidly gaining attention due to its tempting Facebook ads that advertise a so-called "Bed Bath & Beyond Bankruptcy Sale". If you've come across these ads or this website, you might want to read this review before making a purchase.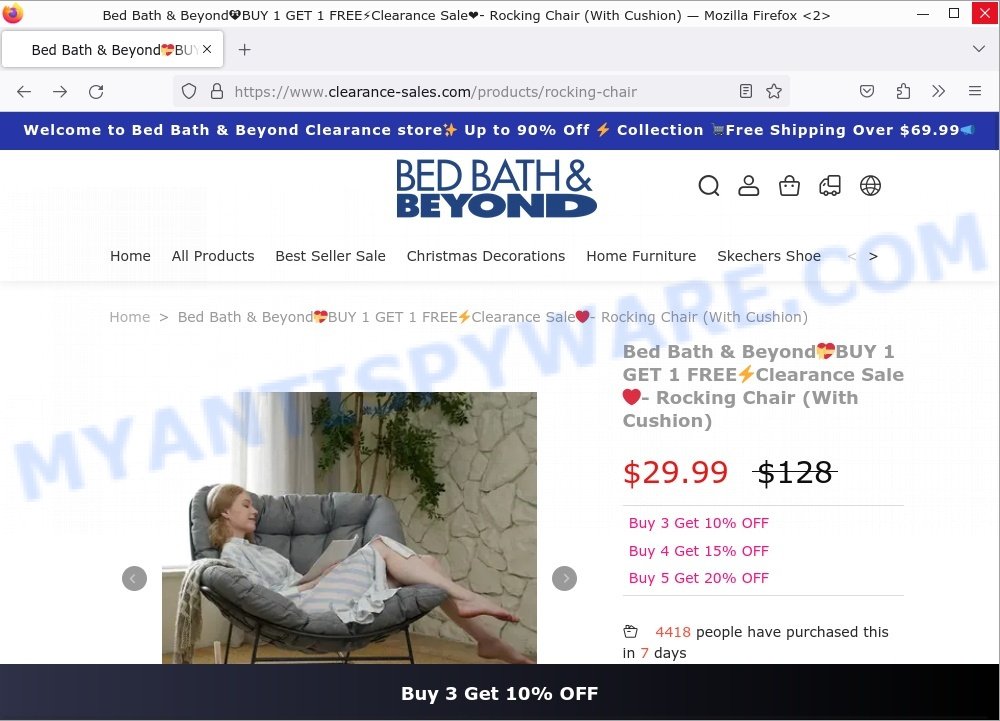 Quick links
Is Clearance-sales.com a Scam?
The signs are unmistakably clear when it comes to the dubious nature of Clearance-sales.com:
Recently created domain
Unbelievable deals and incredibly low prices, especially related to Bed Bath & Beyond's alleged "bankruptcy sale"
Enticing slogans like "Fast Delivery Shipped Within 24 hours" and "30 Day Money Back Guarantee"
Lack of proper contact information; mainly just an email address: custservice@cocolook.xyz
No genuine information about the company behind the website
No social media presence apart from Facebook ads
No clear link between the email domain (cocolook.xyz) and the website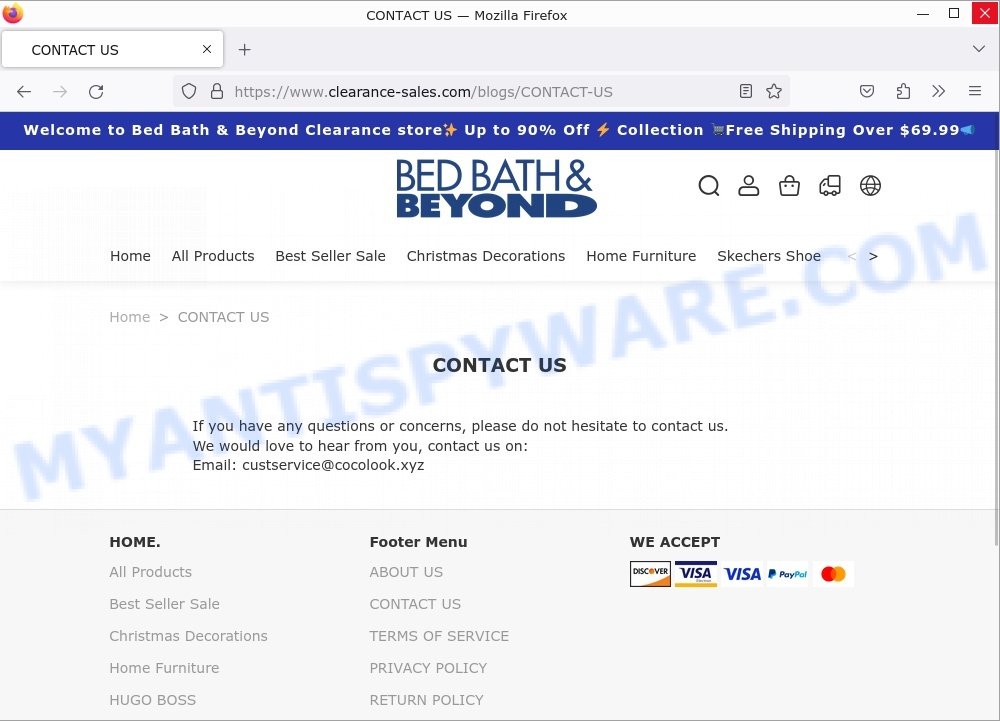 How the Clearance-sales.com Scam works
Clearance-sales.com is targeting unsuspecting customers by promoting alleged clearance sales from renowned brands. The scam often starts with a Facebook ad, promising high-quality products at rock-bottom prices. Their ad, which touts a "Bed Bath & Beyond Bankruptcy Sale", can be quite enticing.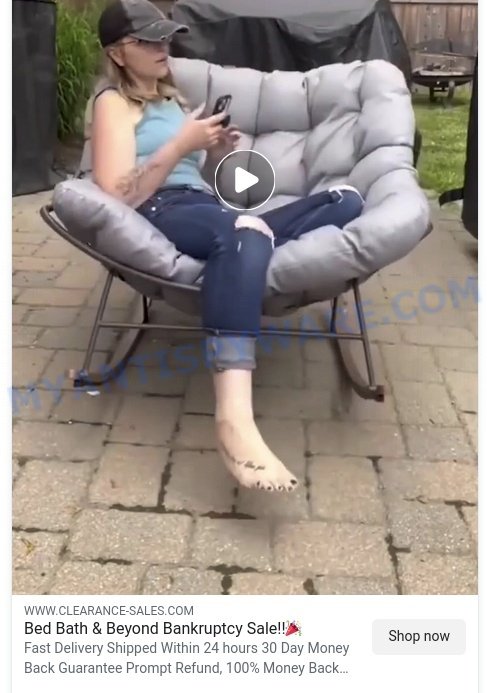 However, once customers make a purchase, they may either receive counterfeit products, items that are drastically different from what was advertised, or nothing at all. Contacting their customer service leads to a dead-end as the provided email often doesn't yield any response. The entire setup is designed to lure in customers with the promise of unbelievable deals and then leave them high and dry.
What to do if you become a victim of Clearance-sales.com
If you've been duped by Clearance-sales.com, take the following steps:
Contact your bank or credit card company to dispute the charge.
Change any passwords related to your financial accounts to prevent unauthorized access.
Report the scam to local authorities and online scam alert platforms.
Avoid sharing the scam site with friends and family to prevent them from falling for it.
Other Scam Online Shops to Avoid
As part of our ongoing effort to protect our readers from potential scams, we have compiled a list of other suspicious online shops that you should be aware of. These shops share similar characteristics and tactics to Clearance-sales.com, using deceptive practices to trap unsuspecting buyers. It's vital to remain vigilant when shopping online and to recognize the warning signs of a potential scam.
Here are a few examples of the scam online shops: Axerxm.com Bed Bath & Beyond Store Scam, KingCrabStore.com King Crab Store Scam, and Outletshoks.com HOKA Summer Clearance Scam.
Summary table for Clearance-sales.com
| | |
| --- | --- |
| Name | Clearance-sales.com |
| Type | Online Scam Store |
| Damage | Potential loss of money, receipt of counterfeit or different items |
| Distribution | Primarily through Facebook Ads |
| Tactics | Use of renowned brand names, enticing ads, and unbelievable discounts |
| Prices | Varies, but suspiciously low |
| Contacts | Email: custservice@cocolook.xyz |
| Prevention Tips | Always check store reviews, avoid too-good-to-be-true deals, secure online transactions |
| Reporting Info | Contact local authorities and online scam alert platforms |
Conclusion
Clearance-sales.com is a deceptive online store designed to prey on unsuspecting shoppers. Always do your due diligence before making a purchase from an unfamiliar website.
FAQ About the Clearance-sales.com Scam
Why does Clearance-sales.com use renowned brand names?
By using known brand names like "Bed Bath & Beyond," the scammers can lend an air of legitimacy to their site and trick more customers into believing the authenticity of their deals.
Is there any way to get my money back if I was scammed?
Yes, contact your bank or credit card provider immediately to dispute the charge. They often have protocols in place for such incidents.
How can I protect myself from such scams in the future?
Always research online stores before making a purchase, especially if they offer deals that seem too good to be true. Also, consider using secure payment methods that offer buyer protection.