Reebook.Vip is popping up everywhere on social media, especially on Facebook, with promises of "end-of-season" sales on men's sneakers for as low as $29.99. Sound too good to be true? That's because it probably is. This article will delve deep into the details of Reebook.Vip and shed light on the red flags that hint towards its potentially fraudulent nature. Keep reading to protect yourself from falling into their trap.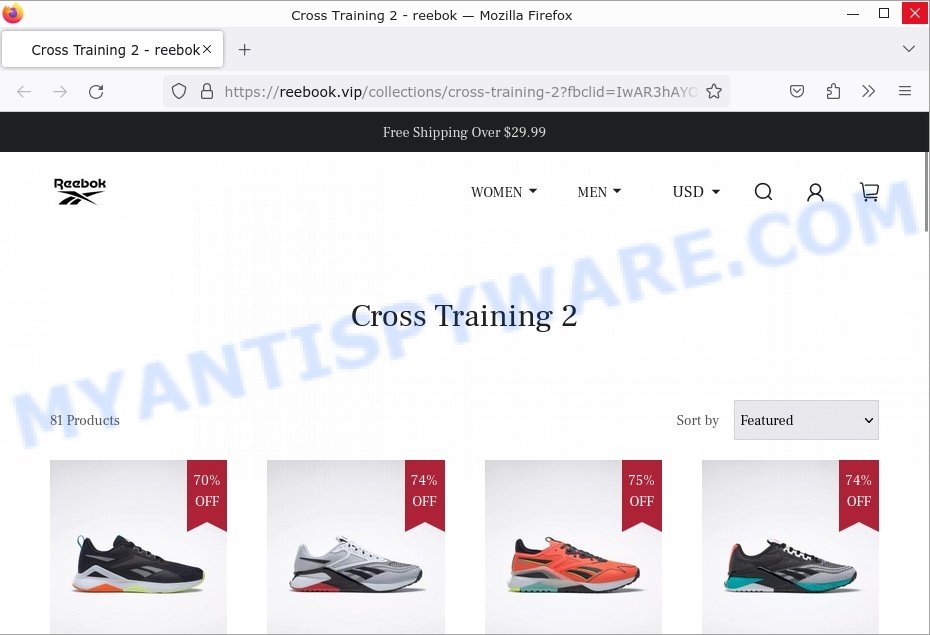 Quick links
Is Reebook.Vip a Scam?
While online shopping has become a norm, the rise of scam stores is alarming. Here are some telltale signs that Reebook.Vip is not what it appears to be:
Recently Created Domain: A quick Whois lookup shows that the domain is newly registered, a common characteristic of scam stores.
Unbelievable Deals: The site offers men's sneakers for a mere $29.99 through a so-called "End-of-season sale," which seems too good to be true.
No Social Media Presence: Their primary advertisement medium seems to be Facebook, but they lack a concrete presence or authentic reviews on any platform.
Template Design: The site uses a generic design, which many scam stores utilize as it requires little effort to set up.
Lack of Contact Information: There are absolutely no contact details provided. Genuine businesses usually provide means for customers to reach out to them.
How the Reebook.Vip Scam works
Reebook.Vip is enticing potential victims through ads on Facebook, highlighting their "End-of-season sale" where they are offering men's sneakers for an astonishing price of $29.99. Once a user clicks on the advertisement, they are redirected to a site with a generic design, offering various sneaker designs under the banner of a "Sale Sneakers for $29.99".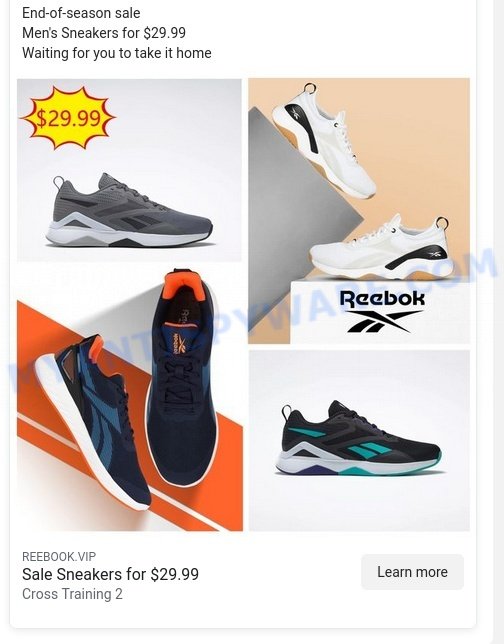 However, after making a purchase, customers might find themselves either receiving counterfeit goods, inferior products, or, in the worst-case scenario, nothing at all.
What to do if you become a victim of Reebook.Vip
If you've unfortunately fallen for the Reebook.Vip scam, don't lose hope. Here are some steps you can follow:
Contact your bank or credit card company immediately to report the fraudulent transaction.
Change any passwords related to your financial accounts.
Always check the credibility of online stores before making any future purchases.
Spread awareness and warn friends and family about the scam.
Other Scam Online Shops to Avoid
As part of our ongoing effort to protect our readers from potential scams, we want to make you aware of other suspicious online shops that share characteristics with Reebook.Vip. Staying vigilant and being informed can help you avoid falling for these traps.
Here are a few examples of the scam online shops: Heerful.com $37.95 Hoka Running Shoes Scam, Acstoreus.com DICK'S SPORTING GOODS Store Scam, and Factorydirect-us.com Bed Bath & Beyond Store Scam.
Summary table for Reebook.Vip
| | |
| --- | --- |
| Name | Reebook.Vip, $29.99 Reebook Sneakers Scam |
| Type | Online Scam Store |
| Damage | Potential financial loss, receipt of counterfeit products |
| Distribution | Facebook Ads |
| Tactics | Deceptive advertisements, unbelievable discounts |
| Prices | Men's Sneakers for $29.99 |
| Contacts | None provided |
| Prevention Tips | Always research online stores before purchasing, be wary of too-good-to-be-true deals |
| Reporting Info | Contact local authorities and inform your bank immediately |
Conclusion
Reebook.Vip ($29.99 Reebook Sneakers Scam) is a deceptive online platform that lures unsuspecting customers with attractive deals. Always remember: if a deal seems too good to be true, it probably is. Protect your personal and financial information by staying informed and always double-checking the credibility of online stores.
FAQ About the Reebook.Vip Scam
Why are Reebook.Vip's prices so low?
Reebook.Vip's prices are set extremely low as a bait to attract unsuspecting customers. Scam sites often use such unbelievable deals to lure victims.
Can I get my money back if I've been scammed by Reebook.Vip?
It's possible, but it depends on how you made the payment and the policies of your bank or credit card provider. Always report scams to your bank immediately.
How can I avoid falling for online shopping scams in the future?
Always research online stores, check for reviews, and be wary of deals that seem too good to be true. Staying informed and cautious is key.