Breezyard Shop (Breezyard.com) has been catching a lot of attention lately, especially among avid online shoppers and Lacoste enthusiasts. If you've come across their too-good-to-be-true deals, you might be wondering about the legitimacy of this site. We've dived deep into the details to give you a comprehensive review of this scam shop. Keep reading to discover the truth behind Breezyard.com.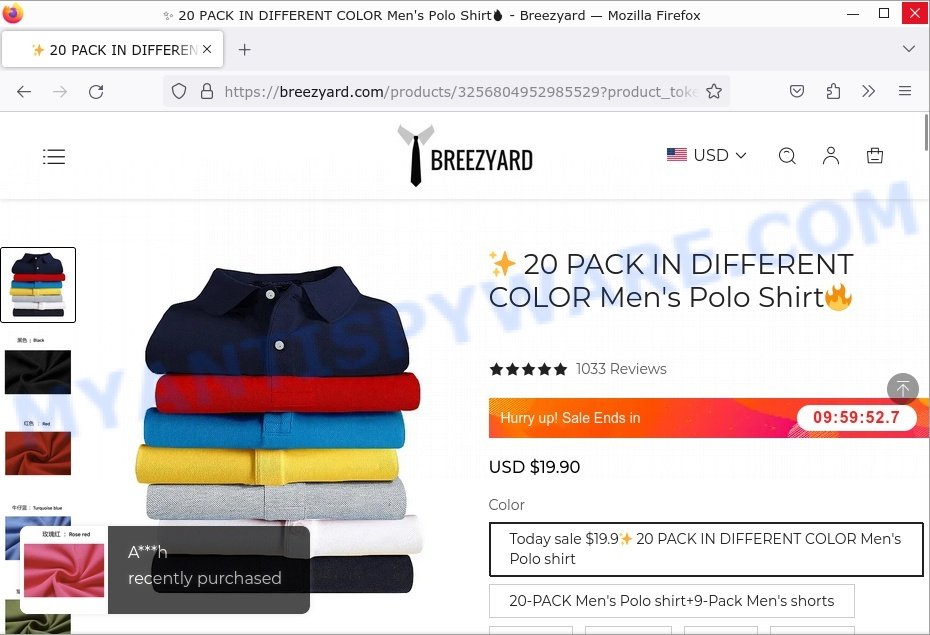 Quick links
Is Breezyard.com a Scam?
Let's address the big question head-on. Based on our research, there are clear indicators that Breezyard.com is a scam:
Recently created domain, indicating a potential lack of legitimacy.
Lack of contact information, with only an email address provided: support@binderie.com.
No real info about the company behind, other than the generic "Meledo Company Limited".
Enticing slogans and unrealistically low prices, such as "Summer Sale as low as $1/PCS per item".
Content, images, and descriptions that are suspiciously similar to legitimate brands, suggesting content theft.
No visible social media presence, despite advertising on platforms like Facebook.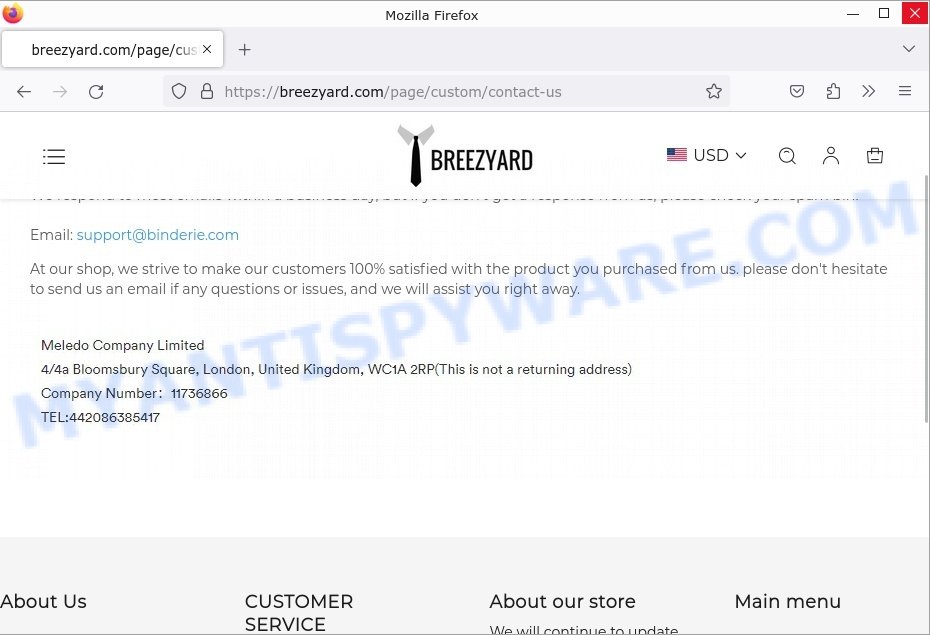 How the Breezyard.com Scam works
Breezyard.com is a clever facade that mimics a genuine Lacoste store. It begins with a tantalizing advertisement on platforms like Facebook, promoting "20-PACK/PCS Men's Polo Shirt" at almost impossible prices.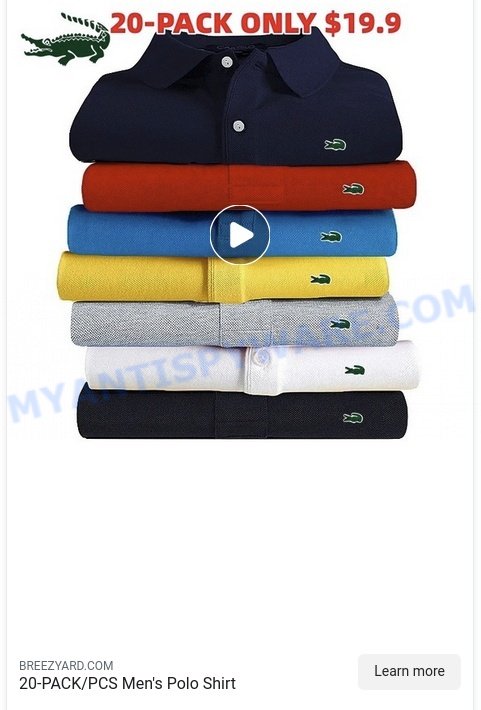 Once an unsuspecting buyer is lured in, they are directed to the Breezyard.com website where the scam truly unfolds. With such enticing prices, many are tempted to purchase, only to find out later that the products are counterfeit, of poor quality, or in many cases, never delivered at all. Additionally, the email and company details provided are linked to other known scam shops, further affirming the dubious nature of this site.
What to do if you become a victim of Breezyard.com
If you've fallen prey to this scam, don't despair. Here are steps you can take:
Contact your bank or credit card company to report the fraudulent transaction.
Change your passwords for online shopping sites and other related platforms.
Report the scam to local law enforcement or consumer protection agencies.
Avoid sharing the scam site with friends and family to prevent them from becoming victims.
Other Scam Online Shops to Avoid
In the digital era, scams are ever-evolving and becoming more sophisticated. As part of our commitment to keeping our readers safe online, we continually monitor the web for potential threats. Like Breezyard.com, there are other online shops that display similar scam patterns. It's essential to stay informed and cautious.
Here are a few examples of the scam online shops: Ahodenare.com Bookstore Scam, Acstoreus.com DICK'S SPORTING GOODS Store Scam, Outletshoks.com HOKA Summer Clearance Scam.
Summary table for Breezyard.com
| | |
| --- | --- |
| Name | Breezyard.com, Lacoste Summer Sale Scam |
| Type | Fake Online Shop |
| Damage | Potential Financial Loss, Identity Theft |
| Distribution | Online Ads, Social Media |
| Tactics | Deceptive Pricing, Counterfeit Goods |
| Prices | As low as $1/PCS, 20-PACK for $19.9 |
| Contacts | support@binderie.com, Meledo Company Limited, 4/4a Bloomsbury Square, London, United Kingdom |
| Prevention Tips | Always verify online shops, Avoid too-good-to-be-true deals |
| Reporting Info | Local law enforcement, consumer protection agencies |
Conclusion
Breezyard.com is a well-constructed scam, masquerading as a legitimate Lacoste store. Its enticing prices and professional-looking ads can easily lure unsuspecting buyers into a trap. As always, it's imperative to stay vigilant, conduct thorough research before making any purchase, and avoid deals that seem too good to be true.
FAQ About the Breezyard.com Scam
Is Breezyard.com the only scam store?
No, as we've highlighted, there are several other scam stores that utilize similar tactics. It's crucial to stay informed and avoid falling prey.
How can I protect myself from such scams?
Always conduct thorough research on unfamiliar online shops, read reviews, and avoid deals that seem unrealistically cheap. Use trusted payment methods, and be wary of sharing personal information online.
What if I've already been scammed?
Immediately contact your bank or credit card provider to report the transaction. It's also essential to change your online passwords and inform local law enforcement.