Dragonecom.shop is making waves online with too-good-to-be-true deals. Advertised on platforms like Facebook, these deals have caught many eyes, but are they legit? Find out in our comprehensive review. We urge you to read this full article before making any purchases.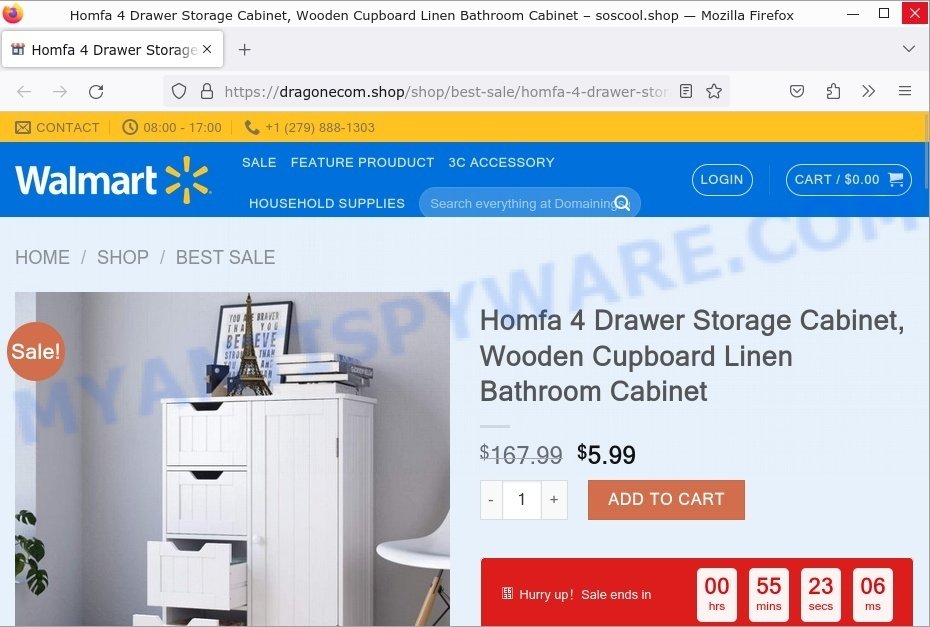 Quick links
Is Dragonecom.shop a Scam?
Dragonecom.shop exhibits several red flags common to online scams:
Recently created domain, suggesting little establishment or trustworthiness.
Lack of contact information – only offers an email address: service@dragonecom.shop.
No real information about the company behind the store.
Unbelievably low prices for high-demand items.
Uses enticing slogans like "Flash Sale Only $6 Today, With Free Shipping."
Template design with content likely taken from other sites.
No links to any social media platforms or evidence of a genuine online presence.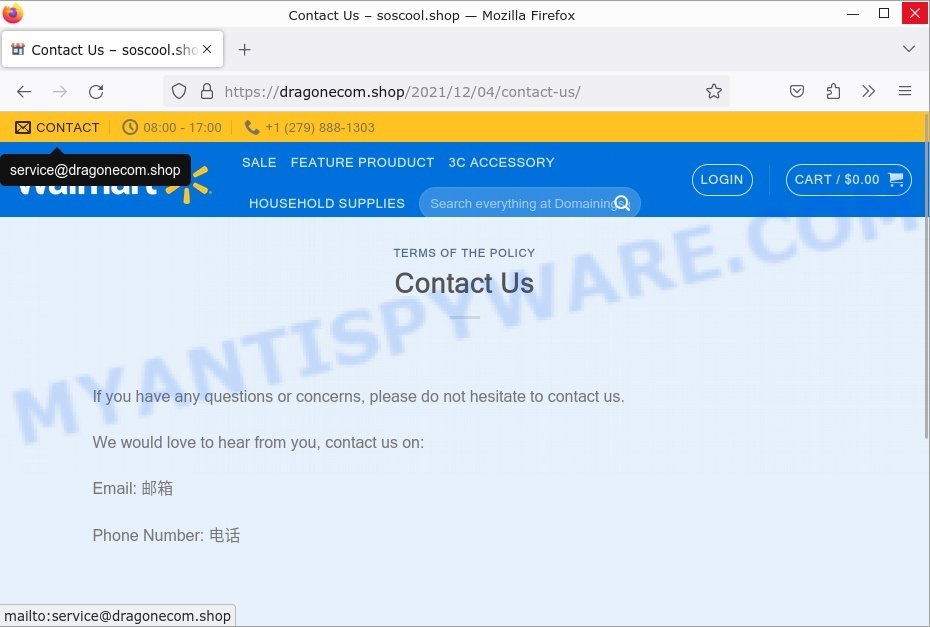 How the Dragonecom.shop Scam works
Dragonecom.shop is posing as a legitimate Walmart store, enticing potential customers with incredible deals on household items. One such promotion advertises a "Homfa 4 Drawer Storage Cabinet" for a mere $5.99. Shared on Facebook, this ad claims that this offer is a "Flash Sale" with free shipping. Unsuspecting customers, drawn by these enticing prices and offers, may end up purchasing items that they will never receive. The website's low prices are merely a bait to lure in victims.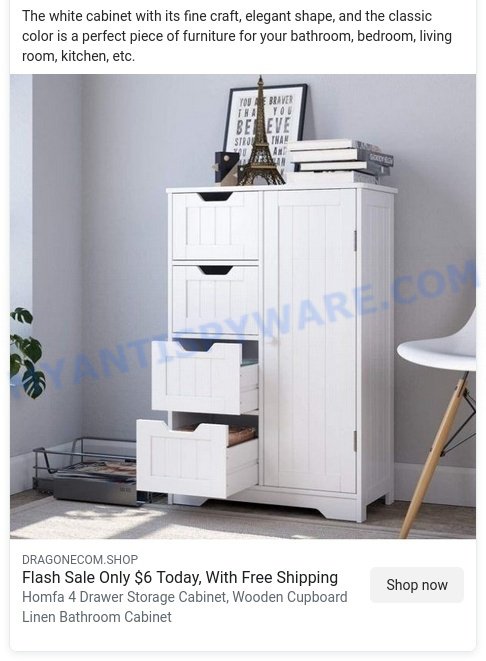 What to do if you become a victim of Dragonecom.shop
If you've fallen prey to this scam, here are steps you should consider:
Contact your bank or credit card company to report the fraudulent transaction and explore chargeback options.
Change any passwords associated with the email or personal accounts you used for the purchase.
Monitor your financial accounts for any suspicious activities.
Report the scam to relevant online platforms and consumer protection agencies.
Other Scam Online Shops to Avoid
To protect our readers from potential scams, we've compiled a list of other dubious online shops that exhibit similar tactics to Dragonecom.shop. Staying alert when shopping online and recognizing warning signs can save you from scams.
Here are a few examples of the scam online shops: Ahodenare.com Bookstore Scam, Acstoreus.com DICK'S SPORTING GOODS Store Scam, Axerxm.com Bed Bath & Beyond Store Scam.
| | |
| --- | --- |
| Name | Dragonecom.shop |
| Type | Fake Walmart Store |
| Damage | Potential monetary loss and personal information theft |
| Prices | Homfa 4 Drawer Storage Cabinet for $5.99 |
| Contacts | Email: service@dragonecom.shop |
| Prevention Tips | Always verify online stores, check reviews, and avoid deals that seem too good to be true |
Conclusion
Dragonecom.shop is a deceitful online store attempting to pose as a genuine Walmart vendor. With attractive deals and slick advertisements, it aims to scam unsuspecting individuals out of their money. Always exercise caution when shopping online and verify the authenticity of stores before making a purchase.
FAQ About the Dragonecom.shop Scam
Why are the prices on Dragonecom.shop so low?
It's a common tactic used by scam websites to lure victims. Offering high-demand items at an unbelievably low price can make shoppers overlook other red flags.
How can I differentiate between a legitimate online shop and a scam like Dragonecom.shop?
Always check for customer reviews, verify the contact details, look for a genuine social media presence, and be wary of deals that seem too good to be true.
Can I get my money back if I've been scammed?
It depends on your method of payment and the policies of your bank or credit card company. In many cases, you can report the fraudulent transaction and request a chargeback.