Have you received an email with the subject line "Your account is hacked. Your data is stolen. Learn how to regain access?" If so, you're not alone. This email is part of a widespread scam that is designed to frighten and intimidate recipients into paying a ransom to cybercriminals. In this article, we take a closer look at this scam email and provide insights into how it works, what to do if you receive it, and steps you can take to protect yourself from falling victim to similar scams.
Here's an example of the "Your account is hacked" scam email: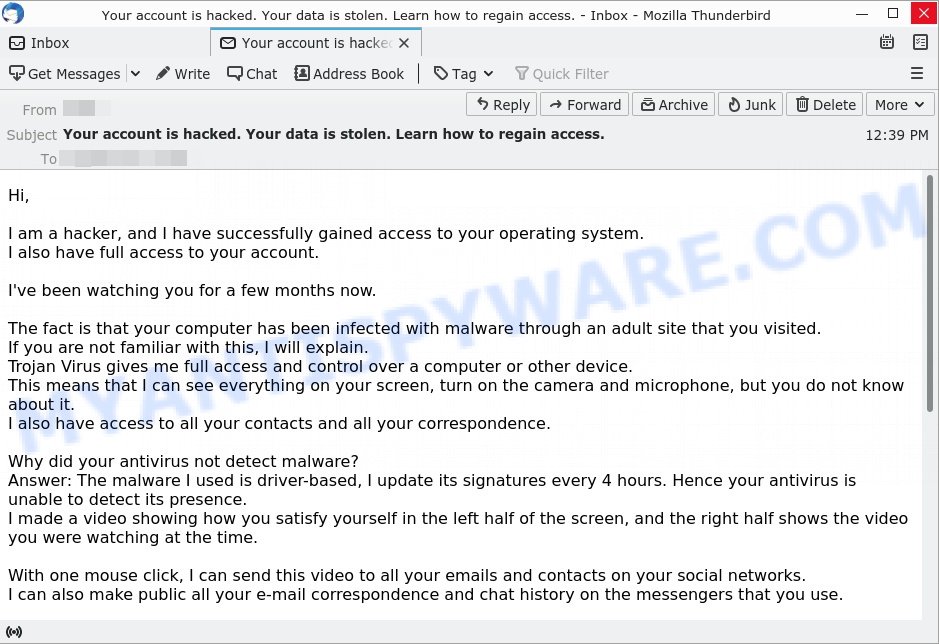 QUICK LINKS
Is this a scam email?
Yes, this is a scam email. It is important to recognize that these types of emails are commonly sent as mass spam and are designed to deceive and extort money from recipients. The claims made by the sender about hacking your computer, having compromising videos, and threatening to expose your personal information are typically empty threats used to create fear and panic. It is advised not to engage with or respond to such emails, and instead, report them as spam or phishing attempts to your email provider.
How the scam works
The "Your account is hacked" email scam is a form of extortion that aims to intimidate and deceive recipients into paying a ransom to cybercriminals. The scam typically begins with an email that claims to be from a hacker who has gained unauthorized access to the recipient's operating system and account. The email often includes alarming statements to create a sense of urgency and fear.
In this particular scam, the email states that the hacker has been monitoring the recipient's activities for an extended period. The scammer alleges that the recipient's computer was infected with malware when they visited an adult website. They assert that this malware, often referred to as a Trojan Virus, provides the hacker with complete control over the victim's device. They claim to have the ability to view everything on the recipient's screen, activate the camera and microphone without their knowledge, and access all contacts and correspondence.
To further intimidate the recipient, the scammer claims to have recorded a compromising video of the recipient engaged in explicit activities. They threaten to distribute this video to the victim's contacts and make their email correspondence and chat history public unless a ransom is paid. In this case, the ransom demanded is $1490, which the scammer insists should be transferred in Bitcoin to a specified Bitcoin address.
To create a sense of urgency, the scammer sets a deadline of 50 hours for the recipient to make the payment. They warn that any attempts to report or share the email will result in the immediate distribution of the alleged compromising video. The scammer also asserts that their malware is undetectable by antivirus software due to frequent updates to its signatures.
However, it's important to note that these scam emails are usually empty threats. The scammers often send out thousands of these emails indiscriminately, hoping to catch a small percentage of recipients who might be frightened enough to pay the ransom. In reality, the scammers have no compromising information or videos and are merely using fear tactics to extort money.
The scam email read as follows:
Hi,

I am a hacker, and I have successfully gained access to your operating system.
I also have full access to your account.

I've been watching you for a few months now.

The fact is that your computer has been infected with malware through an adult site that you visited.
If you are not familiar with this, I will explain.
Trojan Virus gives me full access and control over a computer or other device.
This means that I can see everything on your screen, turn on the camera and microphone, but you do not know about it.
I also have access to all your contacts and all your correspondence.

Why did your antivirus not detect malware?
Answer: The malware I used is driver-based, I update its signatures every 4 hours. Hence your antivirus is unable to detect its presence.
I made a video showing how you satisfy yourself in the left half of the screen, and the right half shows the video you were watching at the time.

With one mouse click, I can send this video to all your emails and contacts on your social networks.
I can also make public all your e-mail correspondence and chat history on the messengers that you use.

If you don't want this to happen, transfer $1490 in Bitcoin equivalent to my Bitcoin address (if you do not know how to do this, just search "buy bitcoin" on Google).

My Bitcoin address (BTC Wallet) is: 13yQcMFQSf7ixzJrNceCDL4E1jVHEVqrcY

After confirming your payment, I will delete the video immediately, and that's it. You will never hear from me again.
I will give you 50 hours (more than 2 days) to pay. I will get a notice, when you open this email, and the timer will start.
Filing a complaint somewhere does not make sense because this email cannot be tracked like my Bitcoin address.

I never make any mistakes.
If I find that you have shared this message with someone else, the video will be immediately distributed.

Best regards!
If you receive an email like this, do not engage with the scammer and do not send any money. Instead, delete the email and report it to the relevant authorities. It is also important to ensure that your computer has up-to-date anti-virus software and that you use strong, unique passwords for all of your accounts to reduce the likelihood of falling victim to scams like this.
Examples of such scams
The "Your account is hacked" email scam is just one example of the various online scams that exist today. These scams prey on people's fears, exploit their vulnerabilities, and attempt to extort money through deceptive tactics. In this section, we will explore some other common examples of scams similar to the "Your account is hacked" scam. By examining these examples, we can better understand the evolving landscape of cybercrime and equip ourselves with the knowledge needed to stay safe in the digital realm.
Here are some examples of such scams: Financial Hardship Department Scam, Geek Squad Email Scam, and USPS Redelivery Scam.
The examples provided above highlight the diverse range of online scams that individuals may encounter. It is essential to remain vigilant and skeptical of unsolicited emails or messages that make alarming claims and demand money or personal information. By familiarizing ourselves with these types of scams and sharing this knowledge with others, we can collectively build a safer online community. Remember, awareness and cautiousness are powerful tools in combating online threats.
Should you pay?
No, you should not pay the ransom demanded by the scammer. Remember that this is a scam and paying the ransom will only encourage the scammer to continue their criminal activities! Additionally, paying the ransom can make you a target for future scams. It is important to stay vigilant and protect your personal information from such scams by using strong and unique passwords, enabling two-factor authentication, and regularly updating your computer's security software. If you receive such an email, it is best to report it to the authorities and your email provider.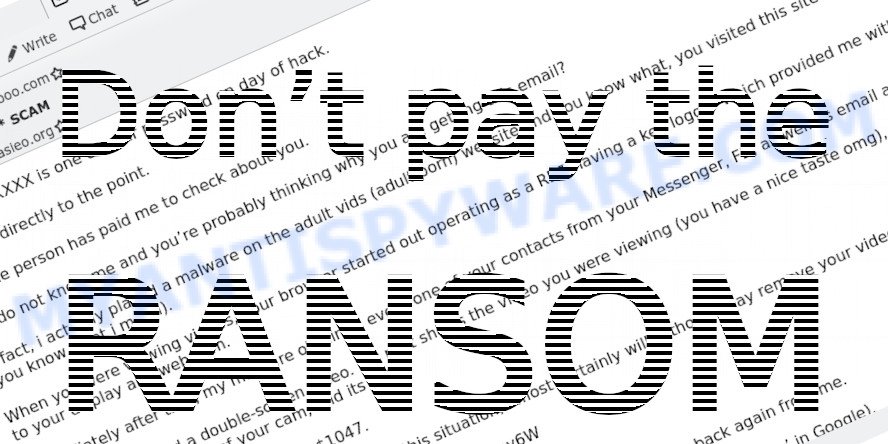 What to Do if You Receive the Scam Email
If you receive an email with the subject line "Your account is hacked. Your data is stolen. Learn how to regain access," do not panic. The scammers are trying to intimidate you, but remember that their threats are empty and baseless. Here are some steps you can take:
Do not panic! While these emails are designed to instill fear and panic in the victim, it is important to stay calm and take a measured response to the situation. Remember that the email is fake, and that the attacker does not have access to the sensitive information they are threatening to release
Do not respond or engage with the scammer in any way.
Do not click on any links or attachments in the email as they may contain malware or viruses that could harm your computer.
Mark the email as spam or phishing and delete it immediately.
Report the scam to the FTC at https://www.ftc.gov/ and relevant authorities, such as your email provider or local law enforcement, to help prevent others from falling victim to it.
Check your online accounts and make sure that your passwords are strong and unique.
Take steps to secure your online accounts and personal information, such as enabling two-factor authentication.
Stay informed about current scams and the tactics used by attackers, so that you can better recognize and avoid them in the future.
If you suspect that your computer is infected with spyware or malware, or if you clicked on a link in the scam email, it's always a good idea to scan your computer for viruses. Use a reputable anti-virus program to scan your computer thoroughly, and make sure it's up-to-date with the latest virus definitions.
Remember, the scammers are counting on you to be scared and make impulsive decisions. Don't fall for their tricks and take the necessary steps to protect yourself.
Threat Summary
| | |
| --- | --- |
| Name | Your account is hacked SCAM |
| Type | Sextortion scam, hacker email scam |
| Ransom amount | $950, $890, $1490 (in Bitcoin equivalent) |
| Bitcoin Address | 15NCWERN56DQNf4WiPLR2txgiEF2np5Q2g, 19eXNvqfdK7w8NVX1Db5o6GBYR1tcpWTKv, 13yQcMFQSf7ixzJrNceCDL4E1jVHEVqrcY |
| Fake Claims | Unauthorized access to recipient's operating system and account, compromising video, malware infection through adult site |
| Disguise | Impersonation of a hacker with access to recipient's personal information |
| Damage | Psychological distress, potential financial loss |
| Distribution | Mass emailing, widespread distribution to random recipients |
| Tactics | Fear and intimidation, urgency, claims of undetectable malware |
| Variations | Different subject lines, variations in ransom amount and Bitcoin address |
| Reporting Info | Report the scam to relevant authorities (e.g., FTC); Share information about the scam with friends and family to raise awareness; Monitor online accounts for any suspicious activity |
Conclusion
The 'Your account is hacked' email scam is an attempt by scammers to extort money from unsuspecting recipients by claiming to have compromised their devices and accessed sensitive information. The scammers use fear and intimidation tactics, coupled with urgent demands for payment, to pressure recipients into sending the requested ransom amount.
It is important to note that this is a hoax, and the claims made in the email are not true. The scammers rely on psychological manipulation to create a sense of fear and urgency, which can lead to people falling for the scam.
To protect yourself from such scams, it is important to be aware of the tactics used by scammers and take measures to safeguard your personal information. This includes using strong and unique passwords, enabling two-factor authentication, keeping antivirus software updated, and being cautious when opening email attachments or clicking on links.
If you receive an email like the one described in this article, mark it as spam or phishing and delete it immediately. Report the scam to relevant authorities, such as the Federal Trade Commission (FTC), to help them track and take action against these cybercriminals.
By sharing information about these scams with friends and family, we can raise awareness and ensure that more people are informed and protected. Remember, knowledge is power when it comes to combating online threats.