Rukiom.store is an online store that claims to sell women's pants, t-shirts, and dresses. However, there are several signs that suggest that this website is a scam. For instance, their logo is very similar to that of Costco, their products are only listed under one category, they have no positive reviews, and they use JavaScript to hide heavily discounted products from desktop users. In addition, the fact that Rukiom.store is managed by FADEL-BEATTY LIMITED, a company associated with a network of fraudulent websites, is also cause for concern.
If you want to learn more about the signs that suggest that Rukiom.store is a scam, keep reading this review. For a quick summary of our findings, please refer to the table Summary of Rukiom.store Review below.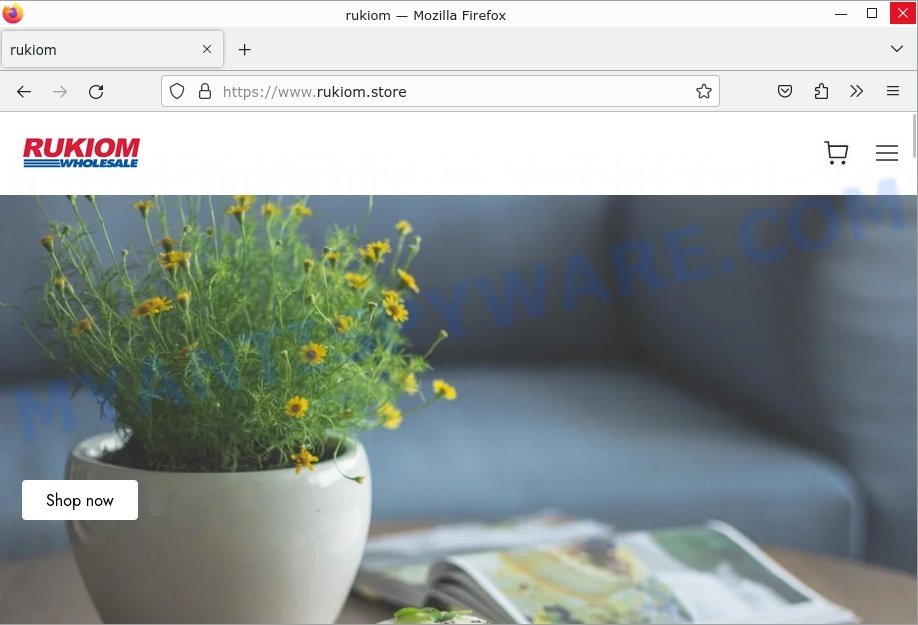 Rukiom.store Review
Design and Logo
One of the most striking features of Rukiom.store is its logo, which is very similar to that of Costco. Rukiom's logo contains the word "Rukiom" in red letters like Costco, and below the word "WHOLESALE," which is also similar to the Costco logo. This design choice is intended to create an impression of legitimacy and familiarity with a well-known brand.
However, this tactic is a common strategy used by scammers to deceive unsuspecting buyers into believing that they are buying from a reputable brand.
Facebook ads
Another suspicious aspect of Rukiom.store is its Facebook ads. The store promotes its products through ads that appear in users' feeds, and these ads feature hidden products with heavily discounted prices. These discounted products cannot be found on the main page or category pages of the website.
This tactic of hiding products from regular users and targeting specific audiences through Facebook ads is a common strategy used by fraudulent websites to trick unsuspecting customers into making purchases. The fact that Rukiom.store is using this strategy raises red flags and suggests that it may not be a trustworthy store.
Product and Categories
Rukiom.store claims to sell women's clothing, but upon closer inspection, it becomes clear that this site is a scam. The site lists 68 products, all of which are added to the "All Products" section. There are no categories, which is unusual for a legitimate ecommerce site that sells a range of different products.
The product photos on Rukiom.store appear to have been taken from other sites, which is a common tactic used by scammers to create the illusion of a legitimate online store without investing in professional product photography. Additionally, the prices of the products on the site are suspiciously low, with some hidden products listed at a fraction of their real value. The scammers behind Rukiom.store use this tactic to lure unsuspecting customers into making purchases.
Customer Reviews
There are no positive reviews available for Rukiom.store, and some reviews suggest that it is a scam. The lack of reviews is a red flag, as legitimate businesses usually have some customer feedback available online. The negative reviews and reports of suspicious activity are concerning and indicate that caution should be exercised when making purchases on this website.
Contact Information
The contact information provided by Rukiom.store includes an email address: support@rukiom.store and a company name: FADEL-BEATTY LIMITED, with a registration number of 709295. The company address provided on the website is SUITE 10542, BALMORAL INDUSTRIAL ESTATE, ABBEYLANDS SOUTH, NAVAN MEATH, C15 DD72, IRELAND. However, it is important to note that this address is not a returning address.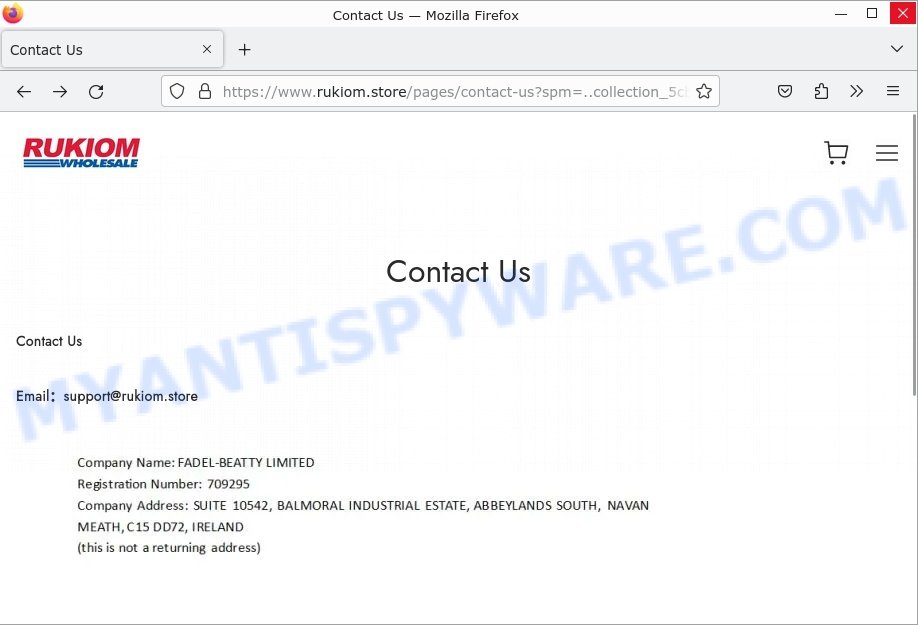 Additionally, the website does not provide any phone number for customer support, and there are no links to any social media pages. The lack of a phone number or social media presence can be considered a red flag as legitimate businesses usually have multiple ways to be reached by customers.
It is worth mentioning that the company name FADEL-BEATTY LIMITED has been associated with multiple fraudulent e-commerce websites, suggesting that it is a fake company used by scammers. This raises serious concerns about the legitimacy of Rukiom.store and whether customers can trust this website.
WHOIS Information
The WHOIS information of Rukiom.store provides some additional details about the website's ownership and registration. The domain was created on March 28, 2023, and it is set to expire on March 28, 2024. The most recent update to the domain registration information was made on May 12, 2023.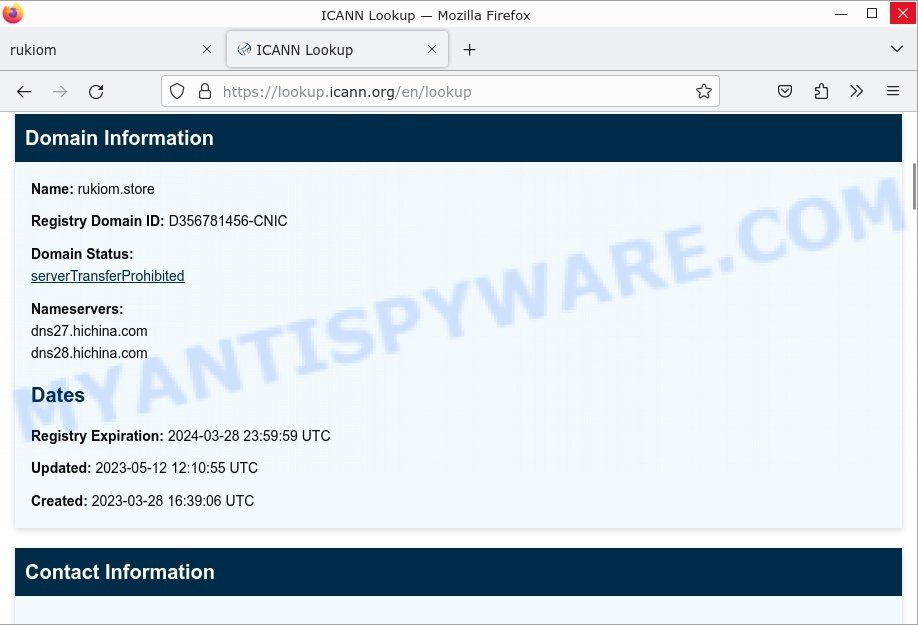 The registrant organization is listed as "cao min yu", with a mailing address in Guangdong, China. The email address and other contact information for the registrant, administrative and technical contacts have been redacted for privacy.
It's worth noting that the registration information appears to be incomplete and inconsistent. For example, the registrant name is not consistent with the company name provided on the website and the email addresses are all redacted. This raises suspicion and indicates that the website may be trying to conceal the identity of its owners.
Site Obfuscation Techniques Used by Rukiom.store
Rukiom.store employs several site obfuscation techniques, which further contribute to its suspicious nature. One prominent technique involves the use of JavaScript to hide certain products and display them selectively based on the device used to access the website. When visitors access the site from a computer, they are shown an empty 404 page, effectively concealing the existence of certain heavily discounted products. In contrast, those accessing the site from a mobile phone are presented with a page showcasing a specific product.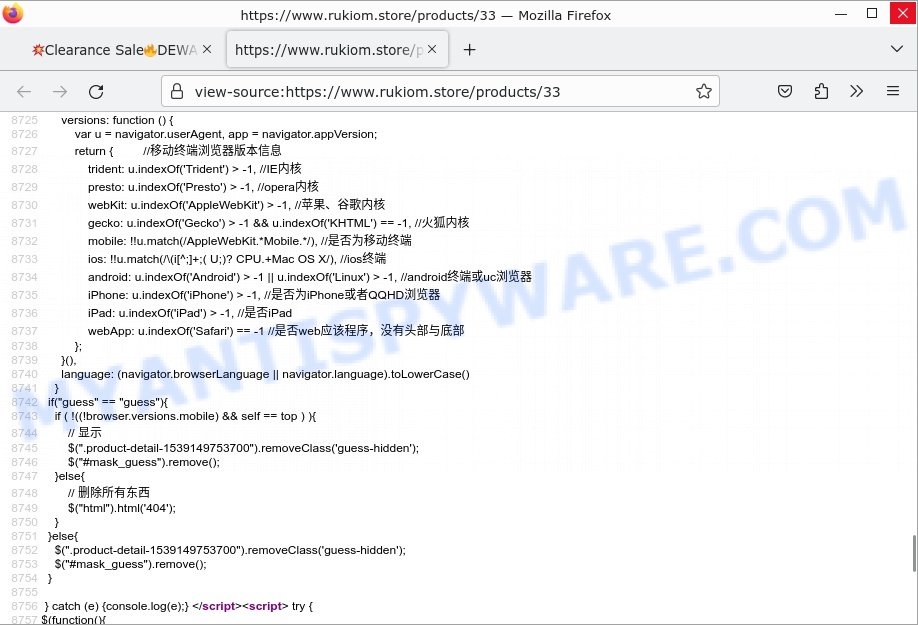 This intentional hiding of heavily discounted products based on the device used is a deceptive practice commonly employed by fraudulent websites. By selectively displaying these products, Rukiom.store attempts to lure potential customers into making purchases based on the allure of extremely low prices.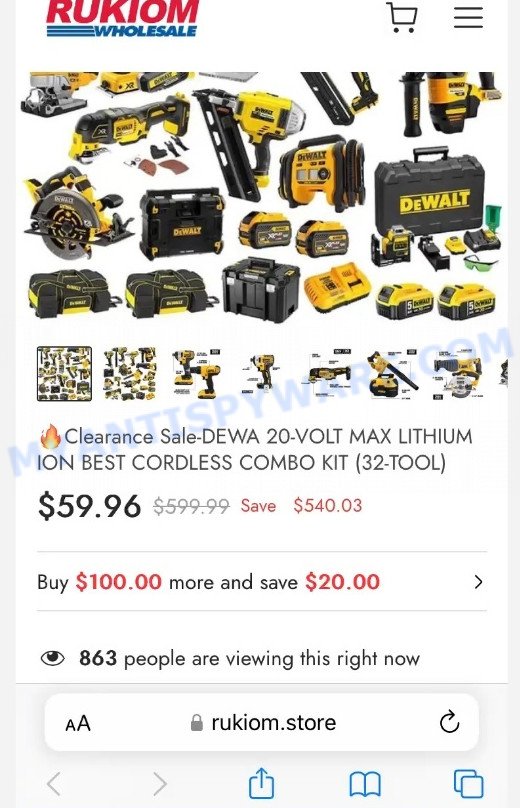 Furthermore, the fact that the hidden products do not align with the categories presented on the main page adds another layer of suspicion. For instance, displaying a "DEWA 20-VOLT MAX LITHIUM ION BEST CORDLESS COMBO KIT" at a fraction of its actual retail price on a website claiming to sell women's clothing is highly irregular and indicates an attempt to exploit unsuspecting buyers.
These site obfuscation techniques serve to mislead users and create a false sense of legitimacy.
Summary
| | |
| --- | --- |
| Store Name | Rukiom.store |
| Products | women's clothing |
| Number of Products | 79 |
| Hidden Products | Yes |
| Prices of Hidden Products | Very low prices compared to actual retail prices; DEWA 20-VOLT MAX LITHIUM ION BEST CORDLESS COMBO KIT for only $59.96, when its real price is $1500 |
| Reviews | No positive reviews found online; some reviews indicate that the site is a scam |
| Logo and Design | Rukiom.store's logo resembles the Costco logo, with the word "Rukiom" in red letters and the word "WHOLESALE" below it, similar to Costco's design. The logo and overall design are suspicious, attempting to mimic a well-known brand. |
| Contact Information | support@rukiom.store.; FADEL-BEATTY LIMITED Registration Number: 709295; Company Address: SUITE 10542, BALMORAL INDUSTRIAL ESTATE, ABBEYLANDS SOUTH, NAVAN MEATH, C15 DD72, IRELAND; (this is not a returning address) |
| WHOIS Information | Domain recently created (March 2023); registration information redacted |
| Conclusion | Rukiom.store exhibits several signs of being a scam website, and it is advisable to avoid it |
Conclusion:
Considering the various pieces of evidence and red flags surrounding Rukiom.store, it is highly likely that this website is a scam. The deceptive use of a logo resembling Costco, the presence of hidden products with heavily discounted prices unrelated to the advertised categories, the absence of positive reviews, and the site's overall suspicious design all contribute to this conclusion.
Furthermore, the contact information provided, with an address represented as an image and no phone number or links to social media pages, raises concerns about the legitimacy of the business behind Rukiom.store. The WHOIS information, with an incomplete and inconsistent registration record, further supports the notion that this website may not be trustworthy.
Given these facts, it is strongly recommended to exercise extreme caution and refrain from making any purchases or sharing personal information on Rukiom.store. Engaging with such a website can potentially lead to financial loss, compromised personal information, or other forms of fraudulent activity.
Other Suspicious Online Shops
It is important to stay vigilant when shopping online, as there are many fraudulent websites that may try to scam unsuspecting customers. In addition to Rukiom.store, there are several other suspicious online shops that should be avoided. These websites often have similar characteristics, such as a lack of contact information, hidden products, and suspiciously low prices. To help you stay safe while shopping online, we have compiled a list of some of these other suspicious online shops to watch out for.
Here are a few examples of the suspicious online shops: Visgateca.com, StanleyUS1913.com, and Naughtyslid.com.
How to spot and avoid a fake online store?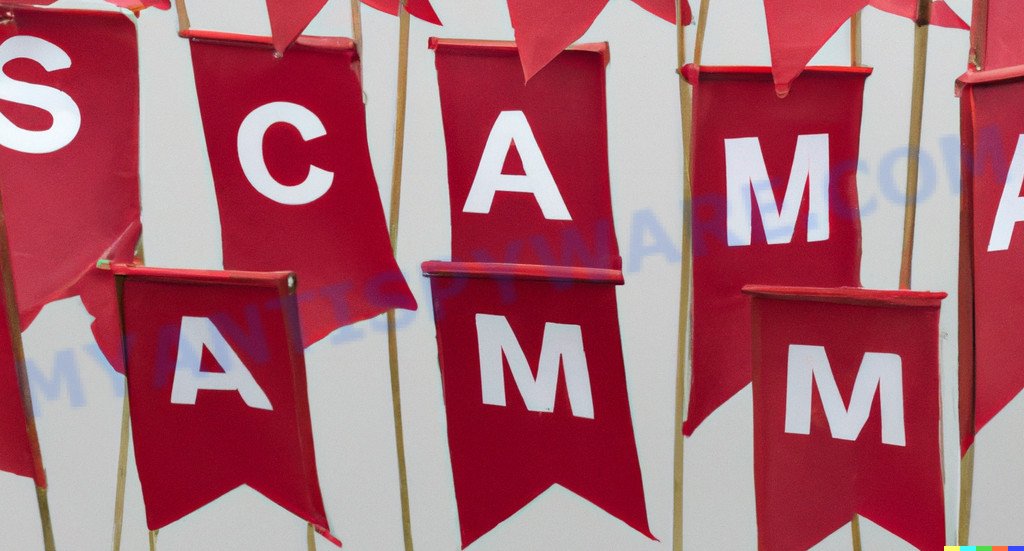 Online shopping has become increasingly popular, but it also carries certain risks, particularly when it comes to fake or fraudulent online stores. Here are some tips on how to spot and avoid a fake online shop:
Check for HTTPS and a padlock symbol in the URL bar. This indicates that the website is using encryption to protect your data.
Look for reviews and ratings of the website. Genuine websites will usually have positive feedback from customers, while fake ones may have little to no reviews or negative feedback.
Check the website's contact information. A legitimate online store will have a physical address, phone number, and email address for customer support.
Research the website on the internet. Search for the website's name and reviews, complaints or any warning signs about it before making a purchase.
Be wary of deals that are too good to be true. Fake online stores may offer steep discounts to lure in customers, but these deals may be a ploy to steal your money.
Avoid using payment methods that are not secure. Use payment methods such as credit card, PayPal or other payment methods that provide buyer protection.
Be wary of pop-ups or unsolicited emails directing you to a website. This may be a phishing attempt to get your personal and financial information.
By taking these precautions, you can reduce the risk of falling prey to fake online stores and ensure a safe and enjoyable online shopping experience.
What to do if you ordered something from a fake online store?
If you have already ordered something from a fake website and you suspect that it may be a scam, there are several steps you can take:
Contact the website's customer support.
If the website has provided contact information, try reaching out to their customer support to inquire about the status of your order. If the website does not respond or gives you unsatisfactory answers, it could be a sign that it is a fake website.
Check your payment method.
If you have paid for your order with a credit card, check your statement to see if the payment has gone through. If it has not, then you may have caught the scam in time, but if it has, you may need to dispute the charge with your bank.
File a dispute or chargeback with your payment provider.
If you have paid for your order with a credit card or other payment method that offers buyer protection, you may be able to dispute the charge or request a chargeback to get your money back. Use the steps (https://consumer.ftc.gov/articles/what-do-if-you-were-scammed) to try to stop a transaction, get a transaction reversed, or get a refund.
Report the fake online store.
You can report the fake website to authorities such as the Federal Trade Commission (FTC) at https://ftc.gov/ or the Internet Crime Complaint Center (IC3). This can help prevent others from falling victim to the same scam.
Learn from your experience.
Be more cautious in the future and take steps to ensure that you are shopping on legitimate websites that are secure and reputable.