Bedstockclearance.com is masquerading as a legitimate Lowe's clearance outlet, but in reality, it's a scam that's been setting its trap for unsuspecting shoppers. If you've come across this site and felt it was too good to be true, trust your instincts. Read on to find out why it's best to steer clear of this fraudulent online store.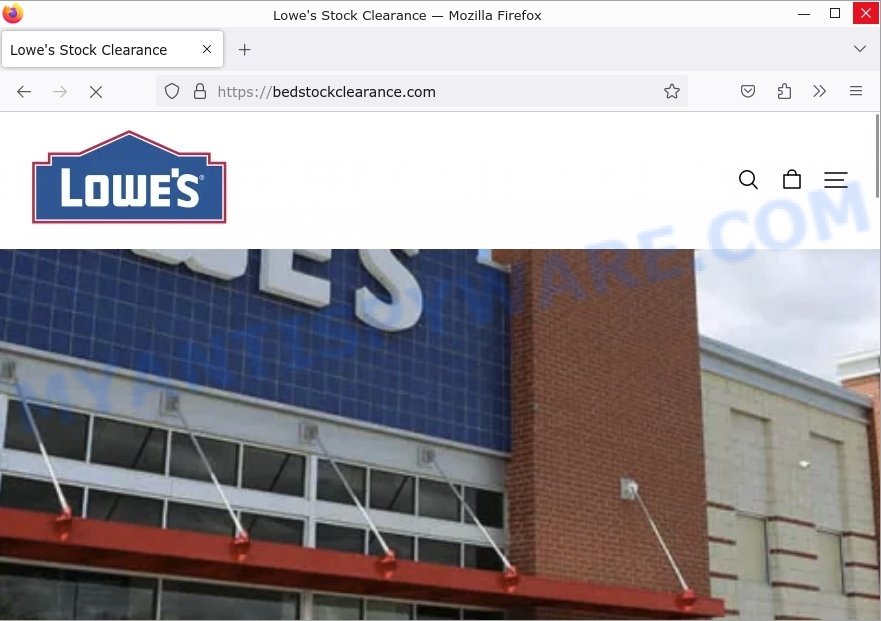 Quick links
Is Bedstockclearance.com a Scam?
Several red flags immediately stand out when inspecting Bedstockclearance.com:
The domain was recently created. New domains are a common trait among scam websites as they often have a short lifespan.
Lack of transparency in contact information. The only contact is through a questionable email address: info@tv-store-clearance.com.
The associated company, Supic Company Limited, has links to other known scam shops, further diminishing its credibility.
Whois details for the domain are hidden, a tactic often used to conceal the identity of scam operators.
Deceptive use of the Lowe's logo and brand name without any affiliation or endorsement.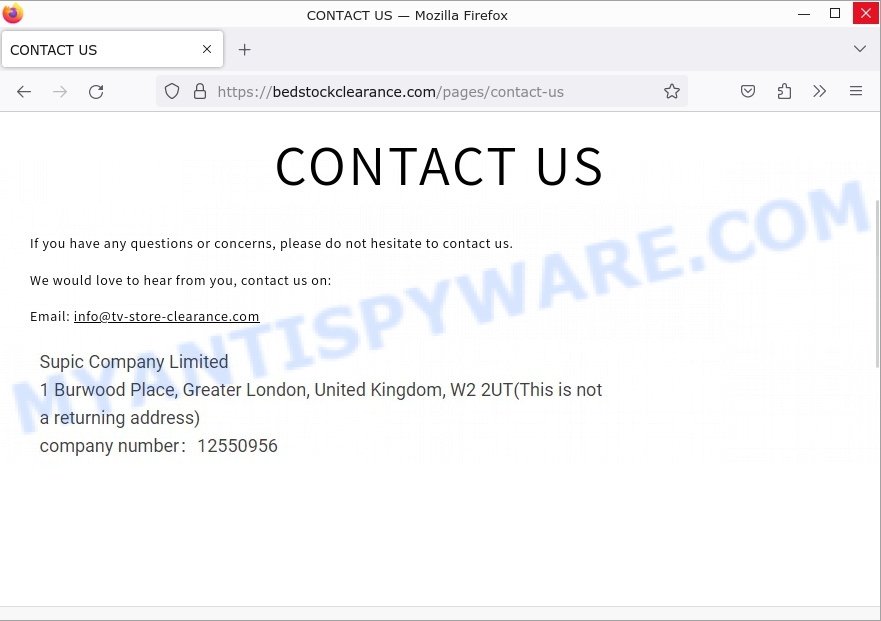 How the Bedstockclearance.com Scam works
Bedstockclearance.com is designed to lure in shoppers by masquerading as a Lowe's Stock Clearance sale. Unsuspecting customers are attracted by incredibly low prices and tempting offers. Once a purchase is made, they might not receive the product, or they might get a counterfeit or inferior item. The use of a legitimate brand like Lowe's is a tactic to gain trust. Coupled with the hidden domain details and suspicious company affiliations, it's clear that the primary goal is to deceive and defraud customers.
What to do if you become a victim of Bedstockclearance.com
If you have fallen prey to this scam:
Contact your bank immediately and report the fraudulent transaction.
Change passwords for online banking and shopping accounts.
Consider reporting to local law enforcement or consumer protection agencies.
Leave a review or warning on scam-awareness websites to alert others.
Other Scam Online Shops to Avoid
As part of our ongoing effort to protect readers from potential scams, we want to draw attention to other suspicious online shops. These shops, like Bedstockclearance.com, employ similar deceitful tactics. It's crucial to remain vigilant and be aware of the warning signs when shopping online.
Here are a few examples of the scam online shops:
KingCrabStore.com, Factorydirect-us.com, Tv-homeshopping.shop.
Summary table for Bedstockclearance.com
| | |
| --- | --- |
| Name | Bedstockclearance.com |
| Type | Online Scam Shop |
| Damage | Potential loss of money, receipt of counterfeit goods |
| Distribution | Online, possibly through ads or fake promotions |
| Tactics | Deceptive branding, fake discounts, hidden domain details |
| Contacts | Email: info@tv-store-clearance.com, Company: Supic Company Limited |
| Prevention Tips | Research online stores before purchase, avoid too-good-to-be-true deals |
| Reporting Info | Contact local law enforcement or consumer protection agencies |
Conclusion
Bedstockclearance.com is a crafty online scam masquerading as a Lowe's clearance outlet. It targets unsuspecting shoppers with the lure of too-good-to-be-true deals. As online shopping continues to grow, it's vital to remain vigilant, do due diligence, and always be wary of new sites that seem suspicious.
FAQ About the Bedstockclearance.com Scam
Why do scammers use legitimate brand names like Lowe's?
Using a trusted name helps scammers to lower the guard of potential victims, making them more likely to trust and make a purchase.
How can I identify scam shops in the future?
Look for recently created domains, hidden whois details, unbelievable deals, lack of contact details, and always research online reviews before making a purchase.
Are there legal consequences for such scams?
Yes, scamming is illegal. However, these criminals often operate across borders, making them challenging to track down and prosecute.