Blackstonediscount.com is an online store claiming to offer extremely low-priced Blackstone grills and accessories. If you've come across their Facebook ads and are contemplating a purchase, read this article first. We have analyzed the shop and its red flags are concerning.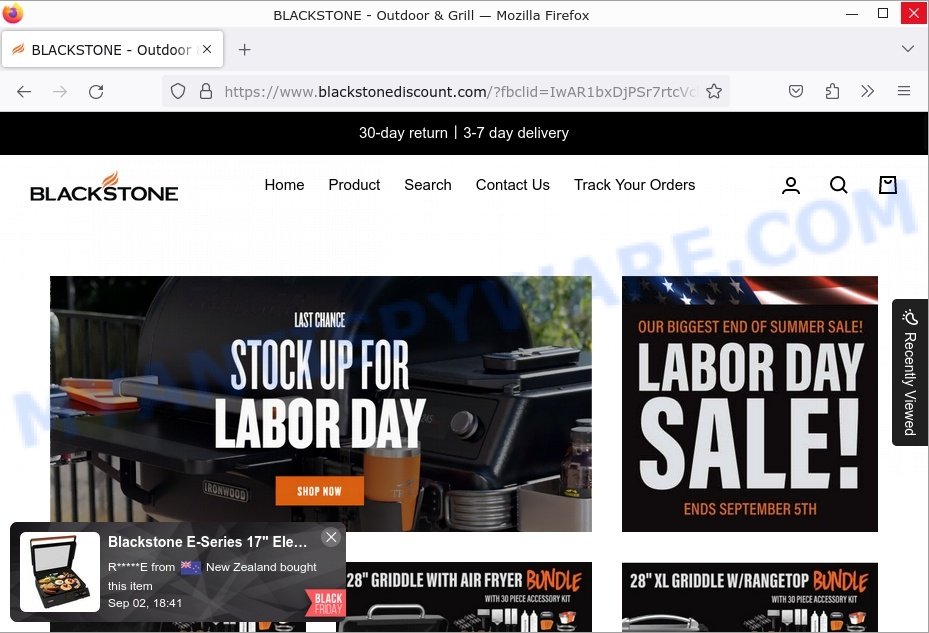 Quick Links
Is Blackstonediscount.com a Scam?
Blackstonediscount.com shows several red flags that indicate it's very likely a scam:
Recently created domain
Lack of transparent contact information; contact only through an email address: customer@blackstonediscount.com
No real info about the company behind, except a suspicious company name: FADEL-BEATTY LIMITED
Unbelievable deals and incredibly low prices, such as BBQ grills for $39.98
Enticing slogans in Facebook ads like "BBQ Grill Blowout!", "Last Chance", "Unbeatable Prices"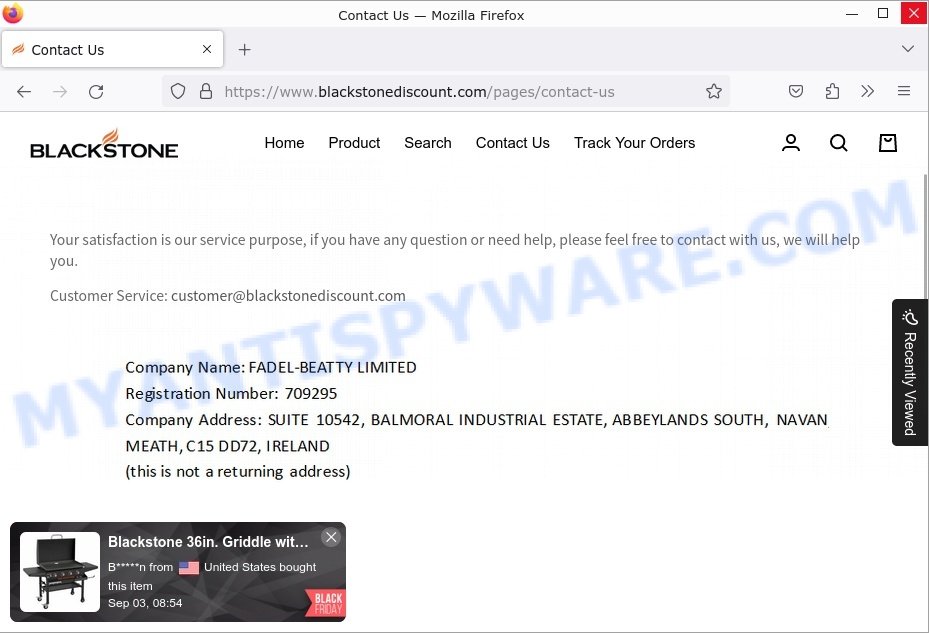 How the Blackstonediscount.com Scam Works
Blackstonediscount.com begins its operation by luring potential customers through Facebook ads. The ads offer Blackstone grills at an unbelievably low price of $39.98 and promise free BBQ accessories.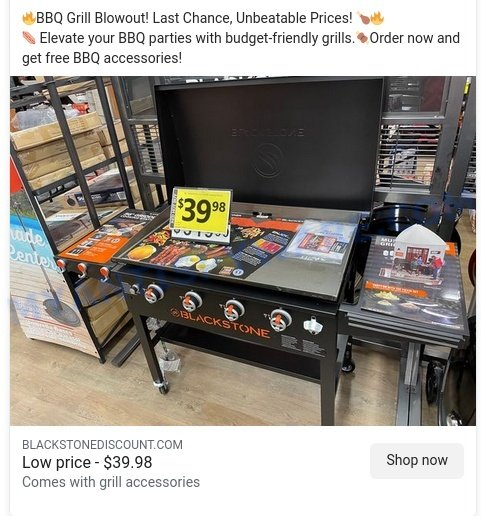 Once the customer places an order, they either receive counterfeit goods or nothing at all. Contacting the company is fruitless as the only available method is via a questionable email.
What to Do If You Become a Victim of Blackstonediscount.com
If you've fallen for the Blackstonediscount.com scam, take the following steps to mitigate the damage:
Initiate a chargeback on your credit card
Contact your bank to report the fraud
Report the scam to FTC
Leave a comment on this review to inform others
Other Scam Online Shops to Avoid
As part of our ongoing effort to protect our readers, it's crucial to be vigilant when shopping online. Here are a few examples of the scam online shops: KingCrabStore.com, Acstoreus.com, and Heerful.com.
Summary Table for Blackstonediscount.com
| | |
| --- | --- |
| Name | Blackstonediscount.com |
| Type | Fake Online Shop |
| Damage | Financial Loss, Counterfeit Goods |
| Distribution | Facebook Ads |
| Tactics | Enticing Ads, Low Prices |
| Prices | $39.98 for BBQ Grill |
| Contacts | customer@blackstonediscount.com, FADEL-BEATTY LIMITED |
| Prevention Tips | Be skeptical, Verify before buying |
| Reporting Info | FTC |
Conclusion
Blackstonediscount.com is a fake online store scamming people by offering Blackstone grills at absurdly low prices. The site utilizes various tactics to lure in unsuspecting buyers and should be avoided at all costs.
FAQ About the Blackstonediscount.com Scam
Why is the grill so cheap on Blackstonediscount.com?
The low price is a tactic to lure in buyers, and it's highly likely you won't receive what you think you're purchasing.
Can I get a refund from Blackstonediscount.com?
The chances are extremely slim since the company behind the scam is not interested in customer satisfaction.
Is it safe to click on the Facebook ads of Blackstonediscount.com?
While the ad itself may not be malicious, it leads to a scam website that aims to defraud you.