Odores.online claims to provide authentic Apple products at unbeatable prices, raising numerous suspicions. Having over 380 ads on Facebook, the shop uses enticing slogans to lure potential buyers. However, the question remains: Is Odores.online a trustworthy platform? Dive deep into our analysis to discover the truth.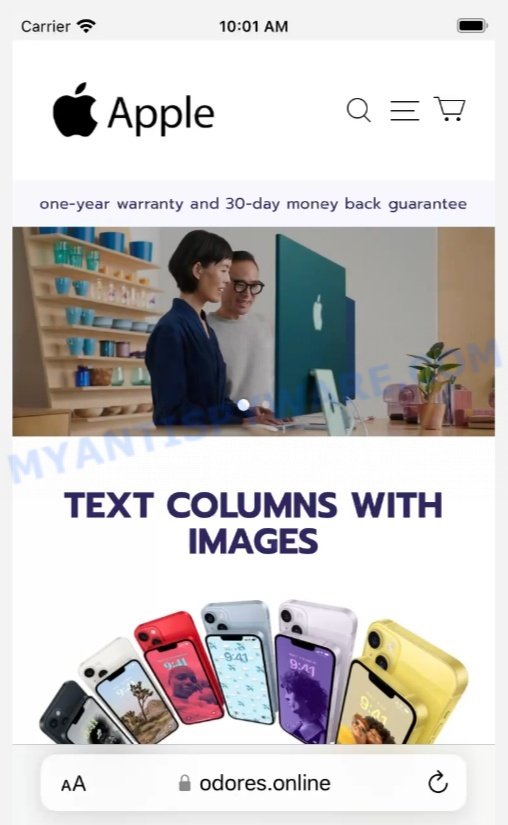 Quick links
Is Odores.online a Scam?
With online shopping scams on the rise, it's essential to exercise caution. Here are some red flags associated with Odores.online:
Recently created domain, pointing to its possible fleeting nature.
The only contact information available is an email address: customerservice@odores.online.
No physical contact information other than a non-returnable address.
The company, HINOVATION LIMITED, linked with other scam stores.
Hidden Whois contacts, a common strategy among scam shops.
Too-good-to-be-true deals and discounts, such as offering AppleCare+ for free.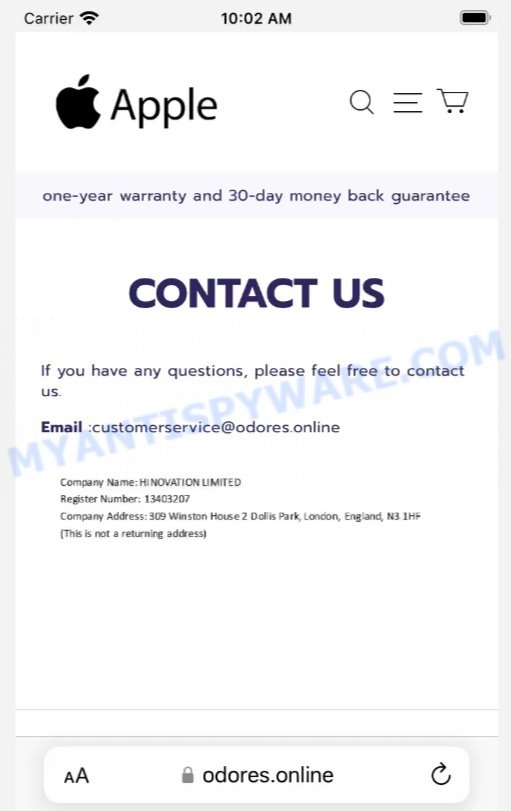 How the Odores.online Scam works
Odores.online promotes itself heavily on Facebook, boasting over 380 ads that emphasize the affordability of their products. By claiming to be a "certified dealer" of genuine Apple products, they attempt to dispel consumers' doubts. They use the term "refurbished" to justify low prices, assuring that these products meet new item standards. However, given the concealed Whois details, questionable company ties, and lack of substantial contact information, it becomes clear that Odores.online's main aim might be to lure unsuspecting customers into their trap.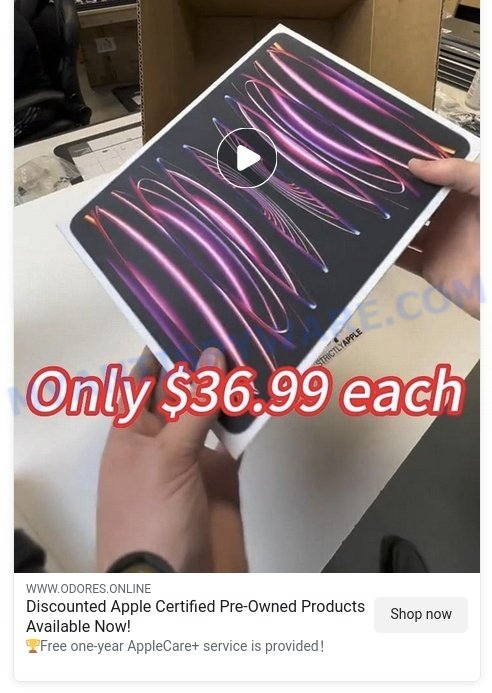 What to do if you become a victim of Odores.online
If you've fallen for the Odores.online scam, take immediate steps to mitigate any potential harm:
Contact your bank to discuss the transaction and explore possible solutions, such as chargebacks.
Change your passwords, especially if you used the same password on Odores.online as on other sites.
Monitor your financial statements regularly for any unauthorized charges.
Report the scam to local authorities and online platforms where the scam was promoted.
Leave a comment on this review to warn others about your experience.
Other Scam Online Shops to Avoid
Protecting our readers from potential scams is a top priority. Odores.online is not an isolated incident. There are numerous online shops employing similar tactics, aiming to deceive unwary consumers. Being informed and cautious can save you from potential financial and personal data losses.

Here are a few examples of the scam online shops: Luggagebigsale.com, Hokafacviponlinestore.com, and Acstoreus.com.
Summary table for Odores.online
| | |
| --- | --- |
| Name | Odores.online |
| Type | Online Scam Store |
| Damage | Potential financial loss and identity theft |
| Distribution | Facebook ads |
| Tactics | Discounted Apple products, claiming to be refurbished and genuine |
| Prices | As low as $36.99 with claims of free AppleCare+ service |
| Contacts | customerservice@odores.online |
| Company | HINOVATION LIMITED |
| Prevention Tips | Always check for reviews and verify the authenticity of online shops before making a purchase |
| Reporting Info | FTC Report Fraud |
Conclusion
Odores.online is a highly suspicious online platform offering Apple products at too-good-to-be-true prices. With a recently created domain, concealed Whois details, and connections to other scam shops, consumers are advised to exercise caution and conduct thorough research before making any purchases.
FAQ About the Odores.online Scam
Are refurbished products on Odores.online genuine? While Odores.online claims its refurbished products are genuine, the evidence points to potential deceptive practices.
Why does Odores.online offer such heavy discounts? Offering heavy discounts is a common tactic used by scam sites to lure unsuspecting customers.
How can I protect myself from online scams? Always conduct thorough research, read reviews, and verify the authenticity of online platforms before making a purchase.