Difficultes.online is posing as a genuine Nike store, promoting unrealistic discounts and deals. Before you get tempted by these offers, read our comprehensive analysis below.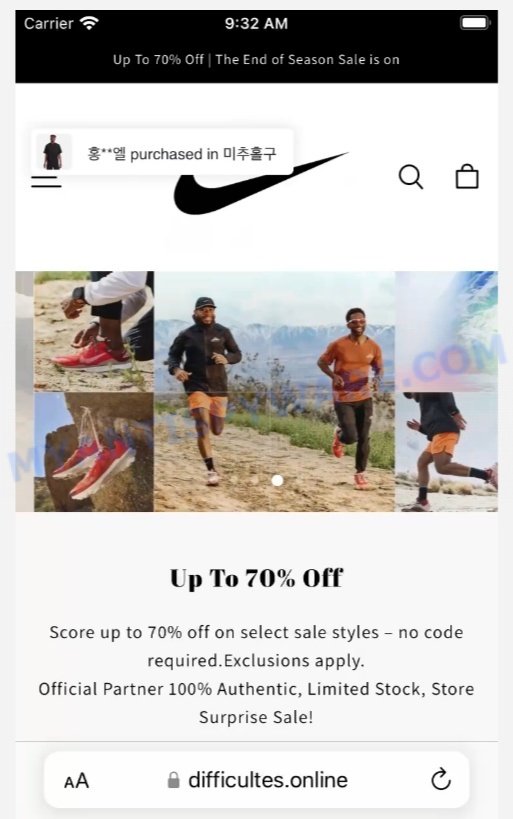 Quick links
Is Difficultes.online a Scam?
Upon close examination, Difficultes.online raises multiple red flags that indicate it might be a scam:
Recently created domain.
Lack of genuine contact information: the primary mode of contact is through an email address, customerservice@profitablees.online.
No authentic information about the company behind: the company name, HINOVATION LIMITED, is linked to other scam shops.
Unbelievable deals and incredibly low prices advertised on social media platforms.
Enticing slogans used in their promotion: "Up to 80% OFF" and "60 days no reason to return".
No visible presence or links to any legitimate social media platforms.
Hidden Whois contacts.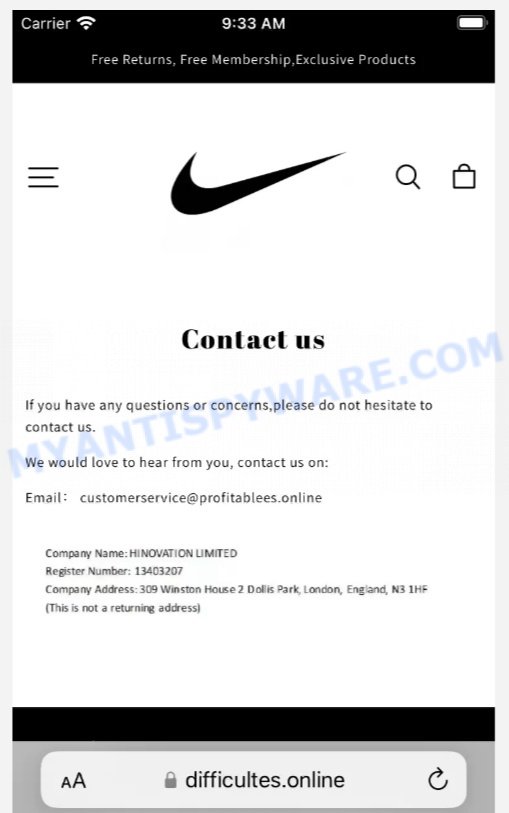 How the Difficultes.online Scam works
Difficultes.online is exploiting the popularity of the Nike brand by offering unbelievably low prices. The store claims to offer up to 80% discounts on Nike products and gives assurances like "100% Quality Guarantee, No Risk" to lure potential victims. They are actively promoting these deals through Facebook ads, convincing users of the authenticity of their products.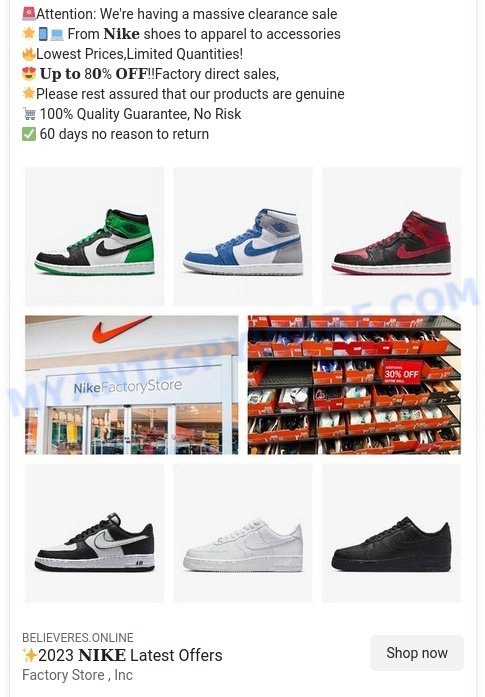 However, once a purchase is made, customers either receive counterfeit products or nothing at all. Their "60 days no reason to return" is just a bait, as the provided company address is not for returns and is linked to other scams.
What to do if you become a victim of Difficultes.online
If you suspect that you've fallen prey to the Difficultes.online scam:
Contact your bank or credit card company immediately to report the fraud and discuss potential solutions.
Change any passwords associated with the email or financial accounts you used on the site.
Keep an eye on your bank statements and report any unauthorized charges.
Consider using credit monitoring services to watch for potential identity theft.
Report the scam to the Federal Trade Commission at reportfraud.ftc.gov.
Leave a comment below to share your experience and warn others.
Other Scam Online Shops to Avoid
As part of our ongoing effort to protect our readers from potential scams, we have compiled a list of other suspicious online shops that you should be wary of. Like Difficultes.online, these shops use deceptive practices to attract unsuspecting buyers. It's essential to remain cautious when shopping online and recognize the warning signs of scams.
Here are a few examples of the scam online shops: Bedstockclearance.com, Luggagebigsale.com, and Hokafacviponlinestore.com.
Summary table for Difficultes.online
| | |
| --- | --- |
| Name | Difficultes.online |
| Type | Online Scam Store |
| Damage | Potential monetary loss, receiving counterfeit products, or no products at all |
| Distribution | Facebook ads |
| Tactics | False advertisement, fake discounts, impersonation of a popular brand |
| Prices | Claimed up to 80% off on Nike products |
| Contacts | customerservice@profitablees.online, HINOVATION LIMITED |
| Prevention Tips | Check domain age, verify company legitimacy, avoid unrealistic deals |
| Reporting Info | reportfraud.ftc.gov |
Conclusion
Difficultes.online is a deceptive website aiming to exploit customers by imitating the Nike brand. Before making any purchases online, especially from ads, it's crucial to do thorough research and be cautious of red flags.
FAQ About the Difficultes.online Scam
Why is Difficultes.online offering such high discounts?
It's a common tactic among scam websites to lure potential victims by offering high discounts on popular products.
Is the email associated with Difficultes.online linked to other scams?
Yes, the email address, customerservice@profitablees.online, and the company name, HINOVATION LIMITED, are both linked to other scam websites.
How can I avoid online scams?
Always research the website or seller, verify the legitimacy of the company, check reviews, and be wary of deals that sound too good to be true.