Luggagebigsale.com (Luggage Big Sale) has been making rounds on social media platforms, especially with their tempting offers on luggage sets. If you've stumbled upon their ads or website, hold onto your wallet and read on to understand the scam behind this online store.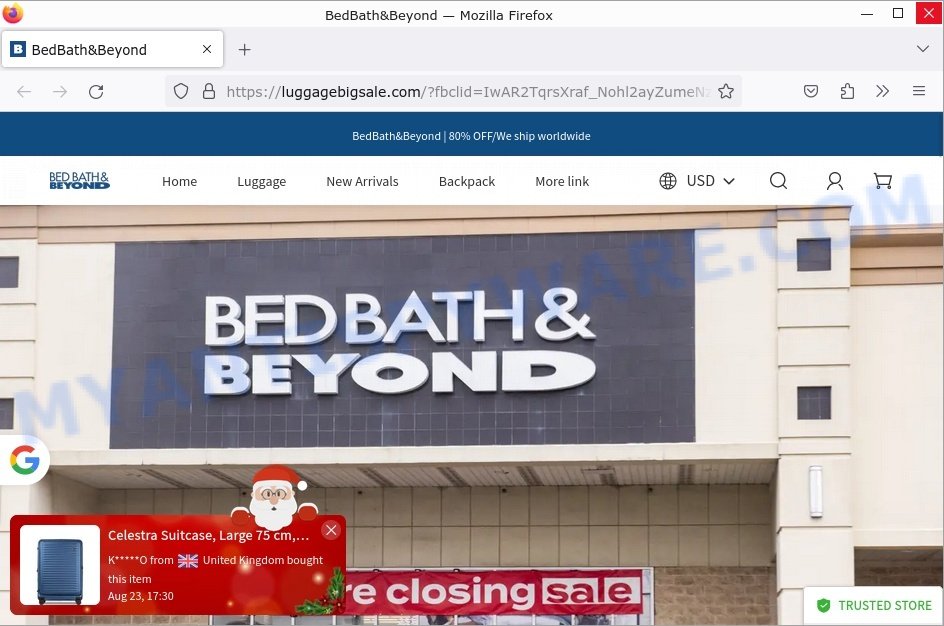 Quick links
Is Luggagebigsale.com a Scam?
Certainly, here's why Luggagebigsale.com is unequivocally a scam:
Recently created domain.
Lack of genuine contact information: The given phone number ('+1 845 882-5382′ and address '37 Crosby St, New York, NY 10013' are both fake.
They only provide contact through an email address: support@luggagebigsale.com.
Unbelievably low prices, such as a 3 Piece Suitcase Set for ONLY $9.9.
Uses a template design with content, images, and descriptions taken directly from Bed Bath & Beyond.
Enticing slogans like "Luxury Luggage Clearance Sale" and "Delivered within 2-5 days".
No visible social media presence.
WHOIS details are hidden, a common tactic used by scam sites to hide their identity.
How the Luggagebigsale.com Scam works
Luggagebigsale.com operates by portraying itself as an official Bed Bath & Beyond store, evident from their stolen logo, texts, and images. Using Facebook, they've run over 150 ads showcasing deals that are too good to be true. A typical ad promotes "Luxury Luggage Clearance Sale", promising a set of three suitcases for a mere $9.9.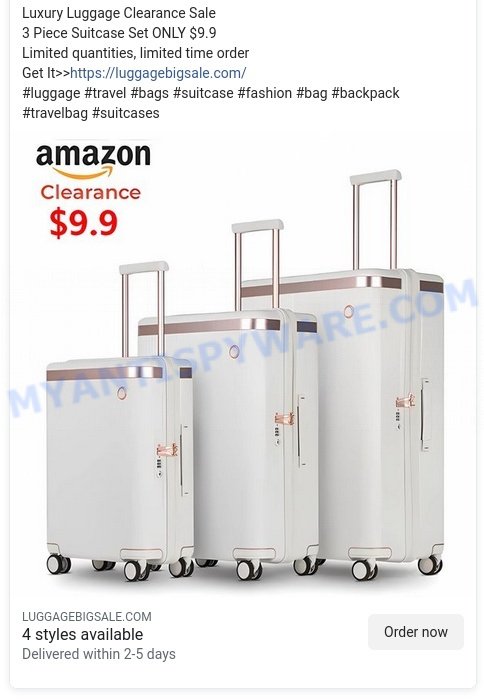 Once lured in, customers risk their financial data, and in most cases, receive either subpar products or nothing at all.
What to do if you become a victim of Luggagebigsale.com
If you've been scammed by Luggagebigsale.com:
Contact your bank immediately and explain the situation.
Change passwords for your online accounts, especially if you used similar passwords elsewhere.
File a complaint with the Federal Trade Commission (FTC).
Leave online reviews warning others about the scam.
Other Scam Online Shops to Avoid
Protecting our readers from potential scams remains our priority. As part of our ongoing effort, we've identified several suspicious online shops with characteristics similar to Luggagebigsale.com. Staying informed and vigilant is the key.
Here are a few examples of the scam online shops: Naswino.com, Oputcre.shop, and Babyjoynewyork.com.
Summary table for Luggagebigsale.com
| | |
| --- | --- |
| Name | Luggagebigsale.com |
| Type | Online Scam Store |
| Damage | Potential financial loss, Identity theft |
| Distribution | Primarily through Facebook ads |
| Tactics | Misrepresentation, Fake Deals |
| Prices | Unbelievably low (e.g., 3 Piece Suitcase Set for $9.9) |
| Contacts | Phone: +1(845) 882-5382 (Fake), Address: 37 Crosby St, New York, NY 10013 (Fake), Email: support@luggagebigsale.com |
| Prevention Tips | Verify website authenticity, Check reviews, Avoid too-good-to-be-true deals |
| Reporting Info | Federal Trade Commission (FTC) |
Conclusion
Luggage Big Sale at Luggagebigsale.com is a deceptive online scam targeting unsuspecting shoppers. Using stolen content and offering unrealistic deals, they aim to lure victims and potentially compromise their financial information. Always be cautious and conduct thorough research before making online purchases.
FAQ About the Luggagebigsale.com Scam
Why are their prices so low?
The extremely low prices act as bait to lure victims. These prices are too good to be true and are a tactic to quickly attract and scam customers.
Are there any genuine customer reviews for Luggagebigsale.com?
Most genuine customer reviews about Luggagebigsale.com point towards it being a scam. It's crucial to consult multiple sources and rely on reviews from trustworthy platforms.
How can I identify such scam sites in the future?
Look for red flags like hidden WHOIS information, recent domain registration, lack of genuine contact details, and prices that are too good to be true.