Barkeet.com has recently taken the online marketplace by storm, with tempting offers and deals that seem too good to pass up. However, a deeper dive into its operations and offerings suggests that not all may be as it seems. In this review, we aim to uncover the truth behind Barkeet.com. Continue reading to arm yourself with the information needed to shop safely online.
Quick links
Is Barkeet.com a Scam?
Barkeet.com exhibits numerous red flags commonly associated with scam websites. Here are a few tell-tale signs:
Recently created domain.
Hidden Whois contacts.
Lack of genuine contact information – using only an email address.
Associated with a company (Meledo Company Limited) linked to other known scam shops.
Unbelievably enticing deals like "Clearance Sale Spa Inflatable Bathtub Only $39" and offers such as "Free microwave with first 30 orders".
No visible social media presence.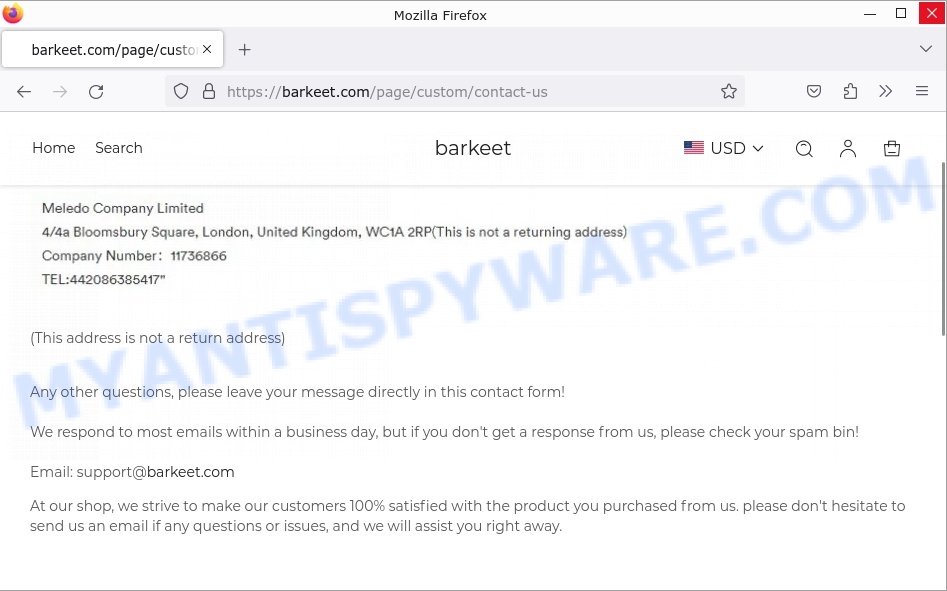 How the Barkeet.com Scam works
Barkeet.com is actively promoting itself through numerous ads on platforms like Facebook. They entice potential buyers with promises of incredible deals like a spa inflatable bathtub for just $39 or a free microwave with the initial orders of their RCA Compact Refrigerator.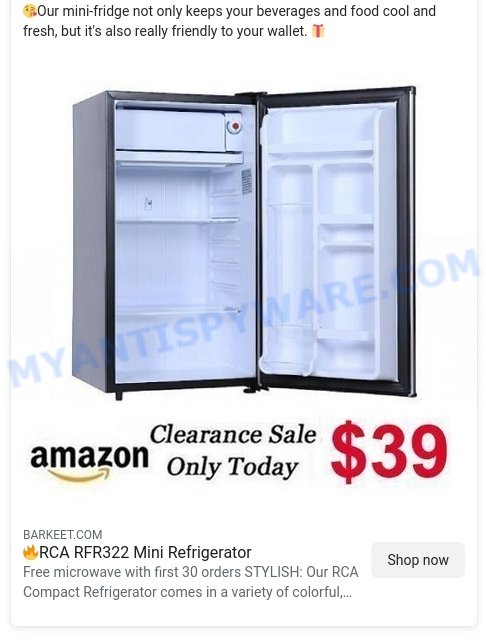 When customers get lured by these almost unbelievable promotions and proceed to purchase, they either receive counterfeit products, products of inferior quality, or sometimes, nothing at all.
What to do if you become a victim of Barkeet.com
If you suspect you've fallen prey to the scam, take the following steps immediately:
Contact your bank or credit card provider to report the fraudulent transaction and seek a refund.
Change your online banking passwords.
Report the scam site to online platforms where it advertises.
Leave a review on independent platforms warning others.
Other Scam Online Shops to Avoid
As part of our ongoing effort to safeguard our readers from potential scams, it's vital to remain vigilant when shopping online and recognize the warning signs of deceitful practices. Below we spotlight some other deceptive online shops to steer clear of.
Here are a few examples of the scam online shops: Ahodenare.com Bookstore Scam, Acstoreus.com DICK'S SPORTING GOODS Store Scam, Bedbathbeyondclose.com BED BATH & BEYOND Store Scam.
Summary table for Barkeet.com
| | |
| --- | --- |
| Name | Barkeet.com |
| Type | Online Scam Store |
| Damage | Potential financial loss and identity theft |
| Distribution | Adverts on platforms like Facebook |
| Tactics | Deceptive marketing, misleading promotions, and concealed information |
| Prices | Deceptively low, such as the $39 inflatable bathtub |
| Contacts | Email: support@barkeet.com; Meledo Company Limited; 4/4a Bloomsbury Square, London, UK; TEL:442086385417 |
| Prevention Tips | Research before buying, check reviews, be wary of too-good-to-be-true deals |
| Reporting Info | Local cybercrime cell, bank, credit card provider |
Conclusion
Barkeet.com is a perfect example of why it's crucial to research and verify online shops before making a purchase. Their misleading ads, hidden details, and association with other scam shops make it evident that they are not to be trusted. Always ensure you're buying from reputable sources.
FAQ About the Barkeet.com Scam
Why do such scam shops like Barkeet.com exist?
They exist to prey on unsuspecting online shoppers, luring them with attractive deals and offers, only to defraud them of their money or personal information.
How can I recognize a scam shop in the future?
Look for common red flags like recent domain creation, hidden contact details, too-good-to-be-true offers, and check for genuine customer reviews on independent platforms.
Can I get my money back if I've been scammed?
While it can be challenging, contacting your bank or credit card provider immediately can increase your chances of recovering your money, especially if you report the fraudulent transaction promptly.