MotoVINReports.com is a misleading website capitalizing on individuals selling vehicles online. Before delving deeper into this scam, let's understand the framework of its operations and why it's essential to steer clear. Dive into our comprehensive review for insights.
Quick links
Is MotoVINReports.com a Scam?
MotoVINReports.com appears to be a classic case of a vehicle history report scam. Here are the red flags:
Recently created domain: According to domain registration, MotoVINReports.com was set up this year, indicating it's relatively new.
Lack of contact information: The site seems to operate primarily through text or automated messaging without substantial contact details.
Enticing requests: Immediate interest and specific requests for vehicle history reports only from their site.
No social media presence: There's a lack of verifiable reviews or presence on prominent platforms.
Customer complaints: Multiple users have highlighted their experiences with the scam, notably on platforms like Reddit.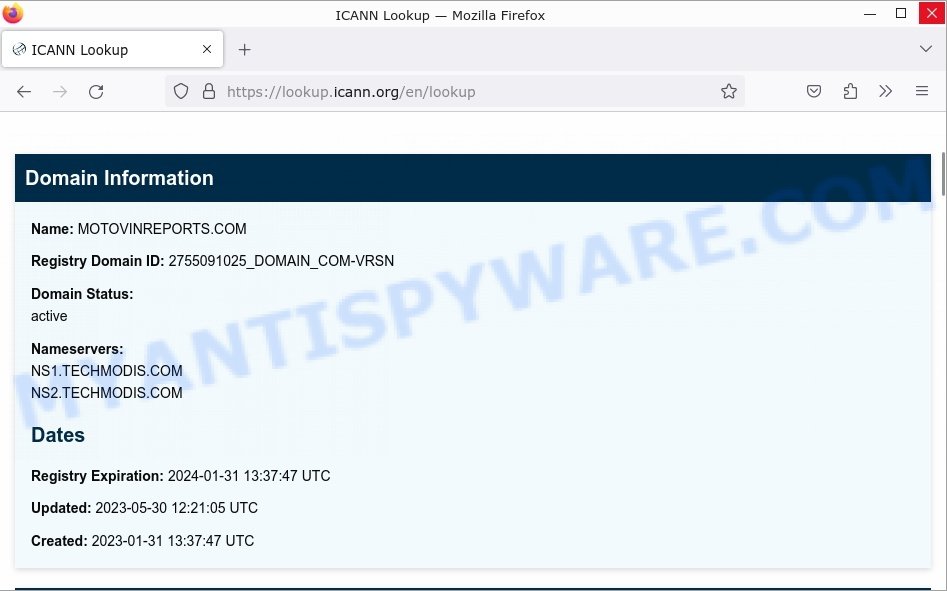 How the MotoVINReports.com Scam works
MotoVINReports.com thrives on the urgency and excitement of potential car sellers on platforms like Facebook Marketplace or Craiglist. The scam begins with immediate interest from a supposed buyer who emphasizes the need for a vehicle history report, exclusively from MotoVINReports.com. The unsuspecting seller, eager for a sale, pays the requested fee on this specific site and awaits feedback. This feedback never comes. The scammer not only disappears but might potentially misuse the credit card information shared.
Reddit and BBB Reviews
To gain a comprehensive understanding of how the MotoVINReports.com scam operates, it's crucial to dive into experiences shared by users on platforms like Reddit and BBB (Better Business Bureau). These firsthand accounts offer valuable insights: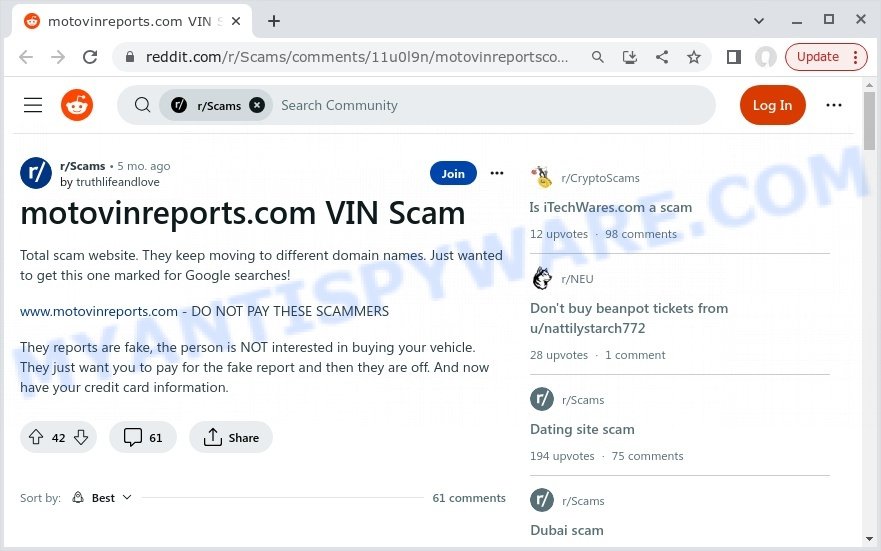 Reddit Reviews:
"Total scam website. They keep moving to different domain names. Just wanted to get this one marked for Google searches!" – Reddit User A
"Agree! MotoVINReports.com is absolutely a SCAM. The potential buyer would only text and refused to accept any other vin report. They asked for the MVR and when I asked what that was, got this website info. I offered 2 other legitimate reports that were denied. Do NOT give them your credit card info." – Reddit User B
These reviews underscore the modus operandi of the scammers. They often move to new domain names and operate primarily through text. They typically refuse all other forms of vehicle reports, highlighting their insistence on using their scam website.
BBB Reviews:
"I was contacted by text with an inquiry into whether my vehicle, which I had just posted on Craigslist, Kijiji and Castanet, was for sale. After some back and forth, the scammer 'Lucas' asked for a vehicle report from www.motovinreports.com. I agreed to do this and submitted my credit card to the website which I thought was legitimate. Received report that looked suspicious (spelling errors and strange language). Texted report to scammer who asked me to email it to him. I did not email it. Never heard back again. Dollars Lost: $39." – BBB User
The BBB review reveals another pattern: scammers approach sellers soon after they list their vehicle on popular platforms. After some interaction, they guide the seller to the scam website, where the seller is deceived into purchasing a questionable vehicle report.
These shared experiences highlight the importance of exercising caution, especially when approached by buyers with specific requests for vehicle history reports from unknown platforms.
What to do if you become a victim of MotoVINReports.com
If you've unfortunately fallen prey to this scam:
Contact your bank or credit card company immediately to report the fraudulent charge.
Change your online banking passwords and monitor your accounts closely.
File a complaint with relevant authorities.
Consider sharing your experience on forums and platforms to warn others.
Other Online Scams to Avoid
As part of our ongoing effort to protect our readers from potential scams, we've gathered a list of other dubious online shops that share characteristics with MotoVINReports.com. Here are a few examples of the scam online shops: Axerxm.com Bed Bath & Beyond Store Scam, Naswino.com Bed Bath & Beyon Store Scam, and KingCrabStore.com King Crab Store Scam.
Summary table for MotoVINReports.com
| | |
| --- | --- |
| Name | MotoVINReports.com |
| Type | Vehicle History Report Scam |
| Damage | Financial loss and potential credit card fraud |
| Distribution | Online platforms like Craigslist, Facebook Marketplace, etc. |
| Tactics | Posing as interested buyers and redirecting sellers to their scam website |
| Prices | Variable, often around $39 for vehicle history reports |
| Contacts | Limited to text or automated messages |
| Prevention Tips | Research unknown websites before making payments, rely on well-known platforms for vehicle history reports |
Conclusion
In the vast digital realm, scams like MotoVINReports.com will persistently appear, exploiting the vulnerable and unaware. It's crucial to remain vigilant and to equip oneself with the knowledge and tools to identify and avoid such traps. Trust in established platforms and always conduct due diligence before making online transactions.
FAQ About the MotoVINReports.com Scam
Is MotoVINReports.com a legitimate website? – No, based on various user reviews and online feedback, it's a scam targeting online vehicle sellers.
How can I identify such scams in the future? – Be wary of buyers who show immediate interest and redirect you to unfamiliar platforms to obtain reports or make payments. Additionally, conduct background checks on unfamiliar websites.
What actions should I take if scammed? – Contact your bank, report the scam to relevant authorities, and consider sharing your experience to warn others.