Buytain.com is making waves with its deceivingly tempting offers that seem too good to be true. If you've come across this shop and are having second thoughts, you're on the right track. Read our in-depth analysis of why Buytain.com is not what it seems.
Quick links
Is Buytain.com a Scam?
Before making any purchase, it's essential to analyze an online store for potential red flags. Based on our research:
Recently created domain
Lack of contact information (only available through an email address: service@vipcs24h.com)
No real info about the company behind
Unbelievable deals and incredibly low prices
Enticing slogans such as "Clearance Sale", "Up to 90% off", and "Limited Time Sale"
No social media presence or links to any social media platforms
Whois contact details hidden
How the Buytain.com Scam works
Buytain.com is exploiting the brand name of a renowned store, Wilko, to draw innocent shoppers into its trap. They are promoting themselves through Facebook ads, announcing a "Wilko big clearance sale" with massive discounts of up to 90% off. These ads use compelling language, urgency, and deep discounts, mirroring genuine clearance sales. However, the absence of authentic contact details and the suspiciously high discounts are glaring signs of a scam.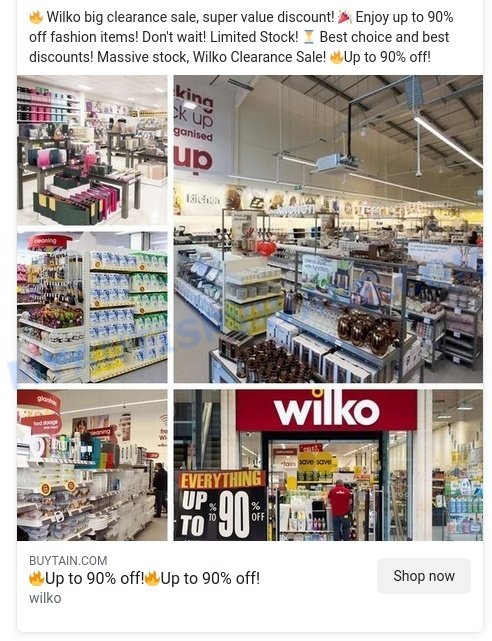 What to do if you become a victim of Buytain.com
If you've fallen victim to this scam:
Contact your bank or credit card company to dispute the charges.
Change your online passwords, especially if you used the same password for multiple accounts.
Monitor your financial accounts for any unusual activities.
Report the scam to local authorities and online platforms to warn others.
Other Scam Online Shops to Avoid
With the digital age upon us, scams are becoming increasingly prevalent. It's vital to stay alert and informed. Here are a few examples of the scam online shops: Axerxm.com, Acstoreus.com, and Oputcre.shop.
Summary table for Buytain.com
| | |
| --- | --- |
| Name | Buytain.com |
| Type | Online Store Scam |
| Damage | Potential financial loss and personal data breach |
| Distribution | Facebook ads |
| Tactics | Exploiting brand names and offering unrealistically high discounts |
| Prices | Up to 90% off on items |
| Contacts | Email: service@vipcs24h.com |
| Prevention Tips | Check the authenticity of the website, look for genuine reviews |
| Reporting Info | Local authorities, bank, credit card company |
Conclusion
Buytain.com is a classic example of an online store scam. Using the reputation of well-known brands, these scams lure unsuspecting buyers with promises of huge discounts. Always conduct thorough research before making any purchase from a new online store.
FAQ About the Buytain.com Scam
Why do these scams target well-known brands?
These scams exploit well-known brands because they have established trust among consumers. By mimicking these brands, scams can attract more victims.
How can I differentiate between a genuine clearance sale and a scam?
Check the authenticity of the website, look for genuine customer reviews, and avoid sites that offer unrealistically high discounts or have hidden contact details.
Can I get my money back if I fell for such a scam?
Contact your bank or credit card company immediately to dispute the charges. They can guide you on the steps to take.