Convictiony.com is a seemingly enticing online shopping platform that has come under scrutiny. If you've been tempted by their ads or are considering purchasing from them, read on to discover the details behind this dubious shop.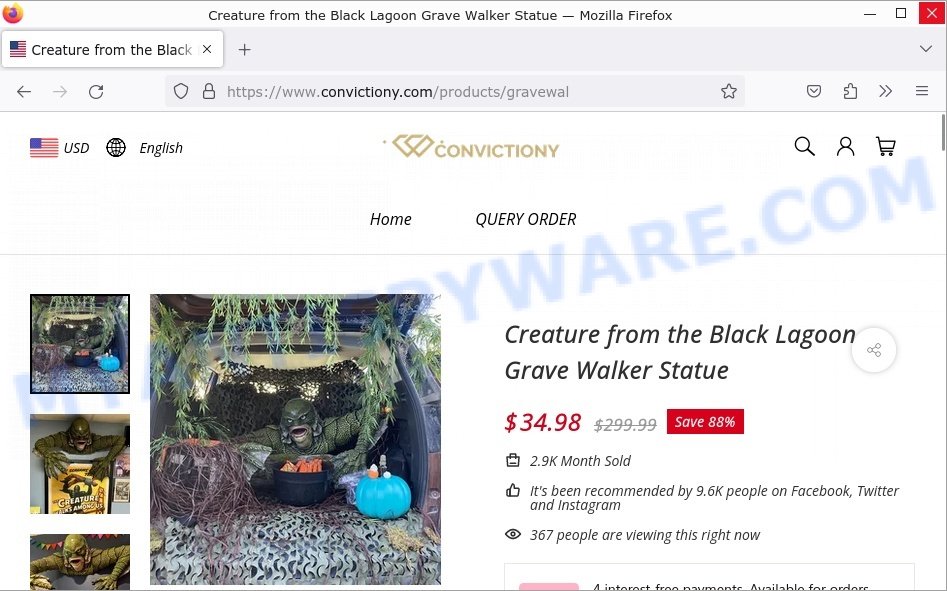 Quick links
Is Convictiony.com a Scam?
Based on the data gathered and user feedback, there are several red flags that suggest Convictiony.com is not a legitimate online store. Here are some telltale signs of a scam:
Recently created domain
Lack of contact information (only accessible through an email address: support@convictiony.com)
No transparent info about the company behind
Unbelievable deals and incredibly low prices on their advertisements
Content and slogans appear to be overly enticing ("Hot Sale", "Huge Discounts")
Concealed whois contacts
No notable social media presence
Negative customer reviews and complaints regarding deliveries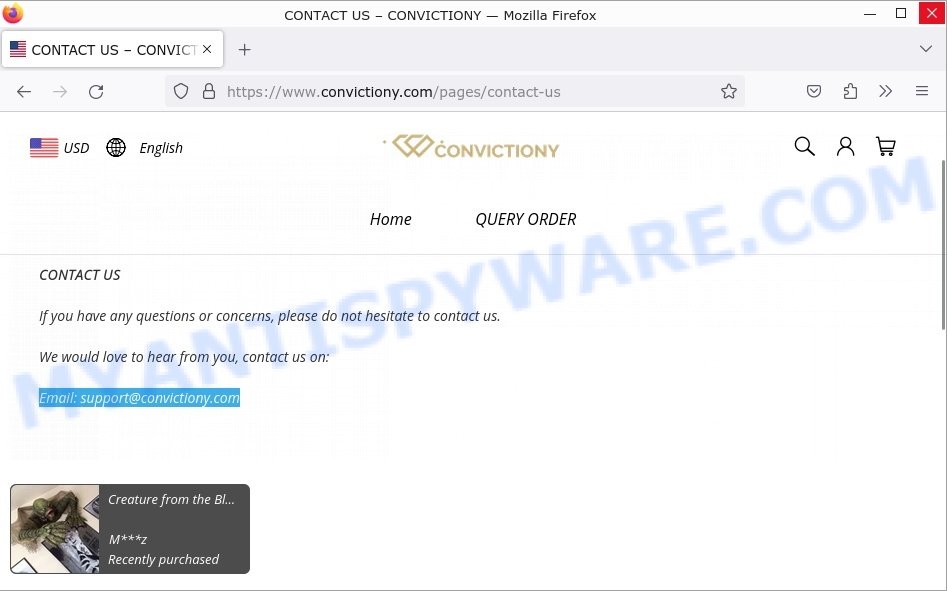 How the Convictiony.com Scam works
Convictiony.com is expertly marketed, especially on platforms like Facebook where they boast of over 190 ads. The ads often feature incredible deals on products such as the "Creature from the Black Lagoon Grave Walker Statue" and various garden lights, among others. The ads often prey on emotions, with stories of grandmothers designing bras, or the sadness of closing down a beloved collection. Yet, behind these enticing offers and emotional stories lies a murky world of potentially defrauded customers, undelivered products, and possibly even stolen personal and financial information.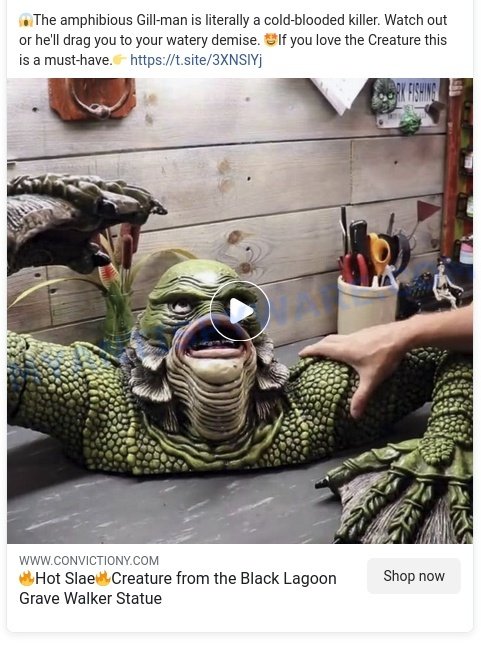 What to do if you become a victim of Convictiony.com
If you have made a purchase from Convictiony.com and suspect it's a scam, here are steps you should consider:
Contact your bank or credit card company and explain the situation.
Change your online banking passwords immediately.
Monitor your accounts for any suspicious activity.
Consider reporting to local authorities or consumer protection agencies.
Other Scam Online Shops to Avoid
In today's digital age, online scams like Convictiony.com are sadly becoming more common. To ensure our readers remain vigilant and protected, we have compiled a list of other questionable online shops to be cautious of. These shops often display similar tactics to lure unsuspecting buyers. Staying informed and being cautious is key to ensuring your safety online.
Here are a few examples of the scam online shops: Oputcre.shop QVC Store Scam, Tv-homeshopping.shop Bed Bath & Beyond Store Scam, Naswino.com Bed Bath & Beyon Store Scam.
Summary table for Convictiony.com
| | |
| --- | --- |
| Name | Convictiony.com |
| Type | Online Scam Store |
| Damage | Potential financial loss, personal data exposure |
| Distribution | Online through Facebook ads |
| Tactics | Enticing offers, emotional appeals in advertisements |
| Prices | Significantly discounted |
| Contacts | Email: support@convictiony.com |
| Prevention Tips | Research before purchasing, check reviews, avoid impulse buying from unknown sites |
| Reporting Info | Contact local authorities or consumer protection agencies |
Conclusion
Convictiony.com is a perfect example of how appealing advertisements can mask underlying dubious intentions. Always approach online shops, especially those heavily advertised on social platforms, with a degree of skepticism. Protecting your personal and financial details should always be a priority.
FAQ About the Convictiony.com Scam
Why do scam sites like Convictiony.com exist?
Scam sites like Convictiony.com are designed to defraud unsuspecting users. By presenting appealing offers and products, they aim to lure individuals into making purchases, after which they might not deliver the products or misuse the provided personal and financial details.
How can I determine the legitimacy of an online store?
One can verify the authenticity of an online store by checking for detailed contact information, reading user reviews, researching the age of the domain, and using tools like scamdoc to check their ratings.
What if I've already made a purchase from a potential scam site?
If you've made a purchase from a suspicious website, it's essential to contact your bank or credit card provider immediately, explain the situation, and monitor your accounts for any unauthorized transactions.