Caldiscountstore.com is being heavily promoted on platforms like Facebook, promising unrealistically discounted iPhones. If you've encountered this offer, it's vital to read our comprehensive review before taking any action.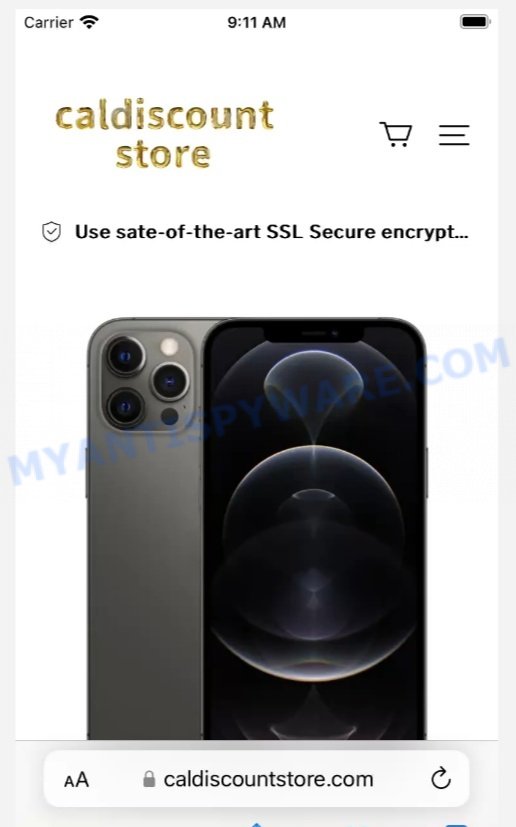 Quick links
Is Caldiscountstore.com a Scam?
From our analysis, there are several glaring signs that suggest Caldiscountstore.com is a scam:
A recently created domain which is often a hallmark of many scam websites.
Lack of contact information, with only an email address provided: customerservices@caldiscountstore.com.
No visible information about the company behind, except for the name SAYHI INTERNATIONAL CO., LIMITED which has been linked to other scam shops.
Unbelievable deals like the iPhone 14 Pro Max for just $37.
The use of enticing slogans like "Promotion Sale" and a heavy discount on a yet-to-be-released product like the "iPhone 14".
Whois contact details are hidden, another common red flag for scam websites.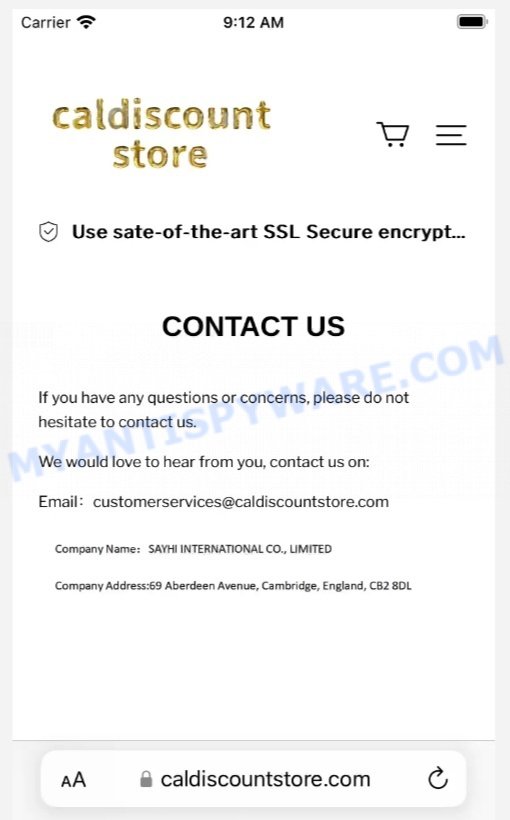 How the Caldiscountstore.com Scam works
Caldiscountstore.com claims to be the "largest used recycling marketplace in the US" and is leveraging Facebook to promote a "PROMOTION SALE" where they offer the iPhone 14 Pro Max at an astonishingly low price of $37.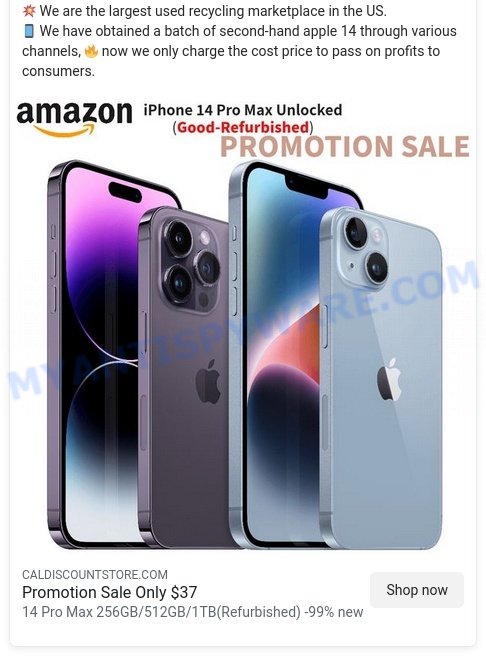 Potential buyers are drawn in by this unbeatable price, only to receive counterfeit products, substandard items, or in some cases, nothing at all. The use of a familiar brand like "iPhone" and a well-known platform "Amazon" in their advertisements provides an illusion of credibility to unsuspecting consumers.
What to do if you become a victim of Caldiscountstore.com
If you've unfortunately fallen for the Caldiscountstore.com scam, here are the steps to take:
Contact your bank or credit card company immediately to report the unauthorized transaction.
Change your online banking and shopping passwords.
Monitor your account for any unauthorized activities.
Report the scam to the FTC.
Leave a comment on this review to warn others and share your experience.
Other Scam Online Shops to Avoid
To protect our readers from potential scams, we have compiled a list of other suspicious online shops that share similar characteristics with Caldiscountstore.com. It's vital to remain vigilant when shopping online.
Below are a few examples of the scam online shops: Bedbathbeyondclose.com,
Luvasti.com, and KingCrabStore.com.
Summary table for Caldiscountstore.com
| | |
| --- | --- |
| Name | Caldiscountstore.com |
| Type | Scam Online Shop |
| Damage | Potential financial loss, risk of counterfeit products. |
| Distribution | Facebook Ads |
| Tactics | Promotion of unbelievably discounted products, use of popular brand names to lure customers. |
| Prices | iPhone 14 Pro Max for $37 |
| Contacts | customerservices@caldiscountstore.com, SAYHI INTERNATIONAL CO., LIMITED |
| Prevention Tips | Always verify online shops before making a purchase, avoid deals that seem too good to be true. |
| Reporting Info | FTC |
Conclusion
Caldiscountstore.com is a potentially dangerous scam shop that's enticing unsuspecting consumers with unrealistically discounted iPhones. Always approach such deals with skepticism and conduct thorough research before making any online purchases.
FAQ About the Caldiscountstore.com Scam
Is the iPhone 14 Pro Max really available for $37 on Caldiscountstore.com?
No. The iPhone 14 Pro Max at such a price is too good to be true, and Caldiscountstore.com is leveraging this deal to scam users.
How did I come across the Caldiscountstore.com scam?
Many users have reported seeing Caldiscountstore.com ads on Facebook promoting their "PROMOTION SALE" for the iPhone 14 Pro Max.
Can I trust Caldiscountstore.com?
Based on the red flags and potential risks associated with this website, it is recommended to avoid making purchases from Caldiscountstore.com.
How can I protect myself from online scams?
Always research online shops before making a purchase, look for customer reviews, and avoid deals that seem too good to be true.