Recently, Facebook users have been bombarded with a slew of deceptive ads promoting heavily discounted orthopedic shoes, masquerading under renowned brand names like 'QVC', 'SKECHERS', 'CLARKS', and 'UGG'. These ads, riddled with enthusiastic phrases like 'OMG!' and '60% OFF', are not just a classic bait-and-switch but lead unsuspecting shoppers to scam storefronts set up with stolen images, fake reviews, and dubious contact information. These scam shops have not only duped buyers out of their hard-earned money but compromised their personal and financial information. Are you or your loved ones at risk? Read on to spot the red flags and steer clear of such fraudulent traps.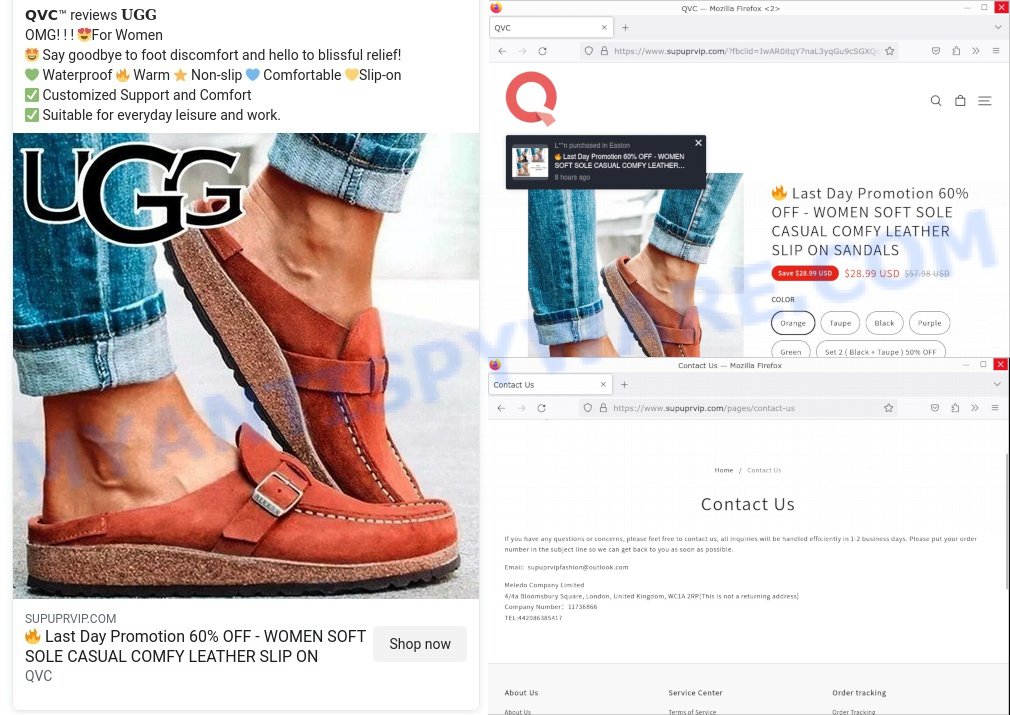 Quick links
Is 'QVC reviews OMG' Facebook Ads a Scam?
Over the last several days, many Facebook users have raised eyebrows at the increasing number of shoe ads prefixed with the phrase "QVC reviews OMG". It's a catchy opening that taps into the excitement of discovering a seemingly legitimate and attractive deal. But a deeper investigation into these ads reveals a series of concerning patterns.
First, let's consider the use of the name "QVC", a renowned and established television network and brand. The real QVC is known for its home shopping shows and a significant online presence. However, the ads in question often direct users to unfamiliar websites with no clear association with the QVC brand. This misrepresentation is a classic tactic used by scammers to exploit the trust of well-known brands.
Moreover, these ads heavily emphasize massive discounts, often as high as 60%, and use hyperbolic language like "OMG" to create a sense of urgency and draw users in. And once redirected to these websites, users often find generic storefronts with a lack of authentic product details, customer reviews, or company information. These sites frequently feature copied images and descriptions from legitimate retailers, further misleading potential buyers.


Another red flag is the contact information. Some ads have linked back to questionable emails or company details with no real-world association to reputable brands. Often, the listed addresses are unrelated to returns, making it even more challenging for deceived customers to reclaim their money or resolve disputes.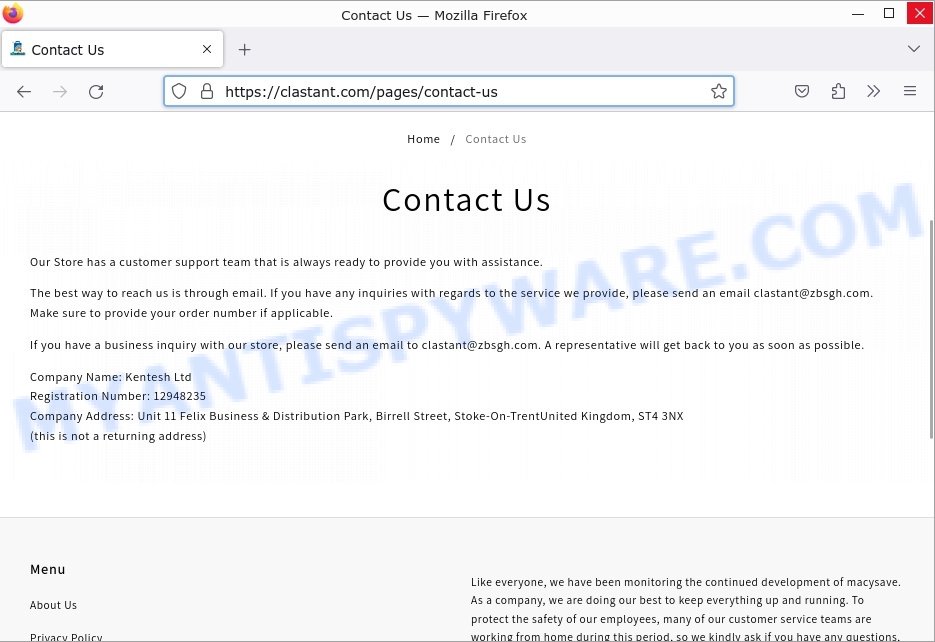 In conclusion, while not every ad that starts with "QVC reviews OMG" is automatically deceptive, the overwhelming evidence suggests a significant number of these ads are part of a sophisticated scam strategy. As always, online shoppers are advised to exercise caution, do thorough research, and remain wary of deals that seem too good to be true.
How the Scam works
The "QVC reviews OMG" scam on Facebook is a masterclass in exploitation, skillfully using well-known brand names to bait the unsuspecting. Here's a detailed breakdown based on the information provided:
Brand Name Misuse: Scammers cunningly incorporate names of trusted brands, like "QVC", "CLARKS", "SKECHERS", and "UGG", in their ads to give an illusion of authenticity.
Sensational Headlines: Using clickbait phrases like "OMG", combined with lucrative offers such as "60% OFF", they design ads to capture immediate attention.
Redirect to Fraudulent Websites: Ads divert users to dubious domains like "CLASTANT.COM" or "QVC-REVIEW.COM", which bear no connection to the actual brands mentioned.
Copy-Paste Strategy: These sites often feature stolen images, logos, and descriptions, repurposed from legitimate sites to deceive the viewer.
Irresistible, Altered Offers: While the core deal might remain consistent, scammers subtly modify ad titles or deals to refresh their appeal, making it harder for users to spot the deception based on one ad alone.
Data Snaring: Unwitting buyers are coaxed into sharing personal and financial details during the "checkout" process, posing significant risks of identity theft and unauthorized transactions.
Defective Deliverables: Post-payment, victims might end up with knock-off products, vastly inferior to what was advertised, or, frequently, nothing at all.
Dubious Contacts: With contact details like "support@hellps.world" or companies such as "Kentesh Ltd" that have ties to other scam activities, victims find themselves chasing shadows when seeking redress.
Whack-a-Mole Tactic: As soon as these scam sites draw too much negative attention, they vanish, only to pop up later under a different guise.
What to do if you become a victim of the "QVC reviews OMG" Scam
If you've fallen prey to the "QVC reviews OMG" scam, don't panic. Take the following steps:
Contact your bank or credit card company and report the fraudulent transaction.
Change your passwords, especially if you've used the same password for other online accounts.
Report the scam site to local authorities.
Consider reporting the scam to the FTC at reportfraud.ftc.gov.
Leave a comment on this article to share your experience and alert others.
Other Online Scams to Avoid
As part of our ongoing effort to safeguard our readers from potential scams, it's vital to stay updated with suspicious online shops that might be out to deceive you. Just like the QVC reviews OMG Scam, these shops employ similar deceitful strategies to lure buyers.
Here are a few examples of the scam online shops: Luvasti.com Silver Jewellery Store Scam, Acstoreus.com DICK'S SPORTING GOODS Store Scam, and Hokafacviponlinestore.com Review: Hoka Shoes Clearance Sale Scam.
Summary Table
| | |
| --- | --- |
| Name | QVC reviews OMG Scam |
| Type | Online Retail Scam |
| Fake Claims | Up to 60% off on products; #1 Recommended Orthopedic Shoes by Doctors; Last Day Promotion |
| Disguise | Misuse of trusted brand names like "QVC", "CLARKS", "SKECHERS", and "UGG" |
| Scammers' Websites | Clastant.com, QVC-REVIEW.COM, CINNAMONES.COM, kingmistore.com, supuprvip.com |
| Scammers' contacts | support@hellps.world; GRODINS PTE. LTD; clastant@zbsgh.com; Kentesh Ltd; Registration Number: 12948235; Company Address: Unit 11 Felix Business & Distribution Park, Birrell Street, Stoke-On-TrentUnited Kingdom, ST4 3NX; supuprvipfashion@outlook.com; Meledo Company Limited; 4/4a Bloomsbury Square, London, United Kingdom, WC1A 2RP; Company Number:11736866; TEL:442086385417 |
| Damage | Financial loss from non-delivery or counterfeit goods; Potential identity theft |
| Distribution methods | Facebook Ads targeting unsuspecting online shoppers |
| Indicators of the Scam | Too-good-to-be-true discounts; Newly registered domains; Dubious contact details |
| Prevention Tips | Avoid clicking on sensational ads; Verify the legitimacy of websites before purchase; Always check for reviews or complaints about the seller online |
| Reporting Info | Report suspicious ads to Facebook's Ad Reporting. For potential identity theft, contact local authorities or appropriate cybercrime agencies |
Conclusion
The "QVC reviews OMG" scam on Facebook shows how tricky scammers can get. They use well-known names, like "QVC", "CLARKS", "SKECHERS", and "UGG", to make us trust them. When people click on these ads, they're taken to fake websites that look real. These sites might have offers that seem too good to pass up, but there's a catch. Many people end up either getting nothing or a really cheap product that's not what was promised. Plus, they risk their personal info being stolen. It's super important to be careful online. Always double-check before buying something and if something feels off, it's best to steer clear. And remember, if a deal looks too good to be true, it probably is!
FAQ About the QVC reviews OMG Scam
Q1: What is the QVC reviews OMG Scam?

A1: It's a deceptive online scam initiated through ads on Facebook. These ads lead to fake online shops that deceive users into purchasing products they'll never receive or get products vastly different from the descriptions.

Q2: How do I recognize the QVC reviews OMG Scam?

A2: The scam primarily uses stolen images, plagiarized content, offers too good to be true, and has dubious contact information.

Q3: What should I do if I fall for the QVC reviews OMG Scam?

A3: Contact your bank or credit card company, change your online passwords, report the scam site to authorities, and consider reporting to the FTC.