Samsfly.com is rapidly gaining attention due to its intriguing advertisements and its resemblance to 'Costco Wholesale'. If you're wondering whether this site is genuine or a trap, read on to get a detailed understanding of the potential risks involved.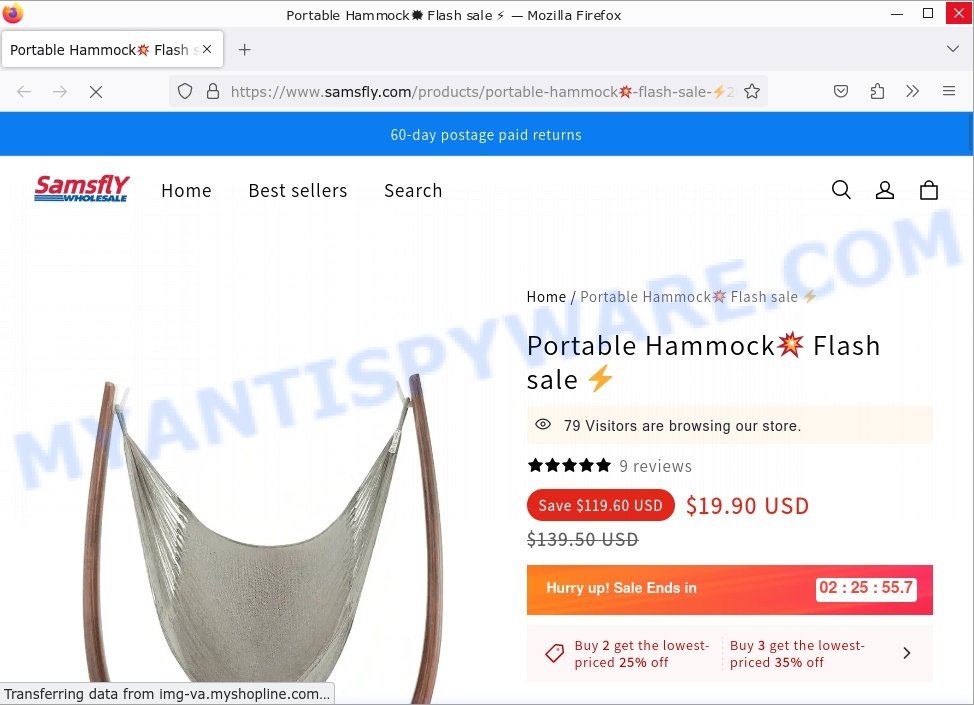 Quick links
Is Samsfly.com a Scam?
The truth is that Samsfly.com shows many red flags commonly associated with scam websites:
Recently created domain: It's a brand new domain, which is a common trait among scam sites.
Lack of contact information: Only an email address is provided for contact – customer@samsfly.com.
No real info about the company: The company behind, HINOVATION LIMITED, has been linked to other scam shops.
Unbelievable deals: Deeply discounted prices, time-limited sales, and enticing promotions are used to lure potential victims.
Content from other sites: The website pulls data from third-party sources like img-va.myshopline.com.
No visible social media presence: Despite being advertised on Facebook, no direct links to genuine social media platforms are present.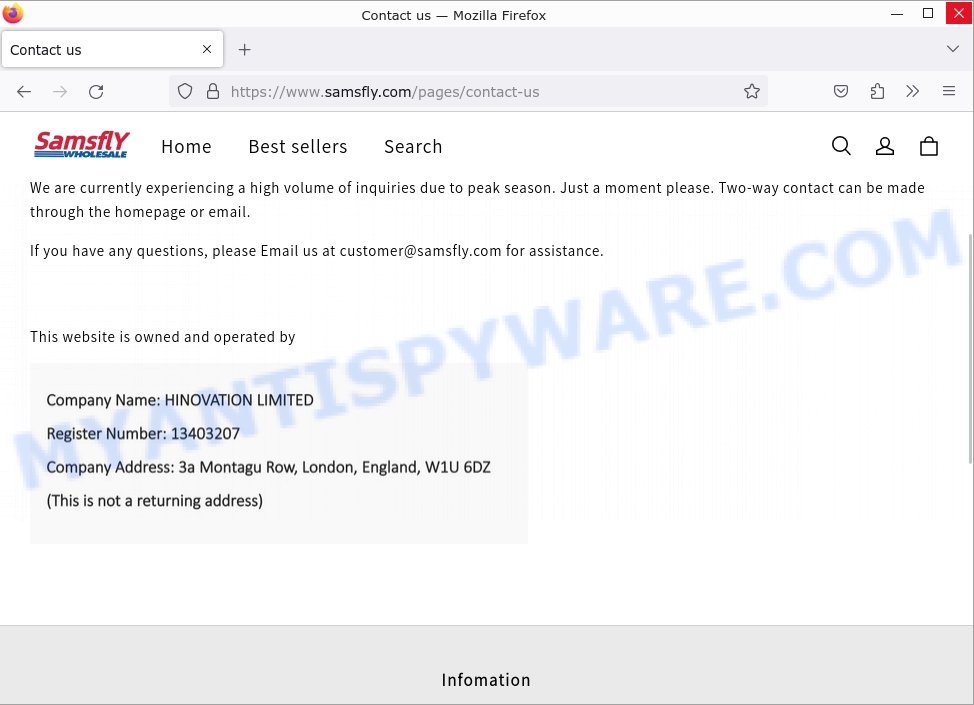 How the Samsfly.com Scam works
Samsfly.com is a dubious online store that targets unsuspecting shoppers through Facebook ads, offering them unrealistically discounted products like the "Portable Hammock Flash" sale. They create a sense of urgency with countdown timers and claim limited stock. By mimicking the design and logo of reputable brands like 'Costco Wholesale', they aim to gain the trust of potential buyers.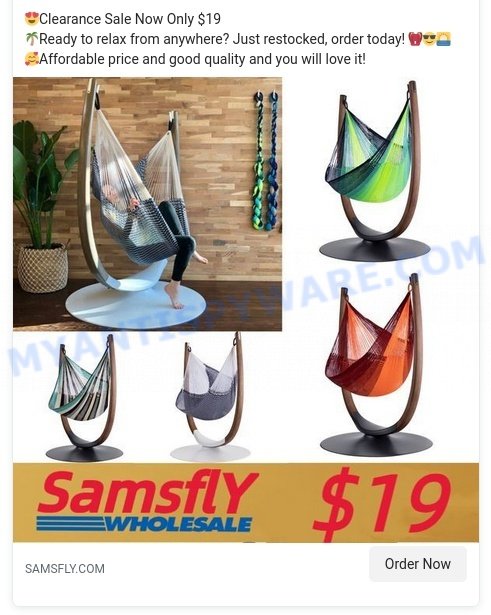 After making a purchase, customers often either receive counterfeit items or nothing at all. Furthermore, the website's data transfer from third-party sources raises concerns about user data privacy and security.
What to do if you become a victim of Samsfly.com
If you've fallen victim to this scam, it's essential to take immediate actions:
Contact your bank and inform them of the fraudulent transaction.
Change your online banking passwords.
Leave a comment on this review to share your experience and warn others.
Other Scam Online Shops to Avoid
As a part of our mission to safeguard our readers, it's crucial to be vigilant and aware of the numerous suspicious online shops. Many of them mimic the tactics seen on Samsfly.com, deceiving innocent buyers. Here are some examples: Wilukhome.com Review: Fake Wilko Store Scam, Luggagebigsale.com Review: Don't Fall for the Luggage Big Sale Scam, KingCrabStore.com King Crab Store Scam.
Summary table for Samsfly.com
| | |
| --- | --- |
| Name | Samsfly.com |
| Type | Online Scam Shop |
| Damage | Potential financial loss and data breach |
| Distribution | Facebook Ads |
| Tactics | False discounts, urgency, mimicry |
| Prices | Deeply discounted, e.g., Portable Hammock for $19.90 |
| Contacts | Email: customer@samsfly.com; Company: HINOVATION LIMITED |
| Prevention Tips | Verify authenticity, don't fall for unreal discounts |
| Reporting Info | FTC |
Conclusion
Samsfly.com is a concerning online entity that showcases multiple signs of being a scam. It is crucial for consumers to be wary of such sites, conduct their research, and avoid being lured by too-good-to-be-true deals.
FAQ About the Samsfly.com Scam
What can I do if I've already made a purchase on Samsfly.com?
Immediately contact your bank and consider changing any compromised passwords or information.
How can I differentiate between genuine and scam online shops?
Always check reviews, verify unbelievable deals, and research the site's history. If it's too good to be true, it probably is.
Is it risky to click on ads promoting such sites?
While clicking on ads isn't directly harmful, it's the subsequent actions, like sharing personal info or making payments, that can be dangerous.