Azureer.shop is an online store that has recently gained attention through Facebook ads, enticing customers with the promise of colossal Alaskan King Crab legs at a discount. If you've come across this online shop and are considering making a purchase, we urge you to read this comprehensive analysis before doing so.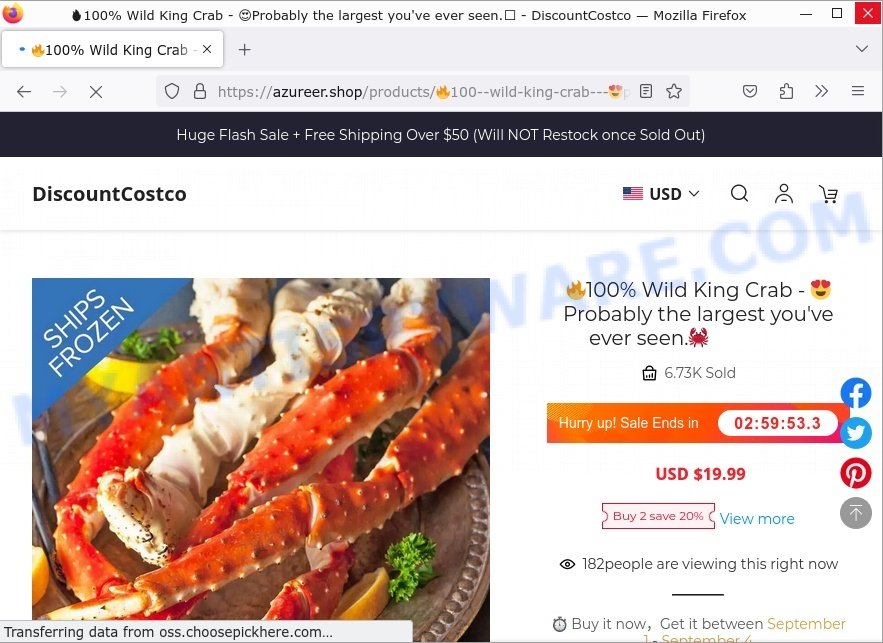 Quick links
Is Azureer.shop a Scam?
Azureer.shop displays several red flags commonly associated with scam online shops. These signs include:
Recently created domain
Contacts are limited to email only: support@billbo.shop
No genuine company details: Company listed as Meledo Company Limited, which is associated with other scam shops
Unbelievably low prices for premium items
Enticing slogans such as "Sale Ends in …", "Buy 2 save 20%", and a timer on the product page to create a sense of urgency
Whois domain registration details are hidden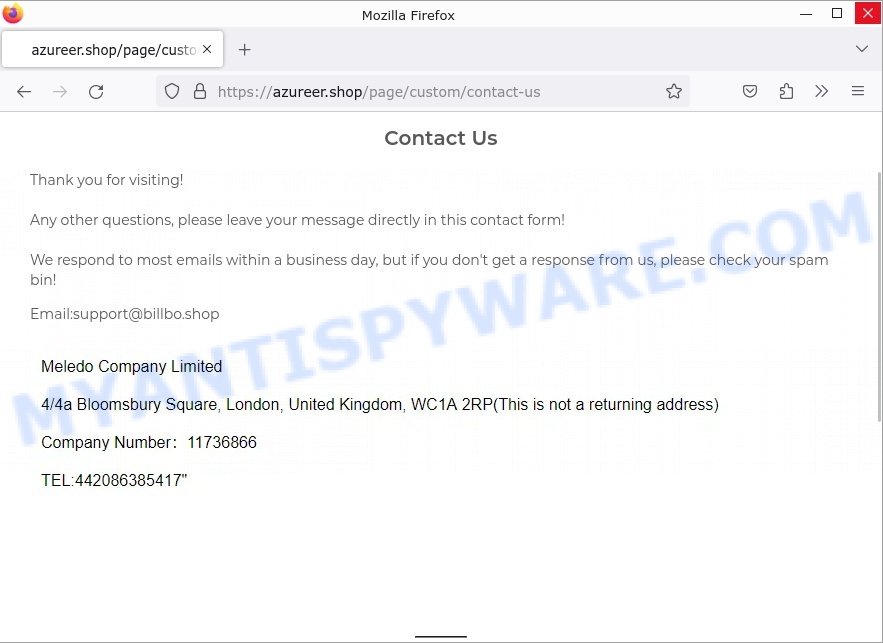 How the Azureer.shop Scam works
Azureer.shop is primarily promoted through Facebook ads, showcasing enticing deals on Alaskan King Crab legs. The main page of the site displays an urgency-inducing timer, with a claim that thousands of the product have already been sold.
Unsuspecting shoppers are lured in by these tactics, and the incredibly low price further convinces them to make a purchase. After purchasing, customers often receive either inferior products or nothing at all. Additionally, the contact details provided, like the email and company, have been linked to other scam shops, indicating a pattern of deceptive practices.
What to do if you become a victim of Azureer.shop
If you have fallen victim to Azureer.shop or suspect it's a scam, consider the following steps:
Contact your bank or credit card company to dispute the transaction.
Change passwords of any accounts linked to the payment method used.
Be wary of any further communication from the scam site or related emails.
Leave a comment on this review to share your experience and help others stay informed.
Other Scam Online Shops to Avoid
As part of our ongoing effort to protect our readers from potential scams, we've highlighted some other suspicious online shops that you might come across. These shops often display similar tactics and deceptive practices as Azureer.shop. It's crucial to remain vigilant when shopping online.
Here are a few examples of the scam online shops: Hokafacviponlinestore.com Review, Luggagebigsale.com Review, and Bedbathbeyondclose.com Review.
Summary table for Azureer.shop
Name
Azureer.shop
Type
Online Scam Shop
Damage
Potential financial loss and misuse of personal details
Distribution
Facebook Ads
Tactics
Urgency-inducing timers, unbelievable discounts
Prices
Colossal Alaskan King Crab legs for $19.99 and discounts on bulk purchases
Contacts
Email: support@billbo.shop
Meledo Company Limited; TEL:442086385417
Prevention Tips
Research before purchasing, be wary of too-good-to-be-true deals
Reporting Info
FTC
Conclusion
Azureer.shop is a deceitful online store luring unsuspecting shoppers with too-good-to-be-true deals on Alaskan King Crab legs. Its affiliation with other scam sites and its questionable marketing practices indicate a high probability of it being a scam. Always be cautious when encountering such sites and do thorough research before making a purchase.
FAQ About the Azureer.shop Scam
Why are the prices so low on Azureer.shop?
Azureer.shop uses the tactic of offering incredibly low prices to lure customers into purchasing. Such pricing, especially for premium items like King Crab legs, is often too good to be true and should be approached with caution.
Can I trust the reviews and sales numbers on Azureer.shop?
Given the red flags and the connection with other scam shops, it's highly likely that the reviews and sales numbers displayed are manipulated or entirely fictitious to build false credibility.
What can I do if I've already purchased from Azureer.shop?
Follow the steps mentioned in the "What to do if you become a victim of Azureer.shop" section. It's crucial to act quickly to prevent further financial losses or potential misuse of personal details.