Wilko-malls.com is popping up everywhere, especially on Facebook, enticing unsuspecting shoppers with unbelievable deals on home appliances. If you've come across this online store and are considering a purchase, we urge you to read our full analysis below.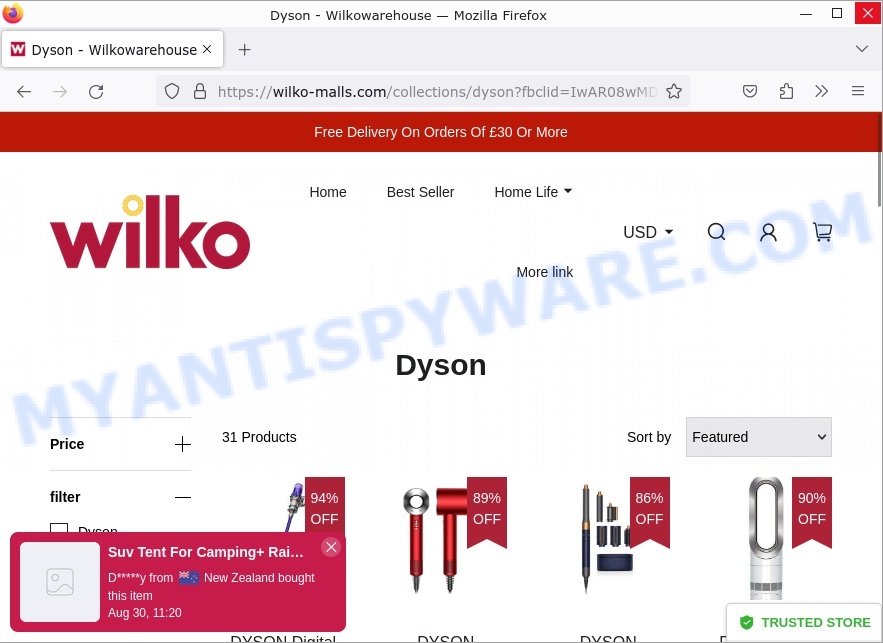 Quick links
Is Wilko-malls.com a Scam?
Wilko-malls.com displays many red flags that are typical of scam online stores:
Recently created domain
Lack of contact information – the only available method is through a suspicious email address: customer@mallhelpcenter.com which is linked to other scam shops.
Concealed WHOIS data
Unbelievable deals and incredibly low prices
Enticing slogans such as "Clearance Sale", "Satisfaction guarantee or your money back", and "Package in local warehouse within 24h"
No links to any official social media platforms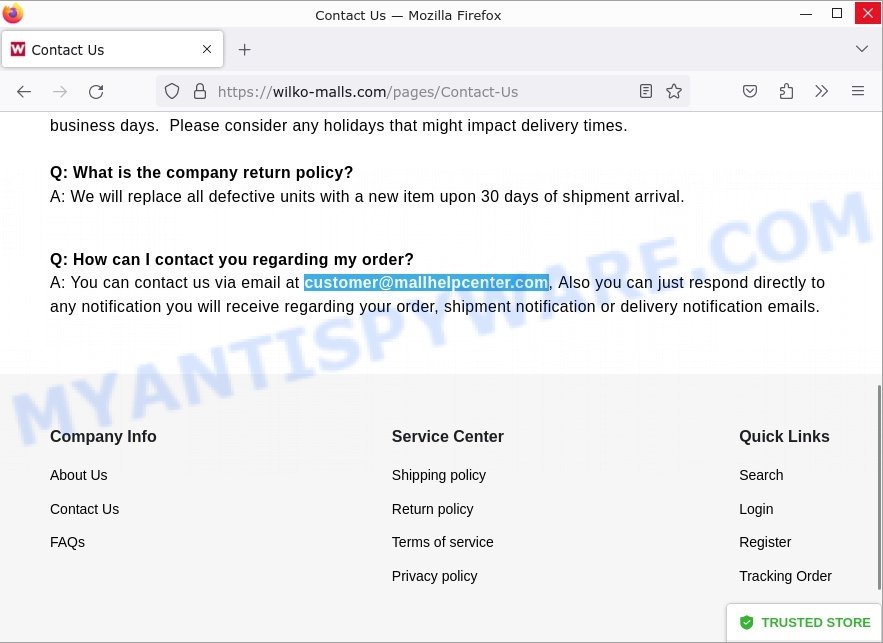 How the Wilko-malls.com Scam works
Wilko-malls.com is primarily promoted through Facebook ads, offering products at drastically reduced prices. The ads make false claims about branded supermarkets going bankrupt and push for clearance sales on popular home appliances, such as Hair Dryers, Vacuum Cleaners, and Air Purifiers, particularly from reputed brands like Dyson. Unsuspecting buyers, lured by the promise of high-quality products at a fraction of their original price, may end up receiving counterfeit items or, worse, nothing at all.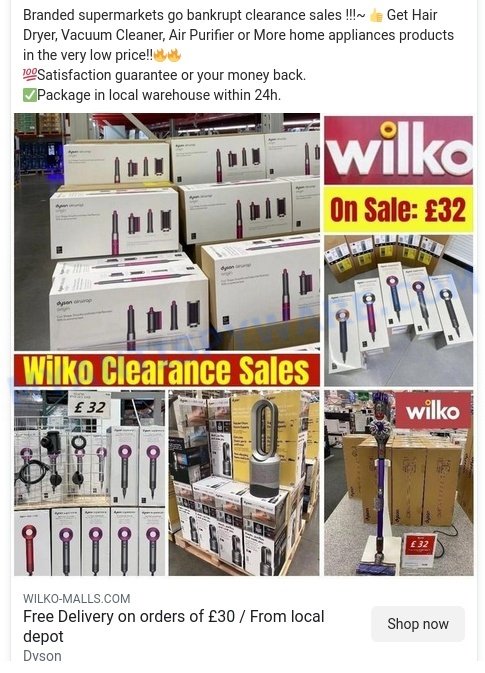 What to do if you become a victim of Wilko-malls.com
If you suspect you've fallen for the Wilko-malls.com scam, take the following actions immediately:
Contact your bank or credit card company to report the fraudulent transaction and seek a chargeback.
Change any passwords associated with the email you used for the transaction.
Monitor your financial statements for any unfamiliar activities.
Report the scam to the authorities.
Leave a comment on this review to warn others.
Report the scam at reportfraud.ftc.gov.
Other Scam Online Shops to Avoid
As part of our ongoing effort to protect our readers from potential scams, we've identified several other suspicious online shops that display characteristics similar to Wilko-malls.com. It's essential to remain cautious when shopping online.
Here are a few examples of the scam online shops: Wilukhome.com, Bedstockclearance.com, and Luggagebigsale.com.
Summary table for Wilko-malls.com
| | |
| --- | --- |
| Name | Wilko-malls.com |
| Type | Scam Online Store |
| Damage | Potential monetary loss, compromised personal data |
| Distribution | Primarily through Facebook ads |
| Tactics | Bankruptcy claims, Clearance sales, Enticing slogans |
| Contacts | customer@mallhelpcenter.com |
| Prevention Tips | Verify online stores before purchasing, avoid deals that seem too good to be true |
| Reporting Info | reportfraud.ftc.gov |
Conclusion
Wilko-malls.com is a deceitful online store that preys on unsuspecting shoppers with the allure of unrealistic discounts on popular home appliances. Always be wary of offers that seem too good to be true and do thorough research before making online purchases.
FAQ About the Wilko-malls.com Scam
What makes Wilko-malls.com different from legitimate online stores?
Wilko-malls.com uses false advertising and offers products at unrealistically low prices to lure buyers, a tactic not employed by genuine online retailers.
How did I encounter the Wilko-malls.com scam?
Most victims come across Wilko-malls.com through sponsored ads on Facebook, which claim branded supermarkets are having bankruptcy clearance sales.
What should I do if I've already made a purchase on Wilko-malls.com?
Immediately contact your bank or credit card provider, report the fraudulent transaction, and monitor your financial statements for any suspicious activities.