Muberiy.com is being heavily advertised on platforms like Facebook, enticing potential buyers with promises of unbelievable discounts on suits, belts, and more. Before you decide to purchase from them, read our in-depth analysis of why this site raises several red flags.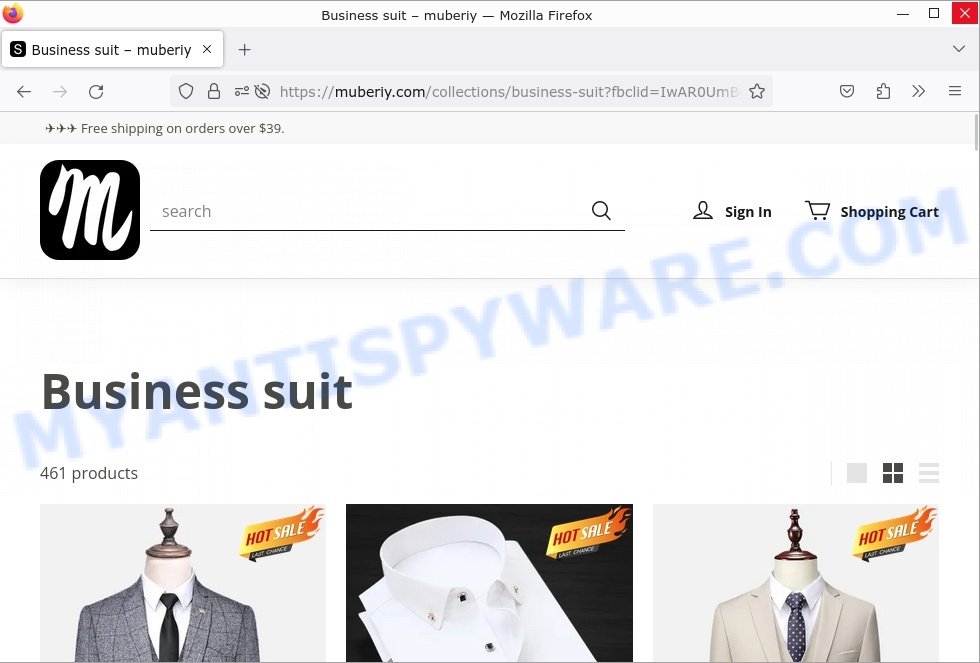 Quick links
Is Muberiy.com a Scam?
Muberiy.com exhibits multiple common signs of being a scam online store:
Recently created domain, indicating the possibility of it being set up for a short-lived scam.
Lack of authentic contact information: their only method of contact is an email address, muberiy@foodfier.com.
No genuine details about the company. They claim to be associated with "HK RICHARD GROUP CO., LIMITED", but the address provided isn't for returns, making it hard to trust.
Unbelievable deals and incredibly low prices, with slogans like "Clearance Sale $6.99" and "UP TO 90% OFF Now".
Advertisements using templated and enticing slogans.
Whois details are hidden, further clouding the legitimacy of the site.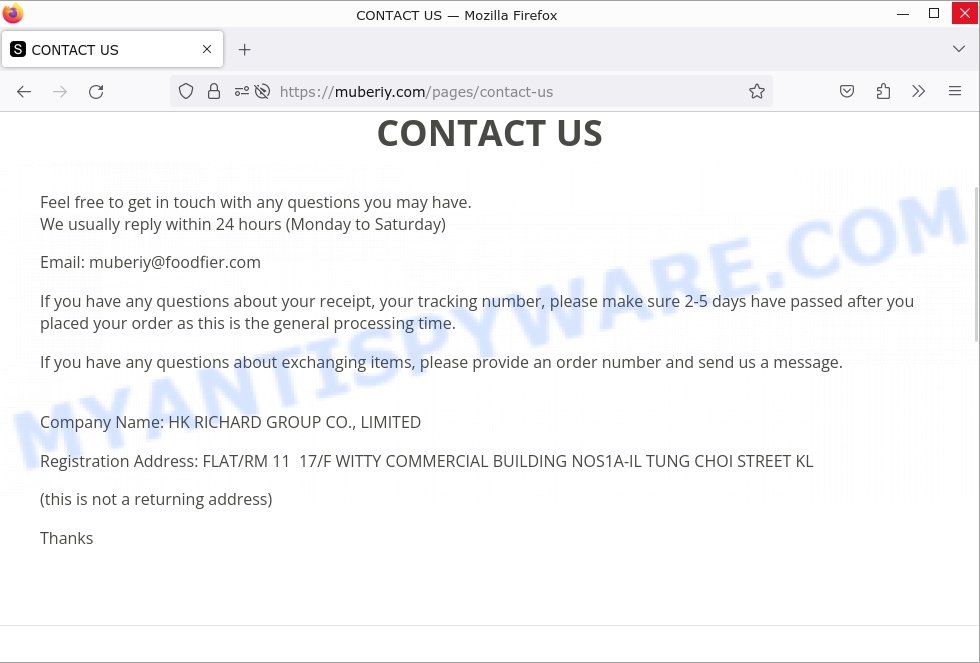 How the Muberiy.com Scam works
Muberiy.com lures unsuspecting shoppers through their Facebook ads that boast of extremely low prices, with products "as low as $6.99" due to alleged "warehouse lease expiration". They promise top-quality suits and belts made from "haute couture fabrics", assuring quality and multiple payment options. Many potential customers, swayed by these promises and the allure of great deals, might end up purchasing from the website. However, once a purchase is made, the buyers either receive counterfeit products, items vastly different from the descriptions, or sometimes, nothing at all.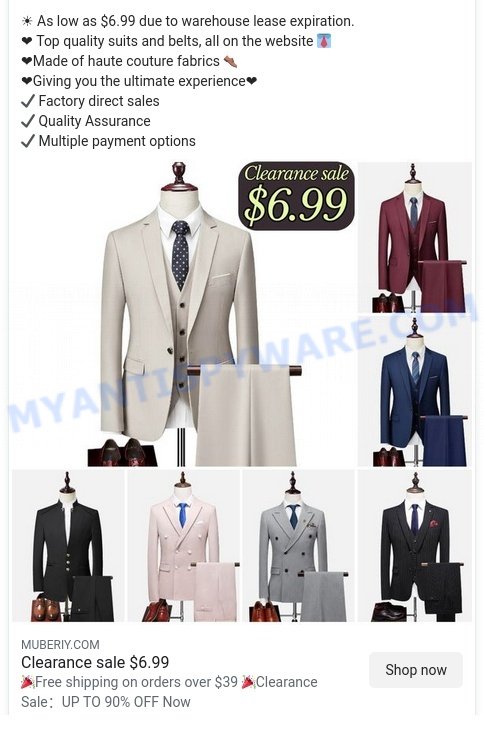 What to do if you become a victim of Muberiy.com
If you've made a purchase from Muberiy.com and suspect it's a scam, follow these steps:
Contact your bank or credit card provider immediately to dispute the charges.
Change passwords for any online accounts you used while accessing the site.
Monitor your account statements for any unfamiliar transactions.
Report the scam at reportfraud.ftc.gov.
Leave a comment on this review to share your experience and alert others.
Other Scam Online Shops to Avoid
As part of our ongoing effort to protect our readers from potential scams, we have compiled a list of other suspicious online shops that you should be aware of. These shops share similar characteristics and tactics to Muberiy.com, and they use deceptive practices to lure in unsuspecting buyers. It's crucial to remain vigilant when shopping online and to be aware of the warning signs of a potential scam.
Here are a few examples of the scam online shops: KingCrabStore.com King Crab Store Scam, Tv-homeshopping.shop Bed Bath & Beyond Store Scam, and Oputcre.shop QVC Store Scam.
Summary table for Muberiy.com
| | |
| --- | --- |
| Name | Muberiy.com |
| Type | Online Retail Scam |
| Damage | Financial loss, possible data breach |
| Distribution | Facebook ads |
| Tactics | Unbelievable discounts, enticing ads, fake company association |
| Prices | As low as $6.99, up to 90% off sales |
| Contacts | Email: muberiy@foodfier.com, Company: HK RICHARD GROUP CO., LIMITED |
| Prevention Tips | Research before buying, avoid deals that seem too good to be true |
| Reporting Info | reportfraud.ftc.gov |
Conclusion
Muberiy.com is a classic example of an online scam store that capitalizes on the unsuspecting nature of shoppers lured in by seemingly unbeatable deals. With concealed registration details, questionable company affiliations, and too-good-to-be-true prices, it is imperative to approach such sites with caution.
FAQ About the Muberiy.com Scam
Why are the prices on Muberiy.com so low?
The advertised low prices on Muberiy.com are a tactic to lure in unsuspecting buyers. Often, scam sites will offer unbelievable discounts to attract more victims.
Is it safe to provide my payment details on Muberiy.com?
Given the red flags raised by the site, it's best not to provide any personal or financial information.
How can I protect myself from similar scams in the future?
Always do thorough research on unfamiliar online stores. Check for reviews, look into their contact details, and if something seems too good to be true, it probably is.