Startswimca.com is an online store that claims to offer Buck Knives at incredibly discounted rates. Lured by Facebook ads promoting an "80% off last day sale", many might be tempted to grab the deal. But beware! This article uncovers the truth about Startswimca.com and why it's essential to read before making any purchase.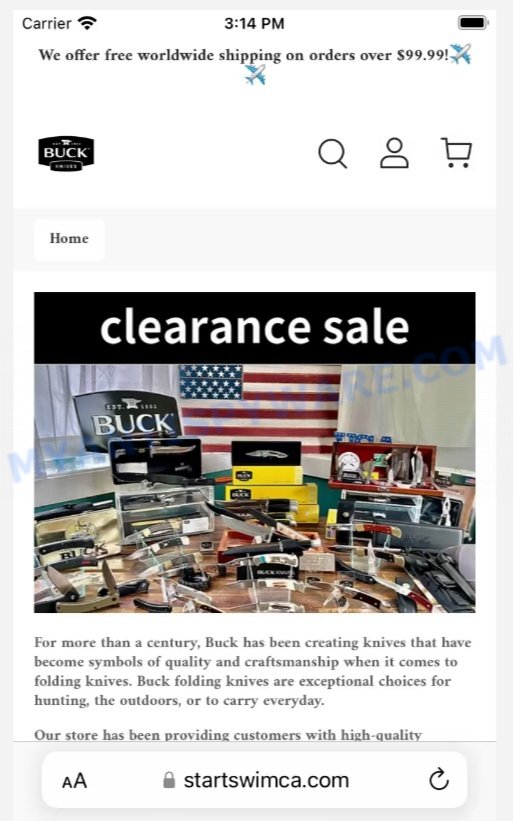 Quick links
Is Startswimca.com a Scam?
While the offers from Startswimca.com may seem tempting, several red flags indicate that it might be a scam:
Recently created domain
Lack of contact information (only a single email address: customerservices@startswimca.com)
No real information about the company behind
Unbelievable deals like "Buck Knives Clearance Sale", "80% off" promotions
Template design and content likely copied from other sites
Enticing slogans and time counters on the product page
No visible social media presence or links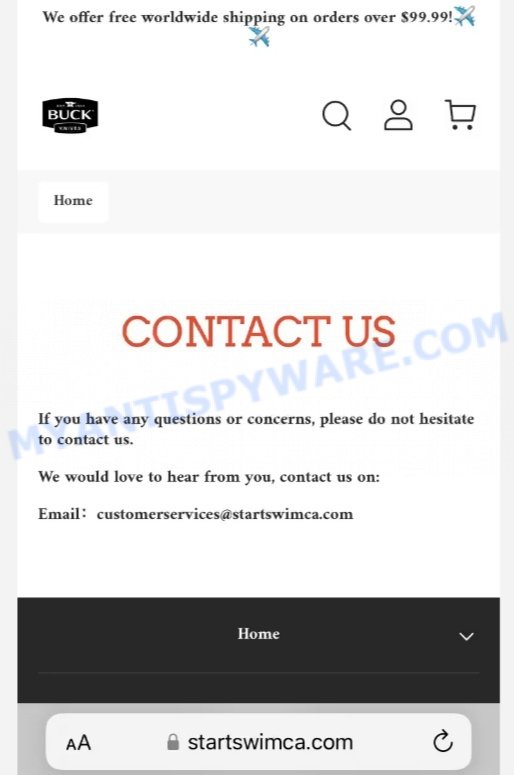 How the Startswimca.com Scam works
Startswimca.com attracts potential victims through Facebook ads showcasing the "Knives Clearance Sale", emphasizing the quality and features of the Buck Knives. The ad text entices users with the promise of an 80% discount, creating urgency. Once a user clicks on the advertisement, they're taken to Startswimca.com, where the website's sleek design might convince them to make a purchase. However, after payment, either the product never arrives, or if it does, it's a cheap imitation.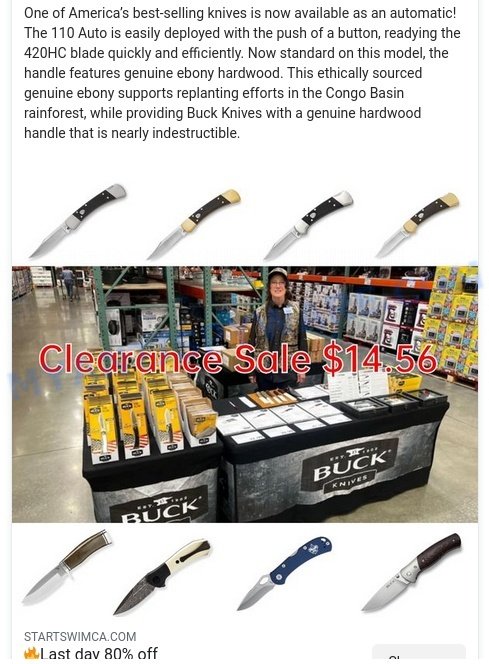 What to do if you become a victim of Startswimca.com
If you've unfortunately fallen for the Startswimca.com scam, consider taking the following steps:
Contact your bank or credit card company to report the fraudulent transaction and discuss the possibility of a chargeback.
Change passwords of accounts that may be linked with the payment method you used.
Report the scam to local authorities.
Leave a comment on this review to warn others.
Other Scam Online Shops to Avoid
As part of our ongoing effort to protect our readers from potential scams, we've listed other suspicious online shops that share similar tactics with Startswimca.com. It's essential to be cautious when shopping online.
Here are a few examples of the scam online shops: Luggagebigsale.com, Wilukhome.com, and Luvasti.com.
Summary table for Startswimca.com
| | |
| --- | --- |
| Name | Startswimca.com |
| Type | Online Store Scam (Fake Buck Knives Store) |
| Damage | Potential monetary loss, delivery of counterfeit items |
| Distribution | Facebook Ads |
| Tactics | False advertising, misleading discounts, counterfeit items |
| Contacts | customerservices@startswimca.com |
| Prevention Tips | Verify the legitimacy of online stores before purchase, check for customer reviews |
| Reporting Info | FTC Fraud Reporting |
Conclusion
Startswimca.com is a deceitful online store, capitalizing on the popularity of Buck Knives to lure unsuspecting shoppers. It's essential to do your due diligence when encountering such websites, and always trust your instincts. If a deal seems too good to be true, it probably is.
FAQ About the Startswimca.com Scam
Why is Startswimca.com selling Buck Knives at such low prices?
The likely reason is that they either don't send any product or send counterfeit items that don't match the quality of genuine Buck Knives.
Are there any legitimate sites where I can purchase genuine Buck Knives?
Yes, Buck Knives are sold on the brand's official website www.buckknives.com and authorized retailers. It's always safer to buy from reputable sources.
How can I identify scam websites in the future?
Look for clear signs such as too-good-to-be-true deals, recent domain registration, hidden WHOIS data, lack of contact information, and copied content or images from other sites.