In recent weeks, a new online scam has swiftly gained momentum, specifically targeting unsuspecting WhatsApp users. Dubbed the "Wpme.cc Scam", this malicious campaign cunningly poses as a link-shortening service, but in reality, it's a trap leading to fraudulent pages that promise tempting prizes or free products. These scams exploit our trust in familiar brands, like Amazon, and leverage our close connections, as they often arrive in our inboxes from friends or family. It's crucial, now more than ever, for every digital user to be aware and safeguard their personal and financial information. Read on to fully understand this scam and protect yourself from falling victim.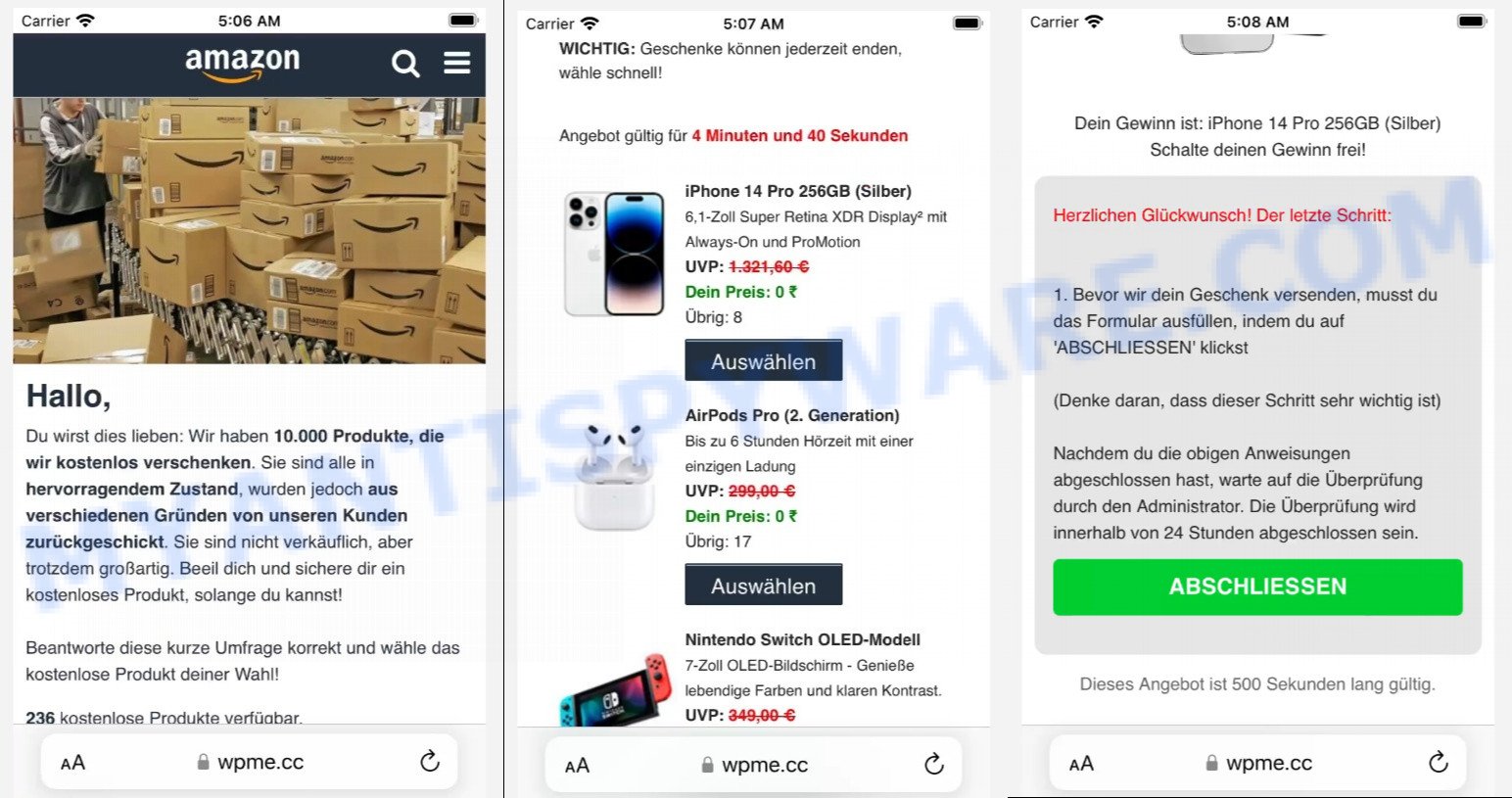 QUICK LINKS
How the Wpme.cc Whatsapp Scam works
The Wpme.cc WhatsApp Scam is a crafty scheme designed to mislead its victims by exploiting their trust in renowned brands, such as Amazon. At its core, it begins with a message delivered via WhatsApp, often appearing to come from a familiar contact. This message teases the recipient with alluring offers, typically suggesting that renowned companies like Amazon are giving away free gifts or cash prizes. The included link, shortened and obscured to look benign, is the scammer's bait.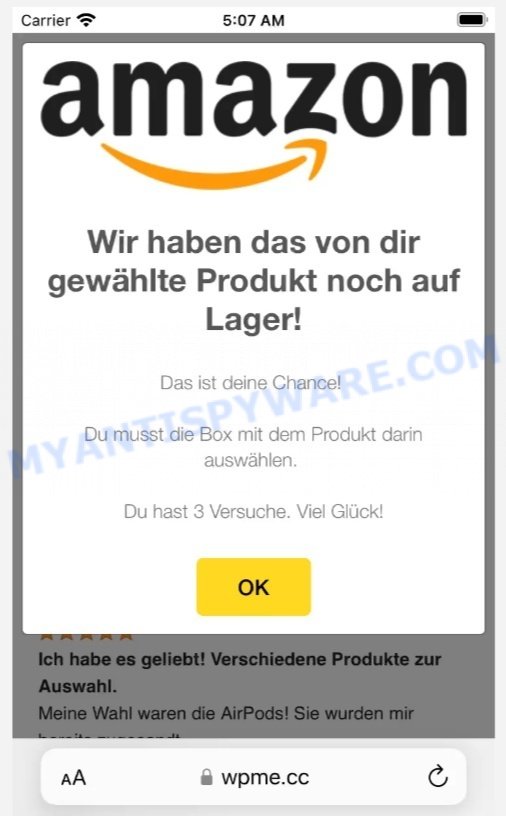 Upon clicking the link, the unsuspecting user is directed to the Wpme.cc site. Here, intricate JavaScript code runs several checks to validate if the accessing device is a mobile one, like a smartphone. The site also uses geolocation to determine the user's location based on their IP address. Depending on the outcome of these checks, victims might be redirected differently. If the checks fail, for example, if the link is accessed from a computer, the user might be shown a generic "404 error" page, giving the illusion of a harmless broken link.
However, if the checks are successful, users find themselves on a page where they're presented with an opportunity. It's here that they're told they can win a prize by merely taking a short and anonymous survey. It's all designed to feel engaging and legitimate. After answering a few questions, they are led to believe they've won and are just a step away from their reward. This step, however, involves sharing the message with more contacts on WhatsApp, perpetuating the scam's spread.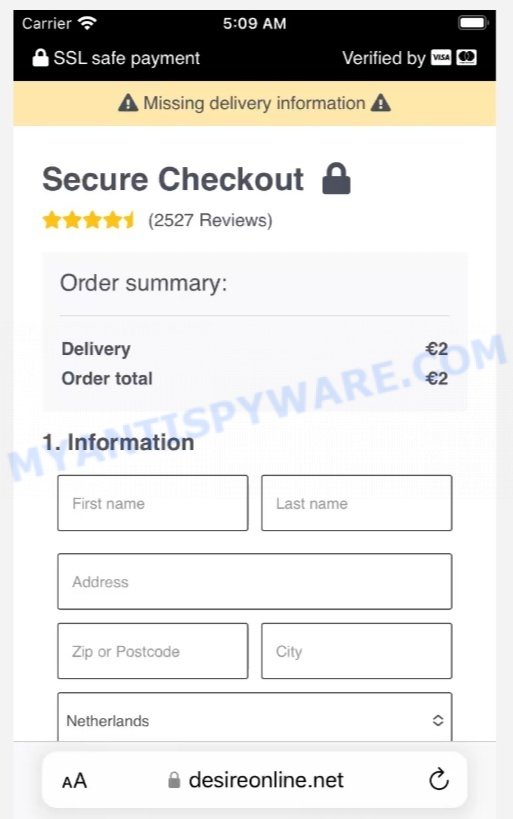 The final stage of this deception is the most malicious. Once users have shared the message, they're taken to a page where they're asked to enter personal data and credit card details, ostensibly to cover delivery charges for their "prize." But in reality, they're handing over sensitive information to the scammers. And to add insult to injury, they unknowingly get subscribed to an expensive subscription that starts siphoning money from their account until halted.
In conclusion, the Wpme.cc WhatsApp Scam is a crafty trick that uses trusted names to fool people. It's a reminder that we should always be careful online, double-checking offers and being skeptical of too-good-to-be-true deals. As scams get smarter, so must we in spotting them. Always trust your instincts and think twice before sharing personal details.
Is the Wpme.cc WhatsApp message a virus?
NO, the Wpme.cc WhatsApp message itself is not a virus. Instead, it serves as a tool used by scammers to deceive and manipulate unsuspecting individuals. The message typically contains a link that redirects users to the fraudulent website Wpme.cc. It is on this website that the actual scam takes place, attempting to trick users into providing personal information and credit card details. It is important to note that while the Wpme.cc WhatsApp message is not a virus, engaging with the scam can expose individuals to potential risks, such as identity theft, financial fraud, or malware infections.
If you receive a suspicious message from a scammer, you can block the sender on WhatsApp to prevent them from contacting you again. To block a sender on WhatsApp, simply open the chat with the sender, tap on their name or phone number, scroll down to the bottom of the screen, and tap on "Block". You can also report the message as spam or abuse by tapping on the "Report" option in the menu. This will help WhatsApp to identify and take action against malicious actors who engage in fraudulent activities on the platform.
Examples of such scams
As with most scams, the Wpme.cc WhatsApp scam is just one example of many similar schemes that aim to trick unsuspecting victims into giving away personal information or falling victim to malware. These types of scams often use tactics such as offering prizes or gifts, using familiar brand names, and creating a sense of urgency or excitement to encourage victims to act quickly without thinking. Below we'll highlight a few examples of these scams to help you stay informed and avoid falling victim to them.
Here are a few links to examples of similar scams: Mr Beast Giveaway Scam, Shein Summer Giveaway Scam, Amazon Mother's Day Giveaway Scam, and Samsung Mobile Promo Draw Scam.
Always be wary of WhatsApp messages that offer prizes or ask for personal information, and if you're not sure if a message is legitimate, do some research or contact the company directly to verify.
What to do when you receive the Wpme.cc WhatsApp message?
If you receive the Wpme.cc WhatsApp message, it is crucial to take immediate action to protect yourself and others from falling victim to the scam. Here's what you can do:
Recognize that the Wpme.cc WhatsApp message is a scam and avoid clicking on any links within the message. Be cautious, even if the message appears to come from a familiar person, as scammers often use the chain-letter method to spread the scam through friends and contacts.
If the message comes from a familiar person, it's essential to try to inform them that it is a scam. Reach out to the person through a separate and trusted communication channel, such as a direct phone call or a face-to-face conversation, to let them know about the scam and advise them to avoid engaging with it.
Spread awareness about the Wpme.cc WhatsApp scam among your friends, family, and social circles. Inform them about the tactics used by scammers and encourage them to be cautious when receiving similar messages, emphasizing the importance of not clicking on any suspicious links.
Delete the Wpme.cc WhatsApp message. In WhatsApp, you can delete the scam message by long-pressing on it, selecting the delete option, and choosing whether to delete it just for yourself or for everyone in the chat. Removing the message can help prevent others from accidentally engaging with the scam.
Report the incident to WhatsApp by forwarding the scam message to their support team. This can be done by selecting the message, tapping the forward option, and sending it to the official WhatsApp support contact or email provided on their website. Reporting the scam helps WhatsApp take action against the fraudulent activities.
If you have already clicked on the link and provided any personal information, you should take immediate steps to protect yourself from potential identity theft or financial fraud. This includes monitoring your bank and credit card accounts for any suspicious activity, changing your passwords, and contacting your financial institutions to alert them of the potential breach. You may also want to consider placing a fraud alert or credit freeze on your accounts to prevent any unauthorized access. Use the steps (https://consumer.ftc.gov/articles/what-do-if-you-were-scammed) to try to stop a transaction, get a transaction reversed, or get a refund.
Remember, staying informed and spreading awareness are essential steps in combating scams like the Wpme.cc WhatsApp scam. By taking these proactive measures, you can protect yourself and others from falling victim to such fraudulent schemes.
Threat Summary
| | |
| --- | --- |
| Name | Wpme.cc WhatsApp Scam, "Wpme.cc spam", "Wpme.cc virus" |
| Type | WhatsApp Scam |
| Disguise | Disguised as URL shortener and survey participation |
| Fake claims | Offers cash prizes, gift cards from popular brands like Amazon, SUPER BOCK, Shein, and Peroni |
| Damage | Potential financial loss, identity theft, unauthorized charges, risk of malware infections |
| Indicators of the Scam | Messages with enticing offers, claims of winning prizes, requests for personal information or credit card details in exchange for prizes or rewards |
| Distribution methods | Spread through WhatsApp messages, Chain-letter method in spreading scam messages |
| Prevention Tips | Don't click on suspicious links, be wary of unsolicited messages offering prizes or gifts, verify information with the brand directly, do not forward the message to others, use antivirus software and keep it up-to-date |
| Reporting Info | Report the message to WhatsApp by selecting "Report" within the message or contact local authorities if you have fallen victim to the scam. |
Conclusion
In conclusion, the Wpme.cc WhatsApp scam represents a significant threat to individuals' personal information and financial security. The scam operates through deceptive messages sent via WhatsApp, enticing victims with fake claims of winning cash prizes or gift cards from popular brands like Amazon, SUPER BOCK, Shein, and Peroni. Scammers employ tactics such as disguising themselves as URL shorteners and using survey participation as a guise to collect personal information and credit card details. The consequences of falling victim to this scam can include financial loss, identity theft, and even the risk of malware infections.
To protect oneself, it is essential to exercise caution, be skeptical of unsolicited messages, and avoid sharing personal information or clicking on unfamiliar links. By staying informed and vigilant, individuals can safeguard themselves against the Wpme.cc WhatsApp scam and similar fraudulent activities.