Beware of the latest online scam making rounds, known as the Samsung Mobile Promo Draw Scam. Numerous individuals have reported receiving spam emails claiming they have won a staggering $750,000 from Samsung Electronics Company. The email asserts that the promo draw is authorized by the America Gaming Board and licensed by the International Association of Gaming Regulators (IAGR). However, this is nothing more than an elaborate ruse designed to trick unsuspecting victims into sharing personal information and paying fees. If you want to safeguard yourself from falling victim to this cunning scheme, read on to learn more about the alarming details and how to protect yourself from such scams.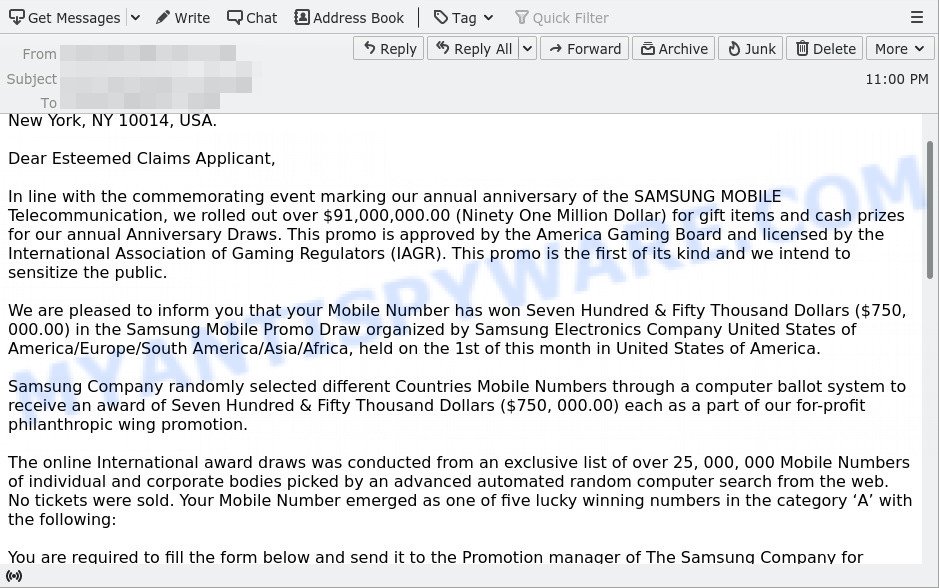 QUICK LINKS
The Samsung Mobile Promo Draw Scam: How It Works and What to Look Out For
The Samsung Mobile Promo Draw Scam is an online scam that targets individuals through spam emails. The scam starts with an email claiming to be from Samsung Electronics Company, informing the recipient that they have won a substantial amount of money, typically $750,000. The email states that the promo draw is in celebration of Samsung's annual anniversary and is approved by the America Gaming Board and licensed by the International Association of Gaming Regulators.
To give you a clearer picture, here is the complete text of the email sent by the scammers in this particular variant of the Samsung Mobile Promo Draw scam:
SAMSUNG ELECTRONIC COMPANY
837 Washington Street
New York, NY 10014, USA.

Dear Esteemed Claims Applicant,

In line with the commemorating event marking our annual anniversary of the SAMSUNG MOBILE Telecommunication, we rolled out over $91,000,000.00 (Ninety One Million Dollar) for gift items and cash prizes for our annual Anniversary Draws. This promo is approved by the America Gaming Board and licensed by the International Association of Gaming Regulators (IAGR). This promo is the first of its kind and we intend to sensitize the public.

We are pleased to inform you that your Mobile Number has won Seven Hundred & Fifty Thousand Dollars ($750, 000.00) in the Samsung Mobile Promo Draw organized by Samsung Electronics Company United States of America/Europe/South America/Asia/Africa, held on the 1st of this month in United States of America.

Samsung Company randomly selected different Countries Mobile Numbers through a computer ballot system to receive an award of Seven Hundred & Fifty Thousand Dollars ($750, 000.00) each as a part of our for-profit philanthropic wing promotion.

The online International award draws was conducted from an exclusive list of over 25, 000, 000 Mobile Numbers of individual and corporate bodies picked by an advanced automated random computer search from the web. No tickets were sold. Your Mobile Number emerged as one of five lucky winning numbers in the category 'A' with the following:

You are required to fill the form below and send it to the Promotion manager of The Samsung Company for verification and then you will be directed on how to claim your winning amount of ($750, 000.00 US Dollars) Seven Hundred Fifty Thousand Dollars.

Fill VERIFICATION FORM below:

1. Full Name:

2. Contact Address:

3.Mobile Number:

4. Marital Status:

5. Occupation:

6. S*x:

7. Age:

8. Country:

9. Alternative Email Address:

You are to send a scanned copy of your Passport, Drivers Licence or Work ID via email attachment for proper confirmations.

Friends and relatives cannot redeem your won prize on your behalf because the certified cheque is covered by an IRREVOCABLE GUARANTEE BOND (IGB).

Thank you for being a part of our promo draw.

EVENT MANAGER,

Raymond Joe

Tel: 17162793317

Copyright 2023 Samsung Electronics Company. All rights reserved.
To make the scam appear legitimate, the email mentions that the draw was conducted through a computer ballot system, randomly selecting mobile numbers from different countries. The recipient is then instructed to fill out a verification form, providing personal information such as their full name, contact address, mobile number, marital status, occupation, gender, age, country, and alternative email address.
To further deceive victims, the scammers request a scanned copy of the recipient's passport, driver's license, or work ID for verification purposes. This is an attempt to give the scam an air of credibility and legitimacy.
The scammers emphasize that only the supposed winner can redeem the prize and that friends or relatives cannot claim it on their behalf. They claim that the prize is covered by an IRREVOCABLE GUARANTEE BOND (IGB) to make it seem more secure.
In reality, the Samsung Mobile Promo Draw Scam is a fraudulent scheme aimed at obtaining personal information and potentially extorting money from victims. There is no actual prize, and once scammers have acquired the victim's personal information, they can use it for identity theft or other malicious purposes.
It is crucial to be aware of this scam and similar ones that prey on people's desire for unexpected wealth. Remember, legitimate companies do not conduct random draws or promotions without prior participation from individuals. If you receive such an email, it is essential to report it to the appropriate authorities and avoid sharing any personal information or sending money.
Examples of such scams
Scams come in various forms and can target unsuspecting individuals in different ways. The Samsung Mobile Promo Draw Email Scam is just one example of a prevalent type of online fraud. In this section, we will explore other similar scams that have surfaced in recent years, shedding light on the tactics employed by scammers to deceive and exploit innocent victims. By familiarizing ourselves with these examples, we can enhance our understanding of these fraudulent schemes and better protect ourselves against them. Below are some notable instances of scams that share similarities with the Samsung Mobile Promo Draw Email Scam.
Gordon Ramsay HexClad Cookware Giveaway Scam, Mr Beast Giveaway Scam and Elon Musk Giveaway Marathon Scam are some of the scams we reported recently. Take a closer look at their tactics, patterns, and warning signs to safeguard your personal and financial well-being. Remember, awareness is the first line of defense against online scams.
What to do if you receive the email
If you receive an email similar to the Samsung Mobile Promo Draw Email Scam or any suspicious email promising large sums of money, it is crucial to proceed with caution and take appropriate steps to protect yourself. Here are some actions you can take if you find yourself in such a situation:
Do not respond. Avoid engaging with the scammers or providing any personal or financial information. Responding to the email may confirm your email address as active and potentially lead to further attempts at scamming.
Do not click on any links or download attachments. Scammers often include malicious links or attachments that can compromise your computer or steal your personal information. It is best to avoid clicking on any links or downloading any files from suspicious emails.
Mark it as spam. Use your email provider's spam or junk mail feature to report the email as spam. This helps train the system to identify similar scam emails in the future and protect other users.
Delete the email. Safely delete the email from your inbox and trash folder to ensure you don't accidentally interact with it again.
Educate yourself. Stay informed about the latest scams and fraud tactics. Familiarize yourself with the common warning signs and red flags to better protect yourself from falling victim to scams.
If you have already clicked on a link or provided personal information and suspect that you may have fallen victim to the scam, it is important to take immediate action. Contact your financial institution to report any unauthorized charges, monitor your accounts for suspicious activity, and consider placing a fraud alert or credit freeze on your credit reports. Use the steps (https://consumer.ftc.gov/articles/what-do-if-you-were-scammed) to try to stop a transaction, get a transaction reversed, or get a refund.
Remember, if an offer seems too good to be true, it likely is. Trust your instincts, and if you have any doubts about the authenticity of an email, seek advice from a trusted source or contact the relevant authorities. By being vigilant and proactive, you can protect yourself and others from falling victim to scams.
Threat Summary
| | |
| --- | --- |
| Name | Samsung Mobile Promo Draw Email Scam |
| Type | Phishing, Social Engineering |
| Scammers' Phone Numbers | 17162793317, 716 279-3317 |
| Fake Claims | Claiming the recipient has won $750,000 in a Samsung Mobile Promo Draw |
| Disguise | Disguised as an official email from Samsung Electronics Company |
| Damage | Identity theft, financial loss, and potential misuse of personal information |
| Distribution | Distributed through spam emails sent to a wide range of individuals |
| Indicators of the Scam | Unsolicited email claiming a random selection and asking for personal information and document scans |
| Prevention Tips | Be skeptical of unsolicited emails, never share personal information or pay fees, verify information with official sources |
| Reporting Info | Report the scam to local law enforcement, the FTC at https://reportfraud.ftc.gov/, and the Anti-Phishing Working Group (APWG) at reportphishing@apwg.org |
Spotting Email Scams: Protecting Yourself from Fraudulent Messages
In order to protect yourself from falling victim to email scams like the Samsung Mobile Promo Draw Email Scam, it is essential to develop a keen eye for identifying suspicious messages. Scammers employ various tactics to deceive individuals and manipulate their trust. By understanding the common red flags and warning signs, you can enhance your ability to spot such scams and safeguard your personal and financial information.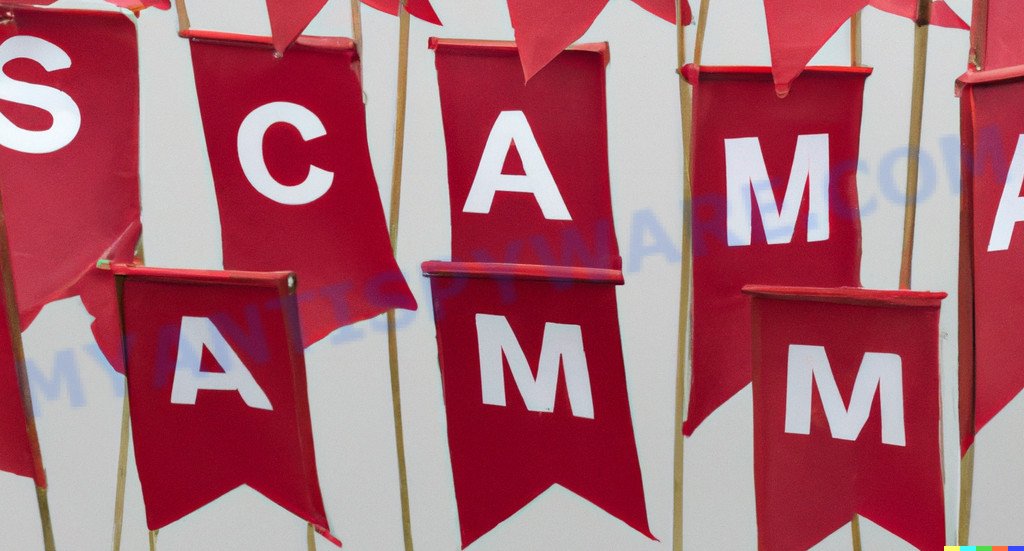 Here are some red flags to help you recognize and differentiate fraudulent emails from legitimate ones, empowering you to stay one step ahead of scammers.
Be cautious of unsolicited emails claiming to offer large sums of money or donations from prominent individuals or organizations. Scammers often initiate contact out of the blue, without any prior relationship or interaction.
Pay attention to the quality of language used in the email. Many scam emails contain grammatical errors, misspellings, or awkward phrasing. This can be a red flag indicating that the sender is not a legitimate entity.
Examine the email address from which the message is sent. Scammers often use email addresses that imitate legitimate organizations or individuals but have slight variations or unusual domain extensions. Verify the authenticity of the email address by cross-checking with official sources.
Be skeptical of emails promising large sums of money or donations for little or no effort on your part. If an offer seems too good to be true, it likely is. Legitimate philanthropic initiatives typically have formal processes in place and do not randomly select individuals to receive substantial amounts of money.
Exercise caution when asked to provide personal information, such as your full name, address, bank account details, or social security number. Legitimate organizations usually have secure channels for sharing sensitive information and do not request it via email.
Scammers often create a sense of urgency, pressuring recipients to respond or take immediate action. This urgency is a tactic to prevent victims from thoroughly evaluating the legitimacy of the email. Take your time to research and verify the claims made in the email before proceeding.
Independently verify the claims and legitimacy of the email by conducting online research, checking official websites or news sources, and reaching out to trusted contacts. Do not solely rely on the information provided in the email itself.
Conclusion
The Samsung Mobile Promo Draw Scam and other similar fraudulent schemes are a stark reminder of the pervasive threats lurking online. These scams prey upon individuals' aspirations for financial windfalls, enticing them with enticing claims of winning substantial sums of money. However, falling victim to such scams can have devastating consequences, including identity theft, financial ruin, and the misuse of personal information.
To shield yourself from these perils, it is vital to remain ever-vigilant and adopt a skeptical mindset when confronted with unsolicited emails or messages. Treat claims that seem too good to be true with caution and verify the authenticity of the information through official channels. Remember, reputable companies do not randomly select winners without their participation or request sensitive personal data via email.
Prevention is our strongest defense against scams. Refrain from sharing personal information such as your full name, address, passport details, or financial data in response to unsolicited communications. Avoid making any payments or providing financial assistance to claim a prize, as legitimate promotions do not require winners to pay fees. To ascertain the legitimacy of a promotion, directly contact the company through their verified contact information.