If you have recently come across the names "Shaelan Factory Outlet" or "Xosha Factory Outlet" while browsing the internet, you might have stumbled upon a potential scam. These sites, reminiscent of the notorious Mio Factory Outlet Scam, exhibit similar patterns of deceptive practices. Curiosity piqued, many concerned individuals turn to Google in search of information, using queries like "Shaelan Factory Outlet scam", "Shaelan Factory Outlet reviews", and "Shaelan Factory Outlet legit". These inquiries reflect a growing awareness and suspicion surrounding these dubious online stores. The main signs of this scam include heavily discounted prices on various products, misleading advertising on social media platforms, and the use of the "DONATE" feature on PayPal for payments, which bypasses buyer protection.
In this article, we delve into the key indicators, shed light on the facts, and expose the deceptive tactics employed by the Shaelan Factory Outlet Scam. Read on to safeguard yourself from potential online fraud. For a quick summary of our findings, please refer to the table Summary of the Shaelan Factory Outlet Scam below.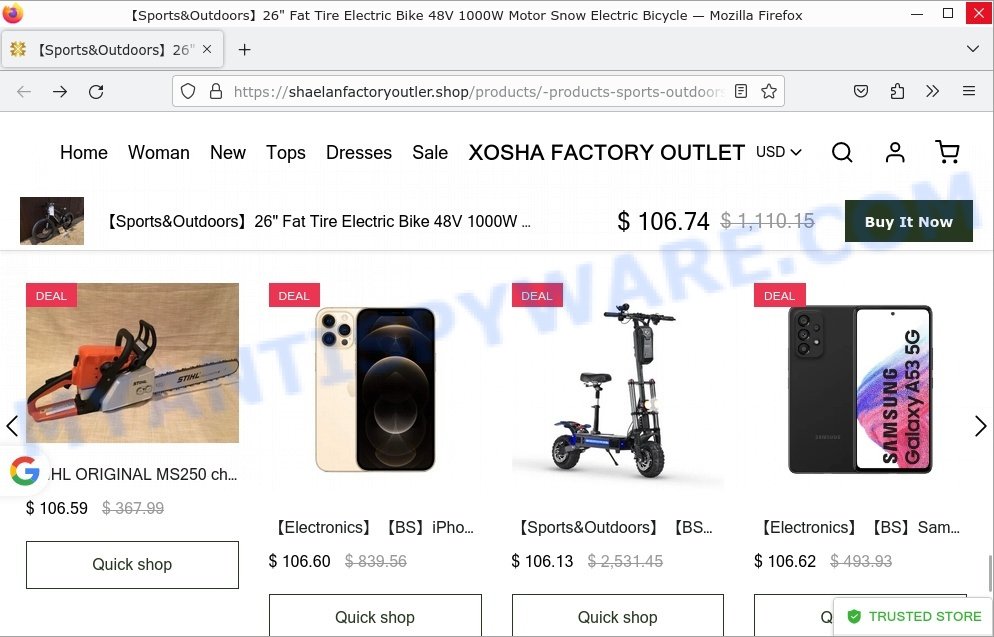 QUICK LINKS
How the Shaelan Factory Outlet Scam Works
The Shaelan Factory Outlet Scam is a deceptive scheme that operates through a network of websites using various domain names such as shaelanfactoryoutlet.shop, shaelanfactoryoutler.shop, and shaelanfactoryoutley.shop. These sites, which present themselves as "Xosha Factory Outlet", bear resemblance to the notorious Mio Factory Outlet Scam. Their modus operandi involves enticing online shoppers with alluring offers and heavily discounted prices.
Similar to the Mio Factory Outlet Scam, the Shaelan Factory Outlet Scam follows a familiar pattern. Shoppers are typically lured in through enticing advertisements, often found on platforms like Facebook. These ads showcase attractive products and massive discounts, creating a sense of urgency and excitement among potential buyers. However, once users navigate to the Shaelan Factory Outlet websites and attempt to make a purchase, the true nature of the scam becomes evident.
Upon closer examination, several red flags emerge, signaling the scam nature of these websites. Firstly, the Shaelan Factory Outlet Scam offers a wide range of products at unbelievably low prices, raising doubts about the authenticity and quality of the goods. From electronics to clothing and accessories, the inventory seems too good to be true.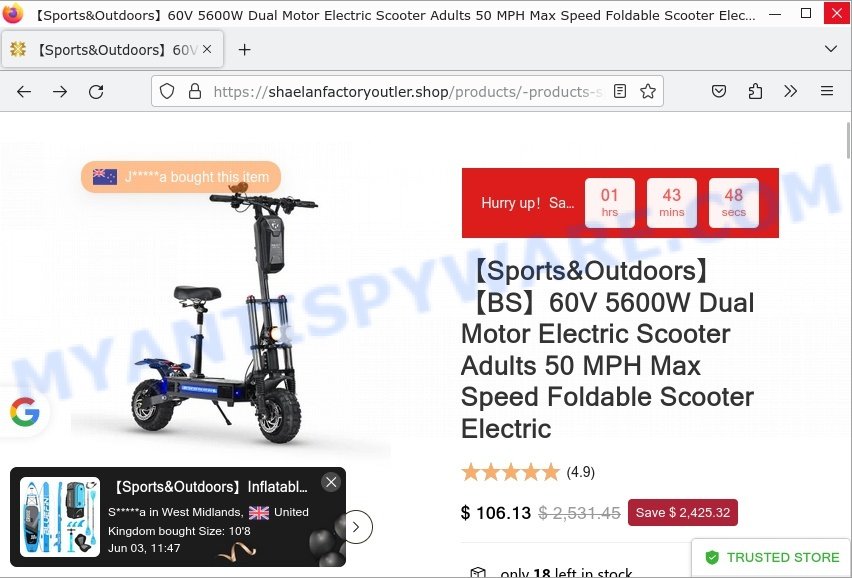 One of the key indicators of this scam is the payment process. Similar to the Mio Factory Outlet Scam, users attempting to make a purchase are directed to a checkout page where they are prompted to make a "donation" via PayPal. This unorthodox approach bypasses regular payment channels and buyer protection, leaving customers vulnerable to potential financial loss. By labeling the payment as a donation, the scammers exploit a loophole, ensuring that the transaction is not covered by PayPal's buyer protection policies.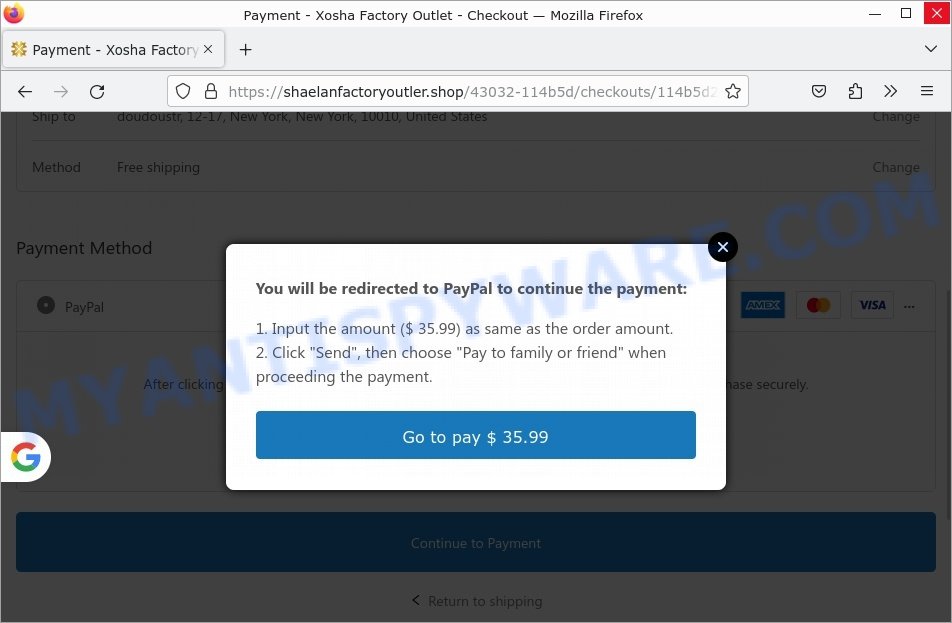 To shed light on the legitimacy of the Shaelan Factory Outlet sites, user reviews on platforms like Trustpilot offer valuable insights. Numerous individuals have shared their negative experiences and warnings about the scam.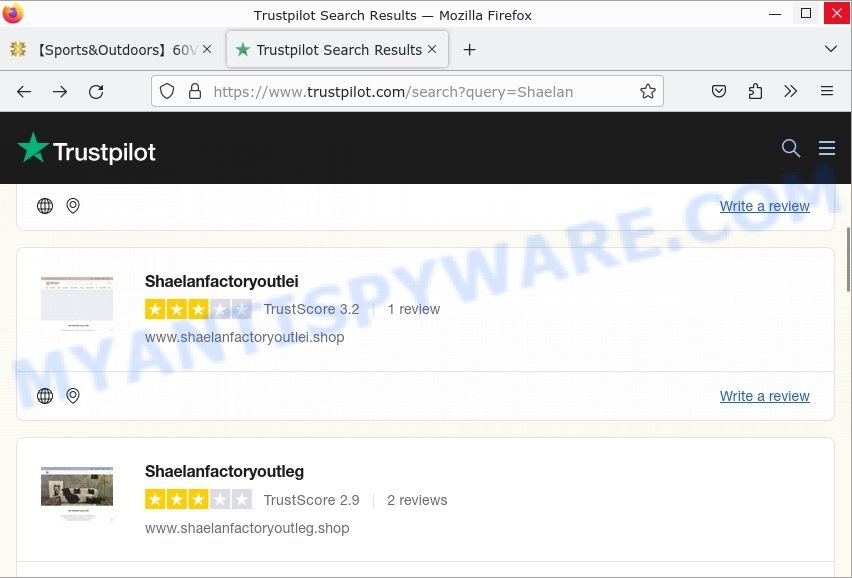 For instance, Jennifer Dawson described the scam as deceptive and cautioned against the use of PayPal Donate. Matthew Williams raised concerns about fake advertisements and urged caution when dealing with the company. These firsthand accounts provide valuable information and serve as a crucial resource for potential customers.
Furthermore, when examining the WHOIS information of the Shaelan Factory Outlet Scam websites, one finds hidden or incomplete contact details, including the absence of a physical address, phone number, and social media presence. This lack of transparency further erodes trust and credibility.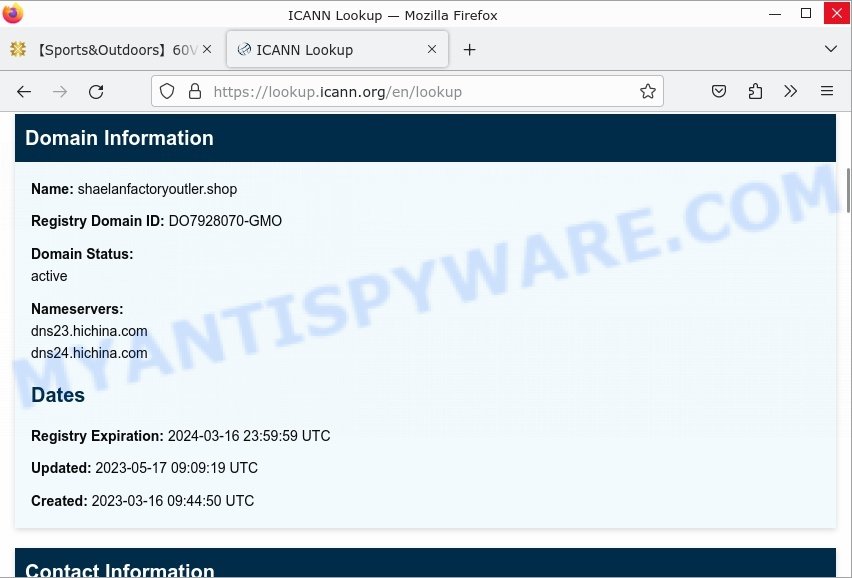 In conclusion, the evidence strongly suggests that the Shaelan Factory Outlet is a scam. The deceptive practices observed, such as the use of multiple domain names and titles, the remarkably low prices on a wide range of products, and the dubious "PayPal Donate" payment method, all point to fraudulent intent. Additionally, the lack of transparent contact information and hidden WHOIS details further raise suspicions about the legitimacy of these websites. It is crucial for consumers to exercise caution and avoid making purchases from Shaelan Factory Outlet sites.
Examples of such scams
In addition to the Shaelan Factory Outlet Scam, there are various other online scams that operate using similar tactics and deceptive practices. These scams often create fake websites that resemble well-known brands or offer unbelievable discounts on popular products, aiming to exploit unsuspecting shoppers. It is crucial to stay informed and cautious to protect yourself from falling victim to these fraudulent schemes. Here are some other similar scams to be aware of: Mio Factory Outlet Scam, QVC Factory Outlet Scam, Costco Clearance Sale Scam, and fake Stanley websites.
What to do if you ordered something from a Shaelan Factory Outlet Scam shop
If you find yourself in the unfortunate situation of having ordered something from a Shaelan Factory Outlet Scam shop, it's essential to take immediate action to protect yourself and increase the chances of recovering your funds. Here are the steps you should follow:
Whether you made the payment through PayPal or a credit card, reach out to your payment provider's customer support immediately. Explain the situation, provide them with all relevant details, and inquire about the possibility of initiating a chargeback or disputing the transaction. They can guide you through the specific process based on their policies and offer assistance in recovering your money.
Gather and document all evidence related to your transaction with the Shaelan Factory Outlet Scam shop. This includes order confirmations, payment receipts, communication with the seller, and any other relevant information. These documents will be crucial in supporting your case during the dispute or chargeback process.
File a complaint with the appropriate authorities to help prevent others from falling victim to the Shaelan Factory Outlet Scam. Contact your local consumer protection agency or report the scam to organizations such as the Federal Trade Commission (FTC) or Action Fraud if you are in the UK. Providing details about your experience will contribute to the collective effort of raising awareness and taking action against these fraudulent operations.
Keep a close eye on your bank and credit card statements for any unauthorized charges or suspicious activity. If you notice anything unusual, report it to your financial institution immediately. Taking proactive measures to monitor your accounts will help prevent further potential losses and ensure your financial security.
Share your experience with others to raise awareness about the Shaelan Factory Outlet Scam. Warn friends, family, and fellow online shoppers about the risks associated with these fraudulent sites. By spreading the word, you can help others avoid falling into the same trap and minimize the impact of these scams.
Remember, swift action is crucial in recovering your funds and minimizing the impact of the Shaelan Factory Outlet Scam. By following these steps and reaching out to the appropriate authorities and your payment provider, you increase your chances of a successful resolution.
Summary
Name
Shaelan Factory Outlet Scam
Common Site Domain Names
shaelanfactoryoutlet.shop, shaelanfactoryoutley.shop, shelanfactoryoutle.shop, shaelanfactoryoutlez.shop, shaelanfactoryoutleo.shop, shaelanfactoryoutlef.shop, shaelanfactoryoutlek.shop, shaelanfactoryoutles.shop, shaelanfactoryoutlei.shop, shaelanfactoryoutlep.shop, shaelanfactoryoutler.shop, shaelanfactoryoutleu.shop, shaelanfactoryoutleg.shop
Categories
Best Sellers, Gazebo, Storage Shed, Sports & Outdoors, Furniture, Home Improvement, Pet, Home & Garden, Décor
Scam Tactics
False claims of numerous outlets, low prices, fake countdown timers, hidden contact details, stolen product images
Pricing
All products heavily discounted (e.g. $100 for an item with a real price over $2500)
Examples
60V 5600W Dual Motor Electric Scooter for $106.13, real price over $1200
Payment Method
PayPal Donate
Payment Risk
Limited buyer protection, funds are difficult to recover
Reviews
Multiple negative reviews
Logo and Design
Template design
Contact Information
Only email provided (e.g., stelaalbulescu120@gmail.com), no phone or social media accounts provided
WHOIS Information
Shops are relatively recent, contact details hidden
Recommendation
Avoid making any purchases from "Shaelan Factory Outlet"
How to spot and avoid a fake online store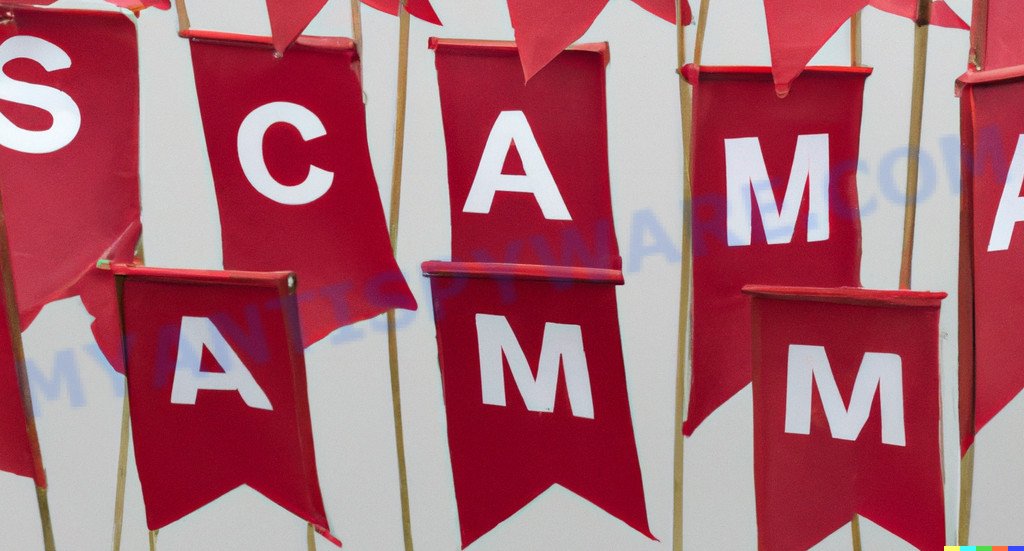 Online shopping has become increasingly popular, but it also carries certain risks, particularly when it comes to fake or fraudulent online stores. Here are some tips on how to spot and avoid a fake online shop:
Check for HTTPS and a padlock symbol in the URL bar. This indicates that the website is using encryption to protect your data.
Look for reviews and ratings of the website. Genuine websites will usually have positive feedback from customers, while fake ones may have little to no reviews or negative feedback.
Check the website's contact information. A legitimate online store will have a physical address, phone number, and email address for customer support.
Research the website on the internet. Search for the website's name and reviews, complaints or any warning signs about it before making a purchase.
Be wary of deals that are too good to be true. Fake online stores may offer steep discounts to lure in customers, but these deals may be a ploy to steal your money.
Avoid using payment methods that are not secure. Use payment methods such as credit card, PayPal or other payment methods that provide buyer protection.
Be wary of pop-ups or unsolicited emails directing you to a website. This may be a phishing attempt to get your personal and financial information.
By taking these precautions, you can reduce the risk of falling prey to fake online stores and ensure a safe and enjoyable online shopping experience.
Conclusion
The Shaelan Factory Outlet Scam preys on unsuspecting online shoppers by masquerading as a legitimate store offering enticing deals on various products. However, it is evident that these websites operate with deceptive practices, aiming to exploit customers for financial gain. The similarities between the Shaelan Factory Outlet Scam and other notorious scams like the Mio Factory Outlet Scam underscore the need for increased awareness and caution when making online purchases.
The combination of suspicious domain names, misleading titles, and unrealistically low prices are major warning signs indicative of a scam. The payment process, which involves redirecting customers to PayPal Donate instead of a regular transaction, further raises doubts about the legitimacy of these websites. Such tactics aim to circumvent buyer protection, leaving customers vulnerable and without recourse in case of fraudulent transactions.
Additionally, user reviews on platforms like Trustpilot provide valuable insights into the experiences of individuals who have encountered the Shaelan Factory Outlet Scam. These firsthand accounts consistently highlight the deceptive nature of the websites and serve as a crucial resource for potential customers to make informed decisions.
It is important for consumers to remain vigilant, conduct thorough research, and exercise caution before engaging with unfamiliar online stores. By staying informed and being aware of the red flags associated with scams like the Shaelan Factory Outlet, we can protect ourselves from falling victim to their deceptive practices.
Remember, if an offer seems too good to be true, it most likely is. Stay cautious, trust your instincts, and rely on reputable sources when making online purchases. Together, we can combat scams, raise awareness, and create a safer online shopping environment for everyone.