June Cash 2023 (Junecash2023.com) is the latest addition to a series of websites that promise users an opportunity to earn $750 effortlessly. However, upon visiting the site, users are redirected to rewardsgiantusa.com through spnccrzone.com. This redirection raises suspicions as spnccrzone.com was previously flagged as dangerous by VirusTotal and marked as malicious by hybrid-analysis.com. Furthermore, rewardsgiantusa.com has received negative reviews, with some users labeling it as a scam. The site holds a rating of 3.7 on Trustpilot, indicating mixed experiences from users. Additionally, the site's BBB Rating stands at "C-", with several complaints about unfulfilled promises and poor customer service.
In this review, we will examine the details and explore the legitimacy of June Cash 2023, providing you with the necessary information to make an informed decision. Read on to uncover the truth behind this intriguing opportunity. For a quick summary of our findings, please refer to the table Summary of June Cash 2023 Review below.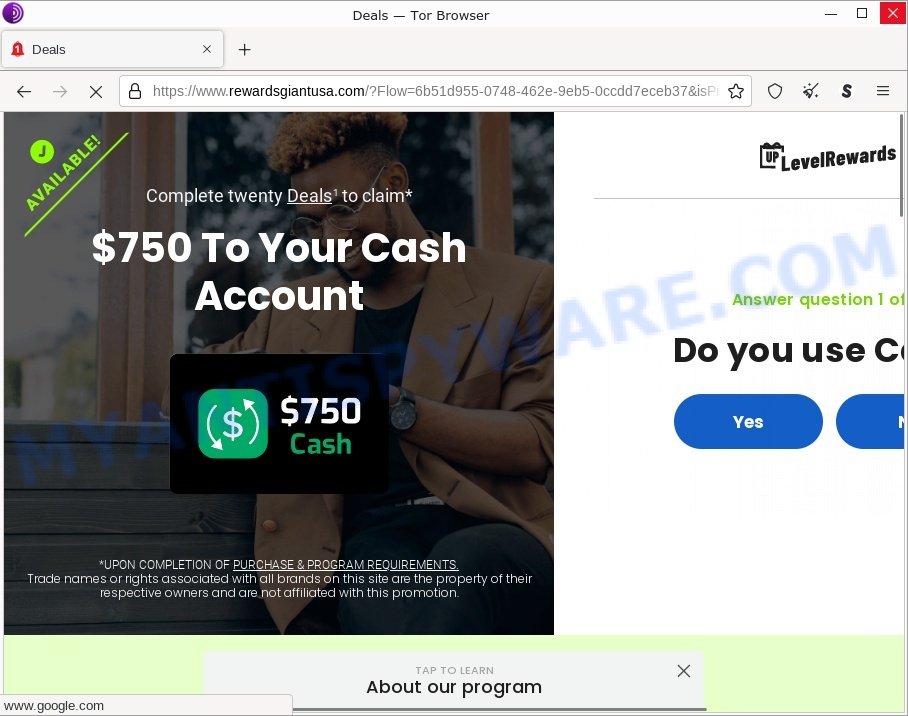 June Cash 2023 Review:
WHOIS information:
The WHOIS information for June Cash 2023 (Junecash2023.com) reveals some similarities to May Cash 2023 (Maycash2023.com). The domain is set to expire on January 9, 2024, and it was registered on January 9, 2023. Notably, the contact information is hidden by DomainsByProxy, which adds another layer of anonymity to the website.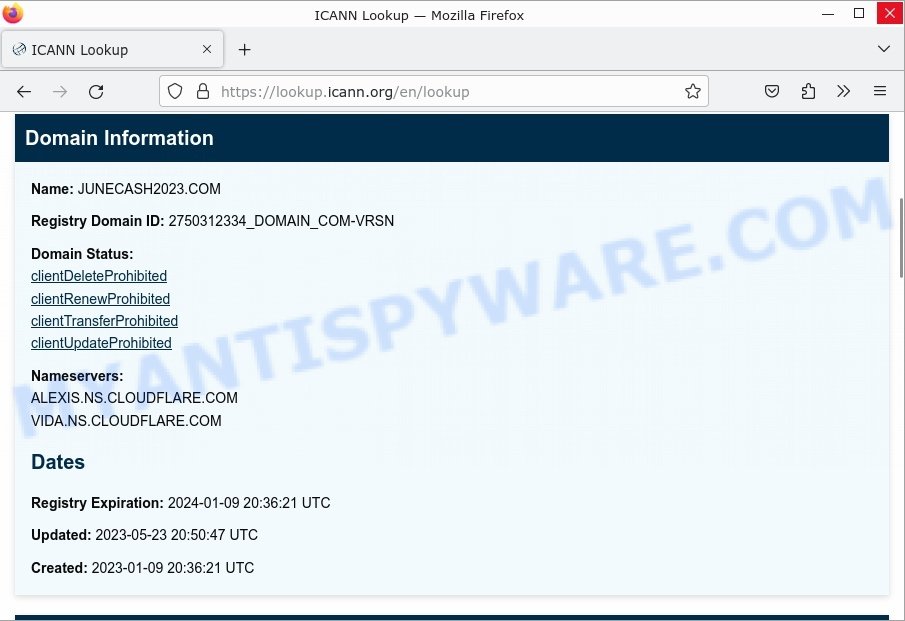 This lack of transparent contact details raises concerns about the credibility and accountability of the site. It's important to approach websites with hidden WHOIS information cautiously, as it can indicate a desire to conceal the identity and intentions of the site's owners.
Suspicious Redirects:
June Cash 2023 (Junecash2023.com) operates with a questionable practice of redirecting users to rewardsgiantusa.com. Instead of directly fulfilling the promise of earning $750, users find themselves redirected to a different website. The process involves passing through spnccrzone.com, which was previously flagged as malicious and phishing by VirusTotal (For proof see the May Cash 2023 review).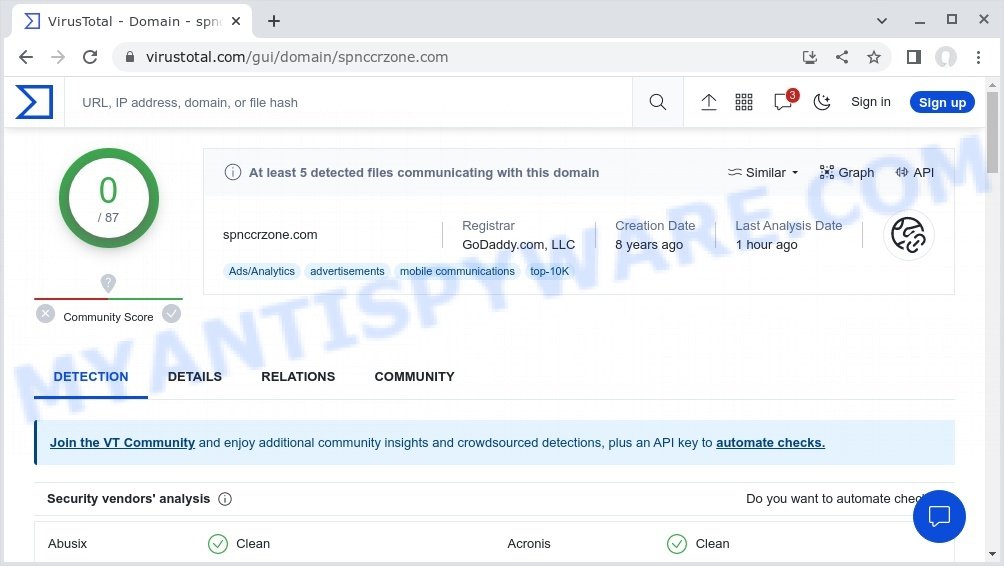 Although spnccrzone.com is currently unflagged and no threats have been detected, it is worth noting that when analyzed on hybrid-analysis.com, it received a score of only 50 out of 100 and was labeled as malicious.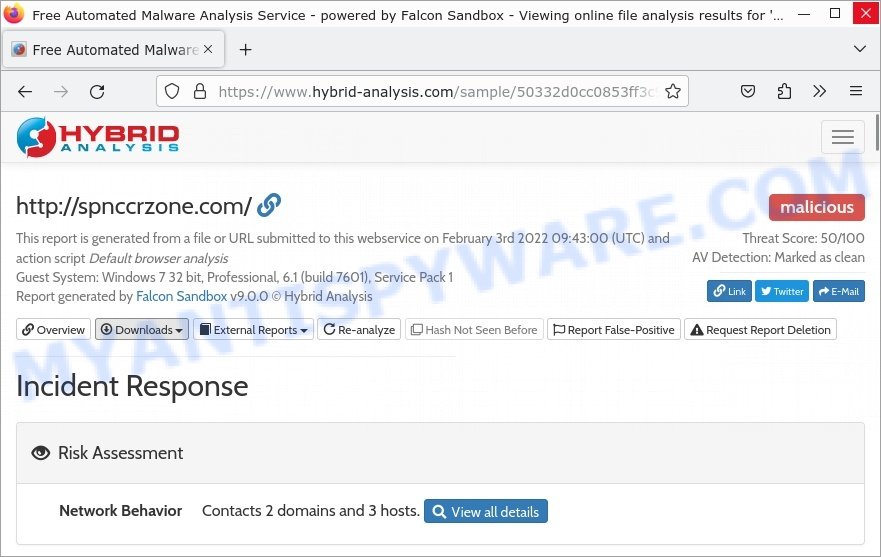 These redirects, combined with the involvement of spnccrzone.com, raise suspicions about the intentions and credibility of June Cash 2023.
Trustpilot Reviews
Analyzing the reviews on Trustpilot for rewardsgiantusa.com, the website to which June Cash 2023 redirects users, we found a range of feedback from users. The overall rating for rewardsgiantusa.com on Trustpilot is 3.7, indicating a mixed reputation. There are three reviews for rewardsgiantusa.com on Trustpilot. One of the reviews warns that rewardsgiantusa.com is a badware that can install apps and programs into your computer without your knowledge and consent. This is a serious red flag and should not be taken lightly.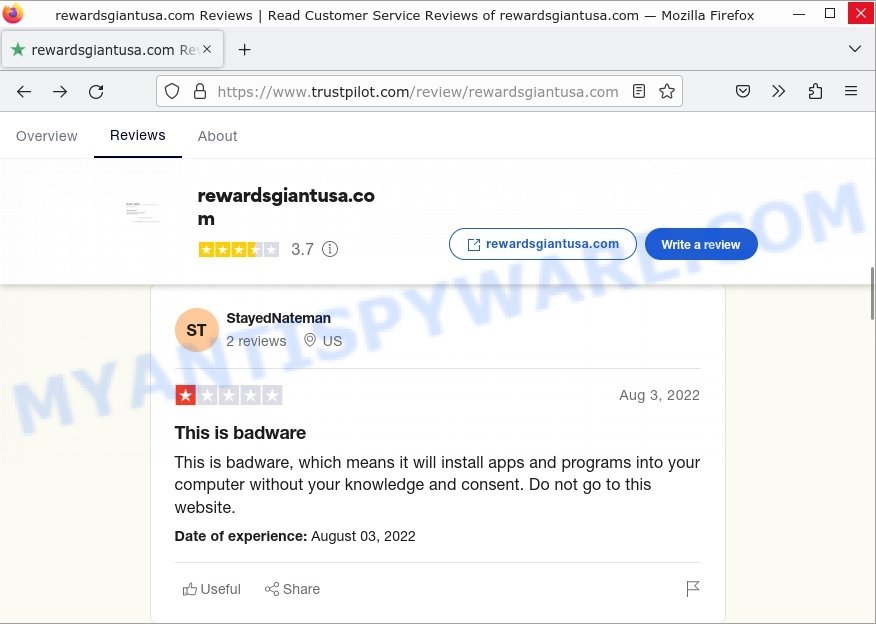 Another review claims that rewardsgiantusa.com was the best and gave it a 5-star rating, which is highly suspicious considering the previous warning. The third review was empty but had a 5-star rating.
BBB Ratings Reviews:
Further investigation led us to the BBB Ratings for rewardsgiantusa.com, where it holds a rating of "C-". Examining the customer reviews on the BBB website revealed several accounts from individuals who claim they were unable to receive the promised rewards despite allegedly fulfilling all the requirements.
One recent review expressed frustration with the company's customer service, stating, "Do not fall for this scam! Several completed PAID deals I did not receive the credits… Their answer did you receive a confirmation email… Scam!".
The response from Rewardsgiantusa acknowledged the issue and offered to verify participation and issue courtesy rewards in certain cases. These reviews on BBB Rating highlight concerns raised by users who feel misled or deceived by the reward claims process.
Reward Program:
June Cash 2023 redirects users to rewardsgiantusa.com, where they can sign up for a rewards program that promises cash rewards in exchange for completing certain tasks, such as completing surveys, signing up for trial offers, and completing deals.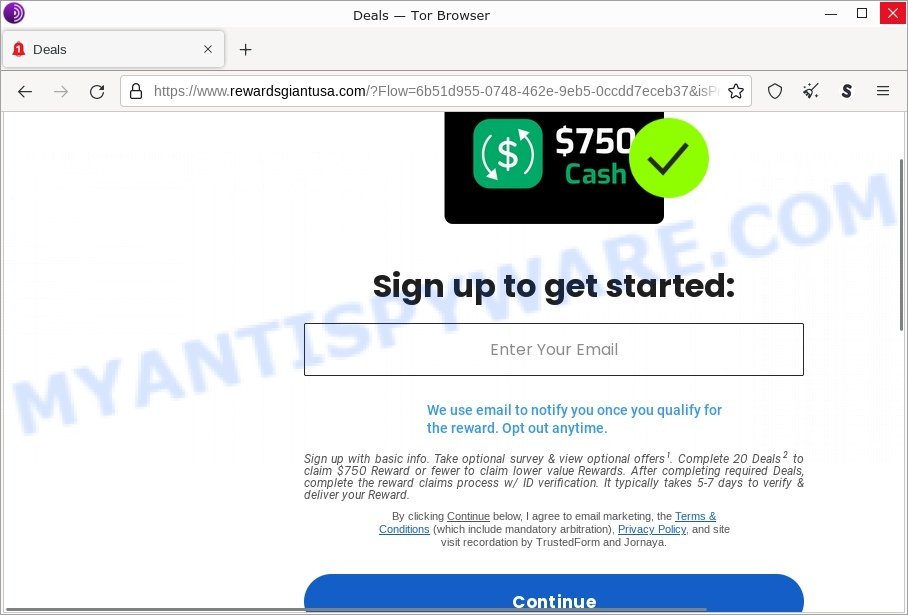 Once users arrive at rewardsgiantusa.com, they are asked to provide their email address and answer a few questions about how they plan to use their reward and how often they go shopping per week. After completing this initial step, users are presented with a variety of offers and surveys that they can choose to complete in order to earn rewards.
The offers and surveys presented are optional, and completing them does not count towards earning rewards. However, completing 20 deals from a variety of categories is required to claim the cash reward. Some of these deals may be free, while others may require a purchase to complete.
It is important to note that the reward claims process includes ID verification, and it typically takes 5-7 days to verify and deliver the reward. Additionally, by agreeing to the terms and conditions of the site, users also agree to email marketing, mandatory arbitration, and site visit recordation by TrustedForm and Jornaya.
Overall, while the promise of cash rewards may seem enticing, users should exercise caution when signing up for reward programs and carefully read the terms and conditions before sharing personal information or completing offers.
Similar Suspicious Websites
In addition to June Cash 2023, there are many other suspicious websites that claim to offer easy money for little to no effort. These sites often use similar tactics, such as promising large rewards for completing tasks or surveys, redirecting users to other sites, and asking for personal information. However, many of these websites turn out to be scams or phishing attempts that can result in financial loss or identity theft. Here are some examples of other suspicious websites to watch out for: May Cash 2023, Coca-Cola Customer Satisfaction Survey, and Mr Beast Giveaway.
Threat Summary
| | |
| --- | --- |
| Name | June Cash 2023 |
| Website | Junecash2023.com |
| Type of Program | Cash reward |
| Reward Program Details | June Cash 2023 promises users the opportunity to earn $750 by participating in their reward program. |
| Redirection | Redirects to rewardsgiantusa.com via spnccrzone.com (flagged as malicious by Hybrid Analysis) |
| Actual Reward Site | rewardsgiantusa.com |
| Legitimacy | Questionable |
| Suspicious Flags | Suspicious redirects, negative user reviews |
| Verdict | Potentially risky |
Conclusion
June Cash 2023 (Junecash2023.com) is a cash rewards program that claims to offer users the chance to earn $750. However, upon visiting the website, users are redirected to rewardsgiantusa.com, where the actual reward program takes place. This redirection raises concerns about the transparency and legitimacy of the program.
Users are required to sign up and complete 20 deals to claim the $750 reward or fewer deals for lower value rewards. While there are claims that users have successfully received rewards, negative reviews and reports of difficulties in receiving credits raise doubts about the reliability of the platform.
Additionally, the redirection process and the mixed reviews on Trustpilot and BBB Rating contribute to suspicions surrounding the program. Considering these factors, users should exercise caution and carefully evaluate the risks before engaging with June Cash 2023 and rewardsgiantusa.com.