Ntlkp.com claims to offer up to 90% off on fashion items in what they call the "Wilko Clearance Sale." With enticing Facebook ads and too-good-to-be-true discounts, this store is luring many unsuspecting buyers. However, if it sounds too good to be true, it probably is. Read our detailed analysis to understand why Ntlkp.com is a scam.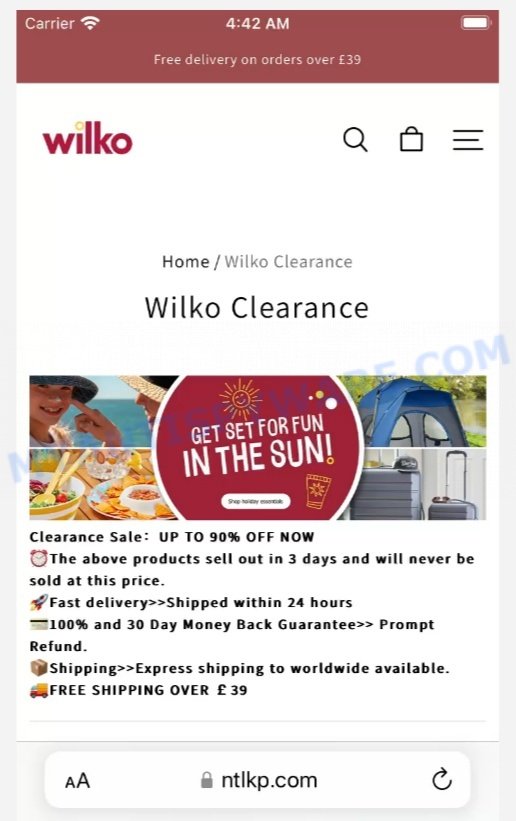 Quick links
Is Ntlkp.com a Scam?
From our research, Ntlkp.com exhibits several red flags that are common among scam websites. These signs include:
Recently created domain
Contact only through an email address: sglsesservice@outlook.com
No real info about the company behind, except for a suspicious company name: HINOVATION LIMITED
Unbelievable deals and incredibly low prices, like "Up to 90% off"
Template design used for the website
Enticing slogans such as "Clearance Sale", "Free return", "Huge Discounts", and "Limited Time Sale"
A time counter on the product page pressuring buyers to make quick decisions
No presence or links to any authentic social media platforms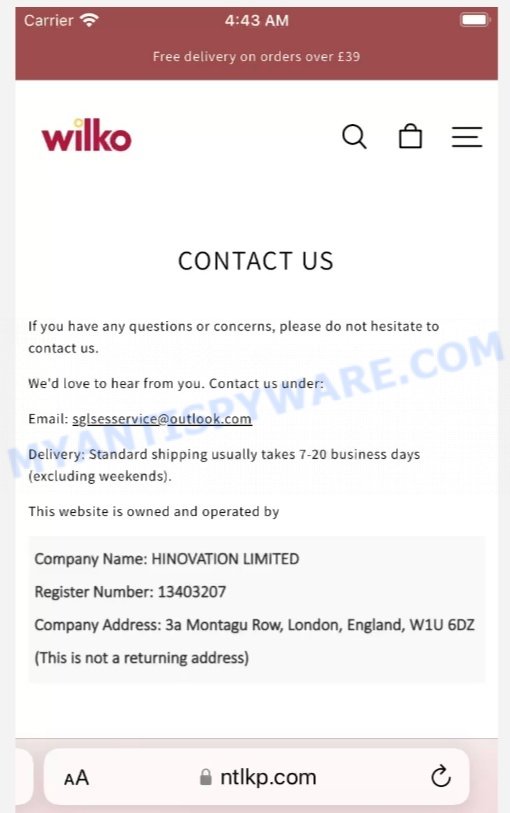 How the Ntlkp.com Scam works
Ntlkp.com is primarily promoted through Facebook ads, which claim massive discounts on fashion items. They entice buyers with slogans like "Clearance Sale: UP TO 90% OFF NOW" and offer deals that seem too attractive to resist.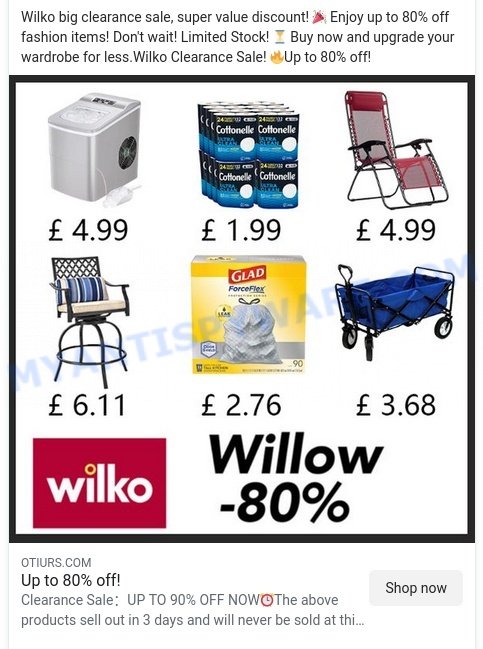 Once a user lands on their website, they are pressured with time-limited offers to make quick purchase decisions. However, upon buying, the products either never arrive or are of extremely low quality. Additionally, they list a company address that isn't a returning address, further adding to the dubious nature of this online store.
What to do if you become a victim of Ntlkp.com
If you've fallen victim to this scam, it's essential to act quickly to protect your personal and financial information.
Contact your bank or credit card company to report the fraudulent transaction and seek a chargeback.
Change passwords for online banking and shopping accounts.
Monitor your account for any unauthorized transactions.
Leave a comment on this review to share your experience and warn others.
Report the scam to the Federal Trade Commission at reportfraud.ftc.gov.
Other Scam Online Shops to Avoid
As part of our continuous effort to safeguard readers from potential scams, we've gathered a list of dubious online shops mirroring tactics similar to Ntlkp.com. Always stay alert when shopping online and recognize potential scam signs.
Here are a few examples of scam online shops: Hokafacviponlinestore.com,
Heerful.com, and Tv-homeshopping.shop.
Summary table for Ntlkp.com
| | |
| --- | --- |
| Name | Ntlkp.com |
| Type | Online Scam Store |
| Damage | Financial Loss, Misleading Information |
| Distribution | Facebook ads |
| Tactics | Enticing discounts, Time-limited offers |
| Prices | Up to 90% off clearance |
| Contacts | sglsesservice@outlook.com, HINOVATION LIMITED |
| Prevention Tips | Check reviews, Verify website authenticity |
| Reporting Info | FTC – Report Fraud |
Conclusion
Ntlkp.com is a deceptive online store masquerading as a Wilko clearance sale site. The alarming discounts and compelling Facebook ads make it appear legitimate, but deeper analysis reveals it as a scam. It's imperative to exercise caution and conduct thorough research before making purchases from unfamiliar websites.
FAQ About the Ntlkp.com Scam
Why is Ntlkp.com offering such huge discounts?
It's a common tactic employed by scam websites to lure unsuspecting buyers. They use massive discounts to entice people into making purchases but often don't deliver the promised goods.
Can I get my money back if I've been scammed by Ntlkp.com?
It's possible, especially if you act quickly. Contact your bank or credit card company, report the fraudulent transaction, and request a chargeback. Always be vigilant when shopping online, and if an offer seems too good to be true, it probably is.