Heretex.com is an online crypto trading exchange that has been advertising enticing offers on social media platforms. Offering free bitcoins as a bait, they encourage users to sign up and invest in their platform. Before putting any money into this website, we urge you to read the full article and learn about the potential risks.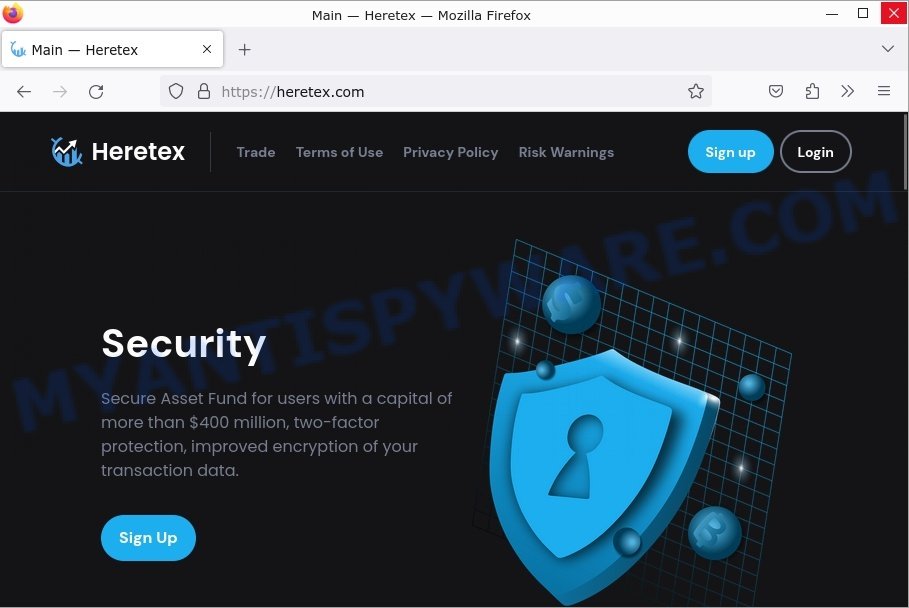 Quick links
Is Heretex.com a Scam?
Based on our research and the warning signs we've identified, it appears that Heretex.com could be a scam. Here are the specific signs that raise red flags:
Recently created domain.
Whois contacts are hidden, making the website's ownership untraceable.
Lack of contact information. The website does not provide any direct means of contact.
No real info about the company behind the platform.
Unbelievable deals like offering free bitcoins.
Duplicate content – the "contact us", "about us" sections, and other text and images have been copied from other websites.
No social media presence or links to any social media platforms.
No licenses or trading certifications are displayed on the website, and it's not approved by any regulatory authorities. This makes it unregulated and risky.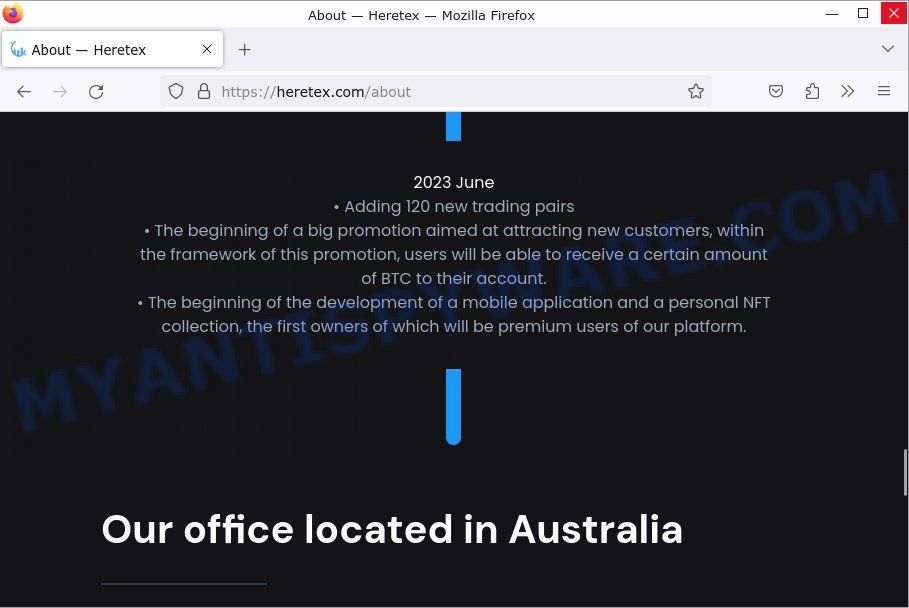 How the Heretex.com Scam works
Heretex.com is a cleverly crafted scam designed to trap unsuspecting crypto enthusiasts. The platform starts by promoting itself on social media, offering free bitcoin using promo codes to entice users. Once an individual is roped in, they are prompted to make a minimum deposit of 0.025 BTC to access a "premium account status". This deposit is supposedly the key to withdraw the balance from the promo codes. However, once the deposit is made, users often find that they cannot access their funds or get any response from the website. Additionally, there are multiple sites with a similar interface and promo offers, and some of these have already had their domains terminated.
What to do if you become a victim of Heretex.com
If you've unfortunately fallen victim to the Heretex.com scam, don't lose hope. Here are steps you can take to mitigate potential damage and report the scam:
Contact your bank or credit card company and report the fraudulent transaction.
Change your passwords for all financial accounts.
Enable two-factor authentication for added security.
Report the scam on reportfraud.ftc.gov.
Leave a comment on this review to help warn others.
Other Online Scams to Avoid
In our mission to safeguard readers from potential scams, we've listed other dubious online platforms that exhibit warning signs similar to Heretex.com. These sites employ deceptive tactics to ensnare unwary buyers.
Below are a few examples of such scam online shops: Oputcre.shop QVC Store Scam, Bedbathbeyondclose.com BED BATH & BEYOND Store Scam, and Heerful.com $37.95 Hoka Running Shoes Scam.
Summary table for Heretex.com
| | |
| --- | --- |
| Name | Heretex.com |
| Type | Crypto Trading Scam |
| Damage | Potential loss of investment and personal information |
| Distribution | Social Media Advertisements |
| Tactics | Offering free bitcoins, requiring minimum deposit for premium status |
| Contacts | Not available |
| Prevention Tips | Always check the legitimacy of a website before investing |
| Reporting Info | reportfraud.ftc.gov |
Conclusion
Heretex.com is a dubious online crypto trading platform that exhibits several red flags. Always ensure that you conduct thorough research before investing in any online platform. Protecting your investments and personal information should always be a top priority.
FAQ About the Heretex.com Scam
Why are they offering free bitcoins?
The offer of free bitcoins is a bait to lure unsuspecting users into registering and investing on their platform.
Are there any other similar scam sites?
Yes, there are several other sites with a similar interface and promo offers. Some of these have even had their domains terminated.
How can I safeguard myself from such scams in the future?
Always research before investing in any online platform, check for customer reviews, verify the authenticity of their claims, and avoid offers that seem too good to be true.