Classupery.com is the latest scam to make its mark on social media platforms, particularly Facebook. With over 1300 ads promoting diverse products, it has successfully caught the attention of countless consumers. If you're considering making a purchase from this site, we urge you to read our in-depth review to understand the risks associated.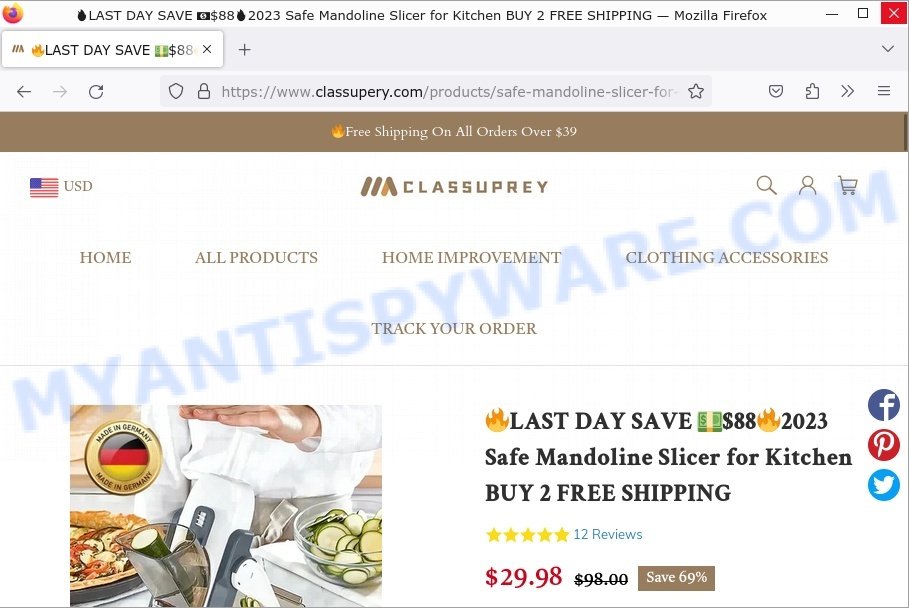 Quick links
Is Classupery.com a Scam?
Classupery.com presents several clear indicators of a scam online store. Here are the reasons why we believe it's a scam:
Recently created domain which raises suspicion about its authenticity.
Lack of contact information: The only provided contact is an email address – support@classupery.com.
WHOIS contact details are hidden, suggesting a lack of transparency.
Unbelievable deals and incredibly low prices are advertised on their platform.
Usage of enticing slogans like "Free Shipping On All Orders Over $39" and "LAST DAY SAVE $88 2023" to lure unsuspecting buyers.
No tangible social media presence other than ads.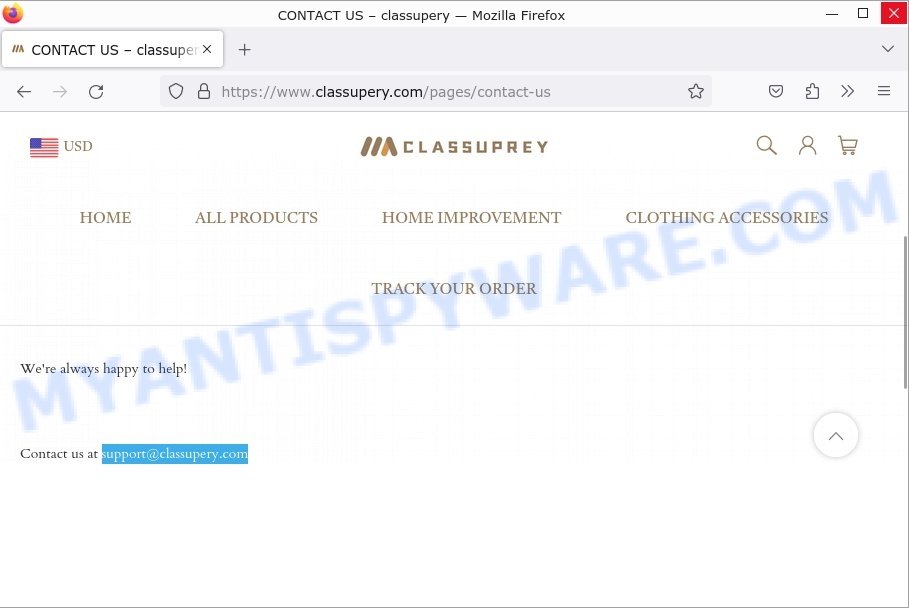 How the Classupery.com Scam works
Classupery.com primarily uses Facebook as its medium, promoting various products through over 1300 advertisements. The ads range from kitchen tools to fishing rods, art decor, bras, and shower equipment. This diverse range of products is presented with enticing deals and slogans to catch the attention of users.
Once users are convinced and make a purchase, they either receive a substandard product, something entirely different, or in some cases, nothing at all. The "Free Shipping On All Orders Over $39" and other slogans serve as bait to lure customers in.
What to do if you become a victim of Classupery.com
If you've fallen prey to this scam, here are the steps you can take:
Contact your bank or credit card company to report the fraudulent transaction.
Change your online banking and shopping passwords.
Consider reporting the scam to the Federal Trade Commission at reportfraud.ftc.gov.
Leave a comment on this review to help others stay aware of the scam.
Other Scam Online Shops to Avoid
To protect our readers from potential scams, we have compiled a list of other suspicious online shops that exhibit similar tactics as Classupery.com. It's essential to stay vigilant online and recognize the warning signs of potential scams.
Below are a few examples of other suspicious online shops: Bedstockclearance.com Review: Lowe's Stock Clearance Scam, Luggagebigsale.com Review: Don't Fall for the Luggage Big Sale Scam, Acstoreus.com DICK'S SPORTING GOODS Store Scam.
Summary table for Classupery.com
| | |
| --- | --- |
| Name | Classupery.com |
| Type | Online Scam Shop |
| Damage | Financial losses, potential misuse of personal information |
| Distribution | Primarily through Facebook Ads |
| Tactics | False advertising, enticing deals, concealed contact details |
| Prices | Varied, with many offering significant discounts |
| Contacts | support@classupery.com |
| Prevention Tips | Research before purchasing, avoid too-good-to-be-true deals, use secure payment methods |
| Reporting Info | Report to local authorities and online scam reporting platforms |
Conclusion
Classupery.com is yet another online scam seeking to take advantage of unsuspecting customers. Relying on compelling advertisements and incredible offers, they entice individuals to part with their money, often delivering nothing or inferior products in return. It is essential to exercise caution when encountering such online stores and always research before making a purchase.
FAQ About the Classupery.com Scam
Q1: I've already made a purchase, can I get a refund?
A1: You should contact your bank or credit card provider immediately to report the fraudulent transaction and inquire about the possibility of a refund.
Q2: How can I identify such scams in the future?
A2: Always research online stores before making a purchase, check for genuine reviews, and be wary of too-good-to-be-true deals. If the contact information is hidden or too limited, it's a red flag.
Q3: Are there any legit online stores with similar deals?
A3: While there are legitimate online stores offering good deals, they typically have a track record, genuine reviews, and transparent contact information. Always research before making a decision.