Closingsaleday.com, currently making waves on Facebook with its "Amazon Luxury Luggage Clearance Sale", promises unbelievable deals, such as a 3-piece luggage set for just $9.9. Before you jump on this seemingly amazing offer, join us as we unravel the truth behind this online store.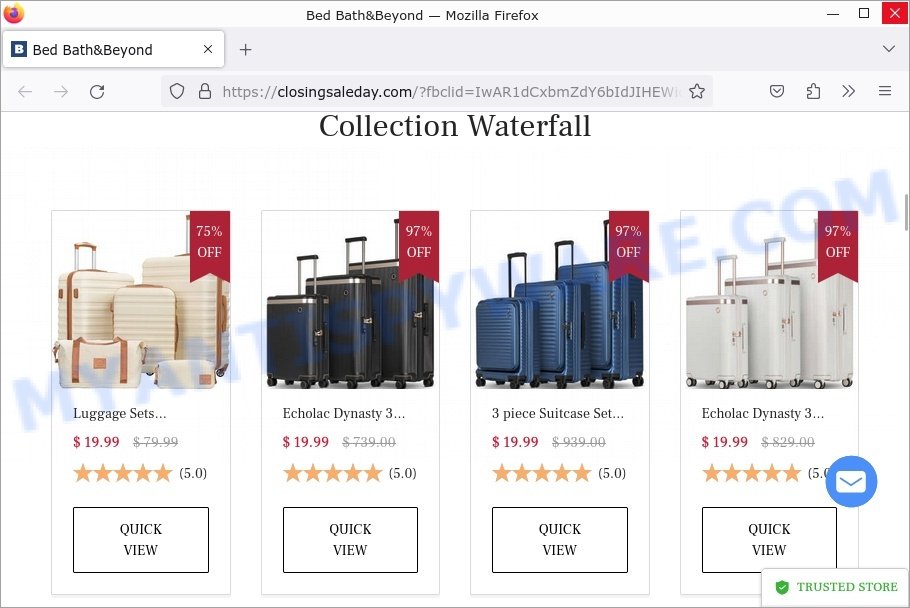 Quick links
Is Closingsaleday.com a Scam?
A closer look at Closingsaleday.com reveals several troubling signs commonly linked with scam websites:
Recently created domain: As per the Whois data, Closingsaleday.com is a fresh domain. New domains, especially those offering too-good-to-be-true deals, often raise suspicions.
Inadequate contact information: The sole provided means of communication is an email: service@closingsaleday.com.
Too good to be true deals: A 3-piece luggage set for $9.9 is an alarmingly unrealistic deal, typically used by scam sites to draw in unsuspecting victims.
Unauthorized use of content: The store makes use of stolen logos, images, and texts, which is a violation of intellectual property rights.
Hidden Whois data: Concealed Whois contacts is another tactic frequently used by shady sites to avoid detection and responsibility.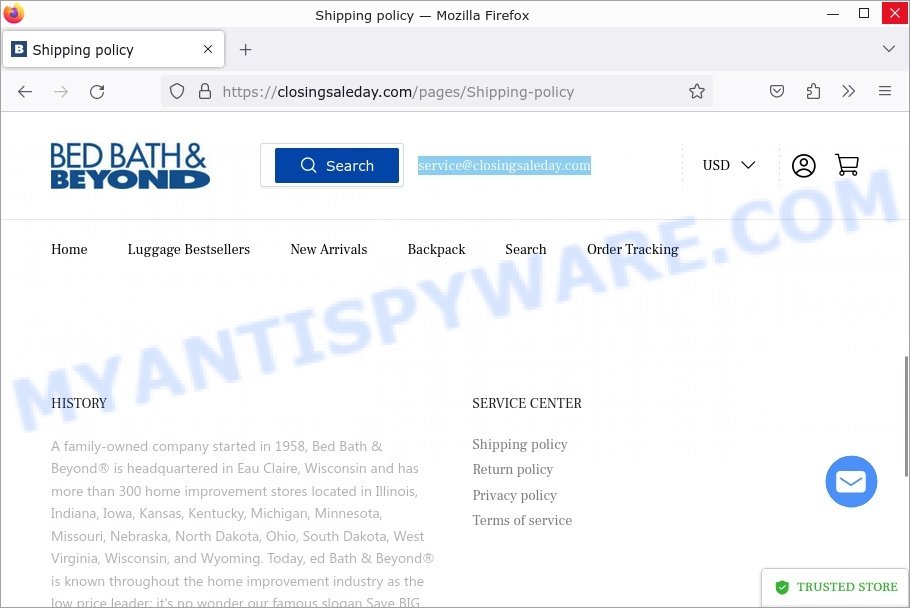 How the Closingsaleday.com Scam works
Closingsaleday.com, by using the appeal of a massive luggage clearance sale, seeks to ensnare potential shoppers. Leveraging platforms like Facebook, it showcases its too-good-to-be-true offer, emphasizing the urgency with "limited quantities" and "limited time" tags. When visitors reach the site, they're presented with stolen logos, images, and texts, falsely lending the site credibility. Customers may either receive substandard goods after buying or worse, get nothing at all.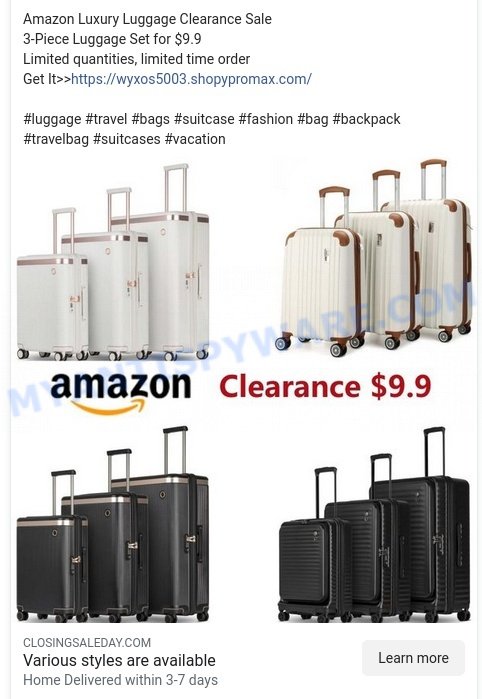 What to do if you've been scammed by Closingsaleday.com
If you think you've been deceived by Closingsaleday.com, follow these steps immediately:
Contact your bank or credit card provider to discuss the dubious transaction and look into reversing the charge.
Update your online banking and shopping passwords.
Regularly check your financial accounts for any unfamiliar transactions.
Report the scam to relevant authorities like the Federal Trade Commission at reportfraud.ftc.gov.
Share your experience in online reviews and forums to warn others.
Conclusion
The online shopping era, while offering unparalleled convenience, has also given rise to a multitude of scams. The Closingsaleday.com scam exemplifies how modern scams function. Through impossible deals, stolen branding, and deceitful content, they ensnare their prey. Always approach unfamiliar online stores with caution, and when an offer seems overly favorable, chances are, it isn't legitimate.
FAQ About the Closingsaleday.com Scam
Q: Is Closingsaleday.com a trustworthy store?
A: Based on the identified red flags, Closingsaleday.com doesn't seem to be a genuine online store.
Q: I believe I was conned by Closingsaleday.com. What should I do?
A: Immediately reach out to your bank or credit card provider to report the unauthorized transaction and possibly reverse the charge.
Q: How can I safeguard myself from such scams in the future?
A: Be wary when shopping on unfamiliar online sites, especially those offering exceptionally large discounts. Prior to purchasing, always research and authenticate the site's legitimacy.