Usfilsonoutlet.Shop is an alleged online outlet promoting deals for the brand FILSON. If you've come across their eye-catching deals on Facebook and are considering making a purchase, pause and read this full analysis. We've identified some concerning signs that suggest this might not be a legitimate offer.
Quick links
Is Usfilsonoutlet.Shop a Scam?
There are many red flags associated with Usfilsonoutlet.Shop that customers should be aware of:
Recently created domain
Lack of comprehensive contact information, only an email address: lisa@serviceyx.com which is also linked to other scam shops
Whois details are hidden, making it hard to track the real owners
Unbelievable deals and incredibly low prices
Enticing slogans such as "FILSON Closing Clearance", "Clearance Sale", "Free return", and "Huge Discounts"
Time counter on the product page, creating a false sense of urgency
No social media presence or links to any social media platforms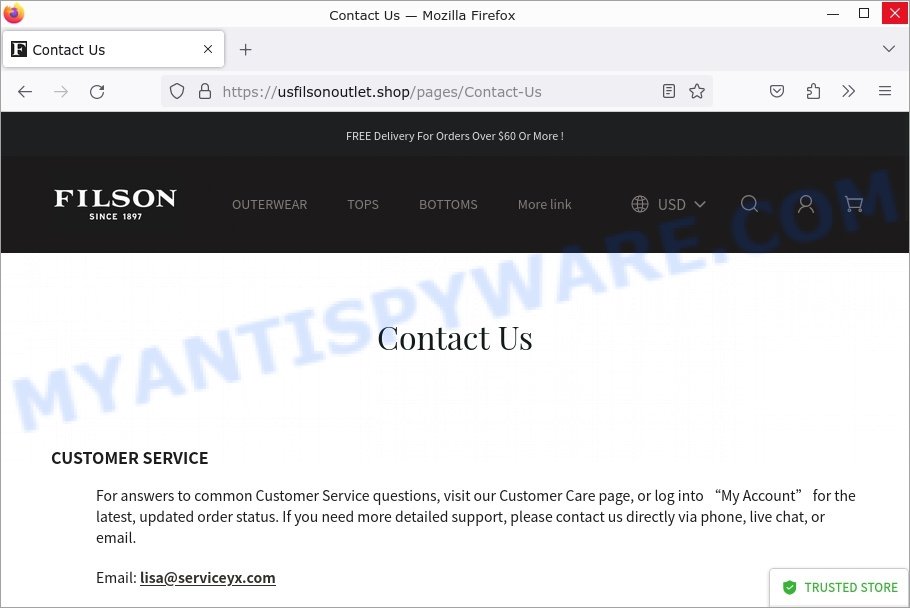 How the Usfilsonoutlet.Shop Scam works
Usfilsonoutlet.Shop is typically promoted on platforms like Facebook, offering deals that seem too good to resist. With slogans emphasizing huge discounts, limited-time sales, and the assurance of fast local deliveries, potential buyers are lured into purchasing from the site.
Once a purchase is made, the chances are that the product will never be delivered or, if it is, it won't match the description or quality expected. Furthermore, the provided email contact is known to be linked with other scam shops, further validating the suspicions surrounding this site.
What to do if you become a victim of Usfilsonoutlet.Shop
If you've fallen victim to this scam:
Contact your bank or credit card company immediately and report the fraudulent transaction.
Change any passwords associated with the payment method you used.
Monitor your bank statements for any further unauthorized charges.
Consider reporting the scam to platforms where it was advertised, like Facebook, to prevent others from falling for it.
Report the scam to official bodies such as the FTC at reportfraud.ftc.gov.
Leave a comment on this review to share your experience and help others identify the scam.
Other Scam Online Shops to Avoid
As part of our ongoing effort to protect our readers from potential scams, we've highlighted other suspicious online shops with similar deceptive tactics to Usfilsonoutlet.Shop. Stay alert when shopping online and be aware of these warning signs.
Here are a few examples of the scam online shops: Luggagebigsale.com, Hokafacviponlinestore.com, and Wilukhome.com.
Summary table for Usfilsonoutlet.Shop
| | |
| --- | --- |
| Name | Usfilsonoutlet.Shop |
| Type | Scam Online Shop |
| Damage | Potential financial loss and identity theft |
| Distribution | Promotion on Facebook |
| Tactics | Unbelievable discounts and false scarcity |
| Contacts | Email: lisa@serviceyx.com |
| Prevention Tips | Research before purchasing, verify the authenticity of shops, and be skeptical of too-good-to-be-true deals |
| Reporting Info | reportfraud.ftc.gov |
Conclusion
Usfilsonoutlet.Shop is a potential scam platform that preys on unsuspecting online shoppers with enticing deals and promotions. Always exercise caution and conduct thorough research before making any purchase, especially from lesser-known online outlets.
FAQ About the Usfilsonoutlet.Shop Scam
1. Why does Usfilsonoutlet.Shop offer such huge discounts?
The likely reason is to lure customers into purchasing without verifying the authenticity of the shop. Offering huge discounts creates a sense of urgency and can cloud judgment.
2. How do I protect myself from similar scams in the future?
Always research an online shop before making a purchase, especially if the deals seem too good to be true. Additionally, use secure payment methods and avoid shops with limited contact information.
3. Can I get my money back if I've been scammed?
It's possible, especially if you act quickly. Contact your bank or credit card company to report the scam and initiate a chargeback. They may be able to help you recover your funds.