Ingenerale.com has been making waves on social media platforms, particularly Facebook, with a series of seemingly enticing ads. From multifunctional storage racks to attractive keyrings, this online store claims to offer products that cater to a wide range of needs. But is everything as it seems? Dive into our detailed analysis to find out if Ingenerale.com is worth your trust or another online pitfall you should avoid.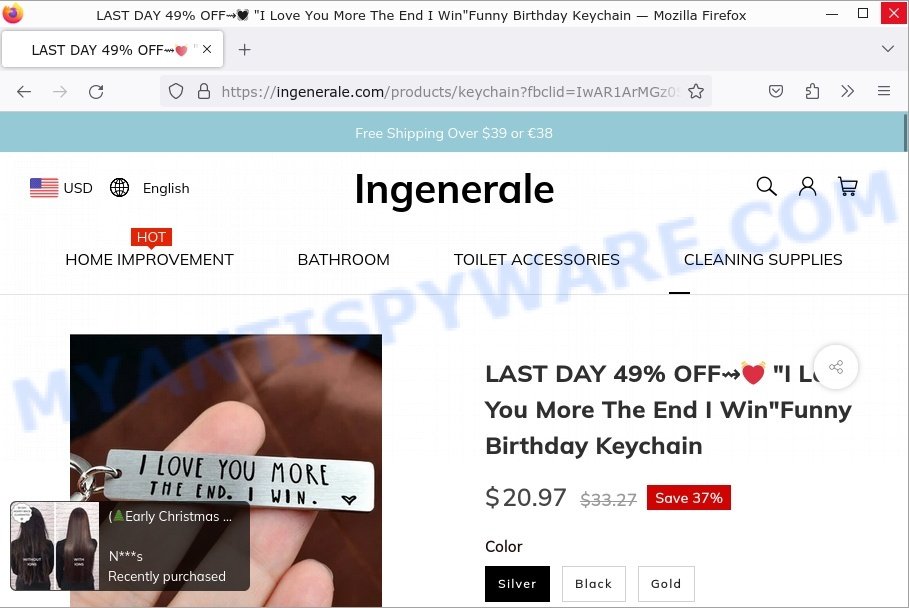 Quick links
Is Ingenerale.com a Scam?
There are certain red flags that raise suspicion about the authenticity of Ingenerale.com. Let's delve into the signs:
Recently created domain: Freshly set-up domains, especially those without an established reputation, can be indicators of scams.
Lack of contact information: They primarily provide only an email address – support@ingenerale.com. No physical address or phone number is listed.
Whois contacts hidden: An attempt to maintain anonymity, which is often not a good sign for an online retailer.
Unbelievable deals and enticing slogans in their advertisements, such as "Buy 1 get 1 free" and "Buy 2 Free Worldwide Shipping!".
No mention of the company behind the website or any tangible social media presence.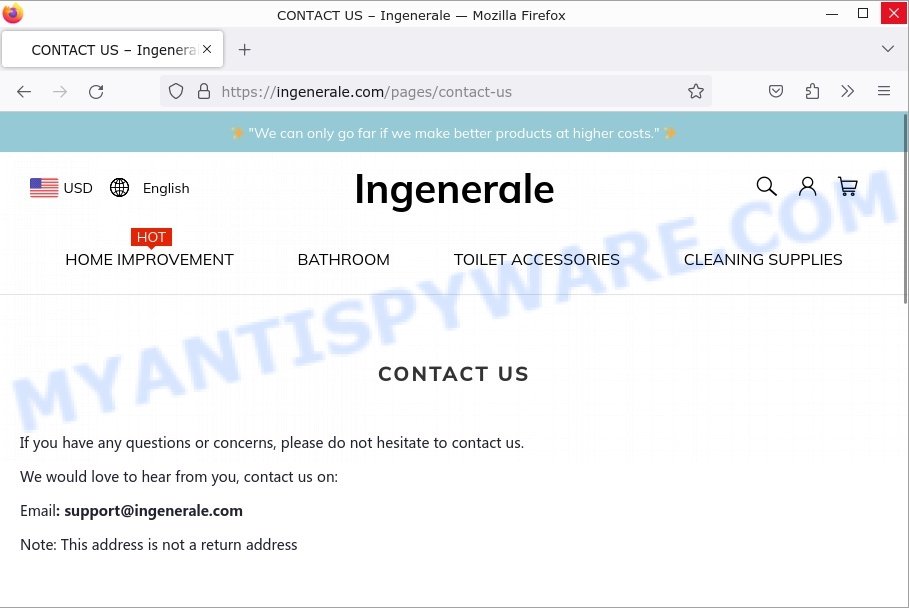 How the Ingenerale.com Scam works
Ingenerale.com, through its extensive advertising on Facebook, lures potential buyers with attractive deals and products. The ads, ranging from bathroom storage solutions to RFID security wallets, appeal to a wide audience. Once a user clicks on the advertisement, they are redirected to the website, where they are encouraged to make a purchase. Given the recently created domain and hidden whois contacts, customers might find themselves in a position where they either receive counterfeit products, a product of inferior quality, or in the worst case, nothing at all. Money gets debited, but the value isn't delivered.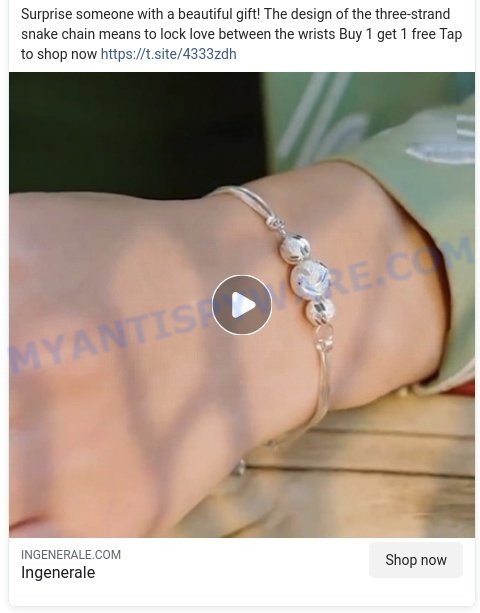 What to do if you become a victim of Ingenerale.com
If you suspect you've fallen prey to the Ingenerale.com scam, here are some steps to consider:
Contact your bank or credit card provider and explain the situation. They might be able to reverse the transaction or provide guidance.
Change passwords to your online banking or shopping accounts, especially if you have used the same password across multiple sites.
Keep a close watch on your bank statements for any unauthorized transactions.
Share your experience by leaving a comment on this review to warn others.
Other Scam Online Shops to Avoid
Protecting our readers from potential online scams remains our priority. Many other suspicious online shops employ tactics similar to Ingenerale.com, luring unsuspecting buyers with deceptive practices. It's essential to stay cautious and be aware of the telltale signs of scams.
Here are a few examples of the scam online shops: Wilukhome.com Review: Fake Wilko Store Scam, KingCrabStore.com King Crab Store Scam, and Heerful.com $37.95 Hoka Running Shoes Scam.
Summary table for Ingenerale.com
| | |
| --- | --- |
| Name | Ingenerale.com |
| Type | Online Retail Scam |
| Damage | Potential financial loss, Risk of counterfeit products |
| Distribution | Advertisements on Facebook |
| Tactics | Enticing deals, Misleading advertisements |
| Prices | Varies (Promotions like "Buy 1 get 1 free") |
| Contacts | support@ingenerale.com |
| Prevention Tips | Research online stores before purchasing, Avoid clicking on suspicious advertisements |
| Reporting Info | FTC Scam Reporting |
Conclusion
Ingenerale.com, with its enticing promotions and wide product range, may seem like an attractive online store. However, delving deeper reveals red flags that are commonly associated with online scams. Always prioritize due diligence when shopping online and remain wary of too-good-to-be-true deals.
FAQ About the Ingenerale.com Scam
Are the products on Ingenerale.com genuine?
Given the red flags we've identified, there's a high likelihood that the products might be counterfeit or of subpar quality.
Why is Ingenerale.com primarily advertising on Facebook?
Facebook, being a widely-used platform, provides a broad audience for online retailers. Scam stores often leverage platforms like these to attract more victims quickly.
How can I verify the authenticity of an online store?
Before making any purchase, always check for reviews from previous buyers, research the store's reputation online, and be cautious of newly-established domains.