Chinstop.com has made waves on social media, especially Facebook, with its intriguing offers. Advertised as a limited-time "Warehouse Clearance Sale", many potential buyers might find it hard to resist. But is this store as legitimate as it appears? Read on to find out more.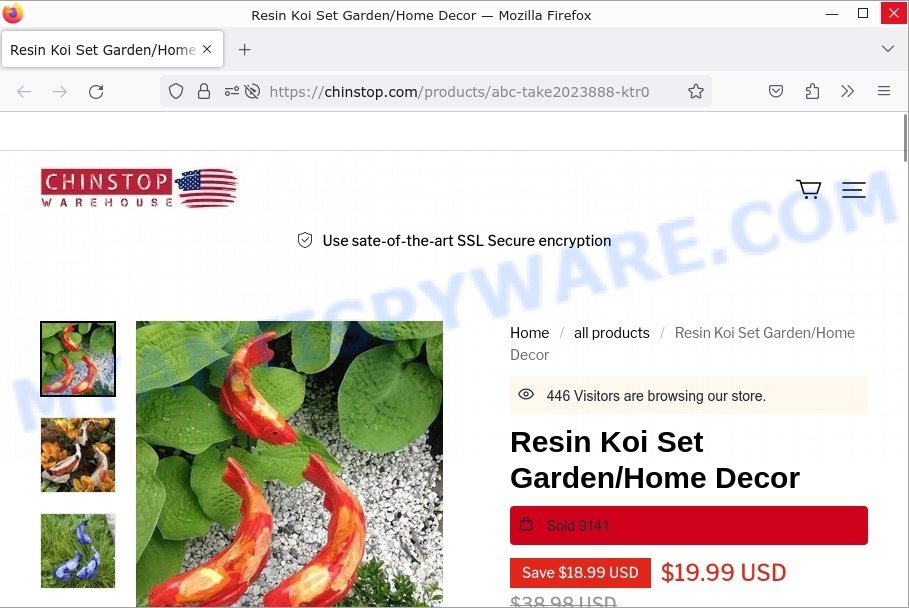 Quick links
Is Chinstop.com a Scam?
It's essential to be cautious when evaluating new online stores, and Chinstop.com raises some red flags:
Recently created domain: Most scam sites have a recent domain registration.
Lack of transparent contact information: The only available contact is an email address – customerservices@chinstop.com.
No substantial company information: Though the site claims affiliation with SAYHI INTERNATIONAL CO., LIMITED, there's evidence that this company is associated with other scam shops.
Unbelievable deals: The offer of a free "Neck Face Firming Wrinkle Removal Tool" with a purchase sounds too good to be true.
Enticing slogans: The use of phrases like "Limited time sale" and "Clearance Sale" often indicate scam tactics.
Hidden WHOIS contacts: Genuine businesses usually have transparent domain registrations.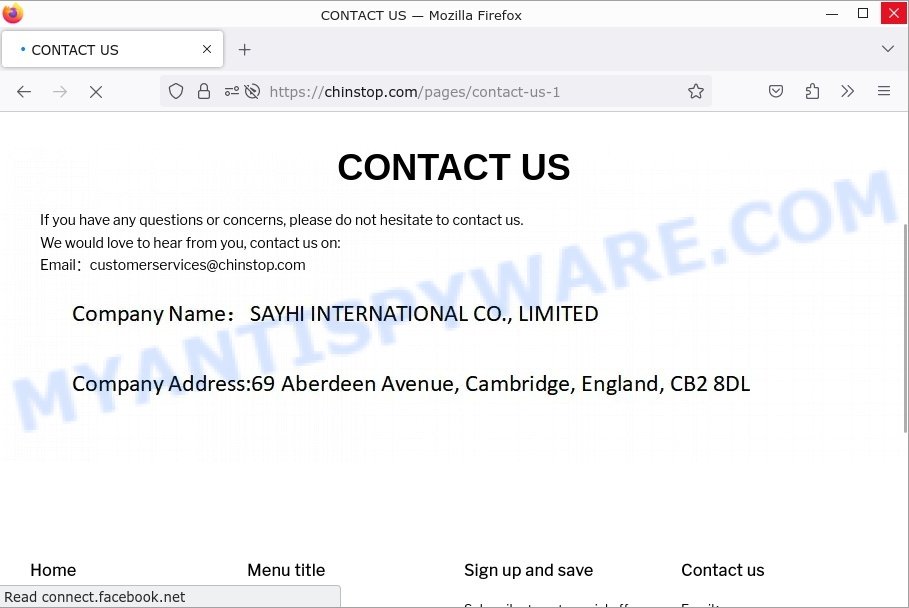 How the Chinstop.com Scam works
Chinstop.com is aggressively promoted on platforms like Facebook, enticing users with a supposedly limited offer: purchase a Tupperware set and receive a free "Neck Face Firming Wrinkle Removal Tool". Many, lured by the promise of quality and affordability ($29.99 for the whole deal), might be inclined to purchase without a second thought. However, with the hidden WHOIS data and association with a questionable company, it's likely that customers might either receive subpar products or, in the worst case, nothing at all.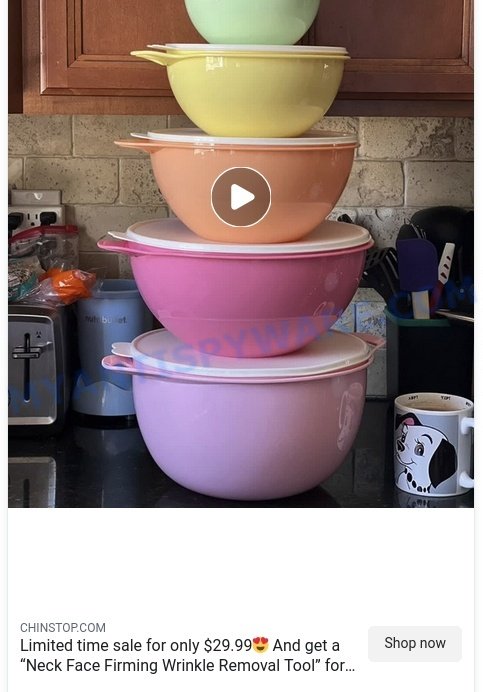 What to do if you become a victim of Chinstop.com
If you've made a purchase from Chinstop.com and believe you've been scammed, here's a step-by-step guide on what to do:
Contact your bank or credit card company to report the fraudulent transaction.
Change passwords for your online accounts, especially if you used the same password on Chinstop.com.
Monitor your bank statements for any unauthorized transactions.
Leave a comment on this review to inform others of your experience.
Report the scam to relevant authorities such as the FTC at reportfraud.ftc.gov.
Other Scam Online Shops to Avoid
Our aim is to equip readers with the tools to spot and avoid online scams. Many of these fraudulent sites, including Chinstop.com, use eerily similar tactics to deceive unsuspecting customers. It's imperative to stay vigilant and be well-informed about these malicious entities.
Here are a few examples of the scam online shops: Luggagebigsale.com, Hokafacviponlinestore.com, and Bedstockclearance.com.
Summary table for Chinstop.com
| | |
| --- | --- |
| Name | Chinstop.com |
| Type | Online Scam Store |
| Damage | Potential financial loss and identity theft |
| Distribution | Social media platforms (especially Facebook) |
| Tactics | Enticing offers and unbelievable discounts |
| Prices | Advertised at $29.99 for a combo deal |
| Contacts | Email: customerservices@chinstop.com; Company: SAYHI INTERNATIONAL CO., LIMITED; Address: 69 Aberdeen Avenue, Cambridge, England, CB2 8DL |
| Prevention Tips | Verify online stores, check for reviews, and be skeptical of too-good-to-be-true offers |
| Reporting Info | FTC |
Conclusion
Chinstop.com is a scam online store that has raised multiple red flags. While the deals may seem appealing at first glance, it's essential to research and verify before making a purchase. Scams like these prey on impulsive decisions, so always approach with caution and skepticism.
FAQ About the Chinstop.com Scam
Why are scam stores like Chinstop.com so popular on social media?
Platforms like Facebook provide a vast audience, making it easier for scam stores to reach potential victims. The visual nature of these platforms makes it simpler to showcase deals that seem too good to be true, thus ensnaring the unwary.
How can I verify the authenticity of online stores?
Always look for unbiased customer reviews, verify company information, check the age of the domain, and ensure secure payment methods.
What's the motive behind online scams like Chinstop.com?
Most scam stores aim to defraud customers of their money, gather personal and financial information for malicious activities, or both.