Joasde.online is making waves with its eye-catching promotion of "Any 2 pairs for just $34.90". If you're considering grabbing this tempting deal, take a moment to delve deeper into the legitimacy of this online shop. Our comprehensive review of Joasde.online will equip you with essential insights. Read on to learn more.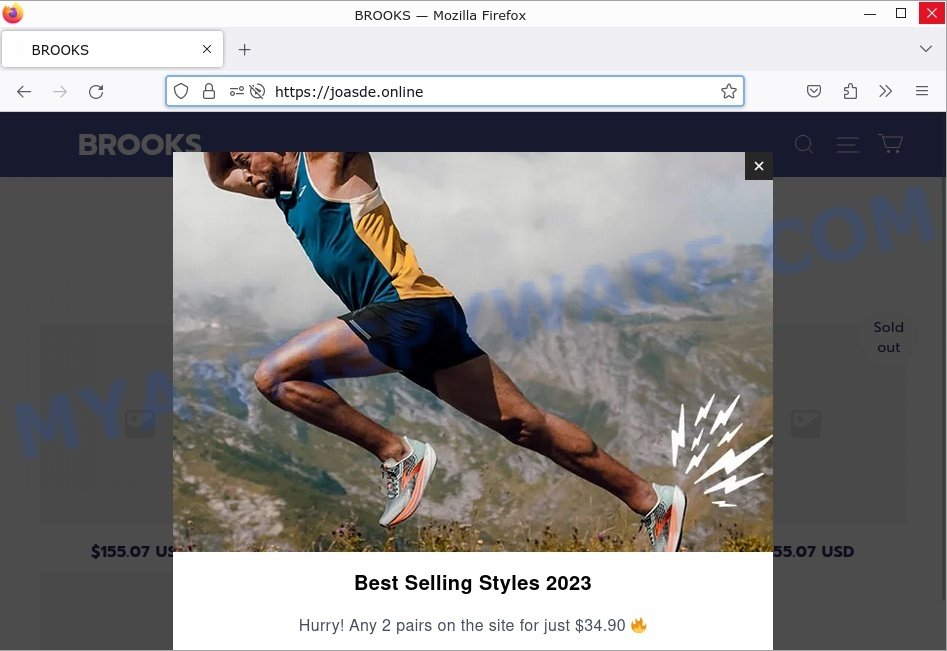 Quick links
Is Joasde.online a Scam?
Before making any purchase, it's vital to ensure that the online store you're considering is legitimate. Here are some red flags that raise concerns about Joasde.online:
Recently created domain, signaling that it hasn't established trust over time.
Hidden WHOIS contact information, often a tactic scam sites use to remain anonymous.
Only one mode of contact: Email address (sily@peachcher.com).
No real information about the company behind, aside from a dubious association with AIMARK LTD, which has been linked to other scam shops.
Incredibly low prices and enticing slogans, such as "Any 2 pairs for just $34.90".
No social media presence or links to any social media platforms, despite claiming to be promoted on social media.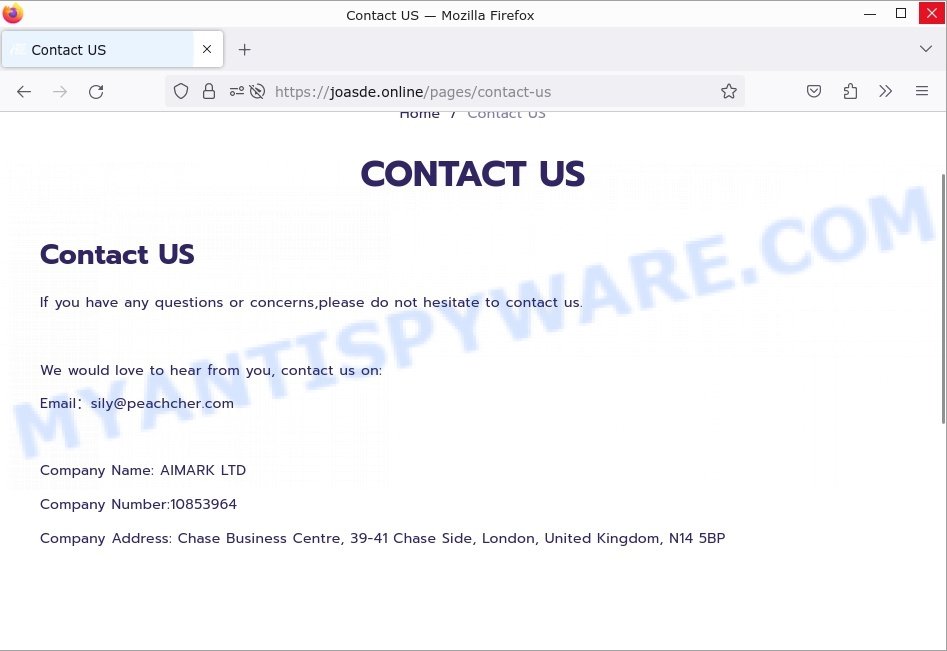 How the Joasde.online Scam works
Joasde.online presents itself as a genuine BROOKS store, luring potential buyers with its "Best Selling Styles 2023" campaign. This fake shop aggressively promotes "Any 2 pairs on the site for just $34.90", which is an alarmingly low price for brand-name footwear. They mainly promote their deals on social media platforms, targeting unsuspecting users. Once a buyer is enticed and makes a purchase, they either receive counterfeit products, nothing at all, or are overcharged. Moreover, the connection of their contact email and company to other known scam shops further amplifies the suspicion.
What to do if you become a victim of Joasde.online
If you've unfortunately fallen prey to Joasde.online, take the following steps immediately:
Contact your bank or credit card company and inform them about the suspicious transaction.
Change passwords for any accounts where you have used the same password as the one provided to the scam site.
Monitor your credit reports for any unusual activities.
Report the scam to local law enforcement and provide all relevant details.
Consider using trusted online shop reviews and scam checker websites before making any future online purchases.
Other Scam Online Shops to Avoid
In a bid to safeguard our readers from potential online frauds, we've listed other deceptive online shops that you might want to steer clear of. Like Joasde.online, these shops employ similar tactics to deceive consumers. Always be on the lookout and stay informed.
Here are a few examples of the scam online shops: Bedstockclearance.com, KingCrabStore.com, and Heerful.com.
Summary table for Joasde.online
Name
Joasde.online
Type
Online Shop (Fake BROOKS Shop)
Damage
Potential financial loss and compromised personal information
Distribution
Promoted mainly on social media platforms
Tactics
Unbelievable deals and enticing slogans
Prices
Any 2 pairs for $34.90
Contacts
Email: sily@peachcher.com
Company: AIMARK LTD
Prevention Tips
Always verify online stores, avoid too-good-to-be-true deals
Reporting Info
Contact local law enforcement and provide relevant details
Conclusion
Joasde.online is a deceptive online platform posing as a genuine BROOKS shop. With its alluring offers and prices, it aims to trap unsuspecting online shoppers. It's essential to stay cautious, double-check, and avoid such potential scams.
FAQ About the Joasde.online Scam
Why are scam shops like Joasde.online so common?
Due to the vast reach of the internet and ease of setting up online platforms, it becomes convenient for scammers to establish fake shops and target a large number of users.
How can I ensure an online shop is legitimate?
Before making a purchase, always verify the authenticity of an online store. Check for reviews, do a thorough background check, and look for any red flags like unrealistic prices or concealed contact information.
What should I do if I provided my personal information to a scam shop?
Immediately inform your bank or credit card company about the potential scam. Monitor your accounts for any unusual activities and consider changing passwords for any accounts linked to the information you provided.