Marjacbagsn.com claims to offer unbelievably discounted Marc Jacobs products. Promoted primarily on Facebook, it boasts up to 95% off and lures customers with catchy and enticing advertisements. If you've come across this online store and its tempting deals, we urge you to read this full review before making any purchase.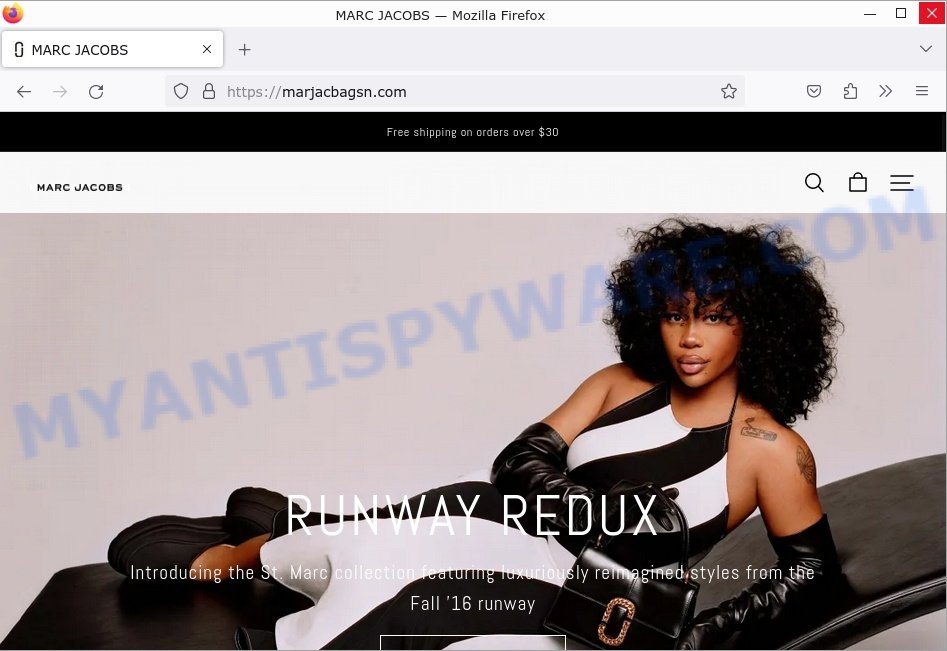 Quick links
Is Marjacbagsn.com a Scam?
Yes, Marjacbagsn.com displays several red flags indicating its deceptive nature. Here are some reasons:
Recently created domain.
Lack of genuine contact information. The only given contact is an email address: sily@peachcher.com.
No real info about the company behind, though it claims to be "AIMARK LTD" based in London, this company is linked to other scam shops.
Unbelievable deals and incredibly low prices. Offering products at up to 95% off raises suspicions.
Enticing slogans like "Clearance Sale", "Free return", "Huge Discounts", and "Limited Time Sale".
WHOIS contact details are hidden, indicating a lack of transparency.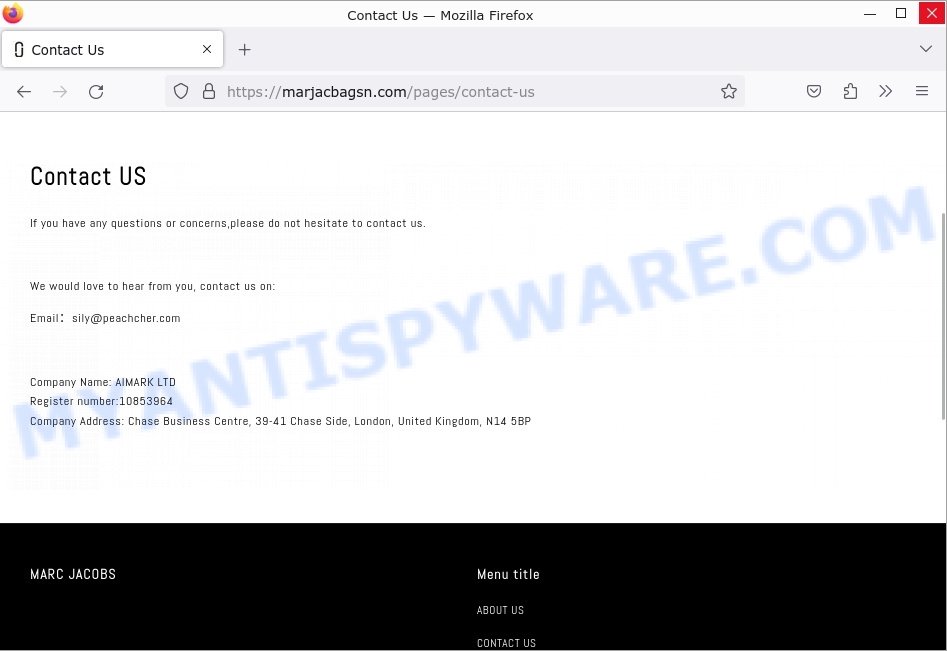 How the Marjacbagsn.com Scam works
Marjacbagsn.com appears to be a haven for Marc Jacobs enthusiasts, with advertisements promoting heavily discounted products. These promotions, predominantly found on Facebook, contain enticing words like "New Arrival" and "Year's Best Price Are Here". They claim up to 95% off on products, making it hard for customers to resist. By offering products at such an unbelievably low price and using enticing advertisements, the site lures unsuspecting buyers into purchasing items. After making a purchase, customers either receive counterfeit products, products of inferior quality, or nothing at all.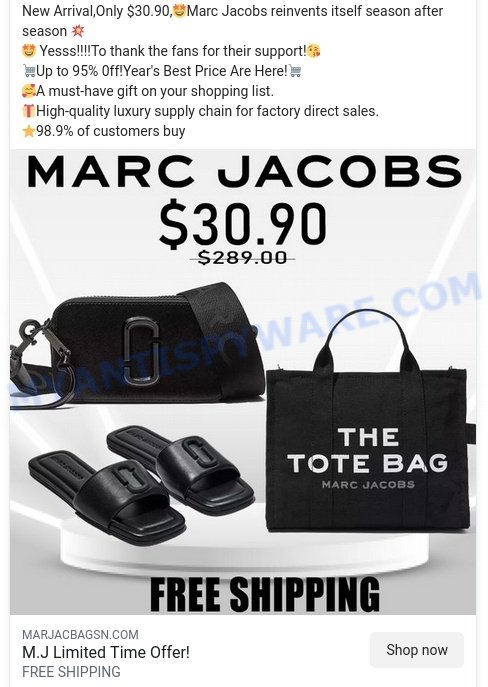 What to do if you become a victim of Marjacbagsn.com
If you've been scammed by Marjacbagsn.com, it's essential to take immediate action:
Contact your bank or credit card company to dispute the transaction and request a chargeback.
Change your online banking and shopping passwords.
Monitor your bank statements closely for any unauthorized transactions.
Report the scam to your local authorities and consumer protection agency.
Warn friends and family about the scam to prevent them from becoming victims too.
Other Scam Online Shops to Avoid
As part of our ongoing effort to protect our readers from potential scams, we have compiled a list of other suspicious online shops that you should be aware of. These shops share similar characteristics and tactics to Marjacbagsn.com, and they use deceptive practices to lure in unsuspecting buyers. It's crucial to remain vigilant when shopping online and to be aware of the warning signs of a potential scam.
Here are a few examples of the scam online shops: Wilukhome.com Review: Fake Wilko Store Scam, Bedstockclearance.com Review: Lowe's Stock Clearance Scam, KingCrabStore.com King Crab Store Scam.
Summary table for Marjacbagsn.com
Name
Marjacbagsn.com, Fake Marc Jacobs Shop
Type
Online Retail Scam
Damage
Potential loss of money, receipt of counterfeit products
Distribution
Primarily through Facebook Ads
Tactics
False advertising, heavily discounted prices
Prices
Up to 95% off, with prices as low as $30.90
Contacts
Email: sily@peachcher.com
Company Name: AIMARK LTD
Prevention Tips
Always research online stores before making a purchase, check reviews and verify contact details
Reporting Info
Local authorities, consumer protection agency
Conclusion
Marjacbagsn.com is a deceptive online store preying on unsuspecting buyers. Despite its alluring advertisements and discounts, it displays several red flags indicating its untrustworthiness. Always approach such online stores with caution and prioritize researching before making any purchase.
FAQ About the Marjacbagsn.com Scam
Why do these scam shops keep popping up?
Due to the increasing trend of online shopping, scammers find it lucrative to create fake online shops, luring victims with attractive discounts, only to defraud them.
How can I verify the authenticity of an online store?
Before making a purchase, it's crucial to research the store. Check for customer reviews, verify contact details, and search for any scam alerts related to the store.
What should I do if I find another suspicious online shop?
If you come across another dubious online store, report it to your local consumer protection agency, and consider warning others by sharing your findings on social media or consumer review websites.
Are there any genuine online stores offering heavy discounts?
Yes, there are legitimate online stores offering discounts. However, it's crucial to verify the authenticity of these stores before making a purchase. Always remember that if a deal sounds too good to be true, it probably is.