Birkenshoped.com is the latest online scam store claiming to offer BIRKENSTOCK shoes at incredibly discounted prices. Many unsuspecting shoppers have been lured by their promotion on social media platforms. In this article, we will thoroughly investigate the store and present our findings to you.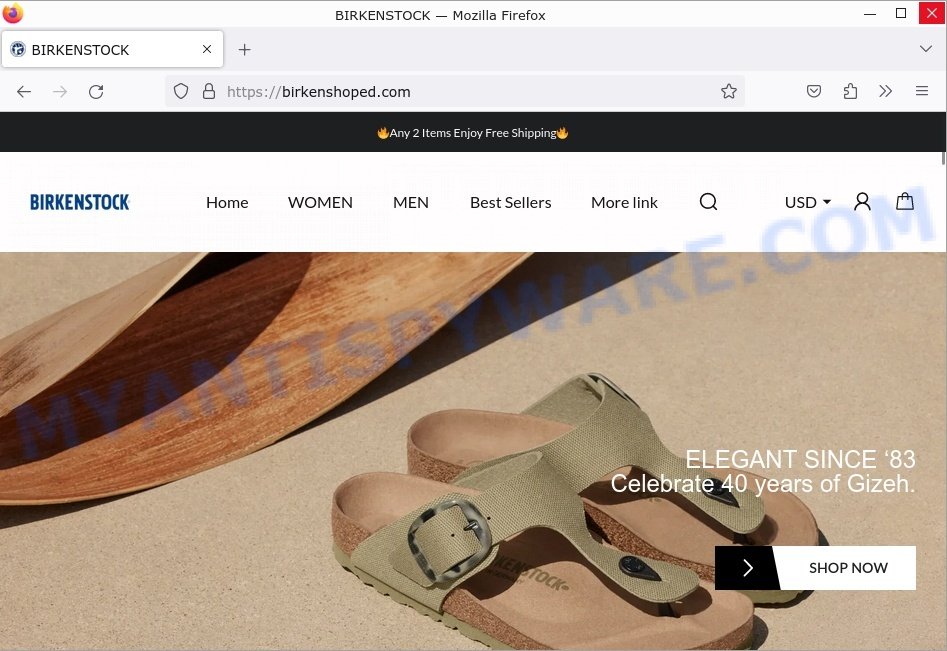 Birkenshoped.com Review
Is Birkenshoped.com a Scam?
There are numerous red flags that indicate Birkenshoped.com is not a genuine online store:
Recently created domain.
Lack of transparent contact information – the only method of contact is via a suspicious email address.
Email address (service@paidlucky.com) has been linked to other known scam shops.
Offers that seem too good to be true such as "77% OFF, all shoes for $39.99".
Uses stolen logo, texts, and images from the legitimate BIRKENSTOCK brand.
Hidden WHOIS contacts, indicating a lack of transparency.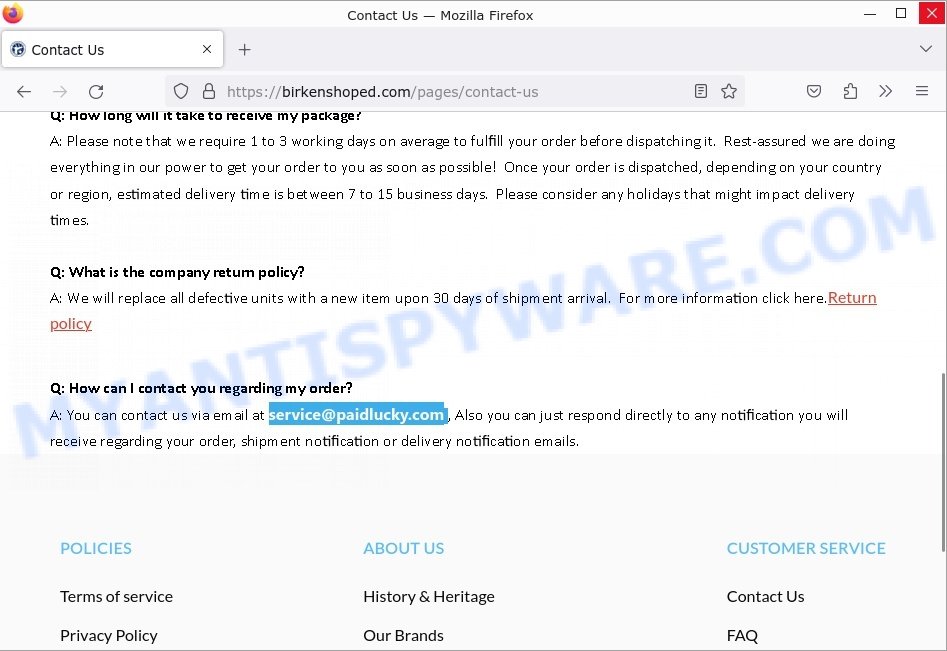 How the Birkenshoped.com Scam works
Birkenshoped.com is cleverly designed to impersonate a legitimate BIRKENSTOCK online store. By offering incredibly low prices and using stolen content from the real brand, the scam store entices shoppers to make a purchase. Promotions like "77% OFF", "all shoes for $39.99" are strategically advertised on social media platforms to reach a broader audience. However, once a purchase is made, customers either receive counterfeit items or nothing at all. The provided email address has been associated with other scam operations, suggesting that it's part of a larger network of deceptive online stores.
What to do if you become a victim of Birkenshoped.com
If you suspect that you've fallen victim to the Birkenshoped.com scam, here are steps you should take immediately:
Contact your bank or credit card provider and report the transaction as fraudulent.
Change any passwords associated with the email or accounts used for the transaction.
File a report with your local law enforcement.
Leave a review or warning on relevant forums or websites to alert others about the scam.
Other Scam Online Shops to Avoid
As part of our ongoing effort to protect our readers from potential scams, we have compiled a list of other suspicious online shops that share similar characteristics with Birkenshoped.com. These deceptive online shops use similar tactics to lure in unsuspecting buyers.
Here are a few examples of the scam online shops: Luggagebigsale.com, Hokafacviponlinestore.com, and Bedbathbeyondclose.com.
Summary table for Birkenshoped.com
| | |
| --- | --- |
| Name | Birkenshoped.com, Fake BIRKENSTOCK Shop |
| Type | Fake Online Store |
| Damage | Potential loss of money, receipt of counterfeit goods, risk of personal data leakage |
| Distribution | Social Media |
| Tactics | Using stolen logo, offering unbelievable deals |
| Prices | 77% OFF, all shoes for $39.99 |
| Contacts | Email: service@paidlucky.com |
| Prevention Tips | Check the legitimacy of the online store, verify contact details, and avoid deals that seem too good to be true |
| Reporting Info | Local law enforcement, online scam alert forums |
Conclusion
Birkenshoped.com is a deceptive online store designed to trick shoppers with its too-good-to-be-true deals and stolen branding elements from the legitimate BIRKENSTOCK brand. Always be cautious and do your research before making purchases from unfamiliar online stores.
FAQ About the Birkenshoped.com Scam
Why do such scam stores get created?
To exploit unsuspecting shoppers by either taking their money without delivering the promised items or by delivering counterfeit items.
How can I differentiate between a genuine and a scam store?
It's essential to check the contact information, reviews, domain age, and whether the store provides clear and transparent policies. Also, be skeptical about deals that seem too good to be true.
What actions can be taken against such scam stores?
Victims should report the scam to their local law enforcement, inform their bank or credit card provider, and also raise awareness by posting about their experiences on relevant forums or websites.