Netbelong.com is a purported online shop claiming to represent the popular brand, Wilko. With its enticing deals and promotions on social media, particularly Facebook, it seems almost too good to be true. If you're considering purchasing from this site or if you've seen their advertisements, you should read this analysis first to ensure your safety online.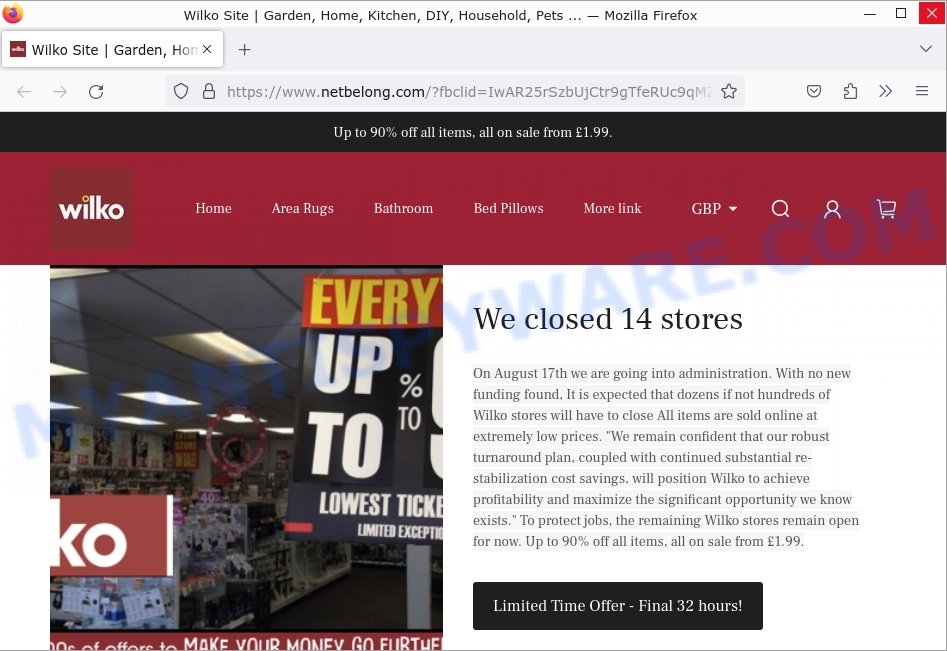 Netbelong.com Review
Is Netbelong.com a Scam?
Without a doubt, Netbelong.com exhibits classic signs of being a scam website:
Recently created domain.
Lack of transparency: WHOIS contacts are hidden.
No real information about the company behind the site.
Unbelievable deals and incredibly low prices, often promoting up to 90% off.
Email is the only mode of contact: service@piratelook.com.
No links or presence on official social media platforms for verification.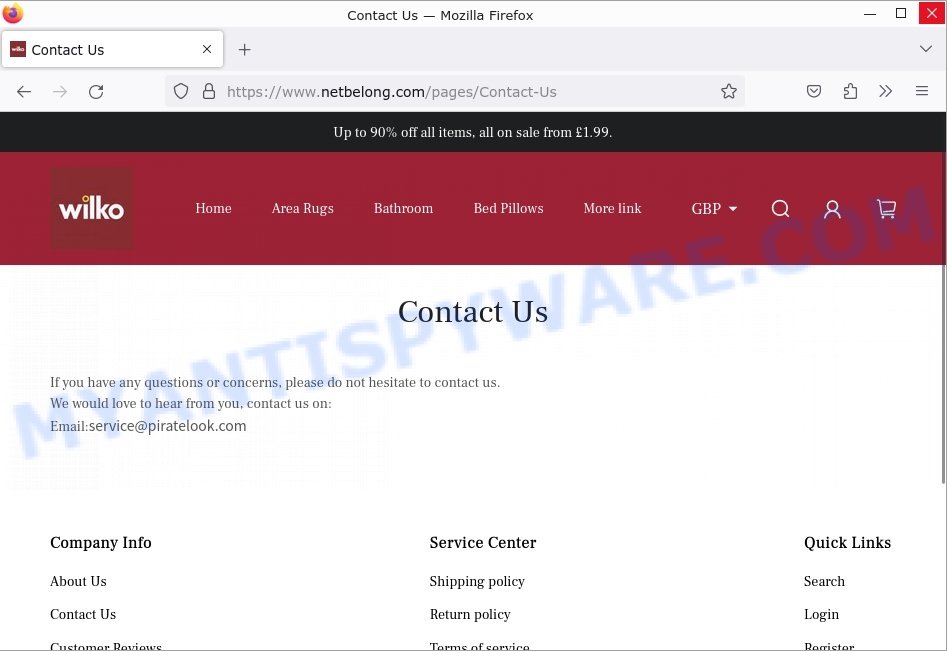 How the Netbelong.com Scam works
Netbelong.com poses as a Wilko shop clearance sale, attracting potential customers primarily through Facebook ads. These ads showcase discounts of up to 90%, using slogans like "Wilko big clearance sale" and "Best choice and best discounts!".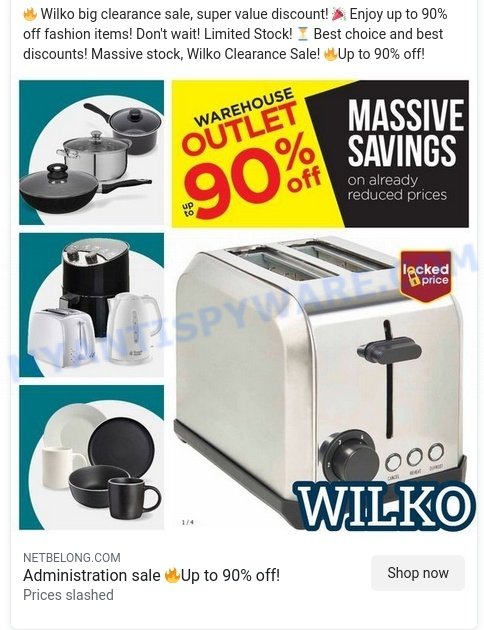 Upon visiting the website, the design and layout might seem professional, making it even more deceiving. Unsuspecting buyers are lured into purchasing products, only to face issues like non-delivery, receiving counterfeit items, or even facing potential credit card fraud.
What to do if you become a victim of Netbelong.com
If you believe you've fallen for the Netbelong.com scam:
Contact your bank or credit card company immediately and discuss the situation.
Change any passwords associated with the email or personal information you provided.
Report the website and your experience on scam alert platforms to warn others.
Consider seeking advice from consumer protection agencies.
Other Scam Online Shops to Avoid
As we strive to protect consumers from potential online threats, it's essential to highlight other dubious online shops. Just like Netbelong.com, these websites employ similar deceitful strategies, aiming to dupe unsuspecting customers. Always be cautious when shopping online and recognize scam warning signs.
Here are a few examples of scam online shops: Wilukhome.com Review, Acstoreus.com DICK'S SPORTING GOODS Store Scam, and Outletshoks.com HOKA Summer Clearance Scam.
| | |
| --- | --- |
| Name | Netbelong.com, Wilko clearance sale Scam |
| Type | Online Store Scam |
| Damage | Potential financial loss, receipt of counterfeit items |
| Distribution | Primarily through Facebook ads |
| Tactics | False discounts, impersonation of legitimate brand |
| Prices | Advertised up to 90% off |
| Contacts | Email: service@piratelook.com |
| Prevention Tips | Research before buying, verify deals through official channels |
| Reporting Info | Contact local consumer protection agencies |
Conclusion
Netbelong.com is a deceitful online platform pretending to be a legitimate Wilko clearance sale. Its primary distribution channel is Facebook, where it promotes seemingly unbeatable deals. Consumers are advised to exercise caution and avoid making any purchases on this platform to safeguard their personal and financial information.
FAQ About the Netbelong.com Scam
Can I trust the products on Netbelong.com? Given the evidence, it's best to avoid purchasing from Netbelong.com. The site exhibits clear signs of being a scam, and the products might not be genuine.
Is there an official Wilko clearance sale with 90% discounts? Always verify such significant discount offers through Wilko's official website or verified social media channels.
How can I protect myself from online shopping scams? Always do your research before making online purchases, especially from unfamiliar websites. Checking reviews, verifying offers, and using secure payment methods can significantly reduce the risk of falling victim to scams.