Yetcostca.com, with its enticing promotions on Facebook, has caught the attention of many shoppers. The store claims to offer high-quality magnetic building block toys for children at an unbelievably low price. However, before you dive into such deals, it's essential to evaluate the store's authenticity. Dive into this detailed review to uncover the truth behind Yetcostca.com.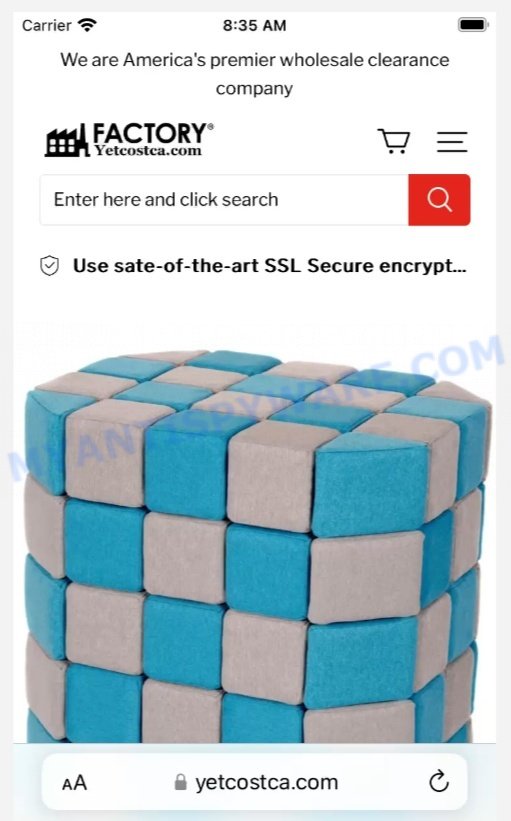 Quick links
Is Yetcostca.com a Scam?
Several red flags suggest Yetcostca.com might not be the legitimate store it claims to be:
A recently created domain with hidden Whois contacts.
Insufficient contact information. The only means of contact is via email: customerservices@yetcostca.com.
No authentic details about the company. The store claims to be associated with NOVVA LIMITED, which is linked to other scam shops.
Too good to be true deals, such as offering products for just $19.99.
Generic design and content that can be found on numerous other websites.
Enticing slogans and time-sensitive offers designed to create urgency and lure unsuspecting buyers.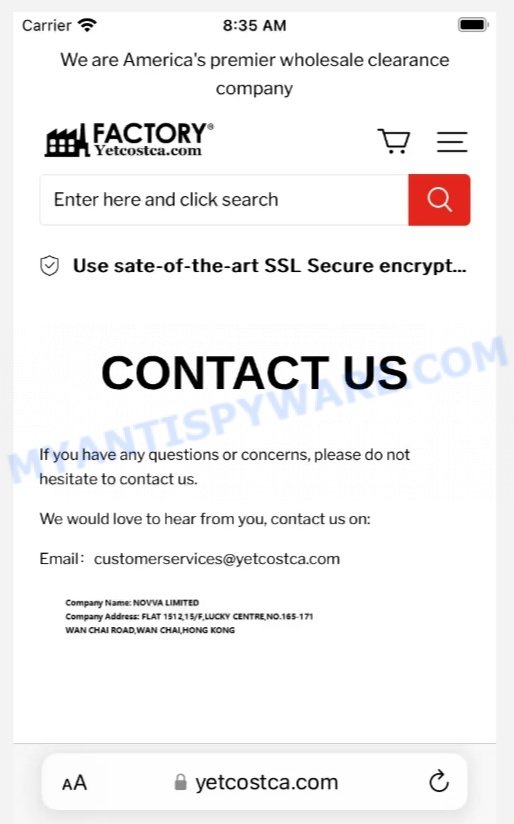 How the Yetcostca.com Scam works
Yetcostca.com is primarily promoted on Facebook with captivating advertisements showcasing magnetic building block toys. They claim that these toys can foster creativity and learning in children. Using emotionally-driven language and enticing visuals, they target parents and guardians, urging them to make a purchase. The ad emphasizes the ease of use of the product, highlighting its quality construction.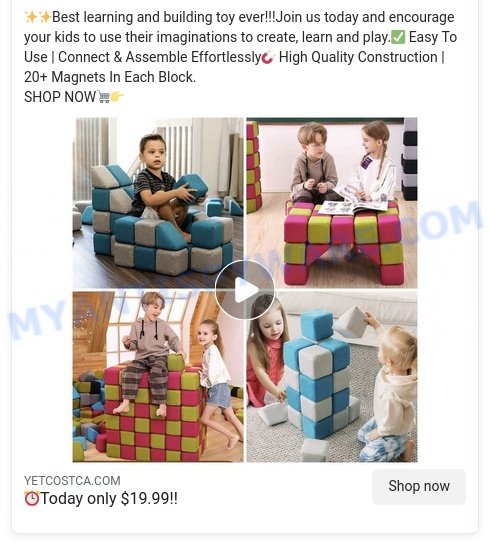 However, after making a purchase, customers either receive inferior products, nothing at all, or find themselves battling with unresponsive customer service.
What to do if you become a victim of Yetcostca.com
If you've unfortunately fallen prey to the Yetcostca.com scam, here are some steps you can take:
Contact your bank or credit card company to report the fraudulent transaction.
Change your online banking and shopping passwords.
Keep all communication and receipts from the store for evidence.
Report the scam to online platforms where the shop was promoted, like Facebook.
Leave a review or comment on forums and platforms warning others about the scam.
Other Scam Online Shops to Avoid
As part of our ongoing commitment to safeguarding consumers from potential online scams, we've gathered a list of suspicious online shops that bear striking similarities to Yetcostca.com. It's imperative to be vigilant when shopping online and to be able to recognize the hallmarks of a deceptive storefront.
Here are a few examples of the scam online shops: Heerful.com, Bedstockclearance.com, and Acstoreus.com.
Summary table for Yetcostca.com
| | |
| --- | --- |
| Name | Yetcostca.com |
| Type | Online Store Scam |
| Damage | Financial Loss, Data Breach |
| Distribution | Facebook Advertisements |
| Tactics | Enticing promotions, hidden company details, recent domain creation |
| Prices | Discounted prices such as $19.99 offers |
| Contacts | Email: customerservices@yetcostca.com, Company: NOVVA LIMITED, Address: FLAT 151215/F LUCKY CENTRE NO.165-171 WAN CHAI ROAD WAN CHALHONG KONG |
| Prevention Tips | Verify domain legitimacy, avoid impulsive purchases based on discounts, research reviews |
| Reporting Info | Report to local cybercrime authorities, alert bank immediately |
Conclusion
Yetcostca.com is a deceptive online store that lures unsuspecting buyers through attractive deals and promotional tactics. While the store's offerings might seem enticing, especially with the low prices, it's crucial to approach such sites with caution. Always do your research, read reviews, and be wary of deals that seem too good to be true.
FAQ About the Yetcostca.com Scam
Why do scammers use a recent domain?
Scammers frequently use newly registered domains to evade detection. By the time authorities or victims catch on, they would have already moved on to another new domain.
How can I identify fake online promotions?
Look for clear signs such as excessive urgency (like "today only" deals), unbelievable discounts, and generic website designs. It's also beneficial to research and see if other customers have left reviews or complaints about the site.
Are all online stores with hidden Whois details scams?
Not necessarily. While hiding Whois details can be a red flag, some legitimate businesses do it to protect their privacy. However, combined with other suspicious signs, it could indicate a scam.